New Restaurant Alert: Fat Daddy's Smokehouse at Marikina Heights, Marikina
We have taken a right to Marikina and gone straight to meat heaven.
Fat Daddy's Smokehouse
171 Dao Street corner East Drive, Marikina Heights, Marikina City
Contact: 0917-562-6531
Open from 11 a.m. to 10 p.m. (Tuesday to Sunday)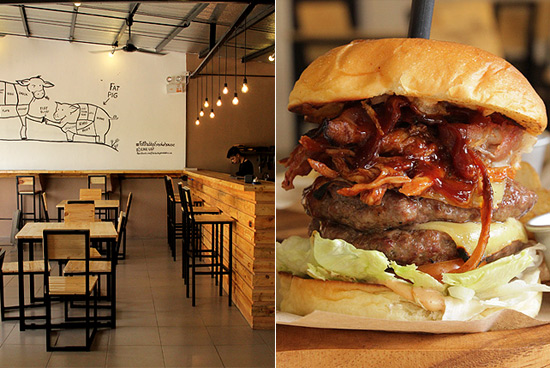 (SPOT.ph) Fat Daddy's Smokehouse is a workout, ironically enough. The premise is meat and more meat, and the menu of every meat-oriented craving pushes the limits-of your appetite. Stretching, testing, challenging it.
ADVERTISEMENT - CONTINUE READING BELOW
Deep in the heart of Marikina (it's much nearer to Rizal), a part-residential, part-commercial nook just off the busier streets, Fat Daddy's isn't your everyday drop-in joint. You go with purpose-and very hungry. Like a trip to a far-off place, you might as well order everything because the prices allow you to go crazy and you won't know when you'll come back. That last point is, of course, an initial assumption, a hasty judgment pre-Fat Daddy's meal.
The al fresco white-and-wood hash house is a place for those with a lot of time, a huge appetite, and not too much money. Co-owner Josh Versoza gestures towards the plate of barbecued ribs, a large half slab with gorgeous charred edges. "That's just P280," he says. Biting into that unresisting beef kissed with sweetish smoke brings out a primitive little joy, that old caveman instinct that takes delight in fuss-free meats.
ADVERTISEMENT - CONTINUE READING BELOW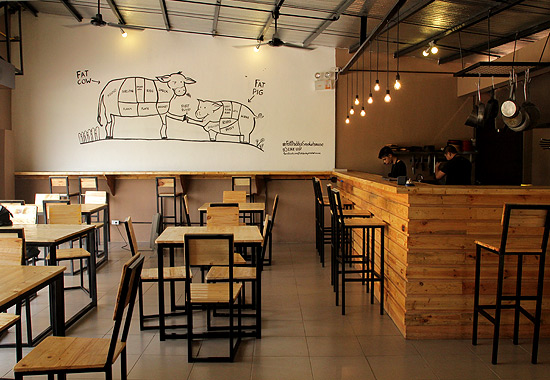 Very bare bones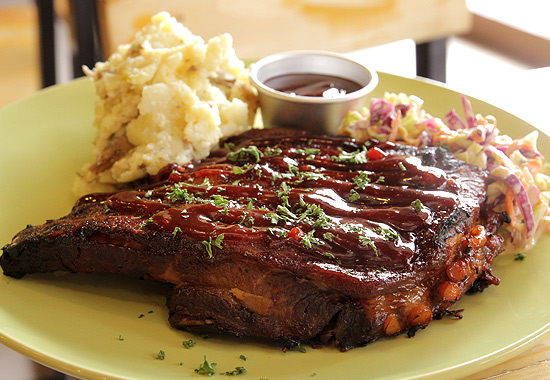 ADVERTISEMENT - CONTINUE READING BELOW
Ribs
That's the mark of a true down-home meal, which is what Fat Daddy's is aiming for. (Josh even jokes that carnivorous feasts is the "only way to eat.") The stark space and the chalkboard carte du jour don't begin to express the complexity in their dishes, but the struggles are kept out of sight. "Everything is made in-house," says Chef Jasper Versoza. The beef brisket, for example, is smoked for 16 hours, the fluffy rolls are baked fresh, while the corned beef is cured for 10 days. The latter is served as a ruddy, pull-apart slab with an egg and skin-on chunky mashed potatoes-a plate that defines breakfast of the highest standards.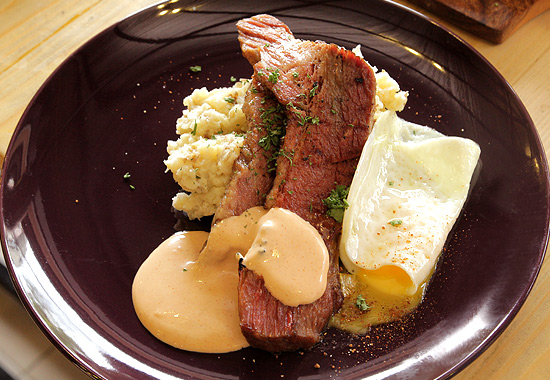 ADVERTISEMENT - CONTINUE READING BELOW
Corned Beef and Hash (P190)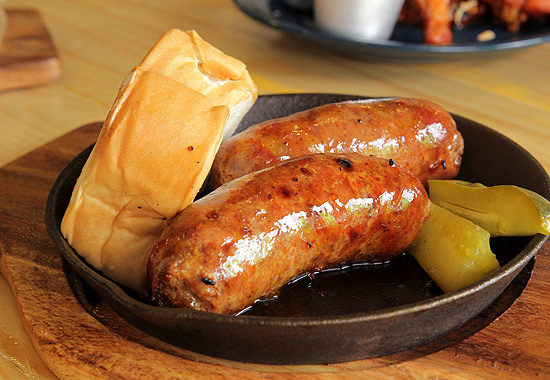 Smoked Sausage (P110)
The plump chorizo-like Sausage (P150) flaunts a meticulous formula-the spices, the ratio of fat and meat, even the gherkin which takes the edge off something so rich-but the results are effortless yet profound.
The Versozas have a knack for turning meat into masterpieces, and not just in their fine showing so far. Josh is the namesake of 25-year-old catering staple, Josiah's, which is famous for their roast beef, and Fat Daddy's is the passion project between him and his siblings, one of whom is Chef Jasper's wife. There's barely any family resemblance between the two endeavors though. The menu noticeably veers away from the roasting tradition, choosing to focus more on smoky thrills than roasts. The Smoked Beef Brisket (P320) is the closest they have to it: the 16 hours in the black smoking locker showing up in the thin beef slices that are tender, rewarding with a nice bite (there goes those caveman instincts yet again).
ADVERTISEMENT - CONTINUE READING BELOW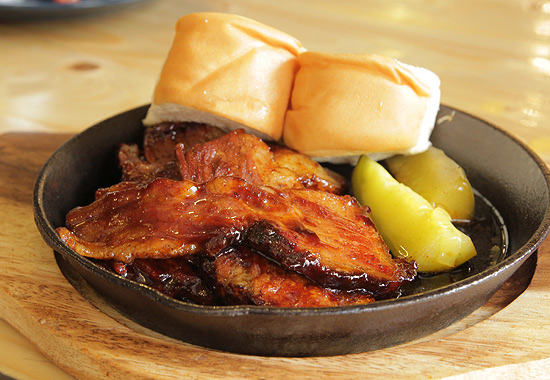 Smoked Beef Brisket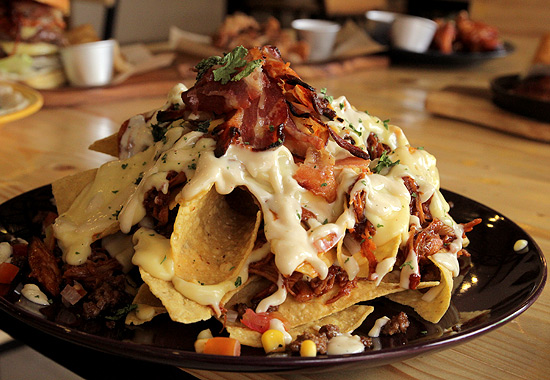 ADVERTISEMENT - CONTINUE READING BELOW
Jera's Ultimate Pulled Pork and Bacon Nachos
But the family's long experience with food is evident in the way they create their dishes. The Jera's Ultimate Pulled Pork and Bacon Nachos (P280), for instance, is an enormous mountain of tortilla chips adorned with homemade fabrics of bacon, smoky pulled pork, and an immensely rich cheese sauce that hides a curious fruitiness. "In some nachos, you don't really get anything but chips when you reach the middle, but we make sure to add toppings per layer," Josh explains.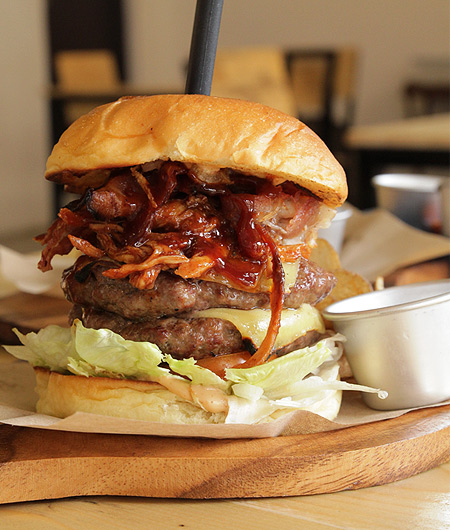 ADVERTISEMENT - CONTINUE READING BELOW
Triple Death Burger
The same elements show up in the Triple Death Burger (P280), which validates the skills of a kitchen veteran. A double beef patty cheeseburger with a haze of sauced-up pulled pork and bacon and stabbed right at the center with a long knife could easily overwhelm, but Fat Daddy's is all about the meat, not the tricks. The homemade bun is a pillowy brioche that comes out light even with the most extravagant fillings, and in the end, this is really just a good, gratifying, albeit enormous, sandwich.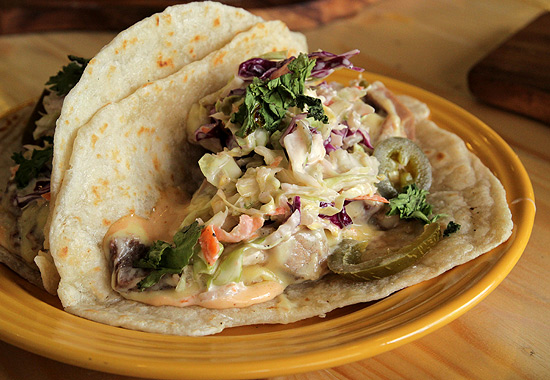 ADVERTISEMENT - CONTINUE READING BELOW
Smoked Ox Tongue Taco (P195)
Though Fat Daddy's is a test of the appetite, it's no strain for the jaw-that's the proof of their meats' precision. One of their lighter options is the lengua, which is smoked perfectly; its fragile flavor bolstered as a taco filling with cool coleslaw and more of that intriguing cheese sauce.
Chef Jasper's trip to the U.S. southern states inspired this kind of soul food. The barbecue sauces feature a different kind of sweetness: subtle but articulate, with much more smoke than sugar infused into the grains of the meat. The Smoked Wings (P120) are meaty things with an impressive garlicky glaze and love from a chipotle sauce that make it forgivable they left out the ritualistic bleu cheese.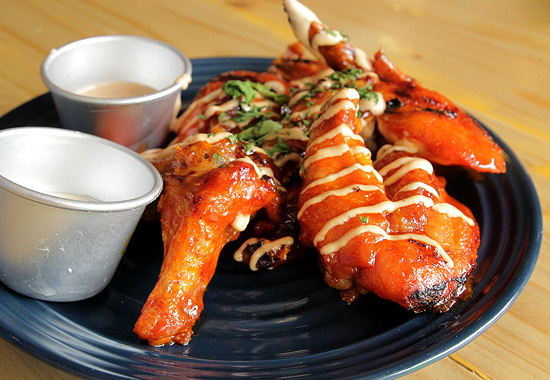 ADVERTISEMENT - CONTINUE READING BELOW
Smoked Wings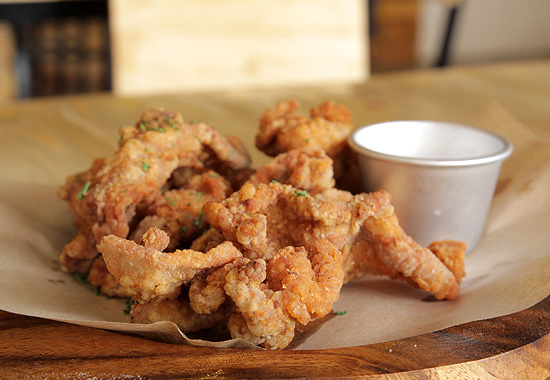 Hot Pork Poppers
The most dangerous of Fat Daddy's meaty rewards is the Hot Pork Poppers (P90). Thin cuts of liempo fried into a crunchy and chewy habit and brightened by a dipping Piedmont sauce with an Apple cider-vinegar base. This is the dish that makes our earlier statement premature. Anyone who enjoys flavor would come back for a taste of these sinful strips.
ADVERTISEMENT - CONTINUE READING BELOW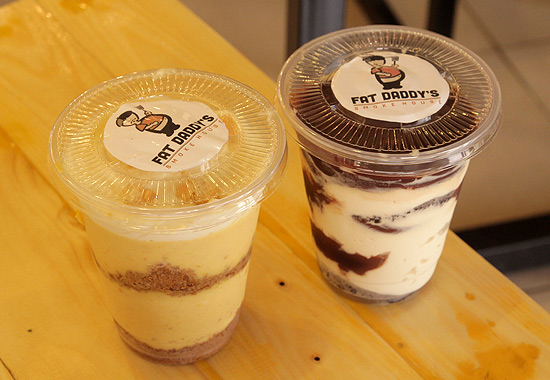 Dessert cups
Desserts, the rare meat-free item, come in the form of tall cups-a Salted Nutella and a light Mango Cream (P150 each), which is reminiscent to a denser mango float. It's the only way to finish.
There are many things to love about Fat Daddy's: the open space in blissfully rural-like Marikina where the smoke only comes from a giant black case that locks in meaty magic; the mural of a pig and a cow bumping fists-a metaphor of the marriage the owners have created; the pale wooden seats and tables; the food that tugs at our most basic cravings. But the best part about it is that everything is still rudimentary. The Versozas are still bursting with ideas: for lamb, more burger varieties, this peach-infused barbecue sauce that tasted terrific but is still in the works according to the chef. The day Fat Daddy's plans to supply their meats to other restaurants would be any restaurateur's dream come true.
ADVERTISEMENT - CONTINUE READING BELOW
CONTINUE READING BELOW
Recommended Videos
Share this story with your friends!
---
Help us make Spot.ph better!
Take the short survey
Load More Stories