What's Open This Holy Week?
We won't let you go hungry over the holidays.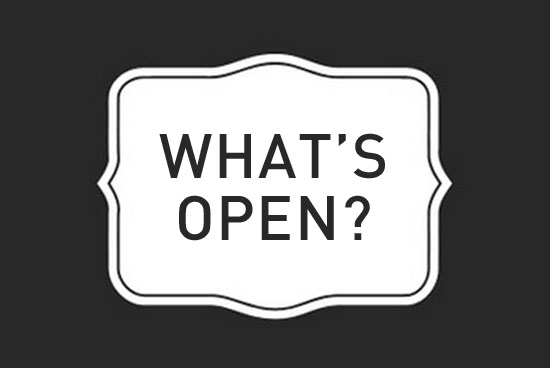 (SPOT.ph) One of the biggest problems a lot of people face during the Holy Week is where to eat on the days leading to Easter Sunday. We've rounded up a few places where you can dine with your family and hang out with friends, even when Manila becomes a virtual ghost town on Holy Thursday and Good Friday.
ADVERTISEMENT - CONTINUE READING BELOW
CALOOCAN CITY
Yellow Cab Pizza
Address: G/F Dytronics Building, EDSA corner Gen. Rosendo Simon Street, Barangay 81 District 1, Caloocan City
Contact: 789-9999
Operating hours: Thursday, Friday, and Saturday (24 hours)
LAS PIÑAS CITY
Yellow Cab Pizza
Address: Yellow Cab Building, 268 Real Street corner Alabang Zapote Road, Las Piñas City
Contact: 872-1111
Operating hours: Thursday, Friday, and Saturday (24 hours)
MAKATI CITY
8 Cuts Burger Blends
Address: H.V. Dela Costa Street corner LP Leviste Street, Salcedo Village , Makati City
Contact: 507-0581 or 0917-539-2505
Operating hours: Thursday (10 a.m. to 7 p.m.)
Draft
Address: G/F Unit GB2-06 Greenbelt, Ayala Center, Makati City
Contact: 0916-469-7436
Operating hours: Thursday and Friday (12 p.m. to 12 a.m), Saturday (11 a.m. to 2 a.m.)
Draft
Address: 151B, R2 Level Power Plant Mall, Rockwell Center, Makati City
Contact: 0917-724-0514
Operating hours: Saturday (11 a.m to 2 a.m.)
Elbert's Steak Room
Address: 3/F Sagittarius Building III, 111, HV de la Costa Street, Salcedo Village
ADVERTISEMENT - CONTINUE READING BELOW
Contact 339-3363 or 0917-529-9392
Operating hours: Thursday, Friday, and Saturday (6:30 p.m. onwards)
IHOP
Address: G/F Century City Mall, Kalayaan Avenue, Poblacion, Makati City
Contact: 890-1474
Operating hours: Saturday (7 a.m. to 10 p.m)
Jade Garden
Address: 2/L, Glorietta 2, Palm Drive corner West Drive, Ayala Center, Makati City
Contact: 843-1361 or 955-1808
Operating hours: Saturday (11:30 a.m. to 2 p.m. and 6 p.m to 10 p.m.)
Mendokoro Ramenba
Address: G/F V Corporate Centre, Soliman Street Salcedo Village
Contact: 215-1751
Operating hours: Thursday, Friday, and Saturday (11:30 a.m. to 2 p.m. and 6:30 p.m. to 10 p.m.)
Pink Panda
Address: G/F, Y2 Residence Hotel, 4687 Santiago corner B. Valdez Street, Poblacion, Makati City
Contact: 856-3790 or 0917-839-0714
Operating hours: Thursday (11 a.m. to 12 a.m.) and Saturday (11 a.m. to 3 a.m.)
Refinery
Address: G/F Joya Lofts and Towers, Joya Drive, Rockwell, Makati City
Contact: 781-0344
ADVERTISEMENT - CONTINUE READING BELOW
Operating hours: Thursday, Friday and Saturday (7 a.m. to 12 a.m.)
MANDALUYONG CITY
Borough
Address: G/F The Podium, 12 ADB Avenue, Mandaluyong City
Contact: 570-8906
Operating hours: Saturday (10 a.m. onwards)
Osaka Ohsho
Address: 3/F Mega Fashion Hall, SM Megamall, Ortigas, Mandaluyong City
Contact: 0917-828-5011
Operating hours: Saturday (10 a.m. to 10 p.m.)
P.F. Chang's
Address: 2/F East Wing, Shangri-La Plaza, Ortigas Center, Mandaluyong City
Contact: 656-8583 or 656-8494
Operating hours: Saturday (10 a.m. to 10 p.m.)
MARIKINA CITY
Fat Daddy's Smokehouse
Address: 171 Dao Street corner East Drive, Marikina Heights, Marikina City
Contact: 0917-562-6531
Operating hours: Thursday (11 a.m. to 10 p.m.)
Yellow Cab Pizza
Address: Marcos Highway corner Gunting Street, San Roque, Marikina City
Contact: 789-9999
Operating hours: Thursday, Friday, and Saturday (24 hours)
MUNTINLUPA CITY
Buffalo's Wings N' Things
Address: G/F The Commerce Center, 1780 Commerce Corner Filinvest Avenue, Filinvest City, Muntinlupa City
ADVERTISEMENT - CONTINUE READING BELOW
Contact: 843-2661
Operating hours: Thursday (11 a.m. to 11 p.m.) and Saturday (7:30 a.m. to 11 p.m.)
Elbert's Sandwiches
Address: G/F Commercenter Alabang, Commerce corner Filinvest Avenue, Filinvest Corporate City, Alabang, Muntinlupa
Contact: 519-5943
Operating hours: Thursday, Friday, and Saturday (10 a.m. to 10 p.m.)
Ramen Yushoken
Address: Alabang-Zapote Road, Muntinlupa City
Contact: 808-7424
Operating hours: Thursday, Friday, and Saturday (11 a.m. to 11 p.m.)
PARAÑAQUE CITY
APU Authentic Filipino Cuisine
Address: UG/F Aseana Avenue corner Roxas Boulevard, Entertainment City, Parañaque City
Contact: 887-1651
Operating hours: Thursday, Friday, and Saturday (10 a.m. to 10 p.m.)
PASAY CITY
8 Cuts Burger Blends
Address: G/F South Wing, Mall of Asia Complex (MOA), Pasay City
Contact: 831-6957
Operating hours: Thursday (12 p.m. to 8 p.m.)
California Pizza Kitchen
Address: G/F Entertainment Mall, Mall of Asia Complex (MOA), Pasay City
Contact: 823-8291
Operating hours: Thursday and Friday (10 a.m. to 8 p.m.), Saturday (10 a.m. to 10 p.m.)
ADVERTISEMENT - CONTINUE READING BELOW
IHOP
Address: G/F Entertainment Mall, Mall of Asia Complex (MOA), Pasay City
Contact: 551-0690
Operating hours: Thursday (7 a.m. to 10 p.m.), Friday and Saturday (7 a.m. to 11 p.m.)
La Fiesta Largest Filipino Buffet
Address: One Esplanade, Jose Diokno Boulevard, San Miguel By the Bay, Pasay City
Contact: 556-1111 or 556-1222
Operating hours: Thursday, Friday, and Saturday (11:30 a.m. to 3 p.m. and 5:30 p.m. to 11 p.m.)
Manam
Address: G/F South Wing, Mall of Asia Complex (MOA), Pasay City
Contact: 511-8401
Operating hours: Thursday (12 p.m. to 8 p.m.)
PASIG CITY
Buffalo Wild Wings
Address: G/F Estancia Mall, Capitol Commons, Oranbo, Pasig City
Contact: 632-7489
Operating hours: Friday (12 p.m. to 1 a.m.) and Saturday (12 p.m. to 1 a.m.)
Sentro 1771
Address: Capitol Commons, Camino Verde Road, Pasig, City
Contact: 9418277
Operating hours: Thursday (11 a.m. to 10 p.m.) and Saturday (11 a.m. to 11 p.m.)
ADVERTISEMENT - CONTINUE READING BELOW
Takashi Japanese Cuisine
Address: Pioneer Center Supermart, 8006 Pioneer Street, Kapitolyo, Pasig City
Contact: 0905-510-9554
Operating hours: Thursday (11:30 a.m. to 2 p.m. and 5:30 p.m. to 8 p.m.) and Saturday (11:30 a.m. to 10 p.m.)
Yellow Cab Pizza
Address: Hampton East Arcade, Hampton Gardens Condominiums, C. Raymundo Avenue and Dr. Sixto Antonio Avenue, Maybunga, Pasig City
Contact: 571-0298
Operating hours: Thursday, Friday, and Saturday (24 hours)
Yellow Cab Pizza
Address: G/F Strata 2000 Building, Emerald Avenue, Ortigas Center, Pasig
Contact: 584-3404
Operating hours: Thursday, Friday, and Saturday (24 hours)

QUEZON CITY
8 Cuts Burger Blends
Address: 2/F UP Town Center, Katipunan Avenue, Diliman, Quezon City
Contact: 955-2264 or 0917-818-2139
Operating hours: Thursday (10 a.m. to 7 p.m.)
Bagoong Club
Address: 122 Scout Dr. Lazcano, Sacred Heart, Quezon City
Contact: 929-5450, 929-0544, 0922-802-3672
Operating hours: Thursday, Friday, and Saturday (11 a.m. to 2:30 p.m. and 6 p.m. to 10:30 p.m.)
Chili's
ADVERTISEMENT - CONTINUE READING BELOW
Address: Tomas Morato Avenue, Laging Handa, Quezon City
Contact: 246-9069
Operating hours: Thursday, Friday, and Saturday (11 a.m. to 2 a.m.)
Figaro
Address: Scout Lozano corner Tomas Morato Avenue, Sacred Heart, Quezon City
Contact: 410-4256
Operating hours: Thursday (7 a.m. to 8 p.m.) and Saturday (7 a.m. to 1 a.m.)
IHOP
Address: G/F UP Town Center, Katipunan Avenue, Diliman, Quezon City
Contact: 288-7660
Operating hours: Thursday (7 a.m. to 7 p.m.) and Saturday (8 a.m. to 11 p.m.)
IHOP
Address: G/F Coliseum Circle, Araneta Center, Cubao, Quezon City
Contact: 0917-883-1274
Operating hours: Thursday (8 a.m. to 10 p.m.), Friday and Saturday (7 a.m. to 11 p.m.)
Manang's Chicken
Address: Lansbergh Place, Tomas Morato Avenue, Sacred Heart, Quezon City
Contact: 463-1356 or 661-1111
Operating hours: Thursday (10 a.m. to 9 p.m.)
Skull and Bones
Address: 2/F UP Town Center, Katipunan Avenue, Diliman, Quezon City
Contact: 0916-220-1668
ADVERTISEMENT - CONTINUE READING BELOW
Operating hours: Thursday (11 a.m. to 8 p.m.) and Saturday (11 a.m. to 10 p.m.)
Stackers
Address: Eastwood Citywalk 1, Libis, Quezon City
Contact: 709-9999
Operating hours: Thursday and Friday (5 p.m. to 6 a.m.), Saturday (6 a.m. to 3 a.m.)
Yellow Cab Pizza
Address: Tomas Morato Avenue, Diliman, Quezon City, Metro Manila
Contact: 789-9999
Operating hours: Thursday, Friday, and Saturday (24 hours)
Yellow Cab Pizza
Address: Eastwood Citywalk 1, E. Rodriguez Avenue (C-5), Bagumbayan, Libis, Quezon City
Contact: 911-3955
Operating hours: Thursday, Friday, and Saturday (24 hours)
Yellow Cab Pizza
Address: 18 Visayas Avenue Barangay Vasra, Quezon City
Contact: 789-9999
Operating hours: Thursday, Friday, and Saturday (24 hours)

Yellow Cab Pizza
Address: G/F SM City Cubao, Araneta Center, Cubao, Quezon City
Contact: 789-9999
Operating hours: Thursday, Friday, and Saturday (24 hours)
SAN JUAN CITY
Chili's
Address: 26 Missouri Street, Greenhills, San Juan City
Contact: 246-9069
Operating hours: Thursday, Friday, and Saturday (11 a.m. to 2 a.m.)
ADVERTISEMENT - CONTINUE READING BELOW
CO/OP
Address: 189 A. Mabini Street, San Juan
Contact: 925-5885, 507-7934, or 0917-828-8341
Operating hours: Thursday, Friday, and Saturday (10 a.m. to 10 p.m.)
TAGUIG CITY
2nd's
Address: 2/F Building 1, B3 9th Avenue, Bonifacio High Street, Bonifacio Global City
Contact: 846-5293 or 0917-875-9162
Operating hours: Thursday ang Friday (11:30 a.m. to 11:30 p.m.)
8 Cuts Burger Blends
Address: G/F Serendra, Bonifacio Global City
Contact: 550-1964
Operating hours: Thursday (10 a.m. to 7 p.m.)
California Pizza Kitchen
Address: G/F W Global Center, 9th Avenue corner 30th Street, Bonifacio Global City
Contact: 668-3912 or 553-2734
Operating hours: Thursday (11 a.m. to 11 p.m.), Friday (11 a.m. to 10 p.m.), and Saturday (10 a.m. to 10 p.m.)
Chelsea Grand Cafe
Address: G/F Serendra, Bonifacio Global City
Contact: 909-7011 or 909-7012
Operating hours: Thursday and Saturday (8 a.m. to 11 p.m.)
Crisp on 28th
Address: G/F Alveo Corporate Center, 28th Street (near 9th Avenue), Bonifacio Global City
ADVERTISEMENT - CONTINUE READING BELOW
Contact: 0917-584-6883
Operating hours: Thursday, Friday, and Saturday (7 a.m. to 11 p.m.)
'Cue Modern Barbeque
Address: G/F Bonifacio High Street Central, East Superblock, 7th Avenue corner 29th Street, Bonifacio Global City
Contact: 621-4051
Operating hours: Thursday (12 p.m. to 2 p.m. and 5 p.m. to 9 p.m.)
Draft
Address: The Fort Strip, Bonifacio Global City
Contact: 846-9725
Operating hours: Thursday and Friday (12 p.m. to 12 a.m), Saturday (11 a.m. to 3 a.m.)
Farmacy Ice Cream and Soda Fountain
Address: Net Lima Building, 4th Avenue corner 26th Street, Bonifacio Global City
Contact: 887-3622
Operating hours: Thursday, Friday, and Saturday (12 p.m. to 2 a.m.)
IHOP
Address: G/F W Global Center, 9th Avenue corner 30th Street, Bonifacio Global City
Contact: 808-9589 or 0906-447-5891
Operating hours: Thursday (6 a.m. to 12 a.m.) and Friday (24 hours)
L.E.S. Bagels
Address: Tuscany Residences, Upper McKinley Road, McKinley Hill, Taguig City
ADVERTISEMENT - CONTINUE READING BELOW
Contact: 804-0423 or 0915-258-5685
Operating hours: Saturday (7 a.m. to 11 p.m.)
Nolita
Address: 7th Avenue corner 29th Street South, Bonifacio High Street Central, Bonifacio Global City
Contact: 478-7091
Operating hours: Thursday and Friday (10 a.m. to 12 a.m.), Saturday (10 a.m. to 2 a.m.)
P.F. Chang's
Address: G/F W Global Center, 9th Avenue corner 30th Street, Bonifacio Global City
Telephone: 664-5956 or 808-7389
Operating hours: Thursday (11 a.m. to 10 p.m.), Friday and Saturday (11 a.m. to 12 a.m.)
Phat Pho
Address: G/F Serendra, Bonifacio Global City
Contact: 843-0820
Operating hours: Thursday (7 a.m. to 11 p.m.)
Wildflour Cafe + Bakery
Address: 4th Avenue corner 26th Street, Bonifacio Global City
Contact: 856-7600
Operating hours: Thursday, Friday, and Saturday (7 a.m. to 10 p.m.)
Yellow Cab Pizza
Address: G/F 8/10 Building, Upper McKinley Road, McKinley Hill, Taguig City
Telephone: 0917-201-8194
Operating hours: Thursday, Friday, and Saturday (24 hours)
ADVERTISEMENT - CONTINUE READING BELOW
Load More Stories