10 Best Soft-Serve Ice Cream P50 Can Buy
Budget-friendly cool treats in a cone or cup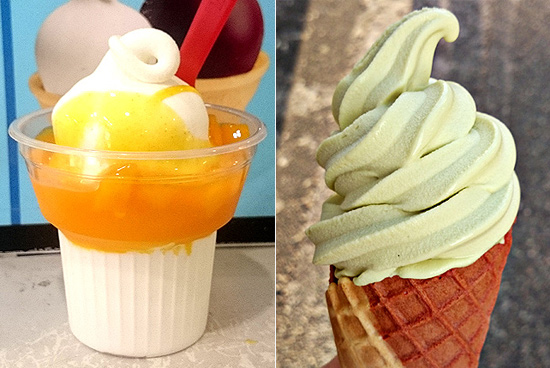 (SPOT.ph) We already know what you can get for P20 (not a haircut, not entry to a club, not even a balloon), but how far can you stretch P50? Turns out, pretty far. If you're talking about soft-serve ice cream.
We have nothing against regular ice cream (every cold treat is a savior these summer months), but that gooey, velvet, luscious feeling of soft-serve is incomparable comfort. It's lighter on the stomach but heavier on the glee-inducing effect—maybe because you can have cone after cone, and not feel anything but satisfaction. And did you know that soft-serve ice cream has less fat that your everyday frozen variety?
There are expensive versions popping up every now and then, but nothing beats scoring a wallet-friendly treat, which most of this kind still are. Take it from SpongeBob's Patrick Star: "Justice is best soft-serve."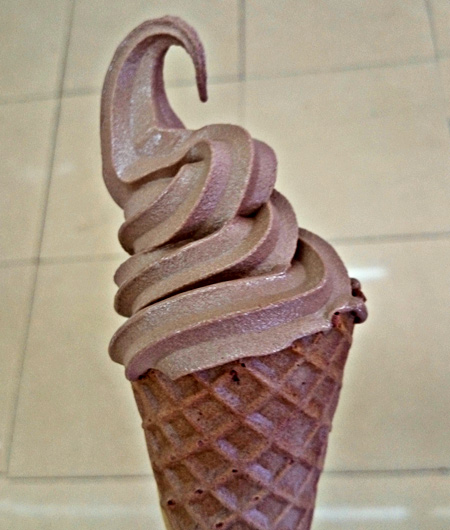 ADVERTISEMENT - CONTINUE READING BELOW
Mini Stop's Hershey's Chocolate Ice Cream (P15/Giant Sundae Cone, P18/cup)
This ice cream puts the value in value-for-money. We recommend getting the Giant Sundae Cone, which attendants generously fill from the bottom tip up to a tall, lovely coif. It's sweet, but not overly so (certainly not as sweet as you'd expect from something as cheap as this); that deeper Hershey's flavor is evident in every lick. The swirl is a little on the thin side, though, so you better eat fast before it leaks.
Click here for a list of Mini Stop branches.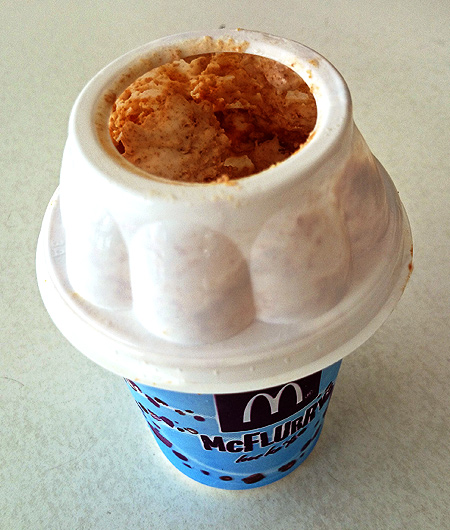 CONTINUE READING BELOW
Recommended Videos
McDonald's Sansrival McFlurry (P45)
Like most fast-food restaurants, McDonald's uses only one base for their dessert. The same soft-serve ice cream is used to flourish their cones, sundaes, floats, and McFlurry. The McFlurry is the obvious choice if you want to maximize your P50 (flavors range from P45 to P50). At P45, the Sansrival is the most budget-friendly. The butter mixes seamlessly with the vanilla and, eyes closed, we'd swear it's butter-flavored ice cream except for the bits of pastry in every spoonful.
ADVERTISEMENT - CONTINUE READING BELOW
By the way, McDo also has Apple Pie a la Mode (P45).
Click here for a list of McDonald's branches.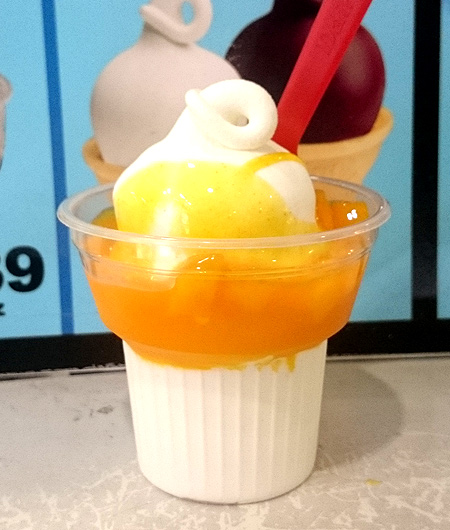 Dairy Queen's Mango Sundae (P39)
We're always impressed with dishes that look nearly the same as the photo, and Dairy Queen's actual sundae is definitely #twinning. It looks tiny, but this is five ounces of compact, heavy soft-serve. It's so dense that we love how resilient it is against the heat (yup, it's the same stuff that makes up the Blizzard). Creamier, milkier, and with a delicate crown of syrupy mangoes, this is like a dip in the pool under the hot, hot sun.
Click here for a list of Dairy Queen branches.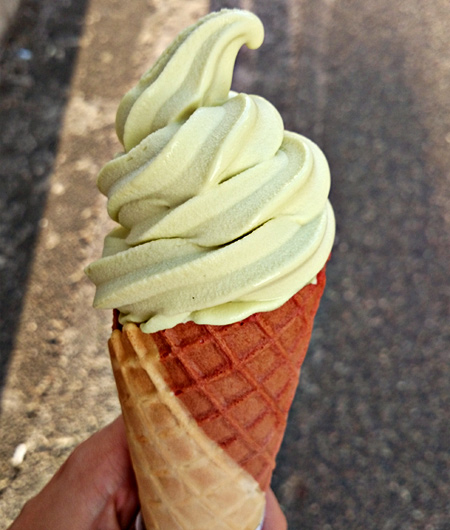 ADVERTISEMENT - CONTINUE READING BELOW
Family Mart's Green Tea Ice Cream (P30)
This convenience store chain has a lot of delicious goodies, but the twirl-all-you-can green-tea soft-serve is usually the one surrounded with people, as if watching a spectacle. Twirling is an art, and if you're not careful, you get either too little or your ice cream ends up on the floor. This is one sugar cone you should maximize. The ice cream is thick: slow to melt (we tested it) and unless you botch up your twirl, not a mess to eat. It's primarily sweet, but you get little kicks of that green-tea thrill.
Click here for a list of Family Mart branches.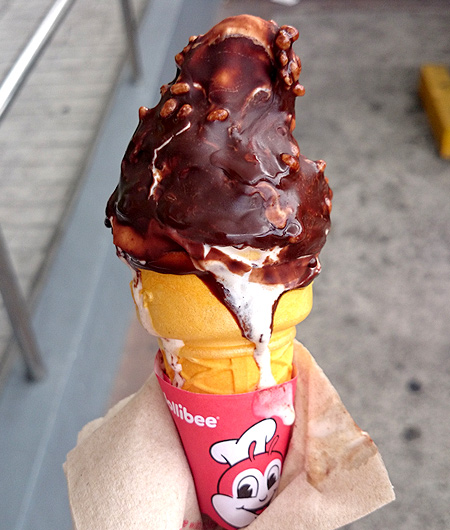 Jollibee Choco Crunch (P18)
Jollibee's ice cream starts melting as soon as it escapes the machine, which is a shame. You're probably better off enjoying it in a plastic cup, but its vanilla flavor tastes wonderful against the crispy-rice speckled chocolate sauce-shell that they offer in a cone. But if you don't mind sticky fingers, go ahead.
ADVERTISEMENT - CONTINUE READING BELOW
Click here for a list of Jollibee branches.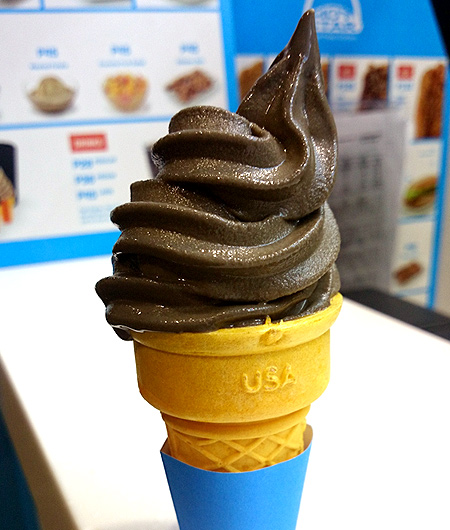 Hot Star Black Gulaman Sundae (P15)
We can't help but feel that this Taiwanese restaurant puts Chinese desserts into an ice cream machine, and waits for them to come out all cold and gooey. They only have two options—almond and black gulaman, with the latter seeming like a much more daring ice cream adventure. It's exactly that nutty-syrupy flavor of the beloved dessert jelly, and all we could think about as we licked the cone was that how good it would taste over halo-halo.
Click here for a list of Hot Star Fried Chicken branches.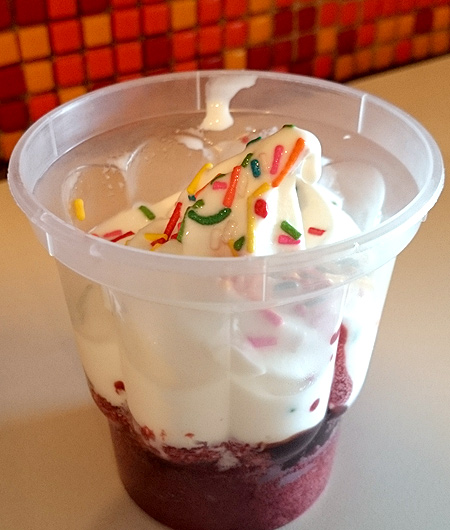 ADVERTISEMENT - CONTINUE READING BELOW
Manang's Chicken Red Velvet Cupcake Sundae (P49)
Manang's has plain vanilla soft-serve, but if you're up for a little celebration in a cup, their sundaes are extra fun. At the base is freshly warmed red velvet cake with chocolate sauce (instead of the promised ganache), then a thick curl of ice cream, and finally, a flourish of sprinkles. It's a fast-food version of a molten cake a la mode. It's child-friendly sweet, but there's a grown-up sophistication in the way they create the layers.
Click here for a list of Manang's Chicken branches.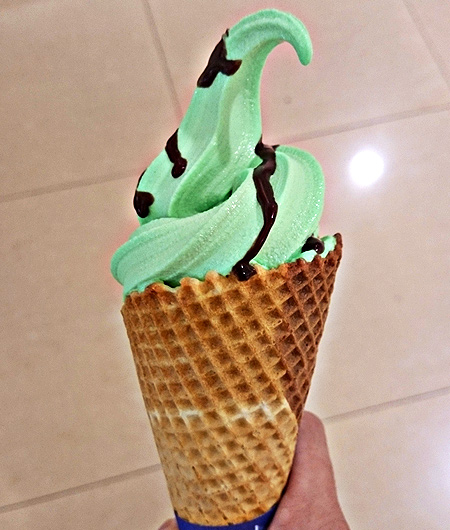 Snowpy's Buco Pandan in a Cone (P20)
Snowpy offers only two flavors—mocha and buko pandan—served in a variety of ways (none of which go over P25). We chose the more uncommon flavor in a crunchy Danish cone (which looked like a normal sugar waffle cone). The buko pandan is sweet but not cloying. The nutty taste won't hit you squarely, but you definitely catch it as you go through this treat.
ADVERTISEMENT - CONTINUE READING BELOW
Click here for a list of Snowpy's branches.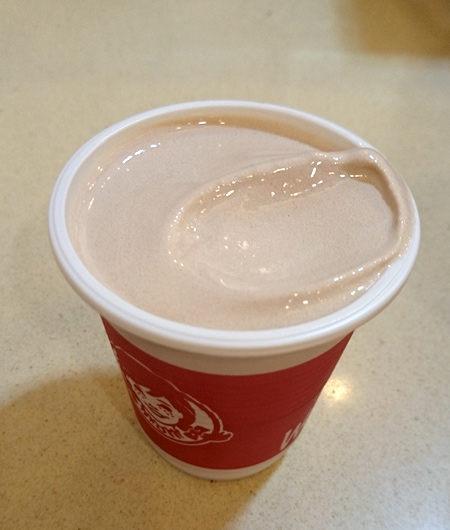 Wendy's Chocolate Frosty (P38)
This frothy bestseller demonstrates the law of supply and demand. People want it, and they're willing to pay. The Frosty isn't as affordable as it used to be, and only the smallest size—a very cute little cup—could fit within our price range. A cup is always a question of whether what you got is melted ice cream or just a really thick milkshake. It's somewhere in between, we suppose. All we know is that this spoonable comfort, rich and sweet chocolate, is one of the best rewards P38 can buy.
Click here for a list of Wendy's branches.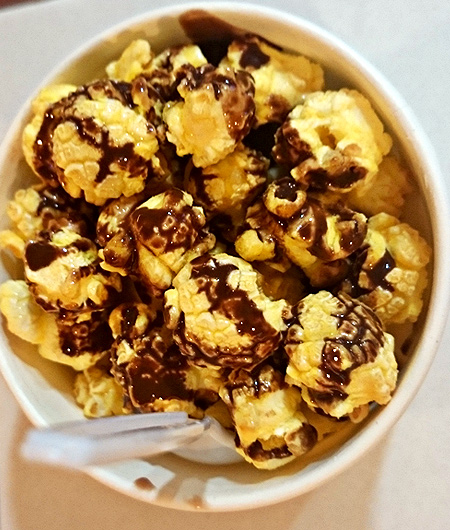 ADVERTISEMENT - CONTINUE READING BELOW
Jipangyi J-Pop Ice Cream (P49)
Of the many other kiosks in the food court, Jipangyi attracts attention for two things: the enormous standee of Ryan Bang and the curious J-shaped cones that serve as the vessel for their soft-serve. These corn-based crunchy tubes filled with ice cream and a topping of your choice give the Korean dessert shop a unique edge, but we want to get the most out of our budget. They have P49 soft-serve gelato flourished with gourmet popcorn. It's your everything-nice cup!
Jipangyi Seoul Cane Ice Cream has branches at SM Mall of Asia, Pasay City; SM San Lazaro, Manila; Alabang Town Center, Muntinlupa City; SM Manila; and SM Bicutan, Parañaque City.
---
Help us make Spot.ph better!
Take the short survey
Load More Stories