Top 10 Macarons in Manila (2015 Edition)
Two-time No. 1 winner Chez Karine has shut down, but there are still other delectable options.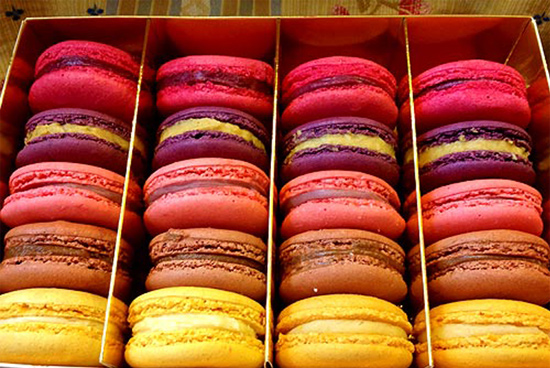 (SPOT.ph) When the macaron craze began in the early 2000s, it seemed like it would be as fleeting as every other food fad that tore through the country (remember when donuts were a Big Deal?). But here we are, over 10 years later, still eating macarons, with the "trend" exploding in 2012. Many have come (Mabuhay, Laduree!) and some have gone (RIP, Chez Karine), since our last list—where Chez Karine ranked No. 1—let's see how the competition stacks up today.
All SPOT.ph Top 10 lists are researched, paid for, tested, and selected by the writers and editors. They are discreetly conducted without any notice made to the restaurants or their owners.
Also read: Top 10 Macarons (2012 Edition)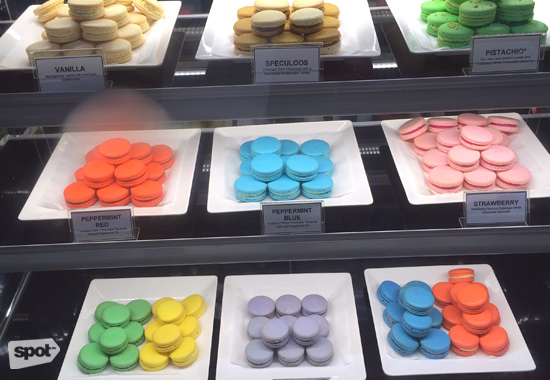 ADVERTISEMENT - CONTINUE READING BELOW
10. Macarose (P55/each, P160/box of three)
Macarose is proof that you don't need to be a big name to have big impact. It only has one tiny stall in SM Megamall, but its macarons pack a memorable punch. With a variety of cookies from the dark depth of Davao 65% to the nutty pistachio (add P5) to the trendy Speculoos and to the mild sweetness of Purple Yam, Macarose's flavors are distinctively delicious.
Macarose is available in SM Megamall D, Ortigas, Mandaluyong City.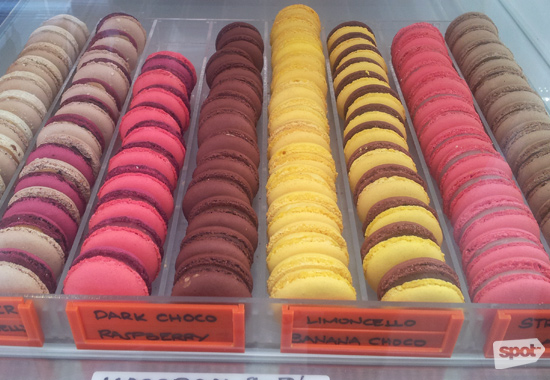 CONTINUE READING BELOW
Recommended Videos
9. Bar Dolci (P50/each)
Bar Dolci's macarons might be difficult to break due to their tough shells, but the filling is well worth the effort. These soft, fudgy cookies come in a wide variety of flavors that are immensely rich. Its bestselling Ferrero macaron is a tribute to the popular chocolate brand, giving off a mild hazelnut taste.
Click here for a list of Bar Dolci branches. Read more about Bar Dolci.
ADVERTISEMENT - CONTINUE READING BELOW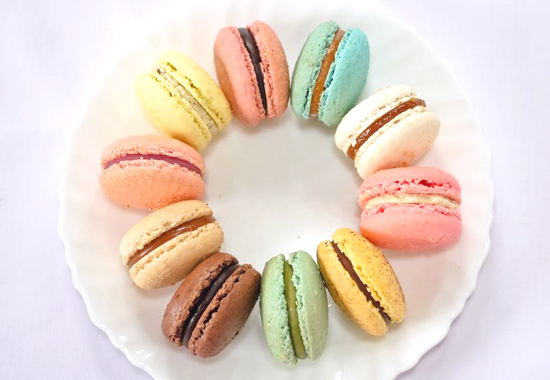 8. Alchemy (P250/box of six)
Each bite of these home-baked macarons offers a thick, chewy filling that is full of flavor. The fruit variants, such as Banana Walnut and Raspberry, have distinctly natural flavors that make you think they were freshly picked from the garden. Additional points go to presentation, as Alchemy's pretty blue box comes with a handy illustration of each flavor for reference.
For orders, contact Meryl Go at 330-9229, 0917-896-3795.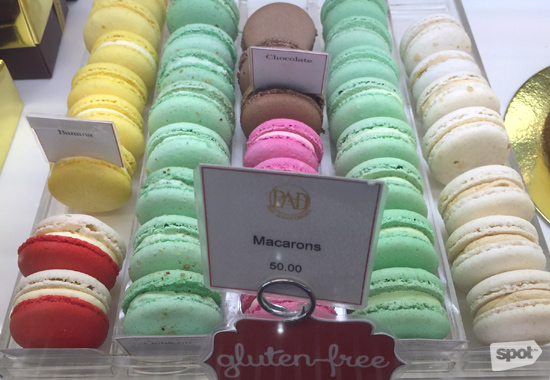 ADVERTISEMENT - CONTINUE READING BELOW
7. Park Avenue Desserts (P50 each)
PAD's macarons are gluten-free, perfect for health-conscious dessert lovers. The full, creamy center is surrounded by a crisp cookie. The architecture of it helps all the elements interact. Their chocolate macaron has a rich taste, but it doesn't overpower your palate so much that it results in a cloying experience.
Click here for a list of Park Avenue Desserts branches.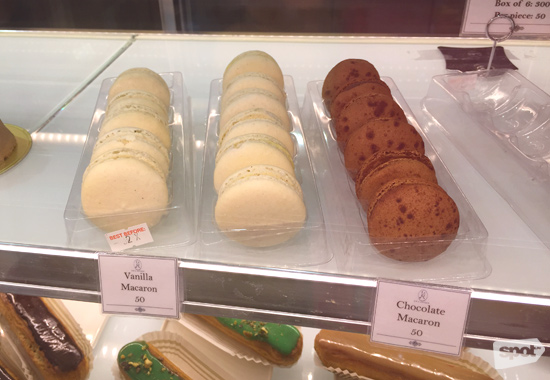 6. Eric Kayser (P50/each)
Eric Kayser's cookies are a tad smaller than usual, but the size is enough because their thick-shelled macarons are bursting with a delectable and heavy cream. Notable flavors are Chocolate, which has a "Goldilocks' just right" sweetness that reminds you of a really good brownie, and Coffee, a vibrant take on the breakfast staple.
Click here for a list of Eric Kayser branches. Read more about Eric Kayser.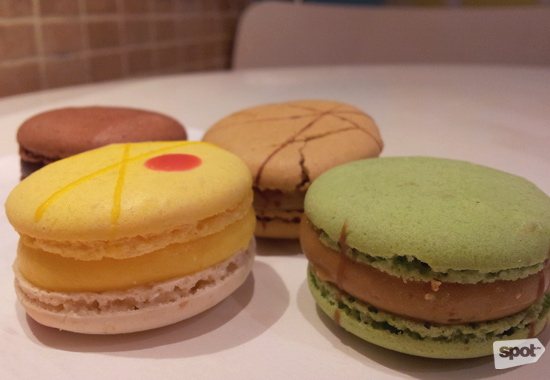 ADVERTISEMENT - CONTINUE READING BELOW
5. Bread Talk (P50/each)
Despite being one of the more recent bakeries to get in on the macaron trend (Bread Talk just launched their La Macaronerie in June), Bread Talk's wide variety of flavors are surprisingly well-made (soft and crumbly with a mild crunch) and delicious. The lemon and raspberry variant is bright in both looks and flavor. One bite greets you with a tangy kick of lemon and the lasting sweet-sour taste of raspberry.
Click here for a list of Bread Talk branches.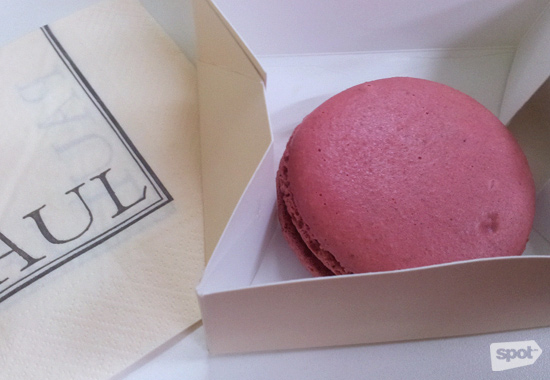 4. PAUL (P220/each, P660/dozen mini-macarons)
Macarons are dainty things and flavor can go either way—too much or too little. With its le grand macaron (think four regular-sized ones put together), PAUL attempts to make the usual taste more pronounced. Their take on raspberry is the perfect combination of sour and sweet, thanks to the rich jam-like filling that both moistens and flavors the treat. The bakery also offers mini-macarons, sold by the box or as part of PAUL's tea-time specials.
ADVERTISEMENT - CONTINUE READING BELOW
Click here for a list of PAUL branches.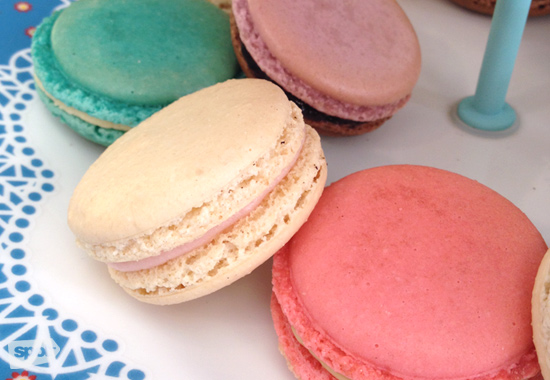 3. Mrs. Graham's Macaron Café (P65)
Mrs. Graham's specializes in creating special macarons, the kind you don't usually see in most stores. Pinoy-themed flavors, such as Ensaymada and Bibingka with Salted Egg are fun finds, as the tiny treats can completely capture what their inspirations taste like. The café's bestseller is Popcorn with Salted Caramel, and rightfully so, as this sweet-salty macaron offers a good contrast in both taste and texture.
Mrs. Graham's Macaron Café is at 51C, Scout Rallos Street, Quezon City. Read more about Mrs. Graham's.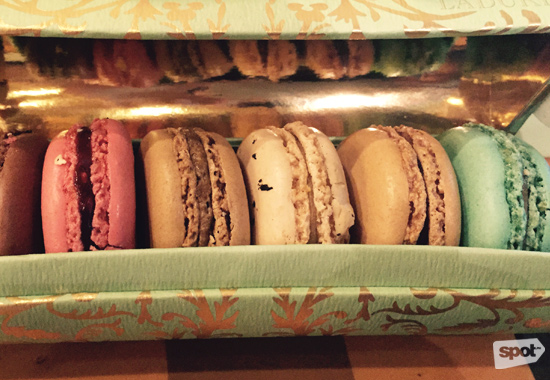 ADVERTISEMENT - CONTINUE READING BELOW
2. Laduree (P150/each)
Soft, but not too soft, crunchy but not brittle, this French import has captured exactly what a macaron's texture should be. This comes as no surprise, as Laduree pioneered the macaron as we know it today. Just like all the other branches in the world, Laduree Manila imports their cookies from France. Be sure to check out the Marie-Antoinette (in honor of the 2006 movie, not the queen), a teal concoction flavored with black tea combined with rose petals, citrus and honey. Here's the question though: Does it taste like P150?
Laduree is at 8 Rockwell Building, Hidalgo Drive, Rockwell, Makati City. Read more about Laduree.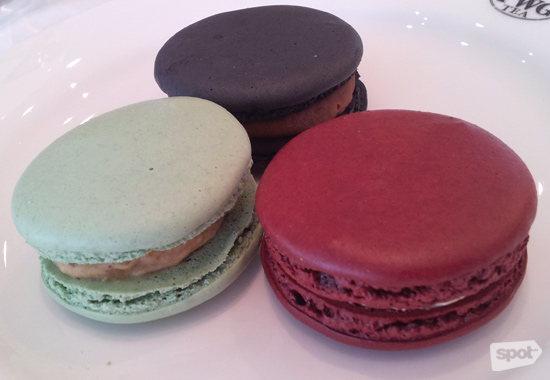 1. TWG (P50/each)
TWG makes tea-infused macarons that are just as lovely as its signature teas. The texture is perfect, all made up of soft filling surrounded by a crunchy outer shell that does not crumble immediately. The taste is delicate but not at all subtle. We love how the tea notes aren't lost amid the sweetness. That's balance for you. The dark-hued Napoleon Tea & Caramel is TWG's undisputed bestseller, with its strong earthy taste and mild traces of caramel melding into a soft and chewy bite. We could eat a whole box without any trouble.
ADVERTISEMENT - CONTINUE READING BELOW
Click here for a list of TWG branches. Read more about TWG.
Also read: Top 10 Macarons (2012 Edition)

Share this story with your friends!
---
Help us make Spot.ph better!
Take the short survey
Load More Stories