"Aloha!" in Manila
Polu Kai Grill is the first spot to introduce authentic Hawaiian cuisine to Filipinos.
The tiki bar serves alcoholic and non-alcoholic drinks.
Hawaii is world famous for its brilliant blue sea, but the last few years have also seen a renewed interest in this island state as more than just a surfing destination. Hawaii is also home to brightly colored flowers, palm trees, and dances that truly represent the island's colorful way of life.
Here in Manila, the Polu Kai Grill in Serendra was established to introduce to Filipinos another dimension of Hawaii - its diverse cuisine, which varies from the typical American fare, to Oriental, and even European. And for those who think that Hawaii's food is limited to tropical fruits, Polu Kai (which means "blue ocean") begs to disagree. This restaurant features favorites from Hawaii, Jamaica and the Carribean, among others.
Polu Kai Grill is perhaps the first restaurant to introduce authentic Hawaiian cuisine to Filipinos. This authenticity is also apparent in its interiors. Reminiscent of an island party, it is decorated with various carvings of tiki gods, from the walls, to the barstools, even to the salt and pepper shakers. A huge aquarium occupies almost an entire wall, with a tiki god standing guard right beside it, lest you try to swipe a fish or two to take home.
ADVERTISEMENT - CONTINUE READING BELOW
The Aku Poki is the Hawaiian version of sashimi.
They also focus on fun, which translates into how they serve their food that come in huge servings, and is cooked tropical island style. For example, the Aku Poki (Php180) is served not on a plate, nor on a platter, but rather in the style of a cocktail drink, garnished with a slice of lemon. Considered as Hawaii's most famous pu-pu (appetizer), this is made with fresh, sashimi-grade tuna chunks in shoyu sesame marinade, served in a bed of lettuce, and topped with fried wonton strips.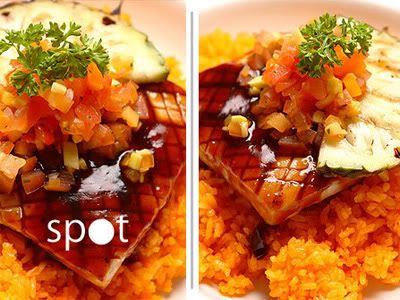 ADVERTISEMENT - CONTINUE READING BELOW
Bring along a friend if you're willing to try the Giant Squid Steak.
This spot is also home to the Giant Squid Steak (Php380), which is literally gigantic. The squid steak is grilled with a teriyaki base, and served with salsa and garlic pilaf. Another dish to try is the Crabby Shrimp (Php350), a dish of sauteed shrimp in rich crab roe sauce.
Of course, this place is not restricted to shrimp, cuttlefish, oyster, and other seafood. The Aloha Rib and Chicken (Php580) is a combination of a grilled half rack of tender, fall-off-the-bone baby back ribs and barbecue chicken served with potato wedges and Hawaiian coleslaw. One bite will have you smacking your lips in delight, and you will also be tasting Polu Kai's special, secret barbecue sauce as you chow down on your ribs or chicken.
The restaurant also carries eclectic choices of drinks, from margaritas, to fruit shakes, to cocktails, and the cheapest beers (Php45 for a bottle of the ever-elusive Cerveza Negra) to totally emulate the beach cuisine experience.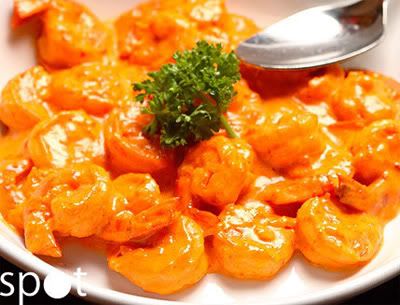 ADVERTISEMENT - CONTINUE READING BELOW
You get two seafood flavors (the shrimp and crab) in one with this dish.
And your immersion in the true Hawaiian experience actually begins as you approach the doors that swing open when you pull on an oar, instead of a knob or any other ordinary handle. A member of the wait staff in a bright orange shirt greets you with a huge smile and an enthusiastic "Aloha!" As you push open the doors to leave, you are thanked profusely ("Mahalo!"), and are extended an invitation to return as many times as you want.

Polu Kai Grill is located at Serendra Piazza Ground Level, Mc Kinley Parkway, Fort Bonifacio, Bonifacio Global City, Taguig. For inquiries and reservations, call tel. 856-0355 or email polukaigrill@yahoo.com
Imgaes by Noel Salazar
Load More Stories