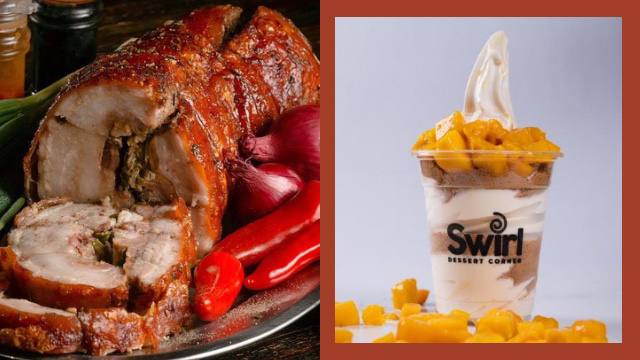 (SPOT.ph) Whatever cuisine you're looking for, chances are, you'll find it at Sugbo Mercado. The popular Cebuano food park is great for discovering new names and revisiting ones that have quickly become the new classics. We round up some of the names that have grown beyond the food park, becoming well-established brands that everyone recognizes instantly.
Whether you've never been to Sugbo Mercado or it's your usual hangout spot, these are the brands to take note of. 
Also read: This Open-Air Food Park Has a Different View of Cebu City
Check out the stories behind these three popular Sugbo Mercado-grown brands
Swirl Dessert Corner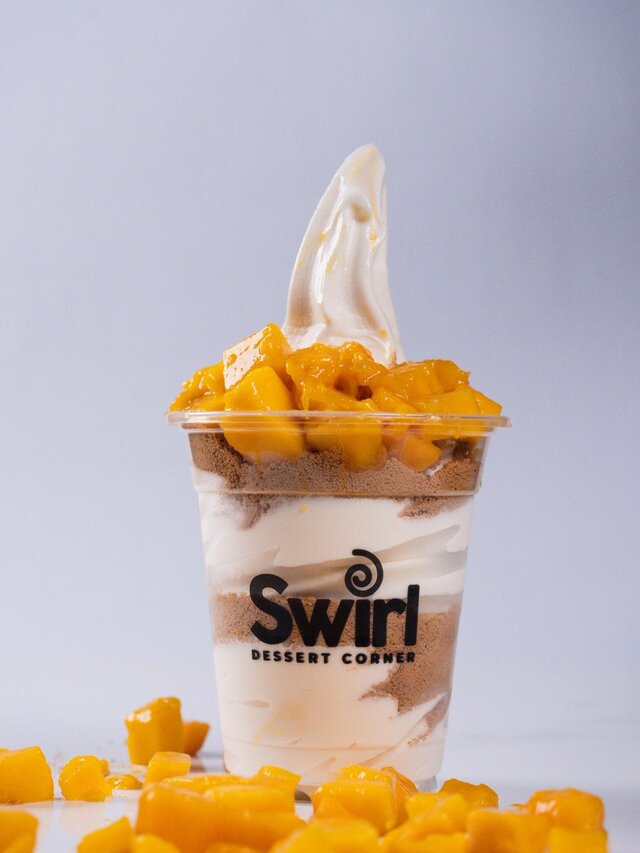 ADVERTISEMENT - CONTINUE READING BELOW
Who hasn't heard of Swirl's mango floats? But here's a lesser-known fact: Swirl wasn't The Swirl Group's first food venture. Lorenzo Carampatana first launched Grain, which sold vegan overnight oatmeal and coffee, in 2018 at Sugbo Mercado. Carampatana was only 22 years old at the time and had no food industry experience. Sales were off to a slow start. But when he added Classic Mango Float (P120) to his menu, customers instantly fell in love. (For the uninitiated, this is no ordinary mango float. It's a sundae! Soft-serve ice cream topped with ripe mango chunks and crushed graham crackers.)
Then he decided to expand the lineup with and changed the brand name to Swirl. Variations such as the Oreo Overload (P100) and Chocnut Overload (P90) followed, along with the well-loved Mango Float Supreme (P100). Milk tea soft-serve, made from real brewed tea, also became a hit. The choices are as good as they sound: Milk Tea Swirl (P100), Black Sugar Milk Tea Swirl (P110), and Oreo Milk Tea Swirl (P100).
It did so well that it allowed the brand to expand to five more locations after just a few months. However, like many businesses, Swirl was affected by pandemic restrictions, which happened just a couple of months after the opening of the brand's fifth location. True to the Cebuano spirit of resilience, Swirl moved online. With the help of his girlfriend, Carampatana sold mango float tubs while trying to figure out the next step in the new normal.
CONTINUE READING BELOW
Recommended Videos
Just a week after the lockdown, Carampatana took a risk: he launched a high-budget ad campaign on Facebook and Instagram for Swirl. Suddenly, the brand's sales soared beyond the pre-pandemic figures. The brand enjoyed this for a few months until the numbers plateaued after the easing of COVID restrictions. Today, Swirl continues to adapt while satisfying the Cebuano craving for ice cream. As for Carampatana, the pandemic brought with it unique opportunities for his creative spirit, and he was able to launch The Swirl Group, comprised of Mon Dough Baking Co., Fruitify, Mr. Big Fry, Lola's Kusina, Muku, and Swirl. By the end of this year, the group is projected to have 17 branches for the brands, including six Swirl branches. Three Swirl stalls are already operational, with three more slated to be opened at SM City Cebu, Shell Consolacion, and Sabroso Food Market. All of these began with a slot at Sugbo Mercado, which is why Carampatana is grateful for the food market.
Swirl also has regular degular ice cream a.k.a. not-soft serve, a.k.a. homemade gelato (P130/one scoop, P185/two scoops, P220/three scoops, P395/pint). Bestsellers include the Auro Chocolate, sourced directly from the internationally awarded company known for its sustainable bean-to-bar chocolate, and the Brazil Cerrado, a godsend for caffeine lovers with its freshly roasted beans.
Swirl Dessert Corner has branches at Shell Robinsons Mobility Station, Ayala Center Cebu, and Sugbo Mercado IT Park. For more information, visit their Facebook or Instagram.
Ally Mango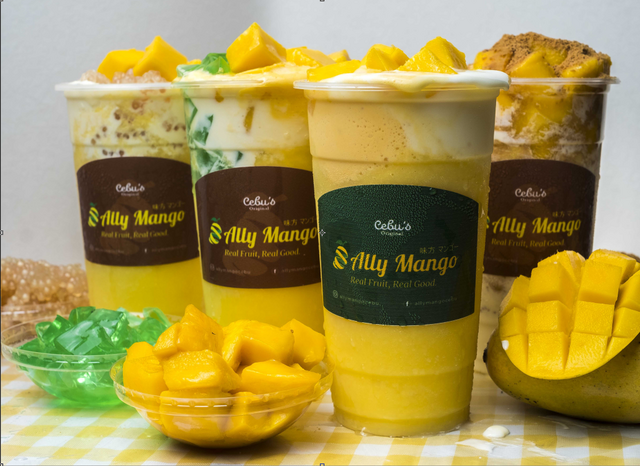 ADVERTISEMENT - CONTINUE READING BELOW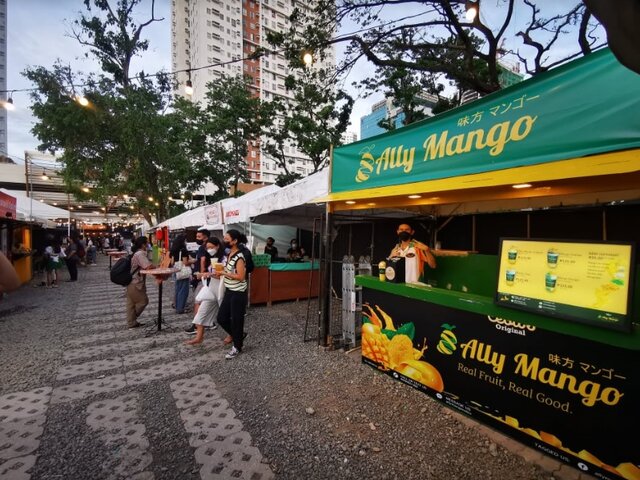 Ally Mango is a testament to the Cebuano taste. Starting out as an unassuming half-a-tent at Sugbo Mercado in IT Park in 2018, the brand had a vision of serving the beloved Cebuano mango shake—with a delightful, mouthwatering twist. Founded by Maryjoy Costelo and her partner, Rolly Alagon, the business is named after their first son.
Back then, the couple wanted to look for another source of income. Despite having no experience in running a business, they took a chance with Sugbo Mercado. Living near IT Park, Costelo observed how everyone flocked to the food market in search of local eats. Knowing that many Cebuanos love mangoes—us included—they came up with a product that is nostalgic yet still of its moment—sweet, creamy, and refreshing mango shakes! (Think milk tea craze but for mango shakes.)
The menu is as straightforward as it gets, but what really makes the difference is the use of fresh mangoes that the shakes are made with fresh mangoes—and their large 22-ounce cups. They come in four flavors: the Ally Mango Original (P110) and Mango Graham (P125), and the Mango Sago (P125) and Mango Pandan (P125). All flavors are topped with ice cream and mango chunks. The bestsellers are the Original and the Mango Graham—notice a trend here? You can also opt to customize it by adding toppings (P25 each) like ice cream and pearls.
ADVERTISEMENT - CONTINUE READING BELOW
Despite the bestsellers getting most of the attention, we find the Mango Sago and the Mango Pandan to be especially nostalgic. The former of celebrations at Chinese restaurants and the latter of clan reunions at Christmastime.
From its humble beginnings—not even a full-size tent—the brand now has 10 branches, which means more spots for you to experience why Ally Mango's mango shakes are so popular.
Ally Mango has branches at Sugbo Mercado IT Park, Sugbo Mercado Cebu Business Park, Street Food by Sugbo Mercado, Gaslamp District Busay, Streat Food Park, Senior Citizens Park, Il Corso Lifemalls, Apas (only for delivery and pickup), and across JY Mall, along the road to Busay. For more information, contact 0917-642-4158 or visit their Facebook or Instagram.
Kuzina Guadalupe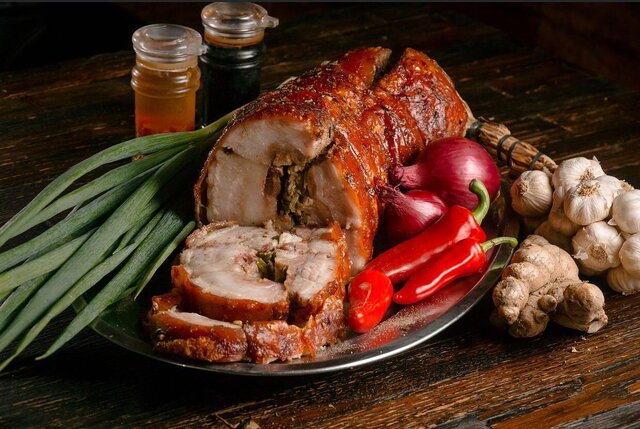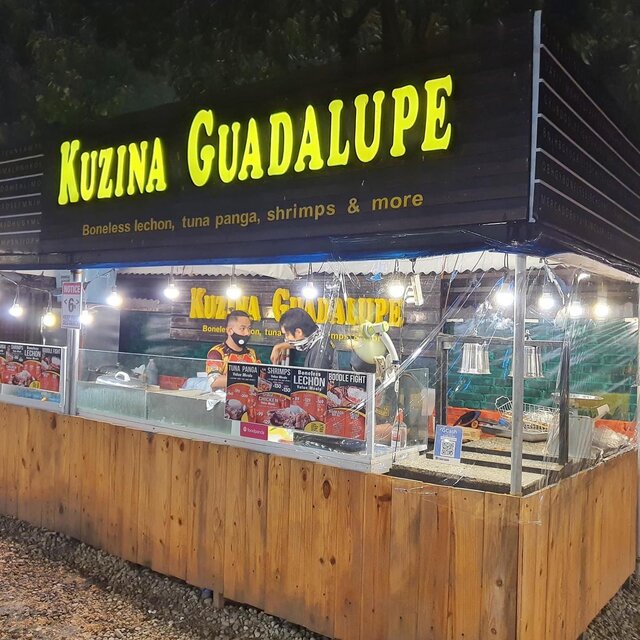 ADVERTISEMENT - CONTINUE READING BELOW
Festive dishes with the familiarity and warmth of home-cooking is how we'd describe Kuzina Guadalupe's food. The venture is owned by the husband-and-wife team Carlo and Marione Dico who have long since been passionate about food. They poured that passion into a small eatery in 2010, then rebranded it to Kuzina Guadalupe in 2011 as the first location was in Barangay Guadalupe, natch. At first, they each had their own domains; Marione was solely in charge of the cooking, while Carlo did the purchasing. But later on, Carlo would also pitch in in the kitchen after developing an interest for cooking.
In 2012, they made their first lechon belly and shared it with friends and family, making sure that it was just perfect before launching it as one of their offerings. They sold the dish online and received plenty of positive feedback, which encouraged them to promote it even more.
In 2015, they were among the first to be invited to join Sugbo Mercado, which started as a weekend food market. They were relatively unknown among the lechon brands, but after seven years, Kuzina Guadalupe managed to become the only lechon stall in Sugbo Mercado. It's a well-deserved slot, too, as Kuzina's lechon belly is full of aromats that engage your taste buds as well as your olfactory senses. A secret blend they guard heavily! In fact, the lamas (stuffing) is so juicy (read: rendered fat) that customers always ask for more. Here's a tip: make sure to pair it with plenty of rice. Let the rice sop up all that oozing flavor. You just won't be able to get enough of the lechon's juices.
ADVERTISEMENT - CONTINUE READING BELOW
The skin is crisp, and the meat is tender with a subtle spicy kick. The belly meat is more tender than traditional lechon.
After some initial successes at the market, the business introduced more items to the menu. Apart from the well-loved lechon belly, the list now includes Tuna Panga (P120), Garlic Butter Shrimps (P150), teriyaki-style Big Chicken (P100), and Pasta (P100-P150). From there, three more booth spaces were added to the lineup at Sugbo Mercado IT Park. By 2017, Kuzina's first mall branch opened at J Centre Mall. It was one of the first brands in the food court, Food Centrale. Two years later, the brand opened their biggest space yet at SM Seaside as an inline restaurant. In the same year, they also launched their new location at the food court in Ayala Central Bloc.
Asked about the success of the restaurant, the couple says that the brand was able to maintain its homey charm by being affordable, while also having charming meal names that connects with the market's humor—Gutom Meal (P109/100 grams of lechon belly, a cup of rice, and a drink), Super Gutom Meal (P159/150 grams of lechon belly, a cup and a half of rice, and a drink), Pasmado Meal (P199/200 grams of lechon belly, two cups of rice, and a drink), and King's Meals (P280, comes with shrimps and scallops). The entire venture also remains very much like your local carenderia, managing to establish bonds with new fans while maintaining ties with their loyal day-ones.
ADVERTISEMENT - CONTINUE READING BELOW
Kuzina Guadalupe has branches at Sugbo Mercado IT Park, SM Seaside, and J Centre Mall. For more information, contact 0956-342-3888 or visit their Facebook or Instagram.
We are now on Quento! Download the app and enjoy more articles and videos from SPOT.ph and other Summit Media websites.
Share this story with your friends!
---
Help us make Spot.ph better!
Take the short survey
Load More Stories