Where to Go for Fro-yo
We rate three fro-yo joints. See how they measure up to each other and recommend your own fro-yo discoveries!
Up until last year, a vast majority of Filipino consumers hadn't even heard of frozen yogurt. But now that a million and one frozen yogurt shops have been cropping up in Manila, frozen yogurt, or 'fro-yo' is practically a household name. The health benefits of this ice cream alternative are aggressively pushed to consumers, making today's generation of health conscious consumers all the more happy that froyo will be here to save them during bouts of depression or when the tropical heat is just too much to bear - without all of the fat and calories, to boot. But of course with more choices comes the dilemma of choosing the brand to which you'll be loyal. So we decided to help our readers by coming up with a comparative study of frozen yogurt from The White Hat, California Berry and Yogurbud.
California Berry gets their fruit toppings fresh from the market everyday.
ADVERTISEMENT - CONTINUE READING BELOW
California Berry - We must note that California Berry is a very successful frozen yogurt shop from the states brought to us by Kirk Whang and Kyle You - old classmates who came back from the U.S. with frozen yogurt to share with their fellow Filipinos. They opened their first store in Silver City Mall (Ortigas) in July of this year and from the looks of their patronage, business has been good. So like any other US franchise, they adhere to a certain type of branding and quality control process. But of course, they tweaked their froyo recipe to fit the taste of Filipinos.
CONTINUE READING BELOW
Recommended Videos
It's P65 for a small cup, P85 for a regular and P115 for the large cup. The store has different kinds of fresh fruits, nuts and chocolate based goodies with which you can embellish your fro-yo. I got to try their California Berry Special, which basically is a combination of Kiwi, Mango, and Strawberry toppings. They also have premixed choices you can have for P115 (medium) and P145 (large).
Everyone says that the quality of the yogurt can be determined by its texture. It has to be smooth and creamy and the yogurt has to be ice free. If there's ice in it, there's water in it. Water is an extender.
I'm very happy to report that California Berry's yogurt is as smooth as the creamiest ice cream. An added bonus is that California Berry's yogurt is non-fat! There's a sting of sour in the mixture that goes on top of the tangy fruit toppings, a sourness that makes the concoction very refreshing.
ADVERTISEMENT - CONTINUE READING BELOW
In terms of the toppings, you know you're getting fresh stuff. The fruits are still very plump and show no dark spots. They're also firm when you sink your teeth into them.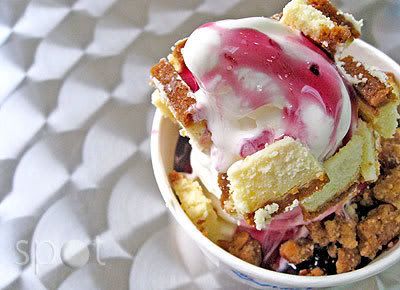 The White Hat makes their yogurt in their store every morning so you know you're getting the freshest fro-yo.
The White Hat Italian Frozen Yogurt - This establishment is 100% Filipino owned. As opposed to the franchised California Berry, The White Hat was conceptualized by Eric Chao and a couple of partners. They decided to ride the health bandwagon and never looked back. In fact, you can expect 5 more branches to open next year.
Somehow, the yogurt of The White Hat is less sour than California Berry's. "Every brand has a different formula for their yogurt." explains Eric Chao, the establishment's Marketing Manager. For The White Hat, they chose to go with 98% fat free milk for their yogurt. Although it's not completely free of fat, their yogurt is the creamiest I've ever tasted. Their toppings are also considerable in number. Compared to any frozen yogurt establishment I've been to in Manila, they have the most varied selections of healthy and sinful goodies that you can eat with your yogurt. They have the same kind of fruits as California Berry plus a number of toppings on the sugary side like their Homemade Cheesecake, Welsh Streusel, Honey, and a lot more. I went for a mixture of Homemade Cheesecake, Streusel and blueberries. All I can say is good thing I added the streusel. Its crunchy texture countered the smoothness of the cheesecake. The blueberries were also very fresh. That combination rocked, just like Sango's frozen yogurt (according to therockeats). Regular cups go for 85 while large will set you back 115 pesos. Each topping will cost you about 15 pesos each.
ADVERTISEMENT - CONTINUE READING BELOW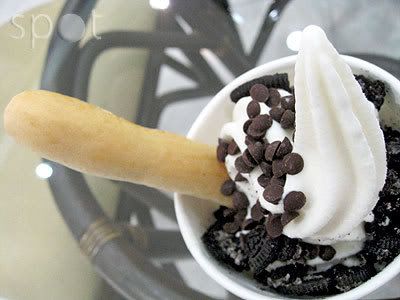 Yogurbud includes a piece of their special bread for every order of frozen yogurt.
Last and I'm quite sad to say the least, Yogurbud. As stated, you want to stay away from the icy yogurts because they have extenders in the formula. Yogurbud has that icy texture that screams extenders. Sure, their yogurt doesn't melt quickly unlike The White Hat's or California Berry's, but the price tag is identical to the first two that I reviewed. Yogurbud has only 1 size and it translates to the large cup that you would get from TWH and CB and it has a cheaper price tag of P90 (you now know why). Toppings range from fresh fruits and those of the chocolate nature. As CathyLara said in her review, "Yogurbud has the potential to be a really cool fro-yo place but it's not there yet." I get what she's saying.
In the battle for yogurt supremacy, there can be only one. For the taste, Animetric and I agree that we like our yogurt on the tangy side (her review of Yoh-Gurt Fruz) so I'll give the thumbs up to California Berry for the taste. But overall, I'd have to give the edge to The White Hat. Why? They have the most variety of toppings that you can choose from.
ADVERTISEMENT - CONTINUE READING BELOW
What other yogurt places do you think we should include on our list? Let us know what you think?
Text and Images by Karl Bustamante
Share this story with your friends!
---
Help us make Spot.ph better!
Take the short survey
Load More Stories