Cheap Eats: Discounts and Freebies from August 29 to September 4
Free dessert, free appetizers, free coffee, and more!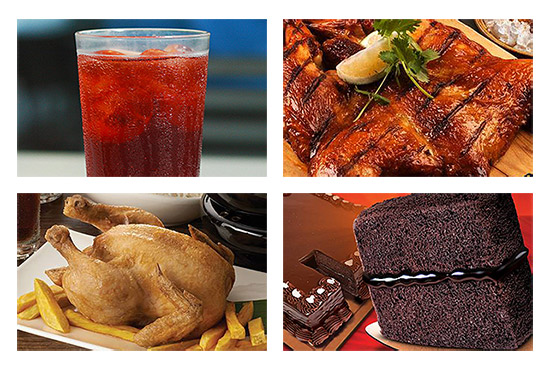 (SPOT.ph) This week, Tokyo Tokyo makes large even larger (and cheaper for one specially refreshing day), Red Ribbon is giving you an affordable taste of their cakes, and J.Co is (again) offering free coffee to go with their donuts. Plus, we have several value meals that will really give you bang for your buck!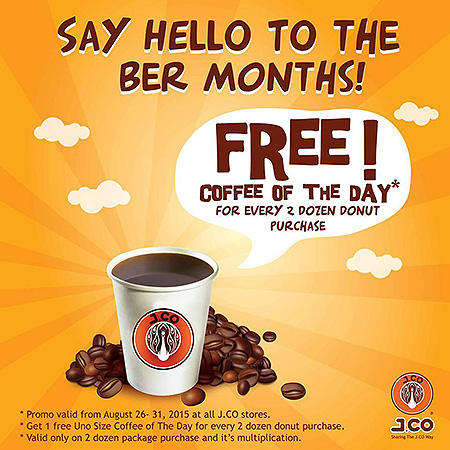 Free coffee from J.Co
It's the last stretch before the -ber months, and J.Co is giving you a treat. Order two dozen donuts and get a free Uno cup of coffee! It's only until August 31.
Click here for a list of J.Co branches.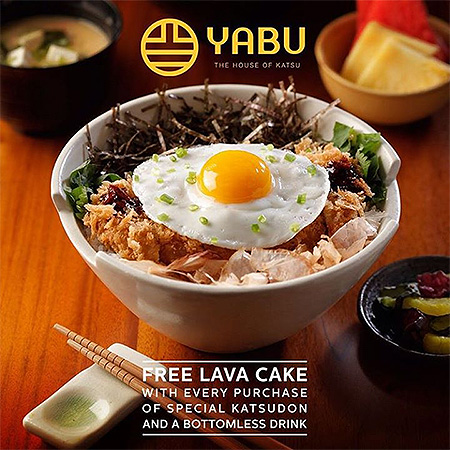 Free lava cake from Yabu
Hungry? Try to visit Yabu this weekend, until August 31. Order their Special Katsudon offer (photo above, looks absolutely perfect), a bottomless drink, and you can a complimentary dessert. Top it all off with a luscious lava cake!
Click here for a list of Yabu branches.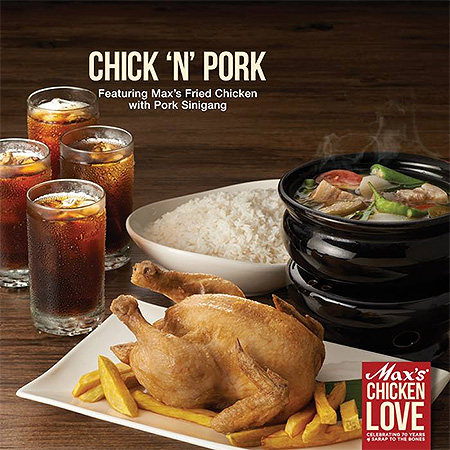 Chick 'N' Pork at Max's
Max's chicken-all-you-can may be over, but that doesn't mean they're out of steals for you to enjoy. Enter Chick 'N' Pork. It's a meal for four for only P899, inclusive of one whole Regular Chicken, one Pork Sinigang, four cups of rice, and four glasses of Pepsi (or iced tea). Total savings? P201. This deal is until September 30.
Click here for a list of Max's branches.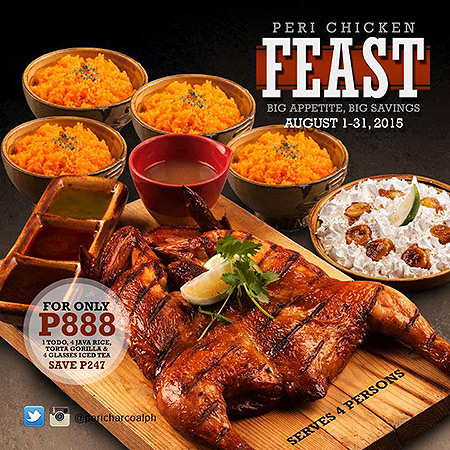 Peri Chicken Feast
ADVERTISEMENT - CONTINUE READING BELOW
Save P247 when you get the Peri Chicken Feast, available until August 31. For P888, you can get the Todo (that's a yummy grilled peri-peri chicken), four cups of rice, four glasses of iced tea, and a Torta Gorilla dessert.
Click here for a list of Peri-Peri Chicken branches.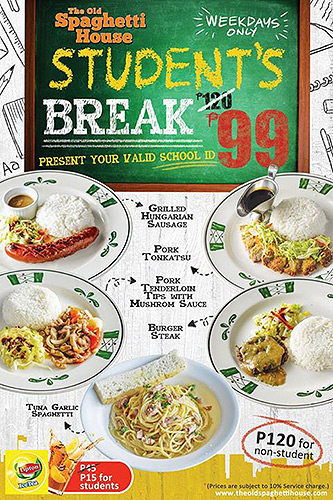 Student's Break at The Old Spaghetti House
Dear kids, here's another great reason to be young and in school. Present your valid school ID at any TOSH branch during weekdays, and you can get anything from a selected menu for P99 (original price is P120). Choose from Grilled Hungarian Sausage, Pork Tonkatsu, Pork Tenderloin Tips, Burger Steak, or Tuna Garlic Spaghetti. You can get the iced tea for just an additional P15.
Click here for a list of The Old Spaghetti House branches.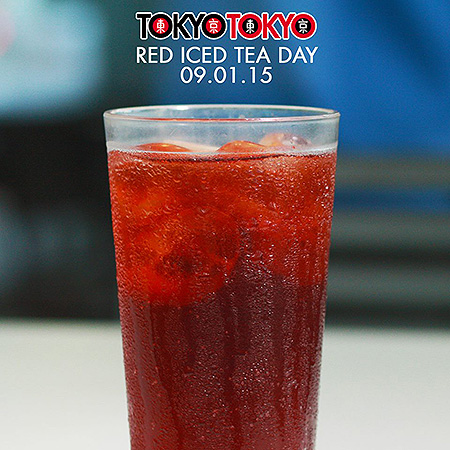 Tokyo Tokyo's Red Iced Tea Day
This Japanese fast-food chain has a pretty good following and part of that comes from fans of their special Red Iced Tea. In fact, Tokyo Tokyo just offered an upsize—32 ounces of sweet refreshment for P49. On September 1, however, Tokyo Tokyo is offering this sumo-sized drink for only P20.
Click here for a list of Tokyo Tokyo branches.
Introductory price of Red Ribbon's Cake Slice
It's the last few days to enjoy Red Ribbon's new Cake Slice for a lower fee of P20. It comes in flavors like Choco, Double Dutch, Chiffon, Choco Marble, and Mocha. This introductory deal ends on August 31.
ADVERTISEMENT - CONTINUE READING BELOW
Click here for a list of Red Ribbon branches.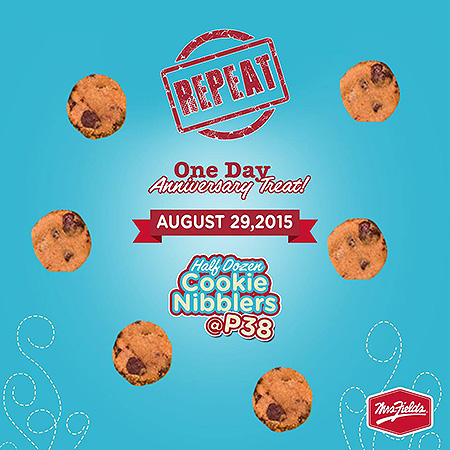 Anniversary Treat from Mrs. Fields
Today, August 29, you can get Mrs. Fields' Cookie Nibblers for only P38/half dozen. You can buy as many six-piece sets as you want!
Click here for a list of Mrs. Fields branches.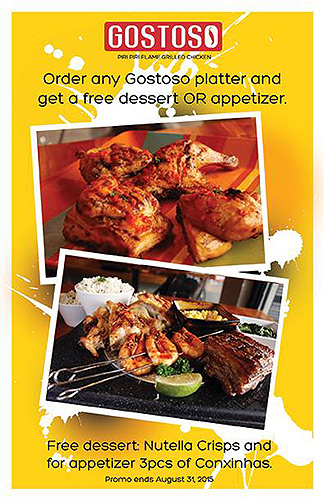 Free appetizer or dessert at Gostoso
Order any Gostoso Platter and get either free Nutella Crisps or free three pieces of Conxinhas. Promo ends on August 31.
Click here for a list of Gostoso branches.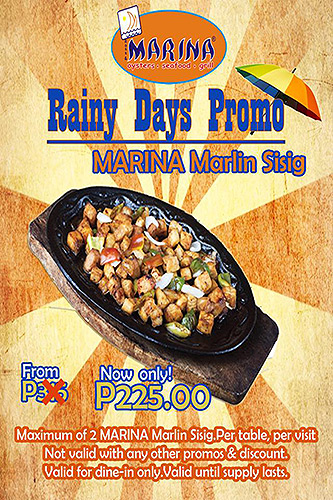 Rainy Day Promo at Marina
Marina is helping you keep warm this rainy season. They're offering their Marlin Sisig for only P225 (original price is P315) until supplies last. Only two orders are available per table.
Click here for a list of Marina Oysters Seafood Grill.
Load More Stories