Cheap Eats: Discounts and Freebies from June 11 to 17
How about some P10 burritos?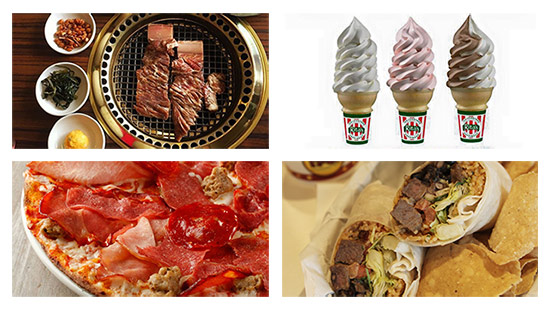 (SPOT.ph) Moe's Southwest Grill is opening with a P10 burrito promo! Plus, celebrate Independence Day with deals like free iced tea, pizza discounts, free coffee, and more!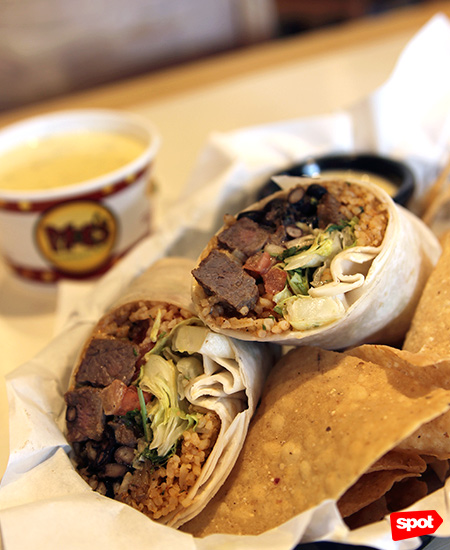 P10 burritos at Moe's Southwest Grill
This Atlanta-based burrito haven is opening on June 14. From June 14 to 15, they'll be selling their burritos for P10. They originally fetch P245. Know more about Moe's Southwest Grill.
ADVERTISEMENT - CONTINUE READING BELOW
Moe's Southwest Grill is at 4/F Uptown Place Mall, Uptown Bonifacio.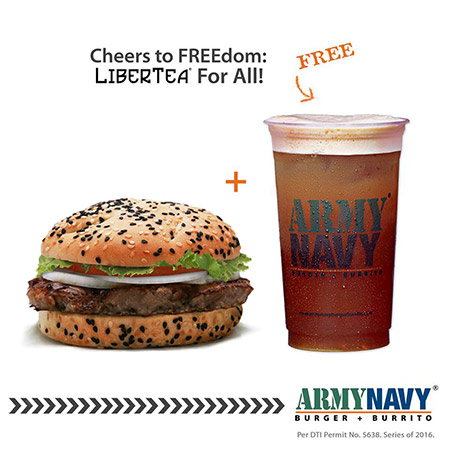 Free Libertea at Army Navy
To celebrate liberty this weekend, Army Navy is treating everyone who buys their burgers to a free Libertea—just flash the e-voucher above to claim it.
Click here for a list of Army Navy branches.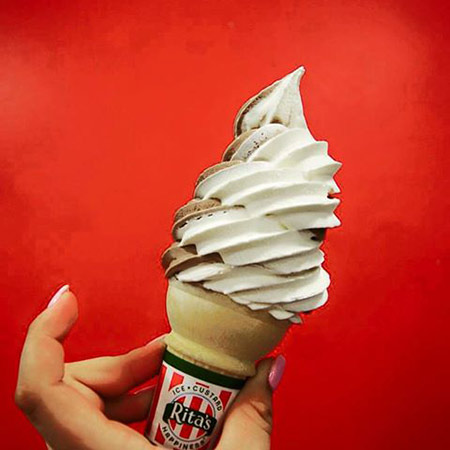 ADVERTISEMENT - CONTINUE READING BELOW
Rita's Back-to-School promo
This month, get the regular custard cone for only P135 or the large for P170. That's P10 off the usual price. 
Click here for a list of Rita's Italian Ice branches.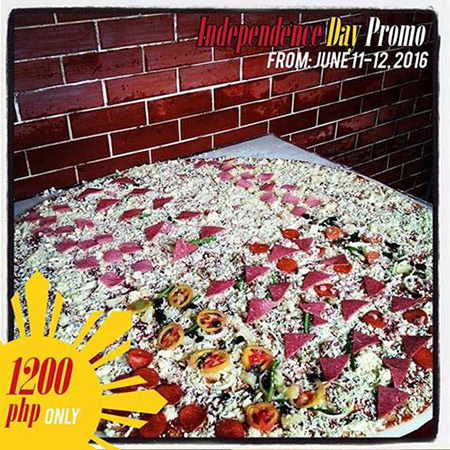 Big Guys! Pizza's Independence Day discount
Enjoy your freedom with a hulking box of pizza. Get the 36-incher for only P1,200 this weekend!
Click here for a list of Big Guys! Pizza hotlines.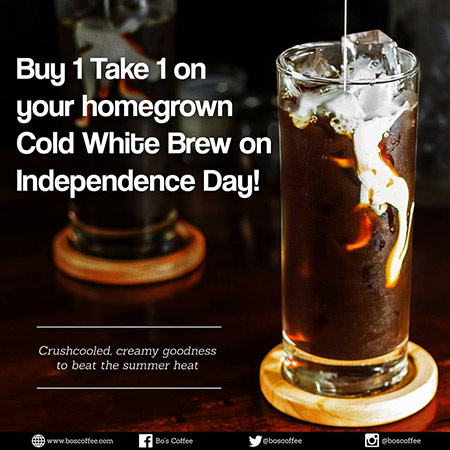 ADVERTISEMENT - CONTINUE READING BELOW
Buy-one-get-one coffee from Bo's Coffee
Make sure to drop by Bo's Coffee on Sunday, June 12. They're offering their Cold White Brew at two for the price of one! Happy Independence Day!
Click here for a list of Bo's Coffee branches.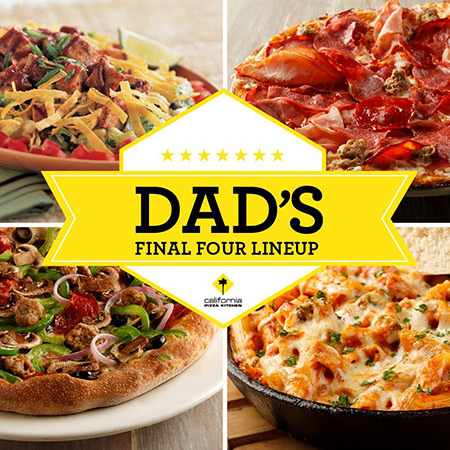 Free gift certificates for dad at California Pizza Kitchen
Treat your dad early. Ask him to choose from CPK's special Final Four Lineup (it features a salad, two pizzas, and pasta) and he can get a P500 gift certificate valid for his next visit.
Click here for a list of California Pizza Kitchen.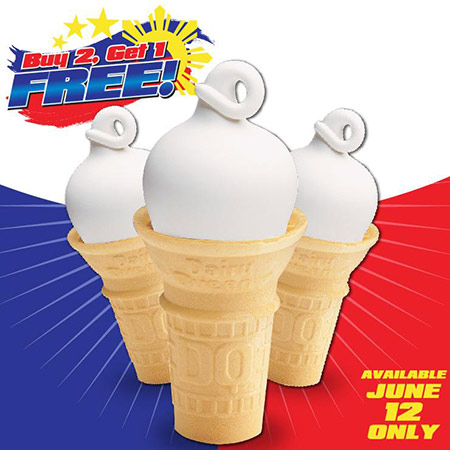 ADVERTISEMENT - CONTINUE READING BELOW
Free Dairy Queen cones
Nothing will make you feel freer than eating three Dairy Queen cones. On June 12, buy two One-Ball Cones and get a third on the house. Independence Day has never been cooler. 
Click here for a list of Dairy Queen branches.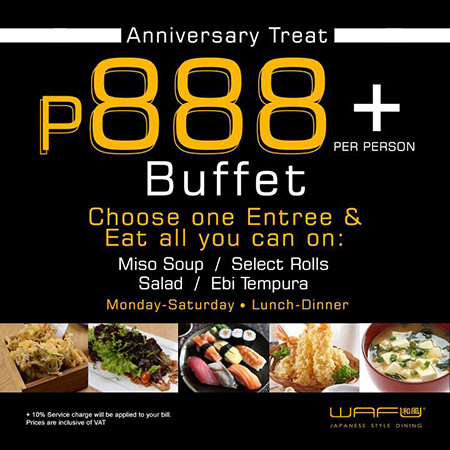 P888 anniversary buffet at Wafu
Relish one more week of Wafu's P888+ anniversary buffet. The price gets you one main course and unlimited amounts of soup, salads, ebi tempura, and selected rolls.
Wafu is at Greenhills Shopping Complex, San Juan City.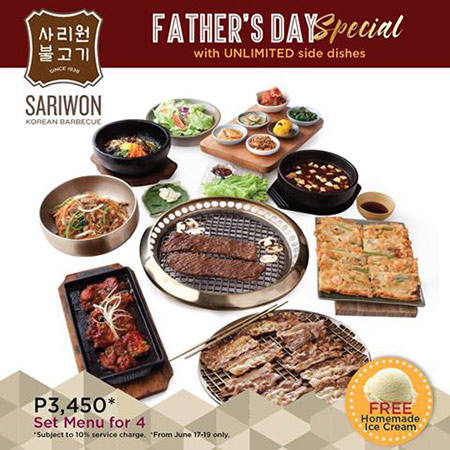 ADVERTISEMENT - CONTINUE READING BELOW
Sariwon's Father's Day Special
Make your dad feel like a king with this steal of a feast. For P4,040, you get 340 grams of Chesanggeup Yangnyeom Galbisal (melt-in-your-mouth premium USDA short ribs marinated in sea salt), 375 grams of Woo Samgyup (marbled premium USDA choice beef belly), Dak Galbi (grilled spicy chicken), two orders of Dolsot Bibimbap, a seafood pancake, chapchae, fluffy egg casserole, gimbap, Korean soup, and unlimited sides. This meal is good for four and dad also gets a free scoop of homemade vanilla ice cream. 
Click here for a list of Sariwon branches.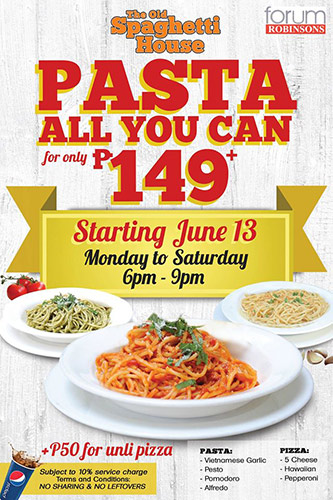 Pasta all-you-can at The Old Spaghetti House
It's back! On June 13, this unlimited pasta feast will make its way to the Robinsons Pioneer branch from 6 p.m. to 9 p.m. We'll refresh your memory on the details: Pay P149 for all-you-can-eat Vietnamese Garlic, Pesto, Pesto, Pomodoro, and Alfredo pasta. Add P50 for unlimited pizza. No end date has been specified so far.
ADVERTISEMENT - CONTINUE READING BELOW
Load More Stories