Top 10 Cutest Chefs in Manila
Who takes the cake as the cutest chefs in town? We list our Top 10.
When it comes to picking out guys who stand out from the pack, those who know their way around the kitchen get major points. Thus, some may say that cute chefs have an unfair advantage. SPOT.ph lists 10 men who heat up the kitchen in more ways than one. (Spotted other cute chefs? Please let us know! Manila can never have enough of them!)

10. Chef Rolando Laudico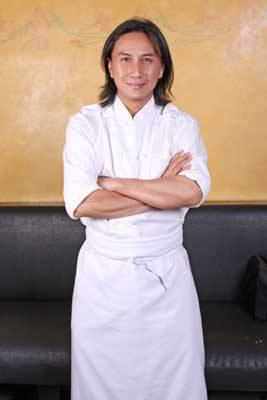 Culinary bio: Educated at the Culinary Institute of America, he worked in France and Australia before setting up a catering business and eventually opened Bistro Filipino in 2006.
Where to spot him: Working his magic on the dishes at Chef Laudico Bistro Filipino.

Chef Laudico does not have a clue whom he appeals to the most, but says, "A lot of little kids seem to like me a lot, which is cool. I love kids." The long-haired chef who walks around with a "rocker dude" vibe is responsible for Bistro Filipino's much-talked about Pinoy food. He thinks though that, "being a chef is not about looks. You can just get any handsome guy and dress him up with a chef jacket and call him a chef [but] you have to earn the title through years of hard work and dedication."
ADVERTISEMENT - CONTINUE READING BELOW
Much like how he runs his restaurant, Chef Laudico does not do things half-way. On his first date with wife Chef Jaqueline, he took her to Farmer's Market, brought a lot of ingredients and prepared a feast with over 5 dishes from scratch. "I still love cooking for her up to this day," he shares. Now, that is a keeper.


9. Chef Sau del Rosario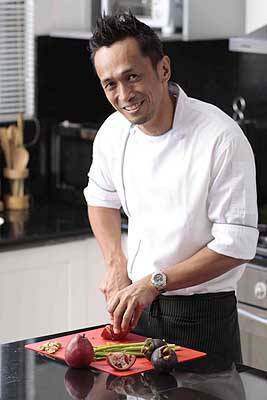 CONTINUE READING BELOW
Recommended Videos
Culinary Bio: Trained at the Culinary Institute of America, Chef Sau has helped open hotel restaurants in Singapore, Shanghai and France; Chef Sau is also a former chef at the EDSA Shangri-la Hotel, New World Hotel, and the Manila Peninsula; The former chef of Museum Café and Chelsea, Chef Sau now creates the dishes at Le Bistro Vert in Makati.

Where to spot him: Cooking up dishes at Le Bistro Vert in Makati.

One of the most popular chefs in Manila, Chef Sau has gone beyond the kitchen and made local television his playground: he was an endorser for the Selecta Gold Series and is currently a judge on QTV 11's "Kitchen Battles" hosted by Issa Litton. The superbly toned Chef Sau, described to have glints of mischief in his eyes, feels that his appeal knows no age nor gender. "I think I appeal mostly to younger women and matronas, and men! Just look at my Facebook friends," he says.
ADVERTISEMENT - CONTINUE READING BELOW
For Chef Sau, "a healthy lifestyle, exercise, organic food, sex, and a lot of ice cream" keep him fit. But it seems that cooking for loved ones make him most happy. Says Chef Sau, "I [once] cooked for my ex and we shared a meal on the rooftop of our building in Paris. I served. I also washed the dishes!"



8. Chef Paulo Sia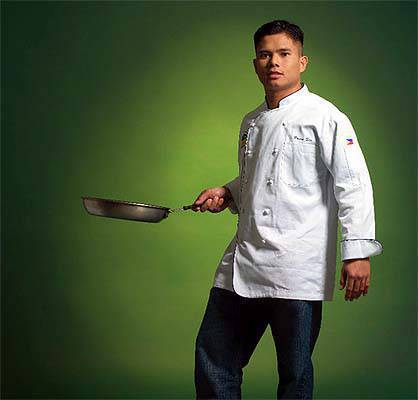 Culinary Bio: Chef Paulo worked for C2 Classic Cuisine, the Linden Suites and set up Multinational Catering Services which he managed until 2003; Chef Paulo is now the corporate sous chef of Unilever Foodsolutions.
Where to spot him: Working the kitchen at Unilever Foodsolutions; Chef Paulo also does cooking demos around town.

Chef Paulo Sia keeps an active lifestyle--he plays football every weekend, hits the gym two to three times a week and even jogs at The Fort. The chef with a friendly smile and a healthy tan, says "It is not about the age or years inside the kitchen. It is about the passion for your craft. [If you're] willing to learn, I believe you can make it in this industry."
ADVERTISEMENT - CONTINUE READING BELOW
The 27-year old chef is also passionate about photography, racing cars, traveling, and tapsilog. "Tapsilog my favorite comfort food anytime, anywhere!"


7. Chef Him Uy de Baron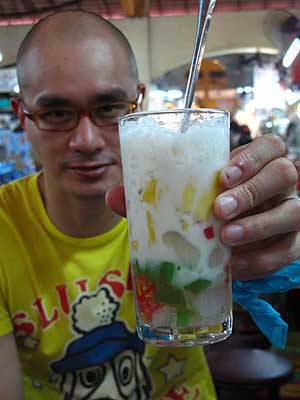 Culinary Bio: Educated at Le Cordon Bleu Australia; Executive chef of catering company, Chef Cuisine; Chef Him also does consultancy work for restaurants which include East Café and Travel Café Philippines.
Where to spot him: Doing consultancy and research projects; eating out and indulging in KFC and sinigang.

Seemingly taciturn, the 31-year old Le Cordon Bleu-trained chef exudes mystery with his reserved demeanor. Lean and with thoughtful eyes behind his black-rimmed glasses, Chef Him thinks that he shouldn't be part of any "cute" list but feels that "matrons and moms" seem to like him most. "They watch my [cooking] demos a lot," he says.
A marathon fanatic, Chef Him says he is constantly running to keep fit. "It's a good excuse to eat and carry a huge appetite." Chef Him's devotion to his wife and two daughters make him all the more endearing. What makes us swoon? He proposed to his wife by taking her out of town, took her up a tower with an amazing view and pulled out pictures which spelled out, "Will you marry me?" while friends serenaded them. They shared a feast that Chef Him had prepared. Says Chef Him, "It was a perfect day."





ADVERTISEMENT - CONTINUE READING BELOW
6. Chef Tristan Encarnacion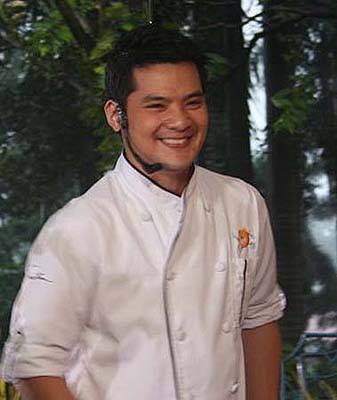 Culinary Bio: Chef Tristan graduated from the Center for Culinary Arts Manila (CCA), worked in Florida and briefly managed Bambouche Bistro, a restaurant he opened in Quezon City; "Unang Hirit's" resident chef and has his own cookware line with international cookware brand Sunnex.
Where to spot him: Chef Tristan does food demos around town for Sunnex.

Son of the late Jun Encarnacion, Chef Tristan started out frying eggs and hotdogs in the kitchen when he was a kid. Not realizing he could ever be a chef, he dreamed of being a TV reporter or correspondent. He certainly has the looks and registers well onscreen--the chinito celebrity chef has a winning smile paired with a rebellious vibe (check out the tattoo on his left arm!).
Chef Tristan got his big break when he launched his cookware line under Sunnex named Tristan's Chef's Classics and does cooking demos for the brand around town.


5. Chef Jeroen van Straten
ADVERTISEMENT - CONTINUE READING BELOW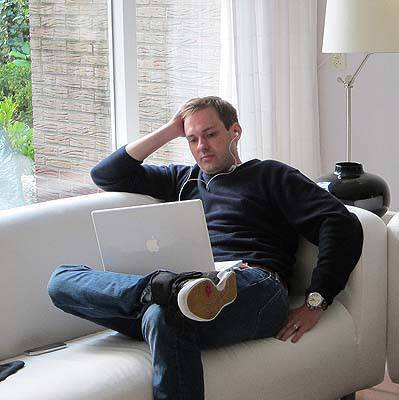 Culinary bio: Chef Jeroen has worked in the food industry in the last decade as chef and consultant to Dome Café, Pizza Hut and 7-Eleven, among others; owner and chef of Pepper Lunch Philippines.
Where to spot him: Cooking up and creating new dishes which are used in other Pepper Lunch franchise countries in Asia.

"Girls, gays, and older ladies," says Chef Jeroen are the ones who find him "cute." The charming Dutch chef with beautiful light-brown eyes, owns and manages the Pepper Lunch franchise in the Philippines. He is also a doting dad to three kids with wife Cecile van Straten, whom he cooked for during the duration of her pregnancy. "She gained weight, I gained pogi points," he says.
Nowadays, he lets the Pepper Lunch customers do the cooking but Chef Jeroen does a lot of exercise to maintain his lean frame. "I do boxing, krav maga, kettlebel exercise and TRX. I love working out, [it's] a great stress reliever," he shares.
ADVERTISEMENT - CONTINUE READING BELOW
The chef finds it "scary" to be part of the "cutest chefs" list but agrees that looking good is an asset for a chef. "Everything tastes better when prepared by a good-looking fellow, like beer in a sexy glass."




4. Chef Tonyboy Escalante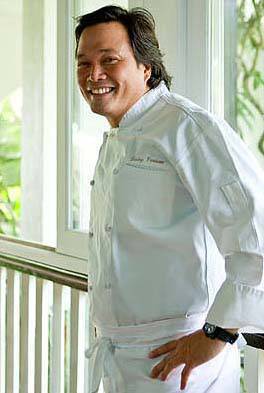 Culinary Bio: Educated at Le Cordon Bleu in Australia; Chef Tonyboy is the owner and chef of Antonio's in Tagaytay.

Where to spot him: At Antonio's, a weekend dining retreat he created for Manila residents.

Culinary maverick Chef Antonio "Tonyboy" Escalante has received enough awards for his restaurant--Antonio's landed a spot in the 2008 Miele Guide as one of Asia's top 20 restaurants--to merit him bragging rights. But the seasoned chef's humility is one of the best things about him. Publicity-shy, Chef Tony Boy did his own thing by putting up a restaurant that was so out-of-the-way that people thought he was crazy. But the awards and the food speak of his passion for food. He certainly has no qualms about going after what he wants.
ADVERTISEMENT - CONTINUE READING BELOW
A guy who has a ready smile, Chef Tonyboy exudes an air of quiet confidence, both when he entertains guests or when he prepares dishes that are worth swooning over. Who wouldn't mind being served a sumptuous meal by a chef with an irrepressible passion for food?


3. Chef Kalel Chan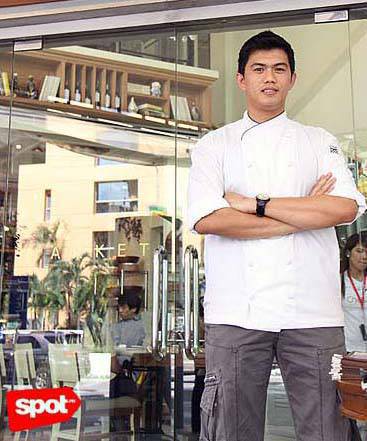 Culinary Bio: Corporate chef of Raintree Restaurants (Chelsea, MoMo, Mr. Jones and Museum Café).

Where to spot him: Lording over the kitchens of Raintree Restaurants; eating out with friends (current favorites: Cebu Lechon and Kanin Club).

Chef Kalel's got the boy-next-door charm down pat. Quick to smile and keeps a low profile, the corporate chef of Raintree Restaurant is in charge of dishing out quality plates to keep diners happy. The cute chef also has a sweet side. He once surprised his girlfriend, who was on night shift during Valentine's Day with a nicely-arranged rib-eye and foie gras steak dinner, which he sent to her office at 2 .a.m.
ADVERTISEMENT - CONTINUE READING BELOW
With his lean frame, it may seem that the charmer can practically eat anything on Chelsea or MoMo's menu and not gain an ounce of fat. The young chef admits he turns to boxing to keep the unwanted pounds at bay. "It's also a great stress reliever, plus I burn what I consumed that day," he shares.
These days, he says, good looks can both be an asset and a drawback for chefs. "Because of young TV chefs, there's a notion that chefs get their jobs based solely on their looks," he says.


2. Chef Carlo Miguel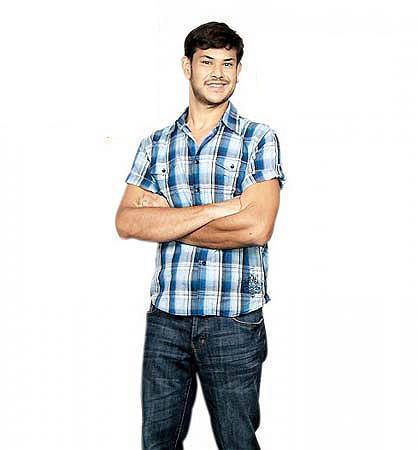 Culinary Bio: Graduate of Northern Sydney Culinary Institute of Technical and Further Education and former executive chef of Sala and Sala Bistro.

Where to spot him: Working out, which he does six days a week, to maintain his physique; creating his gourmet party packs in time for Christmas orders.

There's an undeniable appeal to a guy who can take control of his life. Such can be said of Chef Carlo, "Biggest Loser Asia's" second-placer. Chef Carlo, who used to be a chef at Sala and Sala Bistro, is now busy with consultancy projects and runs a private catering business. He never imagined he could ever appear on fashion spreads and magazine covers, saying that he still doesn't think of himself as "appealing" or "cute." Says Chef Carlo, "As long as I appeal to my wife, I am happy." He once baked a giant-shaped strawberry and lemon torte topped with giant strawberries and cream, gave it to his girlfriend (now his wife) and proposed. "That was the one and only time I made any kind of food that was heart-shaped!" he shares.
ADVERTISEMENT - CONTINUE READING BELOW
The lean and trim chef (who is now down to 182 pounds) has a disarming smile and a rugged look about him. But when he's in the kitchen, he hardly thinks about looking fresh. Shares Chef Carlo, " When I am cooking, all I think about is the food, and usually, that means that I am covered in sauce splatter and looking very greasy."


1. Chef Rob Pengson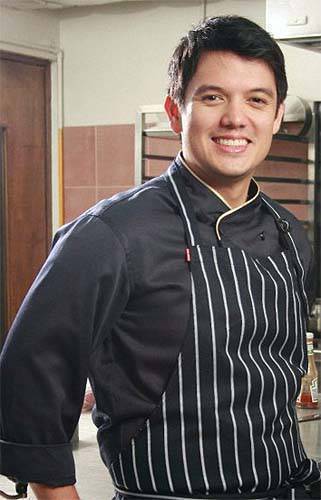 Culinary Bio: Chef Rob earned his degree from the California Culinary Academy in San Francisco and worked in the US, Australia and Japan; part-owner of Rock Salt in Quezon City and owner and chef of The Goose Station; Chef Rob is also the founder of The Global Culinary & Hospitality Academy and oversees marketing and teaches a few classes.
Where to spot him: Catch Chef Rob at Cuenca Park in Alabang (he plays football) or at the kitchens of Rock Salt in Quezon City and The Goose Station at the Fort.

There is no denying that Chef Rob Pengson is a certified heartthrob. We don't care if he's married (wife Sunshine Puey-Pengson is one lucky girl!)--his boyish charm can urge us to don an apron and head to the kitchen whenever he appears on a cooking show ("You've Been Served" on 2nd Ave.) or make us want to hire him as our own private chef.
ADVERTISEMENT - CONTINUE READING BELOW
The talented looker and TV host, who also has a degree from the Asian Institute of Management, is the main reason the now defunct show "Chef To Go" was on top of the ratings game in 2008. The chef, who also owns The Goose Station with wife Sunshine (whom he met at a shoot for Bench's Wear Your Conscience campaign) is showing no signs of stopping at being on top of his game. And have we mentioned that Chef Sunshine is one lucky girl?  


Photographs from Chefs Laudico, Jeroen van Straten, Ocs Alvarez (Chef Sau del Rosario), Warren Espejo (Chef Kalel Chan), antoniosrestaurant.ph (Chef Tonyboy Escalante), You Got Served Facebook account (Chef Rob Pengson), Biggest Loser Facebook account (Chef Carlo Miguel),  Chefs Circle Facebook account (Chef Paulo Sia).



Share this story with your friends!
---
Help us make Spot.ph better!
Take the short survey
Load More Stories