10 Prettiest Chefs in Manila
Who takes the cake as Manila's most gorgeous kitchen goddesses?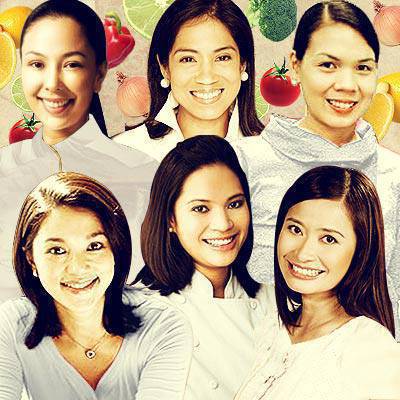 The culinary industry is a tough world to conquer, and chefs who are blessed with both talent and good looks leave us in awe. We've rounded up a list of seasoned chefs-those who have paid their dues and earned the title not just by finishing culinary school-whose good looks inspire admiration in and out of the kitchen.

10. Jackie Ang-Po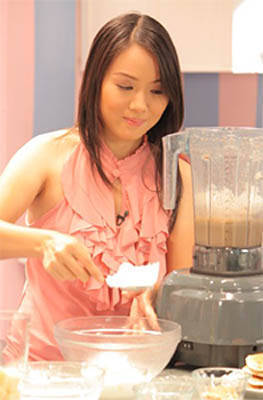 Culinary bio: A graduate of California Culinary Academy, Chef Jackie Ang-Po worked in San Francisco before  setting up the dessert café Fleur De Lys in Quezon City. She also plays host to QTV's Delicioso and was a bronze winner in the 2010 Food and Hotel Asia competition.
ADVERTISEMENT - CONTINUE READING BELOW
Jackie Ang-Po with co-host Sam Oh on "True Confections" in a 2009 episode

Jackie Ang-Po has a youthful glow about her-her graceful demeanor shows no evidence of stress despite being in the business for more than 10 years. Her onscreen banter with Delicioso co-host Sam Oh reveals a playful and feisty side--a trait that endears Po to the show's followers.
9.  Monique Eugenio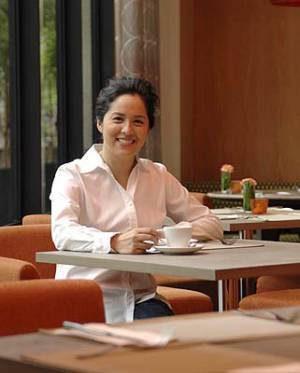 Culinary bio: Schooled at New York's French Culinary Institute and with apprenticeships under Le Cirque's famed pastry chef Jacques Torres and Restaurant Daniel's Francois Payard in Manhattan, we have her to thank for the tasty steaks at Myron's Steaks in Power Plant Mall and Myron's Place in Greenbelt 5.
CONTINUE READING BELOW
Recommended Videos
Eugenio's sweet smile and expressive eyes spell a quiet friendliness, and judging by the number of fans of Myron's Steaks and Myron's Place, her skills in the kitchen are not to be questioned either. Also featured in the November issue of Town & Country Magazine, this chef's classic good looks matched with her kitchen know-how earns a spot not only in our kitchens, but  at our dinner tables too.





ADVERTISEMENT - CONTINUE READING BELOW
8. Melissa Sison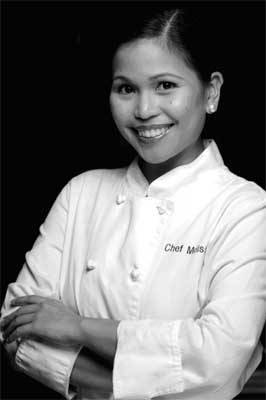 Culinary bio: This Les Roches graduate worked in Nice, France, before coming home to Manila to join the Center for Culinary Arts (CCA) Manila. She's among the school's pioneering instructors and is currently the corporate chef of the Oyster Boy group of companies (Oyster Boy, Mr. Rockefeller, Butter Diner and Eat My English).

Her youthful glow is not something you would expect from someone who spends the whole day bent over a hot stove. Sison honed her craft in France before getting her hands dirty in Greenbelt's Mr. Rockefeller in Greenbelt 3 and Araneta Center's Butter Diner.  Always ready with a toothy grin, this lady has a knack for looking fresh no matter how much time she spends in the kitchen.



7. Vanessa Conanan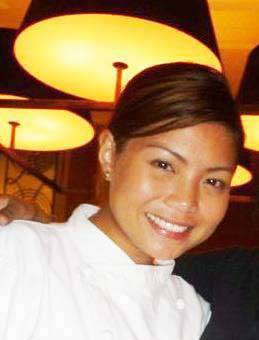 Culinary bio: Vanessa Conanan earned her Associate Degree in Applied Sciences from Le Cordon Bleu College of Culinary Arts in Chicago and worked at the city's Cafe Le Coq Café before joining the Enderun Colleges as an assistant instructor. Now she's the head chef of the school's training restaurant, Restaurant 101.
ADVERTISEMENT - CONTINUE READING BELOW
Conanan's sultry good looks adds spice to Enderun Colleges' Restaurant 101. She's confident without seeming cocky, and pretty without being too unaccessible. This is one teacher we don't mind listening to--or staring at--the whole day.  



6. Margarita Fores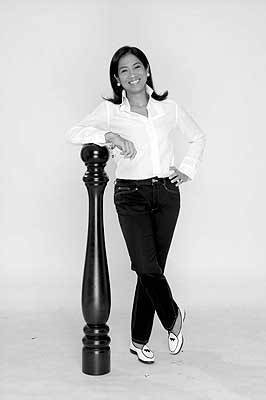 Culinary bio: Where do we begin? Educated in Italy under the tutelage of Masha Innocenti in Florence, Ada Parasiliti in Milano, and Jo Bettoja in Rome, the executive chef and owner of the Cibo chain and Café Bola has two other businesses to show for. Fores also owns the wildly successful catering arm Cibo di M, the high-end floral design shop Fiori di M and  Sostanza Health Line, a service that delivers food for South Beach diet devotees.
"Foodie Eats" features Gaita Fores


There is an undeniable attractiveness to a woman who follows and lives out her passions, and such can be said of the one and only Gaita Fores. Sure she earned the respect of colleagues and fellow foodies in the industry having over 20 years of experience under her belt--this chef's warm smile and no non-sense work ethic make her just as sexy.



5. Rosebud Benitez
ADVERTISEMENT - CONTINUE READING BELOW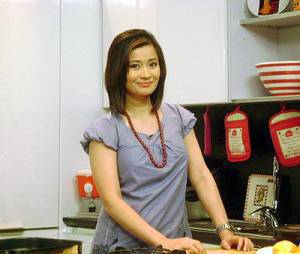 Culinary bio: She's a graduate of the Center for Culinary Arts (CCA) Manila who currently hosts QTV's Quickfire.


Rosebud Benitez in an episode of "Quickfire"

Chef Rosebud Benitez first turned heads on TV as the svelte chef on QTV 11's Ka-Toque. She quit the show supposedly to pursue studies abroad, but that undeniable appeal earned her an offer to star in her own TV program. She is also a single mother to two kids, Katrina and Kyle.






4. Baba Ibazeta-Benedicto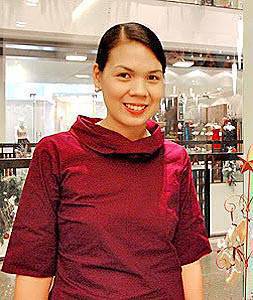 Culinary bio: A Culinary Institute of America graduate, Baba Ibazeta-Benedicto interned and worked at Masse's Bakery in Berkeley, California, before she headed back to Manila to create her own pastries and desserts at Classic Confections. Their commissary in Pasig has been in business for 10 years, while the Greenbelt 5 store opened in 2008.
ADVERTISEMENT - CONTINUE READING BELOW
Ibazeta looks effortlessly chic with no trace of the long hours she puts in baking sinful desserts. Not one to chuck hardwork, this pastry chef extraordinaire personally attends to the littlest details-be it a wedding cake or a Christmas giveaway that needs perfect packaging. Her passion for her craft coupled with a sweet demeanor could be among the reasons why she once captured the heart of then-matinee idol, Aga Muhlach.



3. Aileen Anastacio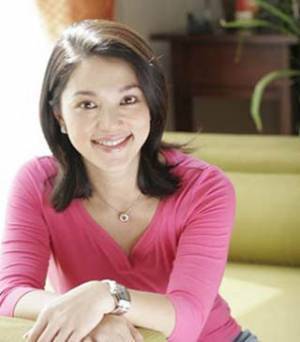 Culinary bio: This California Culinary Academy graduate is a published cookbook author and a TV host. She also oversees the operations of Goodies n' Sweets, a 20-year old company specializing in pastries and cakes.
Aileen Anastacio in "True Confections"


Hers is the kind of charm that makes good TV. Quick to flash that bright smile, this seasoned pastry chef's eyes light up whenever she talks about food. No doubt she's more than just a pretty face; this well respected foodie is an entrepreneur, a Yummy magazine columnist, the host of My Favorite Recipes on QTV, and author of Home Cafe:100 Recipes for Irresistible Coffees and Delectable Desserts.





ADVERTISEMENT - CONTINUE READING BELOW
2. Pixie Sevilla-Santos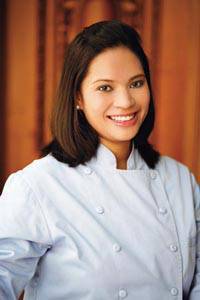 Culinary bio: A graduate of Culinary Institute of America (CIA) and California Culinary Academy, she played assistant food stylist to her former CIA teacher and cookbook author, Teri Sandison. Santos owes her fame to stints as a pastry chef for Seattles' Best Coffee, Aveneto Pizzeria, Bagoong Club and Coffee Experience, before she set up her specialty cakes business Forget-Me-Not. She's also a Yummy Magazine columnist.

With a disarming smile, Pixie Sevilla-Santos can easily make you eat anything off her spoon. Fortunately, one does not need much coaxing to try her baked creations-this is one pastry chef whose Brazo de Mercedes and cheesecakes can make one wonder if man can live on sweets alone.  



1. Sunshine Puey-Pengson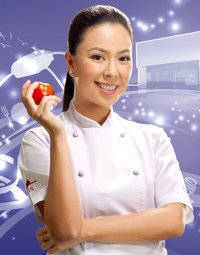 ADVERTISEMENT - CONTINUE READING BELOW

Culinary bio: Graduate of Tante Marie's Cooking School in San Francisco and Ecole Ritz Escoffier in Paris, France, Chef Sunshine Puey-Pengson had years of experience in cooking and baking before she became an instructor at The Global Culinary & Hospitality Academy. Currently, she helms the kitchen of The Goose Station with husband Chef Rob Pengson, incidentally Spot.ph's No.1 Cutest Chef.

Sometimes called Manila's "Goddess of Degustation," Sunshine's name fits her perfectly because her warm presence has been known to light up a room. A lean physique and a pleasant face make this chef look equally hot in a sexy cocktail dress and a chef's uniform.
Photo courtesy of Bonifacio Global City.



SPOT.ph wants to know: Which pretty chefs top your list?
Photographs from Toto Labrador for Town & Country Philippines (Monique Eugenio), trueconfection.multiply.com (Jackie Ang-Po), melissasison.multiply.com, Lilen Uy (Gaita Fores), Charlie Bautista (Baba Ibazeta-Benedicto), yummy.ph (Pixie Sevilla-Santos), enderuncolleges.com (Vanessa Conanan), quickfire.multiply.com (Rosebud Benitez), www.atayala.com(Sunshine Puey-Pengson).
Share this story with your friends!
---
Help us make Spot.ph better!
Take the short survey
Load More Stories