Hot New Chef: Cuit Kaufman of Borough
He's the native New Yorker who mans Manila's first upscale 24-hour kitchen.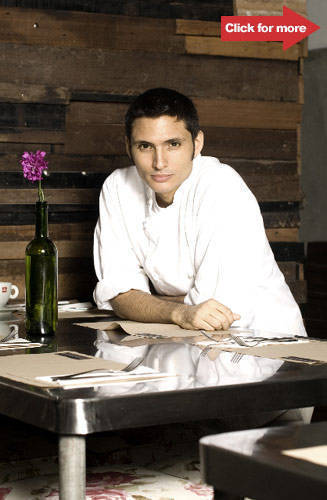 Chef Cuit Kaufman of Borough. Click for more photos.

He's the head chef of Borough, a 24-hour comfort food restaurant patterned after Manhattan's city-that-never-sleeps vibe. This 32-year-old New York City native first trained at the French Culinary Institute and under the tutelage of the great Jacque Torres at The New School before working as a pastry chef in Manhattan. Here, Kaufman shares all things hot: the sexiest dish he cooked, his plans to spice up the local restaurant scene, and which local Pinoy dish is to blame for his addiction to chilies.
ADVERTISEMENT - CONTINUE READING BELOW
1. What dish do you find sexy?
Seared sea scallops in lemon infused butter. I remember having them and someone pointed out how supple they were. When cooked right, seared sea scallops are very sexy.
2. Aside from Borough, where do you go for comfort food in Manila?
The street. I like kwek kwek and fresh buko juice.
3. Are you part Filipino?
No, I'm not. I just have a lot of Filipino friends in New York and Manila. People are so polite in Manila...and I like wearing a T-shirt everyday.
4. What kind of cuisine are you best known for? Any signature flavors?
When it comes to savory cuisine I have always preferred the spicier cuisines such as Mexican and Thai. The Borough menu has a few dishes that reflect that need for heat. But I have always enjoyed comfort food (how can you not?) and nothing says comfort to me more than sandwiches. I love them and have always prided myself on creating delicious sandwiches.
ADVERTISEMENT - CONTINUE READING BELOW
5. How do you plan on spicing up the local dining scene?
We're providing upscale dining without the pretentiousness and I think that is adding a new and much-needed option to the Manila restaurant scene.
6. What's the sexiest dish you've made?
This is a tough question. The content of a sexy dish, whether it's scallops, chocolate, or chilies, is only half the battle. The other half is how you present it and how the loving effort put into making the dish is conveyed to the eater. My brother and I once cooked a whole meal for a bunch of girls that ended with a couple scoops of homemade banana caramel chocolate chip ice cream. Each spoonful of ice cream had their eyes rolling back in their heads. It helped that Lauryn Hill's "Killing me Softly" was playing in the background.  

7. To get a girl to like you, what dish do you make?
ADVERTISEMENT - CONTINUE READING BELOW
I'm a realist. I've never been able to get a girl to like me with my food. Any girl that said she liked me because of my food already liked me beforehand but now conveniently had another reason to like me.

8. Is there a particular dish you want your woman to prepare for you?
I'm not picky. As long as it's not red meat or pork, I'm open to whatever she likes cooking. I truly enjoy "tasting" the love that goes into cooking the food when a woman actually wants to cook for me. I notice a woman just for the fact that she wants to cook for me because not a lot of women do that for me (maybe because they know I'm a chef and they think I'll be too harsh a critic), and when they do, whatever the dish, it's a turn on.
9. Any favorite local dishes?
ADVERTISEMENT - CONTINUE READING BELOW
Aside from the ones mentioned above, I would definitely add kinilaw (so many chilies...I'm addicted) and sisig to the mix.
10. If you weren't a chef, what would you be?
I'd be a millionaire playboy by day and Batman by night.


Borough is located at the Ground Floor, The Podium Mall, Ortigas Center, Pasig City. Tel. No. 570-8906
Recommended Videos
Load More Stories