On the Spot: Paul Qui
The newest Top Chef on <em>pandesal</em>, <em>kangkong</em>, and the first Pinoy dish he learned to cook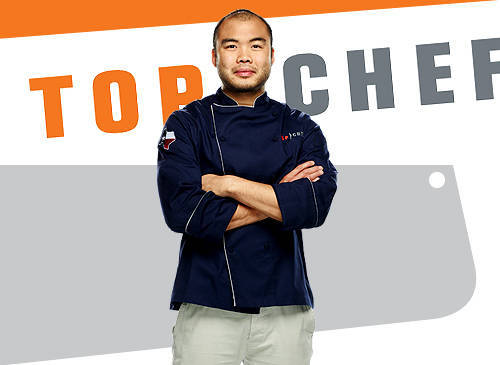 (SPOT.ph) He is the first Philippine-born chef to win on the American reality TV show, Top Chef. Migrating with his family to the US at the age of 10, Paul Qui admitted on the show that he wasn't exactly a model American citizen. When he was between the ages of 15 and 20, he made a nice income from selling "weed." But that ended when he woke up one day and found his apartment trashed. It was during that time that he discovered the culinary arts, which he credits for teaching him the discipline he needed to get through life. Since then he has become the executive chef at Uchiko, one of the best-known restaurants in Austin, Texas. He is also behind one of the Austin's most popular food trailer, East Side King. Spot.ph recently asked the rising culinary star a few questions to find out if fame has changed this down-to-earth guy.
A news feature on Paul Qui being announced as Top Chef

What special food or dish memories do you have from when you were still living in the Philippines?

Nothing beats fresh baked pandesal.  My family owned a bakery in Camiling, Tarlac.


Did you learn how to cook when you were still a child or after you migrated to the US? What was the first dish that you ever prepared on your own?

I didn't learn to cook until I was in my 20s.  The first thing I learned to cook on my own was adobo.


Were your parents supportive when you told them that you wanted to become a chef?

Not at first, but they warmed up to the idea after the restaurant I was working in started gaining momentum in the press.


Can you tell us more about the tattoos on your left arm?

My left arm has a tattoo of birds on a wire.  It symbolizes friends that I have, friends that I've had and friends I will meet.


What was the inspiration when you started the food trailer, East Side King? What did it feel like when you found out you were endorsed by Anthony Bourdain?

The food trailer was just a side project, something fun. It was really cool that we got the attention of No Reservations and was proud to be one of Austin's street food representatives.
ADVERTISEMENT - CONTINUE READING BELOW
Top Chef reunion
Which kitchen do you have more fun working in, Uchiko or East Side King?

I've work in both kitchens and they're equally fun, it's like cooking in a cruise ship compared to a pirate ship.  Both are fun in different ways.


What prompted you to join Top Chef?

I was at a point in my career that made me ask my self why not?  I've always been a fan of the show and I wanted to make Austin proud.


It seems like you got along well with the other contestants on Top Chef. Do you still keep in touch with any of them? Who were the ones you got along with the best?

I met some great people on Top Chef and I still keep in touch with most of them.  I'm still great friends with Chris Crary, Ed Lee, Grayson, Sara and the rest of the crew.


What was the most tense moment on Top Chef other than during finals?

Restaurant Wars was hard because we had to open a restaurant in five hours. [It was made more difficult as we'd] never worked with each other ever [prior to being part of that group]. Plus working with an inexperienced waitstaff added to the stress as well.


How has your life changed since winning Top Chef?

Lot of emails! LOL.  I definitely spend more time in front of my computer these days.
CONTINUE READING BELOW
Recommended Videos
On East Side King
What was your most memorable meal during your last visit to Manila?

I would have to say Cafe Juanita, food was amazing and a whole lot of my family was there.  Some relatives I've only met for the first time.  It was a great family affair.  I also had a great time at Mercato, it's really cool that something like that exists in the middle of the city.  


What is your opinion of Metro Manila's dining scene? Any suggestions for improvement?

I love the direction that the guys from Nomamaramen and Pino are headed.  They are talented and driven and It's an inspiration to see local chefs aspire to push the food scene in Manila.  


You mentioned the need for local cuisine to use more local vegetables. Are you advising local cooks to be more experimental when it comes to cooking and serving vegetables?

Yes.  I feel like almost all Filipino dishes are meat driven and heavy, we should take advantage of all the fresh fruit and vegetables that are accesible in Manila.


Which local vegetable or vegetable dish in your opinion should be given more attention? How would you prepare it yourself?

I think that all vegetables should be given more attention.  I love eating Kangkong, I prepare it simply with garlic and white soy.   


Do you see yourself collaborating more with Filipino chefs in the near future?

Absolutely.
ADVERTISEMENT - CONTINUE READING BELOW
Paul Qui photo from official Bravo TV website.
Share this story with your friends!
---
Help us make Spot.ph better!
Take the short survey
Load More Stories