MY MANILA: Chef Laudico
Chef Lau on the Manila resto scene and his favorite hangouts.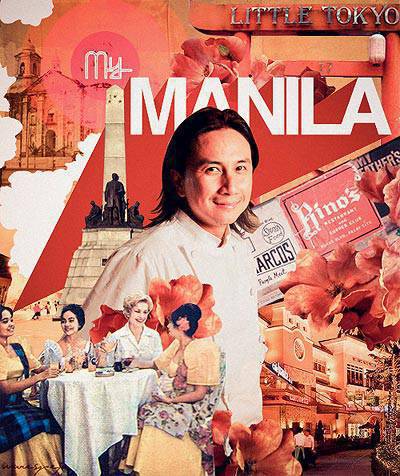 (SPOT.ph) "There is nothing wrong with Filipino cuisine," says Chef Laudico. "It's not too sweet, it's not too salty, it's not too this or that." So what is the biggest problem? "We're not too proud of own food."
He should know. When Chef Lau (as he is more popularly known) and his then-partner, and now wife, Jackie, set up Bistro Filipino six years ago, the concept of a fine-dining Filipino restaurant seemed patently absurd. "Why would anyone pay more than 500 bucks to eat in a Filipino restaurant?" he asks rhetorically as he remembers those early days. But, his out-of-the-box reasoning went: if you could pay that amount of money for any other cuisine, why not Filipino cuisine?
The Laudicos stubbornly stuck to their guns. Now, the Laudicos' restaurant is considered one of the finest venues for modern Filipino cuisine, and Chef Lau himself became a pioneering example of that strange, wonderful creature known as the celebrity chef. ABS-CBN even tapped him to become one of the resident chefs in Junior Master Chef Pinoy Edition. Recently, he hosted a party for Colgate Sensitive Pro Relief, featuring a variety of dishes that celebrated "freedom from pangingilo."
ADVERTISEMENT - CONTINUE READING BELOW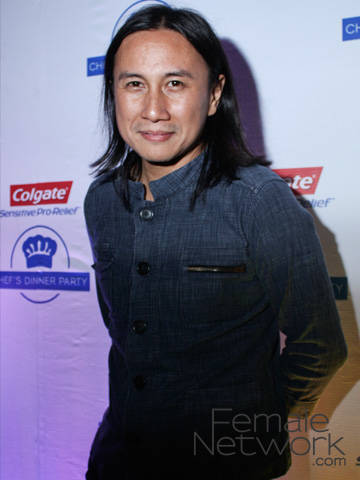 Chef Laudico for Colgate Sensitive Pro Relief. Photo courtesy of Femalenetwork.com


In the aftermath of that party, he expounds, with the same straight-shooting frankness that propelled his rise to the top, on his thoughts about Manila.

How did you become partners with Colgate Sensitive Pro-Relief?

You know, I told them, I'll probably be the worst toothpaste commercial model that you have because my teeth are kind of crooked. Pero wala namang cavities, no? And they said, "No, no, no, chef, we're not getting you for your smile. We're getting you for you. Because you're one of the respected chefs here and we wanted to feature  Colgate  Sensitive Pro Relief toothpaste in relation to being a chef." Sabi ko, that's interesting. I asked, para saan ba yang toothpaste na iyan? It' instantly relieves the pain that you get when you have sensitive teeth. And when do you actually experience pain? When you eat! When you eat cold stuff, super hot stuff, sweet stuff. It was  such a coincidence because in the past, I actually had a problem with sensitive teeth.
ADVERTISEMENT - CONTINUE READING BELOW
Chef Lau celebrates freedom from sensitive teeth
What can you tell us about your childhood hangouts?

I grew up here. I lived in Quezon City. I went to Ateneo, I went to UP. Sa UP, kumakain ako sa Beach House, sa Rodic's, alam mo yun...I ate isaw kung saan-saan. Up to now I enjoy eating in the streets. Well, when I was in Ateneo, pretty much wala kang choice kundi kumain sa Ateneo, kasi high school yun e. Dun lang kami sa cafeteria. Pero nung college ako, dati meron sa Katipunan yung mga maliliit-liit na-not in Katipunan, but in Esteban Abada. Maraming mga kainan dun na okay din.

When I was growing up, I was exposed to lahat ng pagkain. As in everything, from street food to casual dining to fast food to fine dining. Our family loved eating so much.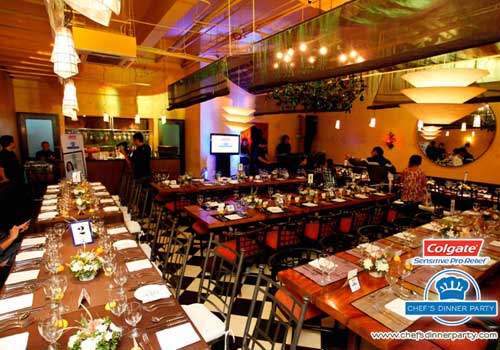 Photo from Chefsdinnerparty.com
ADVERTISEMENT - CONTINUE READING BELOW

How do you see the restaurant scene today?

When we opened Bistro Filipino, I think we were the only fine dining Filipino restaurant. Most Filipino restaurants at that time were mostly fast food or casual dining. When we opened Bistro Filipino, a lot of chefs told us that the concept was not going to work. 


Now, more chefs, especially those who are medyo celebrity chefs na rin, really good chefs are doing Filipino food. It's not just a fast-casual, fast food thing na lang na Pinoy yung pagkain. But still, kulang pa rin.



How do you mean?

If you would line up the top chefs in the Philippines, wala pa sigurong one-fourth dun gumagawa ng Filipino cuisine. There are still more Italian restaurants, Chinese restaurants, Japanese restaurants na medyo maganda yung standard. Which is sad, but at least meron, diba. Ten years ago, it was just Aristocrat, Gerry's, Kamayan, which is fine! The problem kasi with our food is not the food. The problem with Filipino cuisine is the chefs and cooks that develop it are lacking. There's not enough chefs and cooks that actually do Filipino cuisine, and the pride na, hey, we're 100% Filipino...yun yung kulang natin.


Yun naman ang lamang ng ibang cuisine sa atin e. For example. Chinese cuisine. Chinese food has been developed by Chinese chefs for thousands of years. Lahat naman ng pagkain, whether it's Chinese, Japanese, French, it starts from traditional, home-cooked, simple [fare]. Then it slowly evolves. It gets developed. It takes a natural course na it gets developed if yun ang ginagawa ng mga chefs. Yun ang ginagawa ng mga Chinese chefs, they don't do anything other than Chinese food. French chefs, they don't do anything else but French food, but they're so proud of their food that they think their food is the best food in the universe. Tayo, ikinahihiya natin ang pagkain natin. I think that stems from hundreds of years of being colonized.



ADVERTISEMENT - CONTINUE READING BELOW
A video of Chefs Roland and Jackie Laudico for Yahoo Southeast Asia


Do you think we're improving in that respect?


It's high time that we should start doing it, kasi naunahan na tayo ng lahat ng cuisines sa mundo. They've been at it for hundreds of years. We've just been doing it for the last ten years or so. Chefs like Fernando Aracama, who I'm with in Master Chef, just opened a restaurant, and it's unabashedly Pinoy. Chef Sau as well, was doing Thai and then opened Villa, which is Kapampangan cuisine, which is really really great food. If we change our mentality, if more chefs actually opened up 100% Filipino restaurants...


We don't lack talent. Anywhere in the world, you go to hotels, Michelin-star restaurants, you go to cruise ships, there's always a Filipino chef. We don't lack the talent, our cuisine is good enough, it has all these wonderful flavors, kulang lang tayo sa development and actually doing it.


That's what the Thais did during the '80s or even earlier. The King and Queen had this..."Okay, you do Thai cuisine, and we'll help you, the government will back you up." During the '80s, Thai food was unknown. Now there's more good Thai restaurants here than good Filipino restaurants.



What about the culinary schools?


Even the culinary schools here don't teach Filipino cuisine. Yung mga grumaduweyt ng culinary schools rito, tanungin mo. "Kaya mong magluto ng French food?" "Yes." "Italian food?" "Yes." "Japanese food?" "I know how to make sushi." "E magluto ka ng kare-kare, kaya mo?"


ADVERTISEMENT - CONTINUE READING BELOW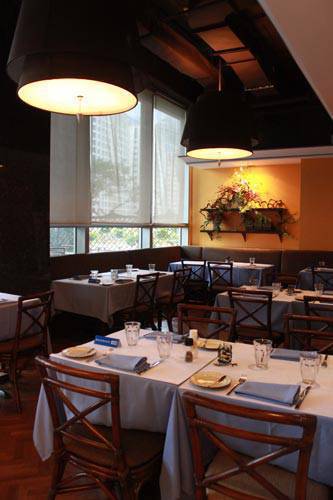 Champêtre (formerly Je Suis Gourmand)


How has Manila changed since you set up Bistro Filipino?

Here in Fort Bonifacio, literally, the change has been overnight. When we opened, there were just two buildings here in this area, Net One and then Square. Net One had a French restaurant, Je Suis Gourmand, but now it's Champêtre, but it's still the same chef. We were the only two restaurants here, because Serendra wasn't completed at that time. There were no buildings here, wala pang Burgos Circle, wala pang parking lot here, it was just grass. First two years [namin], wala. Zero traffic! [Laughs] Sarado yung mga roads, walang street sign, no one could find Bistro Filipino. It was like we were in the middle of a black hole. But I guess that was the charm.


Manila in general is more cosmopolitan now, in terms of tastes. Andami nang restaurants ngayon e. And a lot of new concepts over the past ten years have arrived in Manila. Sad to say, yung Filipino food, kaunti pa rin. Filipino diners compared to ten years ago are more informed, more sophisticated, and it also helped that nagkaroon ng cooking shows and channels, which contributed to the explosion of cooking schools. During the 90s, there were no cooking schools. I believe Manila should be a cuisine destination na e. You go to places like Singapore, Hong Kong, Thailand for the food, and Manila is no different. Whatever cuisine you can think of, we have it here, in really good quality restaurants. Manila should be an eating destination for tourists in a few years.



Where do you eat in Manila?

I'm the type of chef who loves eating in hole-in-the-wall places. I rarely eat in fine dining restaurants now, like in hotels or what, I rarely eat there. I usually go to places [that] you don't normally find, you just hear [about] it from people. Those places are hard to find, tsaka mura lang. Manila has a lot of those. It's just [a matter of] how to find them.
ADVERTISEMENT - CONTINUE READING BELOW

Doesn't your Master Chef gig make eating in holes-in-the-wall harder for you?

Oh yes. I can't go anywhere anymore na walang nagpapa-picture sa akin. Parang natataranta nga sila, pag kumakain ako, "O si Chef, si Chef!" It goes with the territory, that's what TV does to you talaga. But I still go to those places, I don't care. I'm still the same person. Sure, magpa-picture ka sa akin! Mga ibang lugar nga, ini-interview ako nang mga 30 minutes. "Yung mga kids ba talaga yung nagluluto sa Master Chef?" I don't really mind. Natutuwa nga ako pag may nagpapa-picture sa akin e!


The more obscure the place, the more na mas kilala ako. If I go to posh groceries and posh malls, walang papansin sa akin. But if I go to yung mga talagang palengke, mga Malabon, mga ganun, as in lahat sila, kilala ako, tuwang-tuwa sila. ABS-CBN kasi. Nahihiya nga ako, if I go to a place, and they give me free stuff. I go, "Hindi, hindi, okay lang." Chef to a chef, I'm eating in a place because I like your food. You don't have to treat me different from any customer.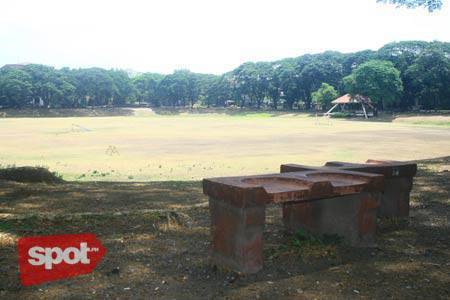 ADVERTISEMENT - CONTINUE READING BELOW
UP Sunken Garden
Where in Manila do you go to get away?

You know, what we do, once a month or so, we actually go to [the UP] Sunken Garden to have a picnic. We go there and lalatag lang kami ng mat, we eat lunch there, we literally have a picnic under the trees. Mahangin dun, kahit tanghaling tapat, nasa ilalim ka lang ng mga acacia dun, ang sarap niya, presko. I let my kids bike, and we just hang out. And it's literally free.
Where would you go to catch a movie?

I like to go to cinemas na di sobrang daming tao. And more often than not, sa Rockwell, walang masyadong tao dun. But I like watching IMAX sa SM City North Edsa, kasi taga-Quezon City ako.



Where do you go to the palengke? For the house, not for the restaurant.

I grew up na namamalengke ako sa Farmer's. It's really nice, they have everything.



Where do you have your hair taken care of?

I had long hair since college, and one of the reasons na nagpahaba ako ng buhok ay kasi ayokong magpagupit. Nagpapagupit ako siguro mga once a year, twice a year, ganun.


I have a Japanese friend, a hairdresser, his name is Fumi, at sa kanya ako nagpapagupit, kasi siya rin nagpapagupit sa asawa ko. She was actually the one who discovered him, kasi may mga friends siya na Japanese. He's like the only guy sa pagupitan, siya yung gumugupit, siya gumagawa nang lahat. Before nasa Salcedo Village siya, ngayon andiyan lang siya [points to the general direction of Burgos Circle]. Naglalakad lang ako pag magpapagupit ako, tapos binibigyan pa niya ako ng sake. Tomador rin iyan e. Nung isang araw e, kumain siya rito, kasama ang girlfriend niya. Pangalan ng salon niya is Natural Hype, lahat ng Haponesa rito, sa kanya nagpapagupit.



Where would you take a foreigner who's visiting Manila for the first time? 

I would probably bring them to the Walled City. I think that's the nearest place here na talagang very rich yung heritage. There's a lot of things to see there. For me, Manila has a very rich history. Actually, if I could have a restaurant in Manila, I would do it.


ADVERTISEMENT - CONTINUE READING BELOW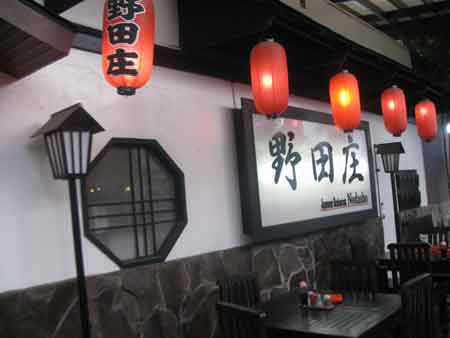 Nodasho at Little Tokyo
What's your favorite restaurant now?

Our favorite restaurant now is probably this one in Little Tokyo called Nodasho. It's owned by this 70-plus year old sushi master Noda...parang Yoda. He looks like Yoda, kasi ang tanda na niya. Actually, medyo kamukha niya si Chiquito. He's been here since the 70s, dinala siya ng mga Araneta before, at sa mga first Japanese restaurants, he was the chef there.


Hindi siya mura, pero hindi siya mahal na parang kumakain ka sa Sugi. In fact, yung master chef nung Sugi dati ay andun na kay Noda, kasi mag-barkada sila or something. Nagulat ako, andun na siya! Gumagawa-gawa ng sushi.


When we first started eating there many many years back, wala kang makikitang Pinoy dun. Ang gusto ko dun, they give us free beer. Draft. Before kasi, bago pa ako sumikat sa TV or whatever, kumakain na kami dun, at siguro naaaliw siya kasi Pinoy kami.
ADVERTISEMENT - CONTINUE READING BELOW
CONTINUE READING BELOW
Recommended Videos
Share this story with your friends!
---
Help us make Spot.ph better!
Take the short survey
Load More Stories