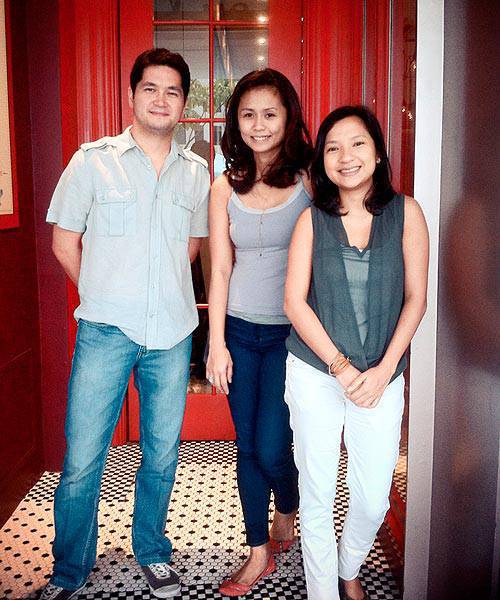 (SPOT.ph) "Filipinos have decided that eating is as much fun as buying designer bags and shoes. Pinoys enjoy dining so much and they're much more open to new dining experiences." Speaking about the country's current culinary explosion is Abba Napa, one third of Moment Group, the collective that brought us 'Cue Modern Barbecue in Bonifacio Global City, Burger Bar in Greenbelt, and Namnam, also in Greenbelt. The other two-thirds of the group are Jon Syjuco and Eliza Antonino.

Moment first made its presence felt when they opened 'Cue Modern Barbecue a year ago. "We really wanted to get back into the food," continues Napa. All three have extensive experience with running restaurants thanks to their families. Napa's, for instance, owns and operates L'Opera and Balducci, while Antonino has a solid 13 years of restaurant experience sunder her belt. "We're waiting for the right time, right opportunity. It just so happened the space came along, so we said, let's do it. 'Cue is basically a fun project for us but then another space came along in Greenbelt and we had lots more ideas to fill the space with. We had a great team that wanted to join us and had the same vision as us, so we said, hey, why not. Let's turn our ideas into something real."

We speak to Moment and ask what makes a restaurant work in Manila, what the city is currently craving, and what else we can expect from the group.

First, the name. Why call yourselves "Moment?"
Jon: Whenever we eat out, just casually, it became our common way of describing restaurants that had an impact on us. Those that had  ambiance, energy, food, music, everything. So, when we sit down at a right restaurant and it captivates us, we would say, "This is a moment."
Eli: even before we got together, let's say someone is traveling, we'd tell each other, 'You have to try this restaurant. It's a moment.'"

Can you name some restaurants in Manila that got you saying, 'moment!'
J: I'll be first to say, I think People's Palace is a moment. The consistency, the food is good. The vibe is great. The service is outstanding. It's a moment. I think People's Palace is a great example, a benchmark in the industry. I think it's a well-run ship. It's been so consistent after so many years.
E: Mamou is always a moment for me. Cirkulo is also always a moment. They're very consistent. It delivers all the time. And Cibo!

Is this what you intend for people to experience in your restaurants?
Abba: Yes. There's so much variety and charm in the dining scene in Manila. All these people that we've mentioned really inspired us to come back. We really want to be part of, you know, one day, when the world finally discovers the Manila dining scene, hopefully Moment will have a small part in adding variety to that scene. The people behind those restaurants are the people who inspired us, too.
J: We like to travel a lot and when we travel, we have three dinners and two lunches per day. We're always looking for that moment. One thing we said when we got together was that, we really wanted to help up the Manila dining scene such that Manila isn't always looking outside, but for outsiders to come here too,. We want to play a little part in that. That's what we're hoping to do. We're always going outside to eat. We'd love to hear outsiders coming here to eat, too.

'Cue is your first venture. Tell us about that.
A: We wanted to be in context with the neighborhood, not to compete with what's already out here. Meat and having a chophouse, an all-American joint, there wasn't one in this neighborhood at that time so we left that was a nice gap to fill. We want to add to the neighborhood, so we said a nice chop house. We all have grills in our backyards, it was something easy for us to commit to.
E: And no one was doing a wide array of meats under one roof at that time. We have some amazing steak houses and there were also some amazing rib places but all from America; no one was doing a variety of meats and ribs, like a big chop house sort of establishment so we said, hey.
ADVERTISEMENT - CONTINUE READING BELOW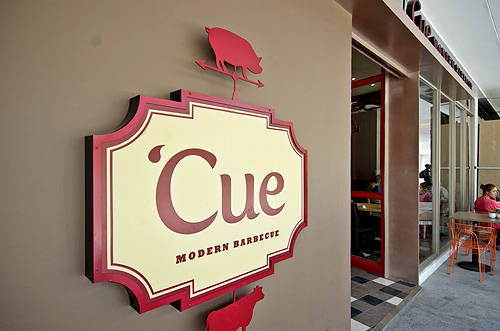 How long did it take you to come up with 'Cue?
A: A little less than a year, I think but a lot of blood, sweat, and tears, and living it out day in day out. Which is different from Burger Bar, which we put out sabay with Namnam. Since this is the project, we didn't have our R&D kitchen yet so a lot of the dishes here were dreamed up in our kitchens back at home.

Less than six months later, you opened Burger Bar and Namnam.
E: We have a wide array of concepts in mind. The space was a trigger but in one of our first few meetings we asked what would we do? If we're going to get together as a restaurant group, what are the other concepts? A burger joint was always a part of it. It stemmed from John because in his younger days, he had a burger joint in Cebu. We wanted to resurrect that.
J: We all enjoy our burgers. We knew [early on that] we wanted to put up a burger joint so what we did, we inserted one of our burgers in Cue's menu, hoping it would do really well. Lo and behold it did really well.
E: The Cue Burger!
J: The Cue and the house burger! It gave us the confidence to really give Burger Bar a shot.


Moment has been here for a year already, operating three restaurants. But individually, you've been in the industry for longer. How would you say has the eating habit of Filipinos changed? How do we eat?
A: Filipinos have decided that eating is as much fun as buying bags and shoes. They enjoy dining out so much. They're so open to new dining experiences. Now, you can do a lot of fun things and people will be receptive to it.
E: We're more adventurous yes, but more than that, the dining scene now has changed tremendously because of social media. It's so tense and so dynamic. When we first started 'Cue, it was amazing how many people were taking photos. Before, wala yun. Now, it's fantastic because you know pronto if you're pleasing the customer or not. As Abba was saying, there's just more people eating out now. Growing up, I was observing Megamall and Galleria, I was just amazed at how many restaurants there were. But now, more than ever, that's 10 times, 20 times because of social media. The world has opened up to new kinds of food. Chefs have become celebrities too. Yes, people still ask for the best sellers, but so more and more people really want to be adventurous, try new things, try new restaurants. And it's no longer just to eat. It's for the experience.

Can you pinpoint upcoming trends?
A: A few years ago, it was always what was happening in New York, but it's not that way anymore. Yesterday, we were eating in a restaurant and the chef was telling us that when he used to work in the States, people were always asking what's going on there. But now, people he used to work with in the States are calling him and asking what's going on in Asia.
A: Now, Asia can define trends. It can define its own trends and doesn't need to follow what's going on there. What's going on in Asia, I think Asia is a great place to be in now, in the dining scene.
J: What's exciting is that Manila is now open to experimental cuisine. It doesn't necessarily mean molecular, but that it's okay to do something new, something different and people won't shy away from it. What's challenging is you have to come up with something new and sustainable. It's still a very discerning customer and the Pinoy needs to get busog. Generally, that's where the challenge is. It's easy to be experimental but can you deliver that full-on experience as well? That's where it's tricky at this point. And Eli talking about social media. Nowadays, everybody's a critic.

Do you still eat in your restaurants?
E: We do. We have a lot of favorites. In 'Cue, I like our Baby Squid, our Bone Marrow, but when I'm in a big group. The burger, the ribs. The chicken!
A: The short ribs. It hasn't been discovered by people because they always order the burger.
J: I try not to eat meat at home but as soon as my wife goes to sleep, I make pa-deliver from 'Cue. I enjoy the ribs, it's my go-to.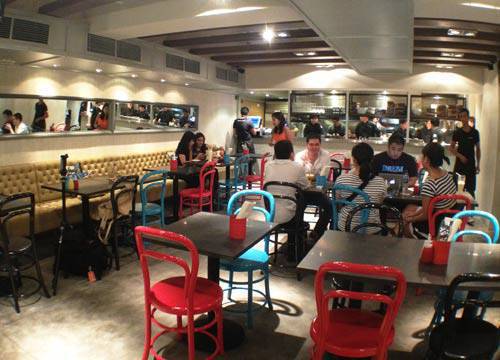 Ever get tired of your restaurants?
A: Our restaurants tire us.
J: When we're forced to eat and test, on a schedule, it gets a little taxing. But I always find that when we're not doing that, I'm always looking towards work. I'm a junkie, always pulling up at Burger Bar. I always find myself gravitating toward our food.
E: Of the three, I prefer Namnam. I really love Pinoy food.

What do you feel should be the national dish, then?
E: Manggang hilaw! Ha ha ha It depends. For the international market, I feel like adobo is the more palatable dish. But I love sinigang. The problem with Pinoy food-well, it's not a problem. I feel like we can't have a national dish because we cook our food in different ways. For example, there are hundreds of versions of sinigang, hundreds of versions of Adobo, as well. Other countries, they only have one kind of tom yum, for instance. Unlike us, we use different meats, diba?
A: I feel that's what makes our food sexy.

How often do you eat at holes-in-the-wall?
J: All the time.

Favorites?
A: There's this Japanese restaurant in Makati I frequent when I need a Japanese fix. No one's ever there, it's all just Japanese nationals. It's not the cleanest but every time I go there, it's always a win.

Is there a restaurant here you wished you thought of?
J: The restaurateurs in us find inspiration in them but I also think they motivate us. It's not so much that we wish we had that restaurant but more like, that's a great idea. What can we learn from that? How do we take it to the next level? I never really look at restaurants and think, I wish that's mine. It's always, that's great, what can we do to uplift the seen. I always go back to People's Palace. If I had to own somebody else's restaurant, it's that.
A: You really have to give it to people who've been in the business that long.
J: There are restaurants like Peking Garden that go on forever.
E: Kimpura!
J: Those guys! Respect to them. They're institutions.
A: it's nice to be buzzed about but after that, how great to be an institution that has defied the test of time.

Where do you go on a rough day?
E: Alcohol, anywhere.
J: In Manila, it's hard to find a good spot for a nice drink.
E: Everyone's looking for a place where you can come in your shorts and just purge.
A: There are a lot of good bars but really buzzy social ones. Walang pang anti-social!
E: Walang bar na pang tamad.

Is this something we can expect from Moment?
J: There's a lot in the drawing board, it's just a matter of figuring out which is first. Right now, it's the expansion of Burger Bar. Burgers are the universal product that everyone can relate to. We're excited about it because it caters to a clientele looking for a little bit more premium than what they get at fast food joints. We''re going neighborhood-specific.
E: Yes' there are a lot of fun spots in Manila! Pasig has an emerging scene. Maginhawa in QC. BF area. Ang dami!
A: It's no longer just Makati anymore.


CONTINUE READING BELOW
Recommended Videos
Share this story with your friends!
---
Help us make Spot.ph better!
Take the short survey
Load More Stories