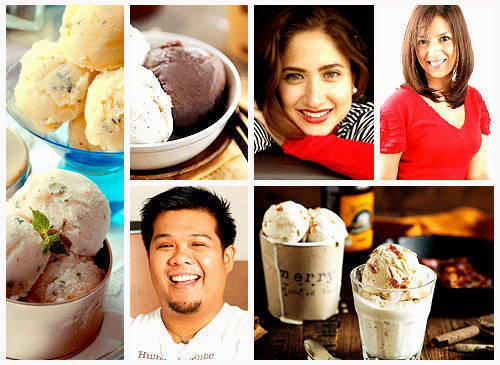 (SPOT.ph) Summer may be over but our craving for original ice cream flavors is neverending. And who says you can't have ice cream during the rainy season? So we interviewed 10 ice cream artisans who've been whipping up delectably unheard-of flavors that have most everyone singing a happy tune. Of course we had to ask what inspires them, their favorite ice cream memory, and what else to expect from them in the future.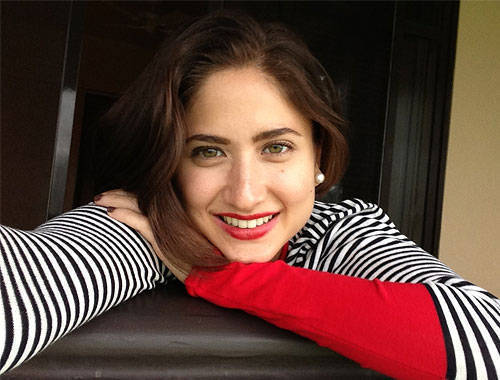 ADVERTISEMENT - CONTINUE READING BELOW
1. Alexandra Rocha, Pinkerton
Pinkerton all happened by chance. "I never planned on getting into the ice cream business," Xandra Rocha, the lady behind Pinkerton ice cream, shares, "it just all worked out." In 2009, the Enderun college student was hanging out at her sister's kitchen in Foster City in California, when she (the sister) surprised Xandra with an ice cream maker along with several recipe books. "I was eager to try them," she writes in Pinkerton's website, and try them, she did. From getting through the initial failures, to developing her own recipes, to meeting strangers who just wanted to help out, the pieces to the Pinkerton puzzle simply fell into place.

Tell us about your most unforgettable ice cream experience.
There are many! I was traveling around Paris on my own several years ago. It was after lunch, around two in the afternoon, so it was still very bright and the sunlight reflected off all the beautiful street lamps and stained glass windows. I walked all over the place and found myself in Ile Saint Louis and remembered Berthillion. I had tasted the ice cream there with my sister several years before, so I went and lined up for a scoop. I remember choosing a scoop of Rhubarb sorbet on a cone. It was amazing; so smooth and refreshing and very sweet and tart. That Rhubarb sorbet still haunts me to this day. I remember how my jaw tingled from the tartness when I first tried it. I loved it. I took it out of the ice cream shop and sat on top of the cement walls by the Seine River and just enjoyed my view. It was such a perfect day!

When did Pinkerton officially start?
When friends and family started ordering in 2009, after I had gotten back from visiting my sister. I would serve my ice cream to family and friends and they'd insist on paying for it. The business turned into a kind of accident. I was just continuing meeting the demand that kept coming my way. Plus, so many people were so eager to help me get started without me having to ask. One person came up to me before I had a logo and asked if I would let him design me a logo because he really liked my ice cream. It's still the logo I use to this day.

What is your favorite Pinkerton flavor?
At the moment, my personal favorites are Dulce de leche, Sea Salt, Guava Basil Sorbert, Passion Fruit Sorbet, and Strawberry Sorbet. A scoop of Dulce de Leche paired with Starberry Sorbet is absolutely divine! I don't get tired of those flavors. The Dulce de Leche is my take on the ever-so-popular Salted Caramel. I use Dulce de Leche instead of caramel, and it's very rich and creamy minus the bitter aftertaste that most salted caramel flavors tend to have.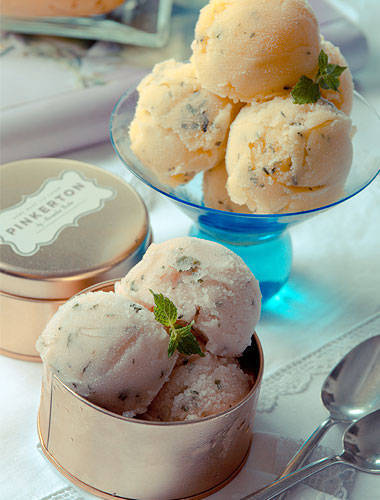 Pinkerton's Guava Basil and Mango Basil Sorbet


And what flavor are you most proud of?
It's hard to choose one but I guess I would have to choose the Guava Basil Sorbet. I got the recipe right on the very first try. And the combination of pink guava and basil is such a great palate cleanser and so unique.

Is there a flavor that best defines Pinkerton?
Pinkerton means no added preservatives, no extenders, made in small batches, made to order, made with love. Most people associate Pinkerton with Banana Nutella, Guava Basil, and Red Velvet.

Finally, why the name Pinkerton?
It was the name suggested by my boyfriend during brainstorming. He said it somehow sounded like me, though I'm not sure exactly how. He just said something about how it sounded preppy, homemade, and sweet. Anyway, Pinkerton was the one everyone liked the most, and it seemed to have a good recall, and so it stuck.
ADVERTISEMENT - CONTINUE READING BELOW

You can find Pinkerton Ice Cream at The Frazzled Cook, Mandaluyong; MU Noodle House, San Juan; Cova, Makati; The Last Chukker at Manila Polo Club, Makati; Atelier 317, Makati; Rustan's Grocery, Rockwell, Makati; Ritual at The Collective, Makati; 2nd's, Bonifacio Global City, Taguig, Dauge Tea Lounge, Bonifacio Global City, Taguig; Hai Chix and Steaks, Ortigas Home Depot, Ortigas; Bistro NYC, SM Mall of Asia. For more information, visit the Pinkerton website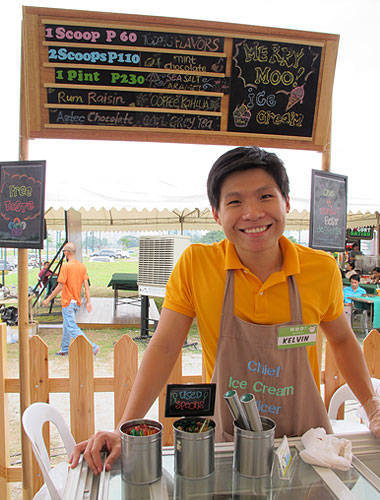 Photo courtesy of Katrina Iriberri
ADVERTISEMENT - CONTINUE READING BELOW
2. Kelvin Ngo, Merry Moo
Kelvin Ngo's fondest memories of ice cream would be mixing mocha and vanilla flavors with fresh fruits such as bananas during a hot summer day. "I was visiting my girlfriend (now my fiancee) in Singapore a few years back, and my cousin who happened to be studying there brought me to a place where they had unique flavored ice cream. It got me thinking if this could also be done here in Manila. It took quite some time and a lot of failed experiments before I had a good grasp of what needed to be done."

What's your most memorable ice cream or frozen treat experience?
Waiting in line to order Bi-Rite Creamery on a cold San Francisco night with my family, and eventually trying each flavor with them.

What makes your ice cream different from others?
We're proud that our ice cream uses dairy sourced from local farmers in Laguna. We are also proud to have a diverse range of pioneering flavors such as our bestselling Sea Salt Caramel, Earl Grey Tea, and Candied Bacon.
ADVERTISEMENT - CONTINUE READING BELOW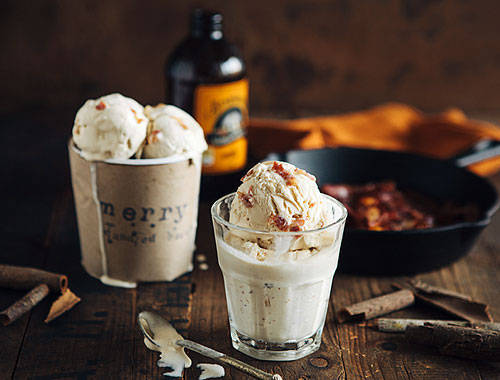 Merry Moo's Candied Bacon


Any favorite failures?
Honey Lavender sounded good on paper but when we tried selling it people felt it was too floral. It reminded them of hand soap or moisturizer. Another interesting fail was Rose and Beets. I wanted to get that very intense color from red beets and pair it with something to reflect the color such as rose but it didn't fly.


And your personal favorite flavors?
My favorite would have to be the Sea Salt Caramel. It was one of the first flavors that took a lot of revisions before finally getting it right. There was a lot of burnt caramel and wasted batches. 


You can find Merry Moo at SM Mall of Asia; Food Choices, Glorietta 4; Midnight Mercato Night Market; Salcedo Saturday Market; Eastwood Mall Weekend Gourmet Market; UP-Ayala Techno Hub; Podium Mall Weekend Flavors Market; Cucina Andare Glorietta Park; Legazpi Sunday Market; ECHOstore Serendra; ECHOstore Centris; Deli Master; DEC - Diao Eng Chay Food Plaza. People can contact us via merrymoo@ymail.com and our Facebook account (Merrymoo.icecream).
ADVERTISEMENT - CONTINUE READING BELOW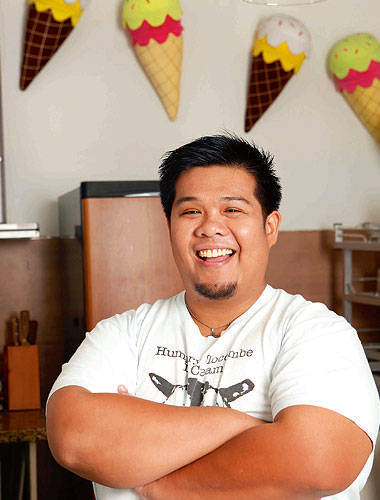 Photo by Miguel Nancianceno, courtesy of Yummy magazine
3. Ian Carandang, Sebastian's
Ian is known as the guy who started the artisan ice cream craze. His foray into making his frozen treats actually started upon the discovery of a foreign brand. It was a lightbulb moment, Ian says; one that divides his life into two periods: "Before I tried that first Ben & Jerry's Pint, and after I tried that first Ben & Jerry's Pint. That pivotal moment set events into motion that led me to where I am today. To call it a religious experience would be bordering on blasphemy, but really, that's the closest description for it."


What made you start your own ice cream line?
After I'd tried Ben & Jerry's, I went back to Duty Free to buy more pints. I was horrified to discover that they were all sold out. It looked like a one-off with no guarantee they would get more. Right then and there I decided, if I couldn't buy more Ben & Jerry's, I would make my own.

What makes Sebastian's different from others?
It's my constant drive to experiment and innovate and search out possibilities in ice cream and frozen desserts. So far, I've used non-traditional ingredients ranging from blue cheese to bagoong to sticky rice to pancakes. I'm always pushing myself to see what else can be done. Apart from ice cream, I've branched out into sorbets, ice cream cookie sandwiches, hand-dipped ice cream bars, ice cream pizzas, milkshakes, and most recently, ice pops made with fresh fruit. Basically anything frozen that you can take in your ice cream dipper, form into a scoop and plop into an ice cream cone or cup, that's what I'm trying to do.

What are some of your favorite failures in terms of flavors?
If we're talking about flavors that were failures sales-wise, it would have to be Orange Julie, my tribute to the Orange Julius drink. I recreated the flavor to the best of my memory, using fresh Florida Orange Juice, fresh milk, and vanilla beans. I thought it was a faithful representation of a drink that no longer exists, not even in an actual Orange Julius franchise. What I didn't anticipate was that the majority of my customers had no idea what Orange Julius was. It was delicious and faithful, but it bombed all the same. It reminded me that no matter what intentions and expectations I might have for a flavor, it's ultimately the public that decides.
ADVERTISEMENT - CONTINUE READING BELOW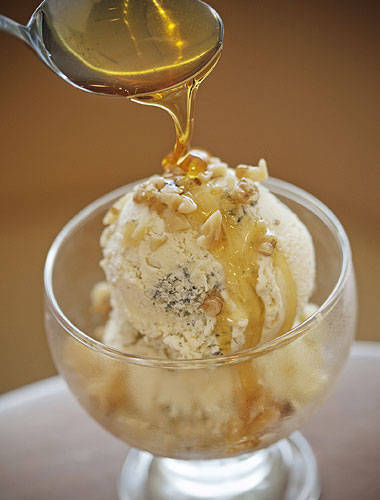 Sebastian's Once in a Blue Moon



What are your favorite flavor creations and why?
Once In A Blue Moon (Blue Cheese Ice Cream with honey and walnuts) for being the very first flavor that let me know our fans were willing to trust me. The Green Mango and Bagoong Sorbet for the reactions it got from people, equal parts fascination, disbelief and abject horror, but up until recently was our most shared and viewed flavors ever. And finally, Sapin-Sapin, for being the first Pinoy flavor to dethrone the long-standing sales leaders Cookie Dough and Chocoholics Anonymous. It was also the flavor that got us a write up by Reggie Aspiras in the Philippine Daily Inquirer which really was the starting point of our resurgence.
ADVERTISEMENT - CONTINUE READING BELOW

What can people expect from Sebastian's in the near future?
Summer was all about the Sebastian's In Season Sorbets, which were made with fresh fruit, and were light, healthy, and wholesome. I'm coming up with the antithesis of all of that next. All the weight you theoretically might have saved by going for a scoop of sorbet instead of ice cream, my new line of products will be specifically designed to wipe away that difference in a flood of chocolate and decadence.


Sebastian's scooping stations are located at the Podium Mall, Cold Comfort Ice Cream Parlor in SM Mall of Asia, and at the Ground floor Lobby of the Regis Center in Katipunan.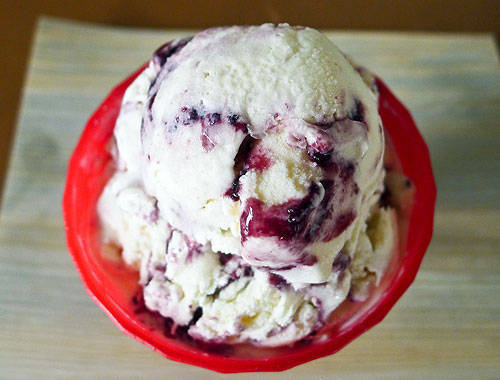 Goat Cheese Blackberries from Pint


ADVERTISEMENT - CONTINUE READING BELOW
4. Tiffany Yusun, Pint
Tiffany has always enjoyed cooking and baking. When she was a kid, her mom enrolled her and her sister in cooking classes during summer. But it was her sibling who ended up getting the most out of those classes. "She started selling pastries and I would usually bother her in the kitchen to make me help her bake." Eventually, Tiffany got herself busy doing something else. "I started experimenting with ice cream recipes but I only made it for my family and friends. A year ago, I decided to quit my job and to just go for it."

What's your most memorable ice cream or frozen treat experience?
When I was five years old, my family and I went to an amusement park in Hong Kong. The weather was a bit chilly since it was around Christmas time. Despite that, my sister and I wanted to have some ice cream. And since we wanted different flavors, we ended up sharing a twin cone. It was the perfect way to cap off the day. Twin cones are just the sweetest. I also realized then how much fun eating ice cream in the cold is.

What made you start Pint?
I've always been an ice cream lover and have always dreamt of having my own ice cream brand. I've been experimenting on ice cream recipes for a couple of years now but only made it for family and friends. A little more than a year ago, I decided to just go for it and pursue it full time.
ADVERTISEMENT - CONTINUE READING BELOW

What's your favorite Pint flavor?
My favorite is the Lindt Dark Chocolate. Aside from being a chocoholic, it's the first flavor that I was able to perfect. I can definitely say it's my first ice cream creation. Experimenting on it has really built the foundation of my churning skills.


For more information, please visit Pint's Facebook page. You can also shoot them an email at pinticecream@gmail.com, or call Tel. Nos. 964-1428, (0917) 535-5691 for more details.
Watch for Part 2 of this article tomorrow, June 20.
Share this story with your friends!
---
Help us make Spot.ph better!
Take the short survey
More Videos You Can Watch
Load More Stories