10 Must-Watch Chefs Under 30
These chefs have some of Manila's most must-try dishes under their belts, and they're not even 30.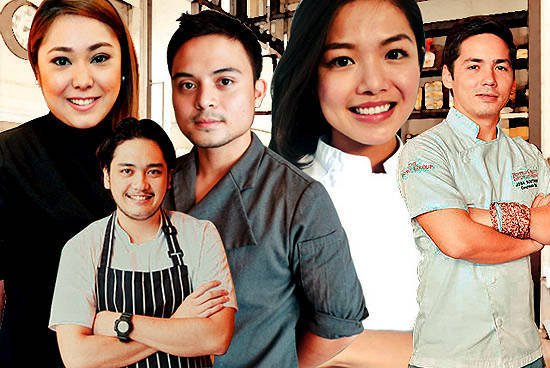 (SPOT.ph) They're at the top of their game-yet they're barely in their prime, if that makes sense. These young chefs are keeping the country's local food scene vibrant with fresh and innovative ideas. Age is only a number, yes, but it also belies the experience and passion that these 10 "youths" have shown to get where they are today.
No one on this list is above 30. These young chefs have carved a remarkable line of work, impressing everyone from casual diners to critics. If their concoctions are a preview for what lies ahead for the culinary industry, then we're very hopeful. Like wine, pickled food, and dry aged beef, things can only get better for these 20-something chefs.
This list is not ranked.
ALSO READ: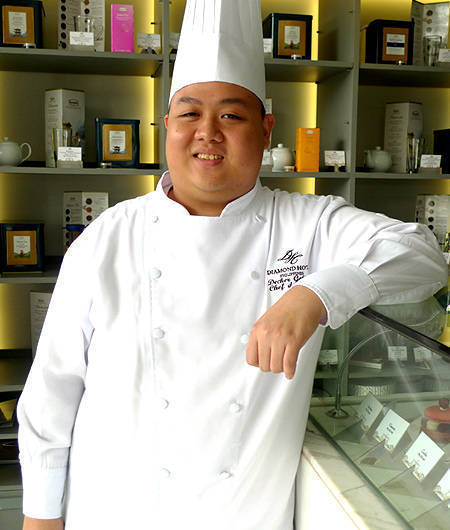 Decker Gokioco, 25
The Cake Club by Diamond Hotel
Decker's father used to own a mami house, and the promising cook would help his mom prepare meals. On his own, he would experiment. For his high school Home Economics class, Decker would normally end up as the team leader, deciding what the group should cook. Eventually, what became a hobby turned into a passion.
ADVERTISEMENT - CONTINUE READING BELOW
He graduated from the College of Saint Benilde in 2009, then went on to work for a number of hotel-restaurants, including Mandarin Oriental (at a Chinese station) and Hyatt. He started at Diamond in June 2010 where he was initiated as a kitchen helper then The Cake Club's chef de partie, thanks to Executive Chef Marco Rankel who trained him.
Signature Dish: "Noong first time akong sumali ng Philippine Culinary Cup competition, nag-gold kami dahil sa Kare-Kare. I was part of a three-man team who represented the Diamond Hotel."
Current Favorite Ingredient: "Chili. It gives a kick [to] your dish that would make you came back for more. I got that from my mother because she cooks spicy food well. Also, the smell of garlic sautéed in oil is very addicting to me."
CONTINUE READING BELOW
Recommended Videos
Best Dish He's Had: "The Black King ramen [at] Ramen Nagi."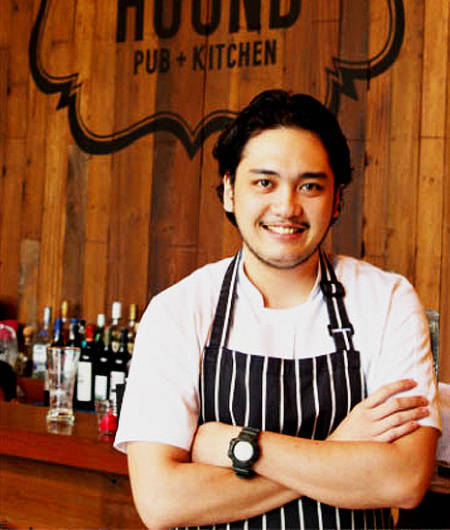 Mikko Reyes, 28
Hungry Hound
After graduating from the International School for Culinary Arts and Hotel Management (ISCAHM), Mikko took a kitchen post and cooked his way through the Palms Country Club then to the Asian Development Bank. His professional experience and devil-may-care attitude landed him the top spot at 2nd's. He was only 25 then, and already setting up a kitchen and making a menu from scratch.
ADVERTISEMENT - CONTINUE READING BELOW
Now, he has taken over the kitchen of Hungry Hound, serving a menu that shows how much he has grown over a short span of time and how many tricks he still has under his sleeve.
Signature Dish: "Steak & Ale 'Pie.' It's a deconstructed pie [with a] sous vide, [then] seared USDA Hanger Steak, pea puree, glazed carrot, puff pastry, and Chimay dark ale jus." The dish is on Hungry Hound's new menu."
Current Favorite Ingredient: "Gochujang or fermented korean chili paste. I really love its flavor profile. It has just the right balance of heat, spice, sweetness, and saltiness. It's very versatile that you can use it in different preparations. We use it for glazing, marinating, and, of course, kimchi."
Most Memorable Meal: "The best meal I had is from Antonio's Tagaytay. That was back in 2006 when I was still in culinary school and we had our field trip there. We had a six-course meal for lunch-Smoked Duck Salad, Kohlrabi Soup, Ravioli with Lumpfish Caviar, Dalandan Sorbet, Seared Beef Filet with Mushroom Gratin, and Tartufo Nero with Espresso Grand Marnier. What I can remember is that the dishes were very well prepared. I became more inspired to be a chef after that meal."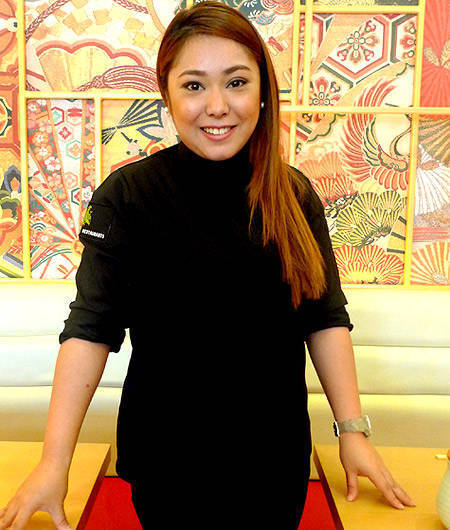 ADVERTISEMENT - CONTINUE READING BELOW
Porschia Anne Domingo, 27
Saboten
Porschia once mixed her mom's makeup powders thinking they were food. This young chef grew up in a family of cooks and around food, but she took a two-year sabbatical after school and traveled around the world, introducing her palate to global cuisines.
Upon her return, she learned that the Raintree Group was assembling a team for their MoMo Restaurant. She joined as a junior commis, her first professional job, and rose up to the ranks, landing the position of senior commis in less than a year. Her talent eventually snagged her the role of a demi chef, then soon after, chef de partie for Saboten. During training in Hong Kong, she had to prove her mettle in a male-dominated industry. "I was the only girl that time that the Chinese* ever worked with. They were delicate kung paano ako utusan so I had to show them what I could do. I brought my game."
Signature Dish: "Tonkatsu. I've perfected it already. It's fried but it's not oily."
Current Favorite Ingredient: "Now, I'm fond of panko breadcrumbs. There's a formula on how to make it. And we do our own here in Saboten."
Best Dish She's Had: "The Steak Tartare I ate in a resto along Champs Elysees in Paris. It was weird, but when I ate it, it was good."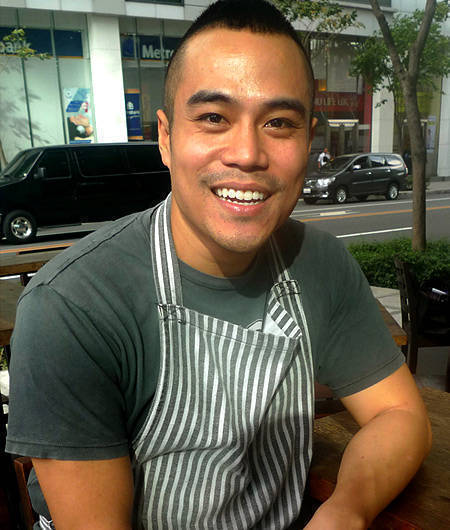 ADVERTISEMENT - CONTINUE READING BELOW
BJ Mantuano, 28
Wildflour Bakery + Café
BJ started cooking out of necessity. "I moved out of the house when I was 18 and I've lived on my own ever since. It was towards the end of college when I started experimenting and cooking for myself." After attaining his business degree in the US, he realized that it was cooking that made him happy. BJ took a leap of faith, packed his bags, and flew to Manila, not knowing what to expect.
After a nine-month culinary course at AICA, he worked long hours in an oil rig in Palawan, before returning to the city and playing with pans alongside Cyrille Soenen of Brasserie Cicou. "Fundamentally, you learn certain things in school but 'yong diskarte, you learn that outside. They don't teach you that." BJ was with Cyrille for almost three years and attributes his knowledge to the French chef.
As he was about to leave Cicou, BJ met chef Allen Buhay of Wildflour. He has held the café's sous chef position since.
Signature Dish: "BBQ Shrimps. It has the BBQ flavor profile but it's not barbecued. It's my favorite dish to make and it's my go-to dish all the time."
Current Favorite Ingredient: "As basic as it may sound, arugula. I don't know if you noticed but a lot of our dishes have arugula. It's got a profile that goes with anything."
Most Memorable Meal: "Everything I eat is memorable. I like to enjoy everything I have, especially things I make for myself. I appreciate dishes for what they are."
ADVERTISEMENT - CONTINUE READING BELOW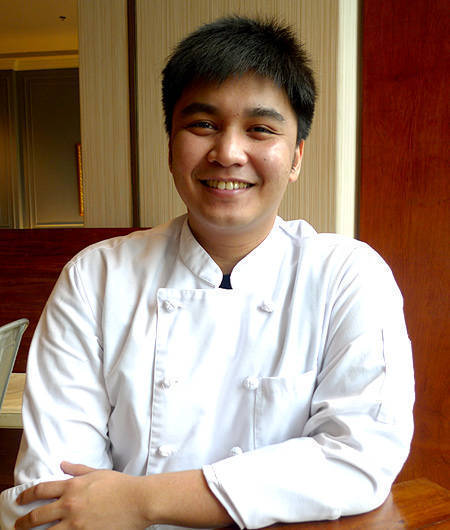 Marvin Paul Catalan, 25
CYMA and Green Pastures Restaurants
As a kid, Marvin used to role-play running restaurant with his siblings. When not playing, he would watch his mom cook his favorite spaghetti-at times begging her to let him sauté. This eventually led him to take culinary arts in CCA, graduating in 2009 with the highest recognition, the Director's Award. School Director Melissa Sison referred him to Robby Goco who was looking for a Research and Development Assistant at that time.
"It was my first job and ang big ng responsibility agad. Nabigla ako sa dami ng work pero enjoy naman kasi I love cooking. For Green Pastures, they both had to work on the dishes for just a month, and their healthy collaboration has produced what is one of 2013's standout restaurants. They are currently revamping CYMA's menu.
Signature Dish: "Now Paella, 'yong traditional. Mas nagustuhan ko 'yong paella ko ngayon than before." He is currently testing this dish with Chef Robby.
ADVERTISEMENT - CONTINUE READING BELOW
Current Favorite Ingredient: "Onions. Sobrang versatile and gusto ko ang lasa niya. Basta ma-add ko lang siya sa dishes, nasasarapan na ako."
Most Memorable Dish: "'Yong hamonado ng lola Lydia de Guzman ko. Gustung-gusto ko siya. Every time natitikman ko siya, hanggang ngayon, bumabalik ako sa pagkabata."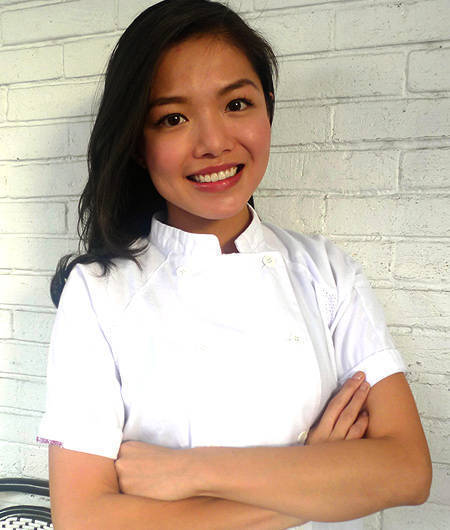 Celine de los Angeles-Escaler, 29
Stockton Place
"I loved going to the library and one of the things I stumbled across [were] cookbooks," says Celine who is the chef and owner of one of Manila's must-tries: Stockton Place. "For some reason, they read to me like magic. Cookbooks can actually make me cry. I always had that sensation with them. That's my first introduction to cooking." Celine was bitten by the bug, and she confessed that she would lie awake at night thinking about what to prepare for dinner the next day.
Realizing that she needed to have more control of her life, Celine enrolled in a culinary course in New York, but when she returned to the Philippines for a vacation, her plans took a turn. She graduated from CCA in 2009, worked in the Peninsula, then Goose Station before finally opening The Stockton Place in May 2013. Life has been busy since then, says the newlywed, but she has no plans of stopping anytime soon.
ADVERTISEMENT - CONTINUE READING BELOW
Signature Dish: "It's the steak. That was the one dish that I actually didn't overthink because there are very few ways that I like my meat, just with salt and pepper and a very quality thick cut. For some reason, that has become my signature [in Stockton]. I personally love pasta. I like anything with a noodle and making the pasta dough is therapeutic."
Current Favorite Ingredient: "My favorite ingredient is salt. I think it's one of the hardest things to learn how to use. It's in everyone's kitchen and the right amount just enhances the product. Salt is my go-to ingredient for anything, even desserts."
Best Dish She's Had: "The night I got engaged. We ate at Eleven Madison Park Restaurant in New York. Daniel Humm is one of my idolized chefs and the name of my restaurant is a tribute to him. The meal I had was beyond exceptional. It was a 15-course meal and it was really like a symphony, from the amuse bouche down to the dessert and drinks, and the way they served coffee. It was an experience."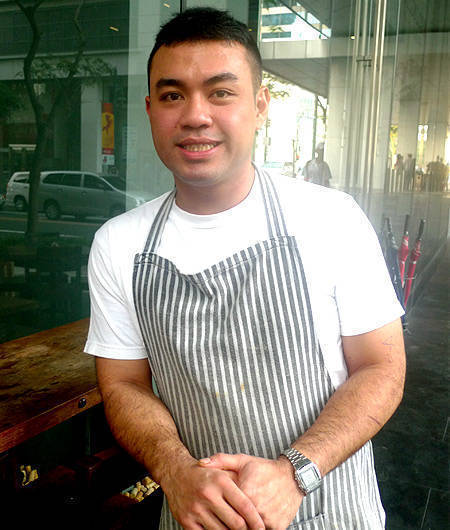 ADVERTISEMENT - CONTINUE READING BELOW
Allen Buhay, 27
Wildflour Bakery + Cafe
"I graduated high school in the Philippines. The deal was, if I get into UP, my mom wasn't going to take me to the States. I did get in but she still took me with her," narrates Allen, who ended up enrolling in Le Cordon Bleu in Pasadena, California, when he was 17, the youngest in his batch. For his internship, Allen's persistence rewarded him with a stint at Michelin-star Jean Georges in New York. "I just emailed my stuff so it was pure luck. I was the very first student to get an internship there. I wasn't just peeling potatoes. They had a show kitchen upstairs and I had one station to myself."
Allen also crossed paths with Walter Manzke who became his longest mentor-and the reason he moved back to the Philippines. "One day, he calls me up and says that the sister of Marge, his wife, wants to do something. Maybe I could do that while waiting for Republic [Walter's own bistro]." The contract was only for six months, but it's been two years and Wildflour's reaping unrelenting progress.
Signature Dish: "Sinigang. I love simple food. It reminds me of my childhood. I make my sinigang more sour, even as a kid. "
Current Favorite Ingredient: "All of the local products that are available in the country are the ingredients I like working with."
Best Dish He's Had: "Alinea, December 5, 2010. It was a mind-blowing 21-course meal. One of the best dishes that night was a simple white truffle risotto. It's not my style of cooking but that meal is just incredible."
ADVERTISEMENT - CONTINUE READING BELOW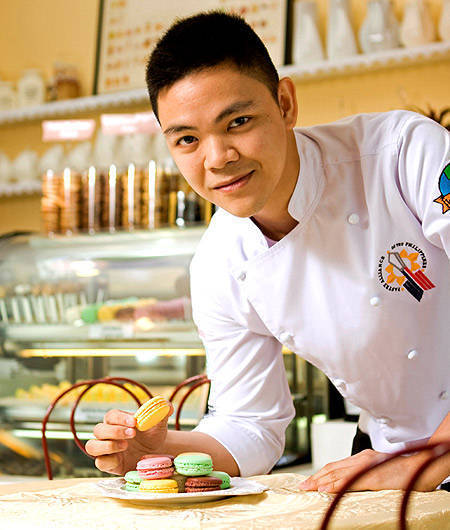 Photo by Shaira Luna
Miko Aspiras, 27
Raffles Hotel
Miko has made his home kitchen a playground since he was in grade school. "I fried hotdogs with my specially created batter of flour with egg," he recalls. He was six when he learned about baking: his aunt  would allow him to mix cookie batter and crushed graham for the crust of her cheesecake. He knew then that he liked cooking, but it was in college when he discovered a knack for pastries.
At the College of St. Benilde, he actually thought that pastries would be his Achilles heel. Since the initial hesitation, he has gotten awards internationally. He is currently fulfilling duties as pastry chef de partie at the Raffles Hotel in Makati, as well as consulting on the side. We can expect more sweet treats from Miko when Magnum Café opens in March.
Signature Dish: "I would have to say my cheesecake and at work it's really my style that usually people recognize. They can usually tell if it's mine or not. My plating is usually very distinct, with a lot of fresh organic elements balanced with technique."
ADVERTISEMENT - CONTINUE READING BELOW
Current Favorite Ingredient: "I love chocolate right now, the Valrhona Dulce de leche (soooo good!) and also soymilk and vanilla beans."
Best Dish He's Had: "A visit to Antonio's Tagaytay is always a pleasure. Also Fish and Chips by the Sydney Harbor-perfectly crisp-battered fish and thick cut chips!"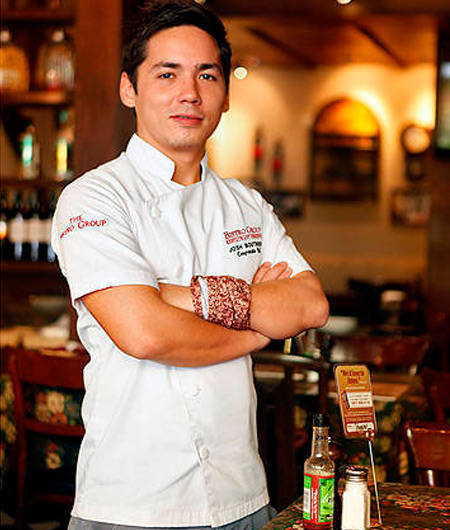 Josh Boutwood, 26
Bistro Group of Restaurants: Italianni's, Siklab, Krazy Garlik, Village Tavern, TGI Friday's, Tonkatsu by Terazawa, Modern Shanghai, Watami, Bulgogi Brothers, Flapjacks, Fish & Co., Pig Out
"I'm not a college graduate. I went to school for three months, then decided it was a waste of my time." It's something no parent wants to hear, but knowing how passionate and dedicated their son is to his craft, they relented. A week later, he was working in Le manoir aux Quat' Saisonsin in Oxford, England. His nomadic life then began and so did a colorful career. Josh went back to Spain to help his mom in her restaurant kitchen, before flying to Scandinavia and working in Noma and Trio. He then landed the position of the head chef in Svaneholm in Sweden.
ADVERTISEMENT - CONTINUE READING BELOW
Interestingly enough, it was  a -16C winter that brought him back to the Philippines in November 2010. "We took a gamble and went for it. We got a place in Boracay and opened Restaurant Alchemy in three months." His string of competition awards then got the Bistro Group noticing and in May 2012, he was invited to be the company's consultant, and then corporate chef. From handling his own restaurant, he was then given the responsibility of managing Bistro's 50. It was quite a massive undertaking, but, as he has already proven, nothing he couldn't handle.
Signature Dish: "Beef tenderloin with onions and ash"
Current Favorite Ingredient: "Salt. It's a fantastic ingredient to work with. So many aspects-curing, preserving. Another is eggs, bread, flour. Garlic, yes. There [are] hundreds but ultimately, salt."
Best Dish He's Had: "It has to be Sweden, May 2010, Daniel Berlin restaurant. He's not very known but is recognized by chefs. He's a purist. He likes his ingredients to be the best and let their flavors shine. He did great dishes like sous vide monkfish with pearl onions and pineapple-infused tapioca pearls. And King crab roulade with nettle soup."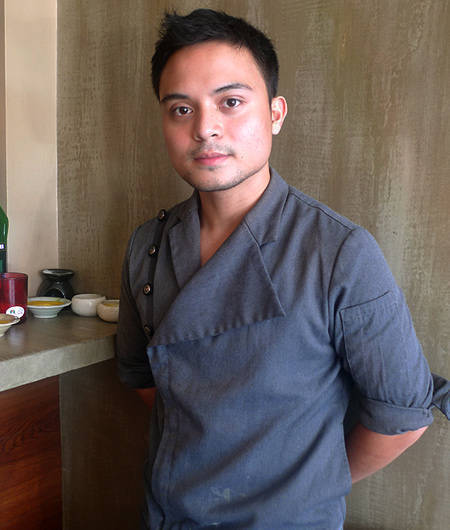 ADVERTISEMENT - CONTINUE READING BELOW
Bruce Ricketts, 24
Sensei Sushi
He got into cooking mainly because he had to earn for a living, but Bruce has come a long way since then, to the point of even revitalizing the local food scene. "The lifestyle that I did then was martial arts. I had to find work so I got a job as a dishwasher in the States. Then I worked for a few chefs and eventually became a cook." Aside from his Culinary Management studies at the Art Institute of San Diego, he learned a lot from mentor Jason Knibb who made him understand ingredients and changed the way he looked at food at that time. "I was into molecular gastronomy and then I stepped into his kitchen and realized that I actually [didn't] know how to cook yet. I was 18 then. That changed my philosophy."
Two years ago, his father passed away, and that sent him flying to Manila for a vacation. "I found that the dining scene was really stepping up its game so I was excited about it. That drove me to open business here." In November 2012, he opened Sensei Sushi in BF Homes, Parañaque. It may have started slow but it picked up once Bruce threw his hands in the air and decided to cook what he wanted and what made him happy. "We stopped being worried [about] what people would say and started serving what we think tasted good." From then on, he has been serving unforgettable meals and dishes that leave people speechless and rallying for the food movement he's promoting.
ADVERTISEMENT - CONTINUE READING BELOW
Signature Dish: "I have a dish in the tasting menu that people always come back for. It's Wagyu beef, charred eggplant, and a sauce made from cabrales and ponzu. Another dish that people request is my tuna sandwich-yellow fin tuna, roasted pineapple, foie gras mousse, and then the sandwich is a wafer made from coconut milk and black peppercorn."
Current favorite ingredient: "Corn because it's coming into season and the other one I'm mad over is local abalone. I serve the abalone different ways. I always cook it in dashi first. It acts like a mushroom [from] a textural standpoint."
Most memorable meal: "San Diego. There's this place called Tijuana Oyster Bar. You come in and you have three Mexicans making different kinds of tacos."
Share this story with your friends!
---
Help us make Spot.ph better!
Take the short survey
Load More Stories