15 Minutes with Chef Bobby Chinn: On cooking, conservation, and Filipino food
How he went from finance to comedy to cuisine.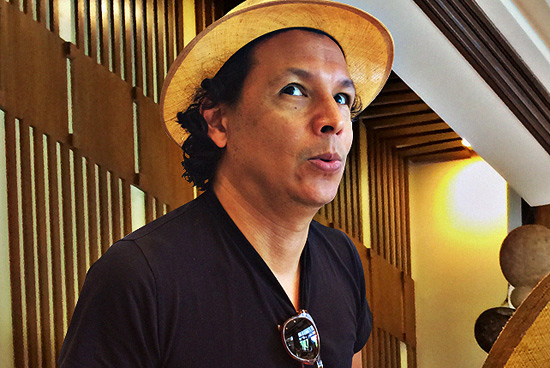 (SPOT.ph) It's more like 10 minutes actually. Bobby Chinn, world-renowned chef and TV host, has been everywhere and eaten everything, and he's got plenty to say. At the media conference in promotion of Coral Triangle Day on June 9, Chef Chinn was all smiles, a fedora disguising his jetlag and a power band energizing him for a day of cooking and conversation. In a black shirt, double-cuffed fatigues, a pair of sunglasses hanging from his neckline, he doesn't look like the chef who served former President Bill Clinton (a burrito), but it's just as well. This is a man who lets his flavors convey his authority in cuisine.
His casualness belies his origins as a fund manager on Wall Street-a high-paying, high-powered job he quit to pursue a passion for stand-up comedy. Cooking happened by circumstance. To supplement his income, the part-Chinese, part-Egyptian aspiring comedian bussed tables, which eventually served as his gateway to the kitchen. He moved from San Francisco to Vietnam, and now to London where he owns Vietnamese cooking haven, House of Ho. The series of rather fortunate events for Chef Chinn developed humility in a guy who never imagined this kind of success for himself but also confidence from someone who's done it all.
To give back, Chef Chinn promotes sustainability in cooking. This is the third year he has been present at the Coral Triangle Day, having attended previous ones in Indonesia and Malaysia. Over 85% of the Coral Triangle, which spans the waters of Indonesia, Malaysia, the Philippines, Papua New Guinea, the Solomon Islands, and Timor-Leste, are threatened by overfishing, hence the development of the Coral Triangle Initiative in 2007. Hamilo Coast in Nasugbu, Batangas, being at the mouth of the most prolific area, plays a significant role in these efforts.
ADVERTISEMENT - CONTINUE READING BELOW
"It's sad that we even have to have this day because the situation is really horrific," says Chinn. We got to talk more with the chef about his conservation efforts, sentiments, balut and shark's fin, and lessons from the stock market.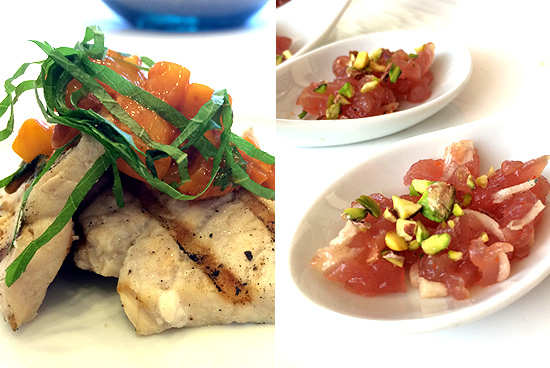 CONTINUE READING BELOW
Recommended Videos
Dishes from his food demo: Spicy Mango Salsa on Grilled Snapper; Tuna Tartare
On people's awareness
"The connection is missing. Many customers don't care (about sustainability). It's because people don't see the coral reefs or the endangerment. They just see it when they see the dish. They see it as a simple product."
On shark's fin and bird's nest
"Shark's fin has no taste! At least bird's nest is proven to contain the same things as whey protein, but shark's fin, you just take the fins off shark and you don't really get anything. There's no value except what you're paying for."
On creativity and failure
"People want you to do what they want you to do-math, science, biology. Things most of us won't really use in life. Music and dance aren't important, or they aren't as important. We have a kind of system that doesn't allow us to fail. We stigmatize failure. It doesn't encourage us to raise our hands and admit that we don't understand because we're afraid (people will) think we're stupid. The whole thing about creativity is that you have to take risks. You have to fail so you can learn."
ADVERTISEMENT - CONTINUE READING BELOW
On moving to Vietnam
"I went there to do something that I believe in. They want to fit you in a box, then when you get out of school, they force you to think outside the box. It was a good place to fail because no one knew me. I was free to give life a try."
On becoming a chef after being a fund manager and comic
"My life was planned for me by other people, namely, my parents. They told me, 'You would do this, you will do that,' and I would do this and I will do that, but it didn't necessarily mean that I was happy. I ended up in finance and economics for them, not for me. At the end of the day, when I went to work, I really felt that I was working. I didn't really enjoy the company I kept. I didn't enjoy what I was becoming. I didn't feel I produced anything. I didn't feel I had a purpose. I didn't feel happy. When you put all that together, and you (ask) what makes you happy, you'll forget because you're too busy living a life of someone else's dreams. I took the limited stuff I learned in school, which is algebra. In algebra, it was elimination. You don't need to know what you want to do. You can find out what you don't want to do by doing it. As you go through that process, it can lead you to things. Life did not become as planned as much as it was (about) what feels good, what feels natural, what I could do.
ADVERTISEMENT - CONTINUE READING BELOW
"I stumbled into comedy because I used to make people laugh when I was in the New York Stock Exchange, which is a very stressed-out place. These people did not laugh and it was very hard to get them to laugh. I used that as a skill. I wasn't looking to become a chef. I was just supporting myself to do my comedy. Waiting tables was it. I didn't know anything about food. I ate, but I didn't know the difference between chicken stock and a consommé, or the kinds of mushrooms, or langoustines versus lobsters, any of that stuff. I started to learn and as I was learning, I was inspired. I had people who were supportive of me. (They were saying) the waiter is helping us in between shifts to help us cook. I became a good waiter. My father came in and said, 'What are you, a stand-up comic waiter?'  Number one, you're not funny; two, you're a shitty waiter; three, your education is far too expensive...You must change your attitude, you have to start doing things correctly again. I don't think he really get it, but I really waned to do it. I'd be the first one in with the chef. I'd be the last one out. I was reading cookbooks. I felt a great sense of pride when people told me something I made was good."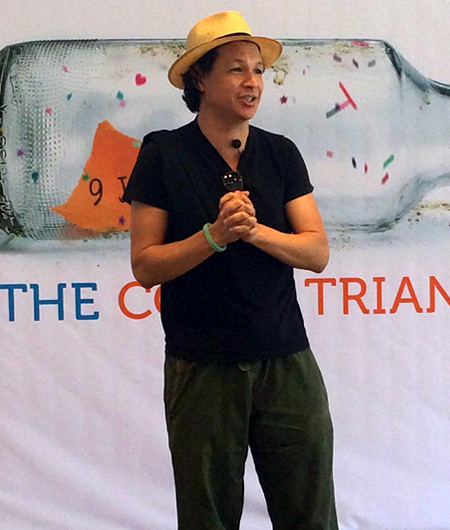 ADVERTISEMENT - CONTINUE READING BELOW
On quitting Wall Street
"I never knew how to quit Wall Street because it paid me well. So I'd go tell my boss to go f*ck himself every day just when he'd least expect it. I'd tell him a nasty word and he'd look at me like I lost my mind. When I left, they fired me, but I got a severance pay. I was selling seafood and I took my skills from Wall Street. I learned how to haggle, I learned how to think quick...and lie. I met all the top chefs in New York because I lied. I told them I was doing research or that another chef asked me to go to them."
On naming his London-based restaurant House of Ho
"I wanted something controversial and SoHo used to be the red light district of London. Then it's also Ho Chi Minh."
On why Filipino food isn't more known internationally
"Take balut off it! (Laughs.) Filipinos are the sweetest people in the world. They're always smiling. A friend of mine was in Congress and he was apologizing to me that the country was very poor because of corruption, but everyone was smiling. Filipinos are everywhere. There are Filipino chefs in kitchens all over the world, but the problem is, they're not cooking Filipino food."
Share this story with your friends!
---
Help us make Spot.ph better!
Take the short survey
Load More Stories