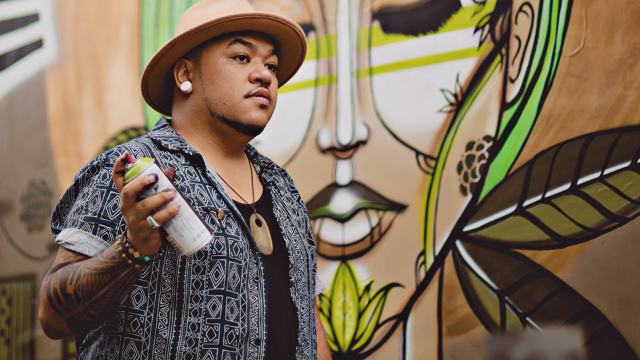 (SPOT.ph) There's a chance you don't know him. There's a greater chance you've come across one of his murals while munching on a burrito—and you've possibly gawked at it for a good few seconds. His characteristic street art is sprinkled across the Metro, from quirky neighborhood eateries to big-name malls—often for a cause grander than him.
ADVERTISEMENT - CONTINUE READING BELOW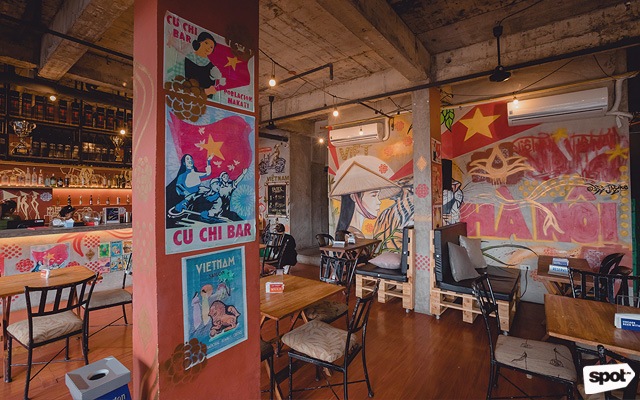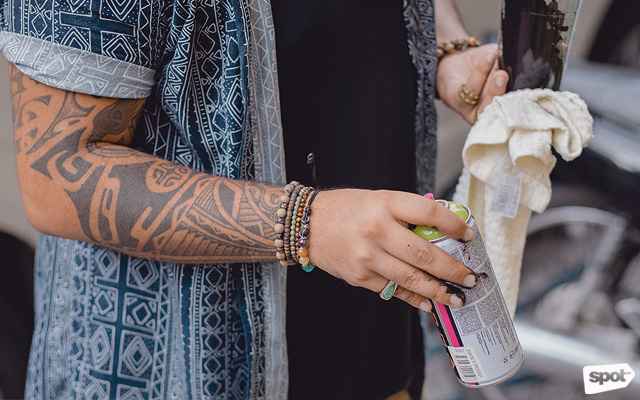 Meet Filipino-Polynesian street artist Dee Jae Pa'este, whose works are seen in establishments like Hole in the Wall, Señor Pollo Makati, Sensei Sushi, Mighty Quinn's, Cu Chi Bar, A'Toda Madre, and The Palace Pool Club, to name a few. Growing up in a family seemingly obsessed with art, it was inevitable for Dee Jae to end up on this creative trail.
"My mom decorates and designs furniture and collects antiques. My dad is a visual artist as well. A lot of my cousins are tattoo and graffiti artists," he shares, absently running his hands over tattoo-covered arms. "I got pretty lucky in that sense."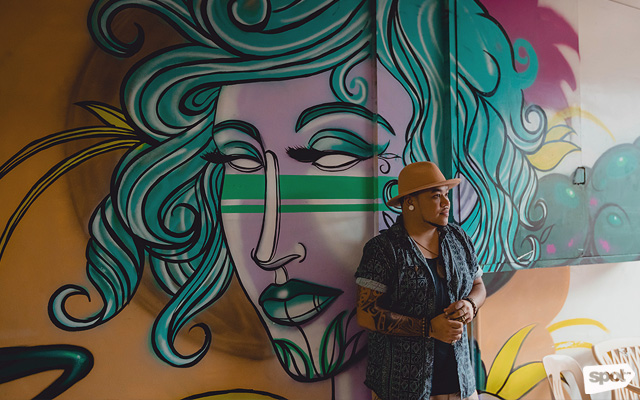 ADVERTISEMENT - CONTINUE READING BELOW
Despite the many things he can be, and the many breaks he could have gotten in California, New York, or Tokyo, chasing the path as a street artist in Manila, he says, was his only option. In 2011, Makati-based gallery Vinyl on Vinyl invited Dee Jae to do an art show. For him, it was an awakening of sorts—and he hasn't left the Philippines since.
"It was a two-week trip that turned me into a citizen," says Dee Jae. "When I came here, I was blown away by the art scene, the music scene, the underground scene, the food scene. The Philippines was full of a lot of good energy and opportunities to build a community with other artists and creatives."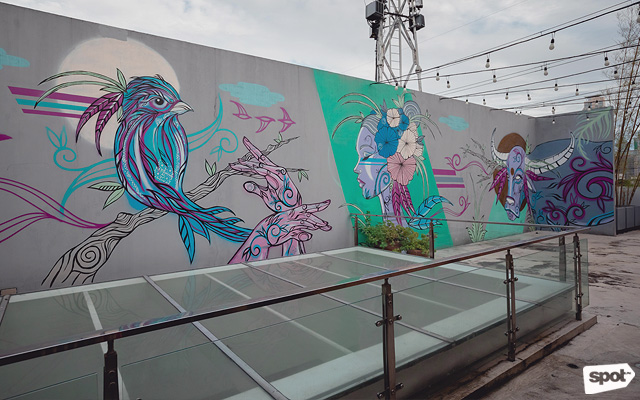 ADVERTISEMENT - CONTINUE READING BELOW
Two years in, and jumping from one project to another, he co-founded events concept Manila Pop Up with retailer Mike Concepcion and restaurateur Erwan Heussaff. Their vision to bring together food, music, and art into one venue (although sporadically) was a hit that led to several installments.
One of their first pop-ups was Barba-Cua, an epicurean collaboration with Chef Bruce Ricketts of La Chinesca and Sensei Sushi. "It was very new and very young and we wanted to bring people together because we didn't see that happening at the time," he says. "Gathering and putting them in one place, showing them the connection that they have was very fun for me and was also a way for me to meet all these people that had so much talent."
Manila Pop Up began Dee Jae's foray into events consulting and, eventually, doing food tours around Poblacion—Makati's old downtown district, also baptized by some as "Williamsburgos" (after Brooklyn's hipster neighborhood, Williamsburg) or "Backwell" (a portmanteau of "back" and "Rockwell").
ADVERTISEMENT - CONTINUE READING BELOW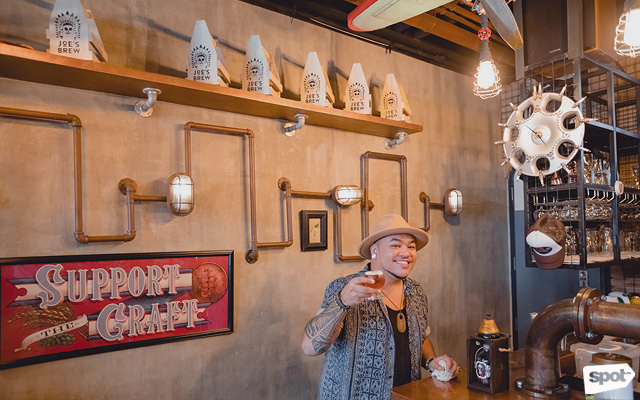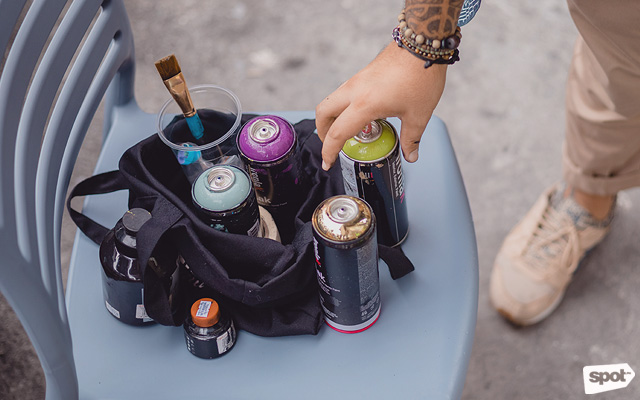 ADVERTISEMENT - CONTINUE READING BELOW
In the years since he moved to the country, Dee Jae has been living in Poblacion where a good chunk of Manila's dining and art scene thrives. "There's something taboo about being in the red-light district, but it attracts creatives and weird people like me," he says.
And so The Starving Artist was born. "The Starving Artist is my personal brand. That's where I label my food and art tours. Before it kicked off, I was always taking people around here, showing them the crazy stuff going on like midget boxing at Ringside."
"Basically, you come and learn about the neighborhood. You try food and get off-menu items, you see all the murals me and my friends have made around the area," he says. "It's a way of connecting the things I love: art and food."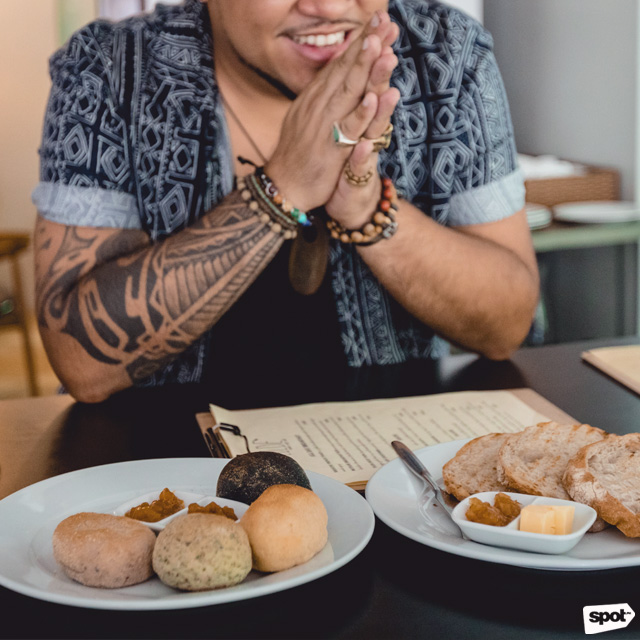 ADVERTISEMENT - CONTINUE READING BELOW
Raised in a traditional Ilocano household where a lot of the men in the family are home cooks, Dee Jae's connection with food runs deep. And food, for him, is an integral part of his creativity. "Just having food around me was something that fed my soul and also really inspires my art. When I have a good meal, I can create crazy and enlightened art."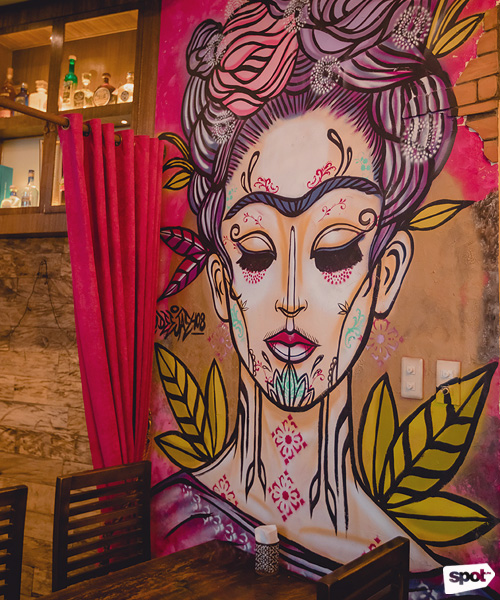 ADVERTISEMENT - CONTINUE READING BELOW
He admits, though, that he has turned down countless offers to paint restaurant murals because he wasn't excited by the food or space. "Wherever you see my murals, it's like a little stamp of approval of great places. And they stay around!" Dee Jae says in jest.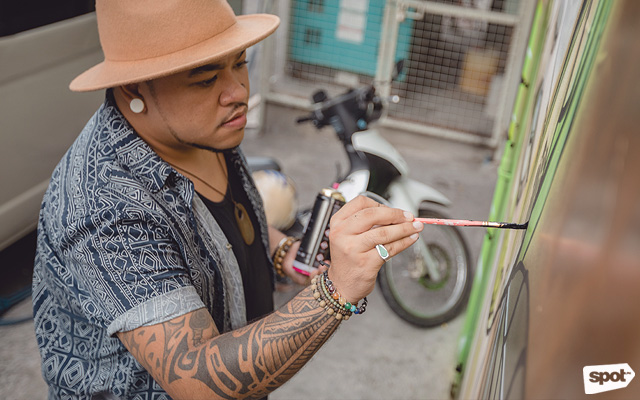 ADVERTISEMENT - CONTINUE READING BELOW
Asked to describe his style, he says it's a mixture of Filipino indigenous and tribal patterns and futuristic elements. On the other hand, you'll also see a lot of curves and color, deities, feminine faces and bodies in his works, which Dee Jae adds was inspired by all the strong women in his life: his grandmother, mother, and of course, his girlfriend.
He is grateful—and it's a trait that is almost immediately evident in his friendly openness; his enthusiasm for art and his desire to impart some form of happiness on whoever might happen to chance upon his work. Public art, Dee Jae believes, should matter to everyone because not everyone has access to galleries. "I never thought I would be able to thrive and really grow my art style and share as much as I [have] here in the Philippines," he says.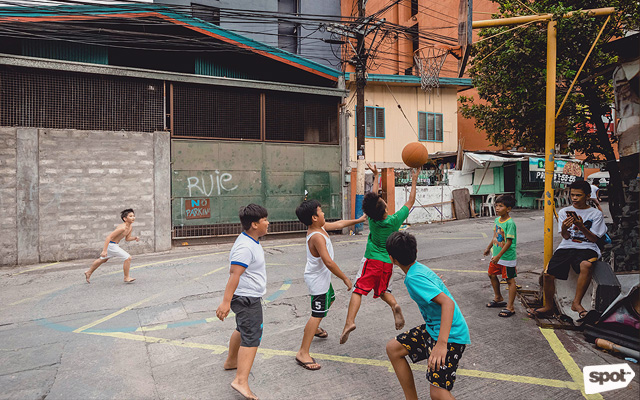 ADVERTISEMENT - CONTINUE READING BELOW
"We're in a country where people are still trying to survive, and get by day-by-day...You're taking that tiny idea inside of your head and put it on the side of a giant building. People will see that and if they're having a bad day, art has that ability to make you smile and feel a little bit lighter."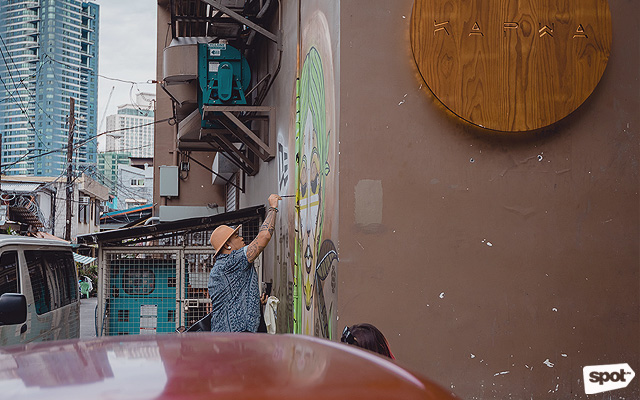 ADVERTISEMENT - CONTINUE READING BELOW
There are countless ways to approach art, but he likes to believe that art should be for everyone, which is why he paints on walls and streets. "I want to make sure every neighborhood, every restaurant has that vibe. You transform a space and it just changes the atmosphere and energy...I'm always happy to find new spaces and venues because people need it. It's an unspoken responsibility the artist has to uplift people with their art."
Photos by Jilson Tiu
Your guide to thriving in
this
strange new world.
Share this story with your friends!
---
Help us make Spot.ph better!
Take the short survey
More Videos You Can Watch
Load More Stories