Gin Buko Is the Hippest Local Cocktail You Don't Know About
Liana Navarro and Brian Temporosa of The Workshop show you how it's done.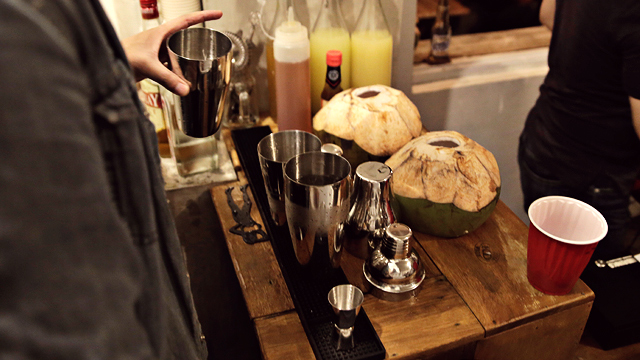 (SPOT.ph) If you've ever celebrated a fiesta in the province—and that makes probably half of Metro Manila's population—you might have come across a steady supply of gin and coconut water being passed around the table. This wildly popular rural cocktail makes sense, given the country's profusion of buko and cheap sari-sari store-bought gin that comes in all shapes and sizes. Gin buko (as they call it) isn't the most glamorous or sophisticated drink out there, but it does the job if buzzed is what you aim for. And the best thing about it is it gives you zero headaches in the morning.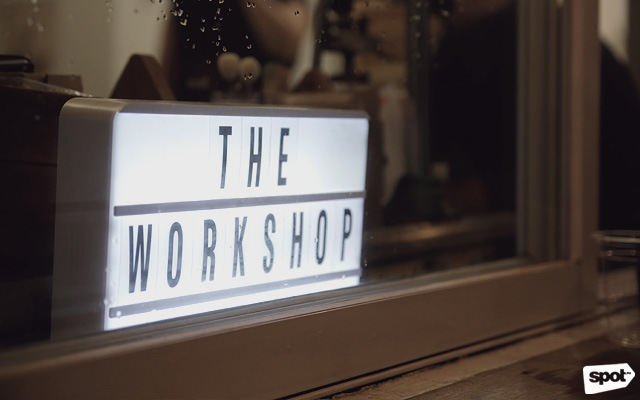 ADVERTISEMENT - CONTINUE READING BELOW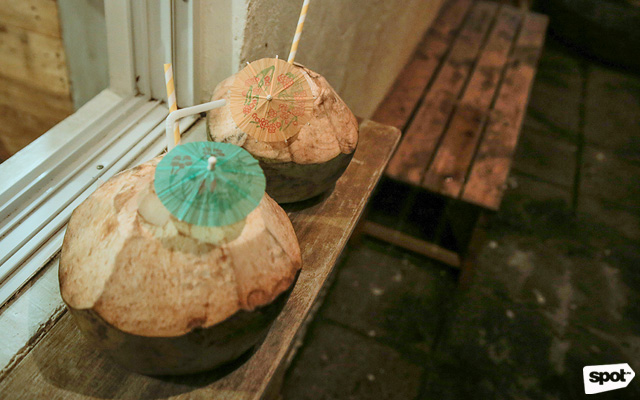 CONTINUE READING BELOW
Recommended Videos
Thank the electrolytes in buko juice—at least that's what the folks over at leather-crafting store The Workshop tell us. The Workshop is Poblacion's newest, best-kept secret. The star of the show? Their gin buko, served ice-cold and fresh in a young coconut shell, with a jazzy cocktail umbrella, of course.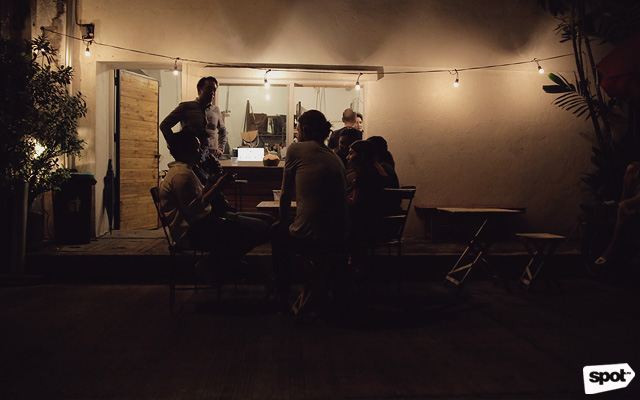 ADVERTISEMENT - CONTINUE READING BELOW
On Friday nights, this unassuming retail shop transforms into that underground '90s party you rebelliously sneaked out of the house for because of your darned 10 p.m. curfew. You'll hear the Gin Blossoms' 1992 single Found Out About You playing in the background, between the roaring sound of tricycle engines nearby and the idle chitchat of friends and friends of friends who came over to have a good time. The space can barely fit 15 people but it's their hole-in-the-wall charm that gets us.
The Workshop's Liana Navarro says, "That's what we would drink when we go out of town. I would always try to make my friends drink gin buko in Manila, but a lot of [Manileños] don't know about it. It's refreshing, but you won't realize how strong it is."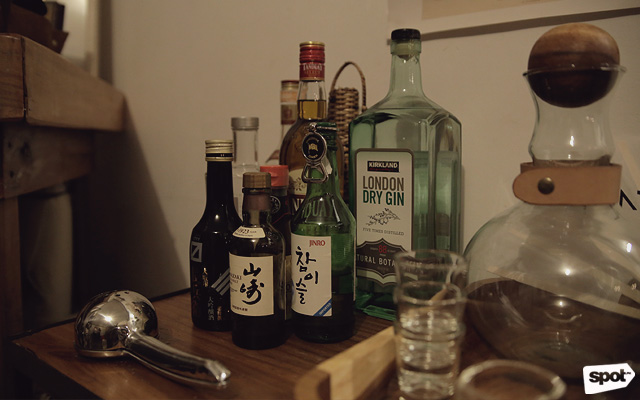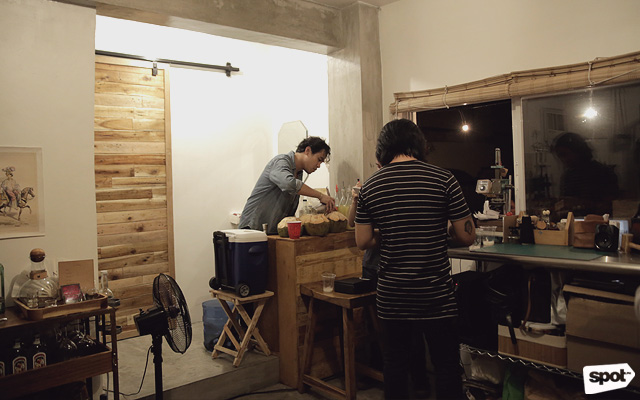 ADVERTISEMENT - CONTINUE READING BELOW
The drink will somehow remind you of the classic G&T if you take away the fancy garnish and fizz, and if you add the stimulating sweetness of buko juice.
Like the local cocktail, the boozy concept of gin and tonic isn't anything novel. The widespread alcoholic drink, essentially made of just two elements (if you don't count the fresh wedge of lime as accompaniment), was used to treat malaria patients when mixed with a dash of quinine. The antimalarial drug also doubles as a flavoring agent (although in minute amounts) for the Schweppes you're probably drinking right now.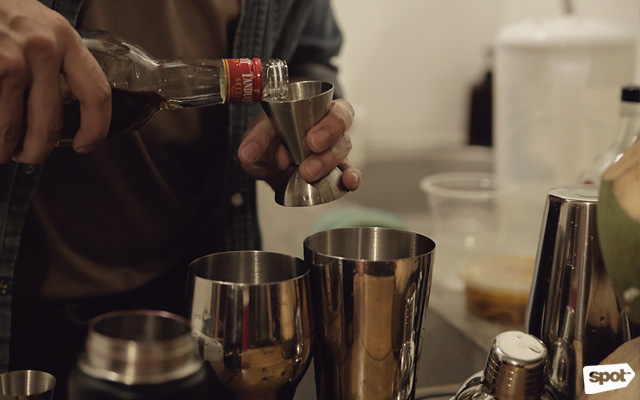 Co-owner and resident bartender Brian Temporosa boasts the drink's ionic qualities: "Because it's filled with so many electrolytes, and as long as you stick to just gin buko, you won't be hungover the next day." Asked about their signature drink's secret, and why it's drawing people in droves starting at 6 p.m., he says they just add a dash of honey and lime. We think it's more than that.
ADVERTISEMENT - CONTINUE READING BELOW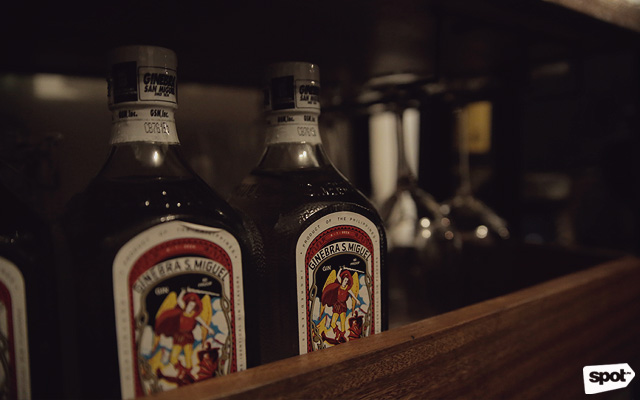 The Workshop uses Ginebra San Miguel's Kwatro Kantos for their gin buko.
"We're using all local products for our drinks. And we like it that way. I think it's also complementary to our retail brands so it all makes sense. Some people are asking why we don't have whiskey. It's because we don't have a local whiskey brand," Brian shares.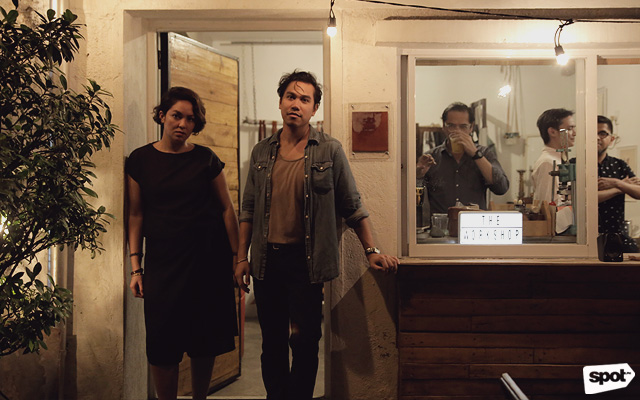 ADVERTISEMENT - CONTINUE READING BELOW
Liana Navarro and Brian Temporosa of The Workshop
The Workshop is located in one of the most overlooked streets in Poblacion: It's lined only with residential buildings and empty parking lots. No busy restaurants. No neon lights. No convenience stores. But come that one day of the week, The Workshop lights up amid the dark and stillness of Alfonso Street, helping ignite the district's pulsating night life.
"We want to keep it simple because we're not a bar. This is kind of a house party, and we like that vibe. We're just hanging out. And I think that's why people like it, it has a different atmosphere than the other places," shares Brian.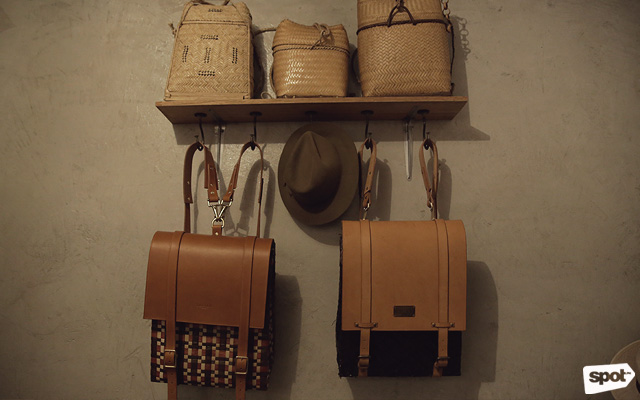 Leather backpacks with hand-dyed and handwoven pandan leaves from Leyte by Colony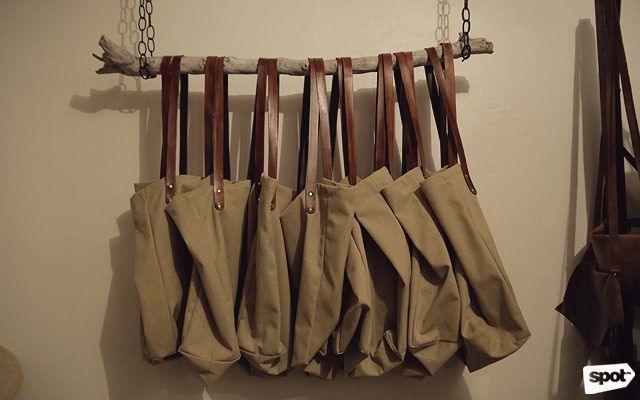 ADVERTISEMENT - CONTINUE READING BELOW
Canvas tote bags with leather straps by The Workshop
The Workshop held its grand unveiling in February, officially presenting Liana's and Brian's homegrown brands Liana Rosa and Colony, respectively. Both names champion local, sustainable, and handcrafted leather accessories including backpacks, tote bags, wallets, aprons, and even jewelry. But more than setting their retail boat in motion, it was also an eventful day for the gin buko as it was then that it gained a cult following of sorts.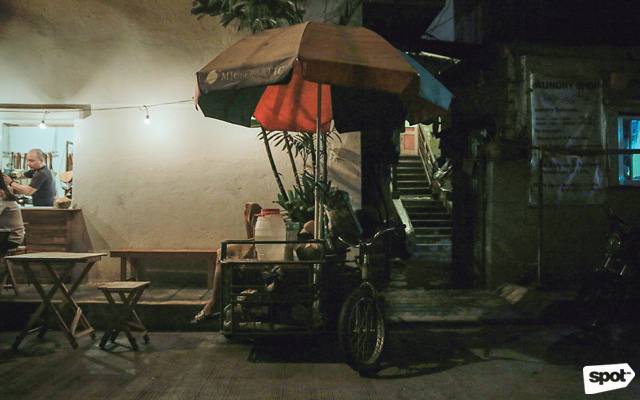 That night, they hired a magbubuko (complete with a makeshift buko cart and all) to crack open one young coconut after another and supply the most important element to the evening's libations. "We were thinking: 'Okay, what drinks can we serve at the launch?' Of course, there's beer. But we also want the drinks somewhat related to our brand. So I said, let's make it really simple, let's do gin buko and find a manong buko who can open fresh buko in front of everyone," Liana says. "We had 100 coconuts and they were all sold out."
ADVERTISEMENT - CONTINUE READING BELOW
"We actually thought more people were gonna drink beer, but pretty much everyone was drinking gin buko," adds Brian. "I woke up [one] morning and was laughing to myself and I was like, I never knew that coconuts would be such a major part of my life. But it was really awesome and a lot of fun."
It wasn't until the long weekend that started all the glorious long weekends in 2017—Philippine Independence Day—when they decided to bring back this humble gin-based drink to life. And so, Fridays at The Workshop was born.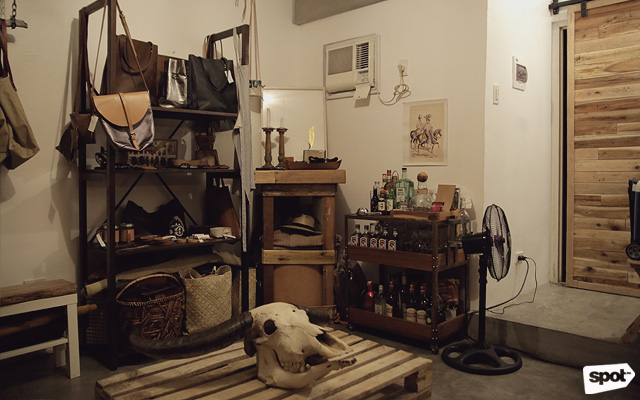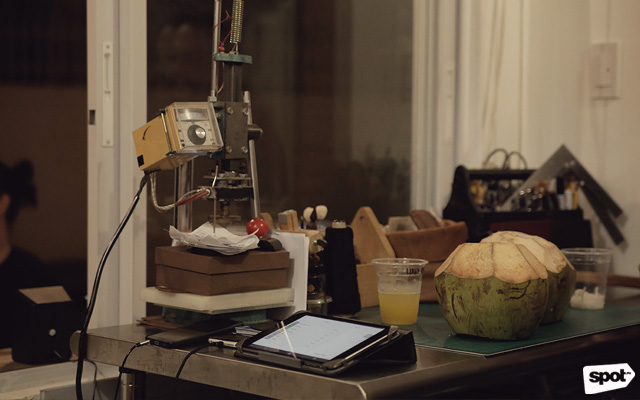 ADVERTISEMENT - CONTINUE READING BELOW
Much has been said about Poblacion, from borderline fanatic approval "It's so cultured!" to eye rolls and smack talk "It's so hipster"—you either love it or hate it. Brian likes to think that Poblacion is bursting with character, which reminds him of the community he grew up in in the U.S. "I was living in Brooklyn, and this reminds me exactly of Brooklyn back in 2005 and 2006. [Poblacion] is becoming gentrified, which is a good and bad thing."
"But if business owners and property developers approach it responsibly, we can develop a really cool neighborhood. There's something [about Poblacion] that still feels like it's the Philippines, it's not like you're living in a bubble," says Brian.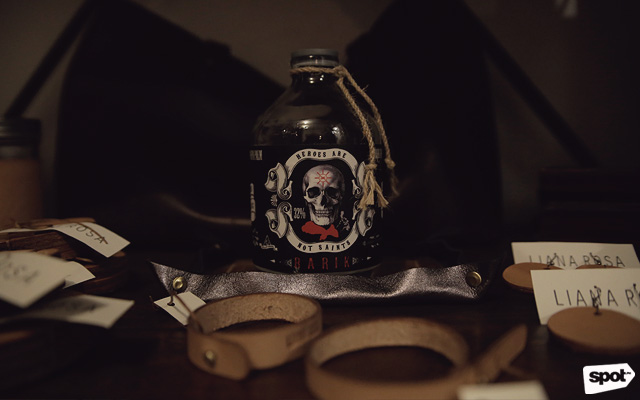 Liana Rosa leather accessories and Barik Supremo Lambanog
The community is ever-evolving and adrenalized, with hip bars and eateries, street art, hostels, and what have you at every corner. Blurring the line between what a shop and a watering hole should be, The Workshop is just one part of Poblacion—their presence may perhaps even trailblaze the upswing of independent boutiques, brands, and fashion in the neighborhood.
ADVERTISEMENT - CONTINUE READING BELOW
"A part of [the influx of people] is educating them about the businesses here. I don't think everyone knows there's The Workshop down the street from Z Hostel or Bucky's. Or that there's an amazing cocktail bar if you walk past Yalla Yalla, which a lot of people don't walk past. Once [there's more awareness], I think the neighborhood's gonna change even more."
Photos by Elaine Villanueva
The Workshop is at 5856 Alfonso Street, Poblacion, Makati City. For more information, log on to The Workshop's Facebook page.
Share this story with your friends!
---
Help us make Spot.ph better!
Take the short survey
Load More Stories