PETA's Top 10 Vegetarian Restaurants
PETA names their top 10 vegetarian restos in the Philippines. Sneak a peek at the list so you know where to veg out.
Alanis Morrisette, Alicia Silverstone, Gwyneth Paltrow, and locally, actress KC Concepcion, singer Geneva Cruz and models Isabel Roces and Raya Mananquil have made vegetarian living a chic lifestyle. Far from just adopting trendy eating habits, vegetarianism in all its forms reduce the risk of obesity, cancer and diabetes as well as promote concern for animal rights, global warming and the environment. Also known to encourage spiritual well-being, adopting a food-plant diet is a win-win situation for one's health, the earth and animals.
In Manila, vegetarian fare has become more accessible. While most establishments have vegetarian fare on their menus, the folks at the People for the Ethical Treatment of Animals (PETA) had the envious task of eating their way around the Philippines to search for the best meatless meals.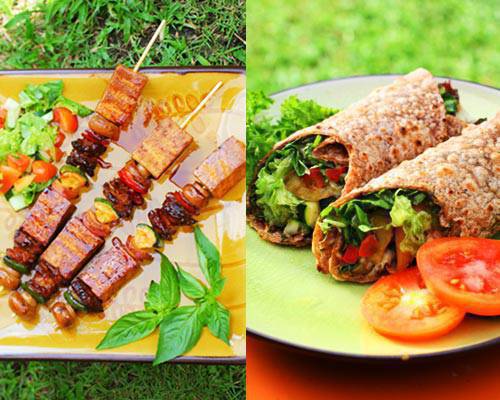 Greens Vegetarian Barbeque (left) and Wraps (right) are some of the crowd favorites at Greens.
ADVERTISEMENT - CONTINUE READING BELOW
1. Greens Café and Restaurant
92 Scout Castor Street, Quezon City
415-4796 or 376-2781
A place to impress vegetarian dates, Greens is tucked amidst a garden in a quaint and homey Quezon City home-turned-restaurant. The menu is filled with vegan favorites such as the Greens Vegetarian Barbeque (P75), Barbeque Wrap (P80), Vegetarian Sisig (P140) and Cheesy Soy Sticks (P80). For those who can't go without a sugar rush, eggless desserts like the Walnut Caramel Apple Pie and Carrot Cake are on the list. Their Chocolate Cake, according to PETA is "an astounding taste experience that is guaranteed to be the subject of daydreams for weeks to come."
CONTINUE READING BELOW
Recommended Videos
[previous|page|next]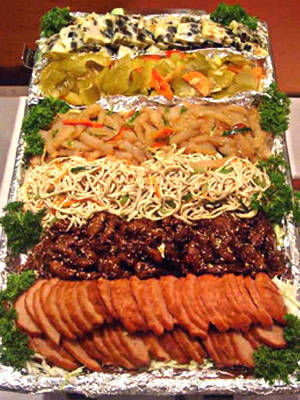 Mock meats from Bodhi.
2. Bodhi (also known as Evegreen)
SM Cubao, SM North EDSA, SM Megamall, SM South Mall, SM City Manila, SM Makati
With stalls in most of Manila's malls, Bodhi makes the vegetarian lifestyle accessible. Also voted the Best Affordable Vegetarian Food for 2007 by PETA Asia Pacific, Bodhi focuses mostly on well presented mock meats. With adaptations of both Chinese and Filipino dishes, Bodhi offers value meals and further discounts when it's close to the mall's closing time. PETA recommends their kare kare, menudo, asado, bopis, ginataang langka, and broccoli with "beef".
ADVERTISEMENT - CONTINUE READING BELOW
Click here to see a complete list of Bodhi branches.
[previous|page|next]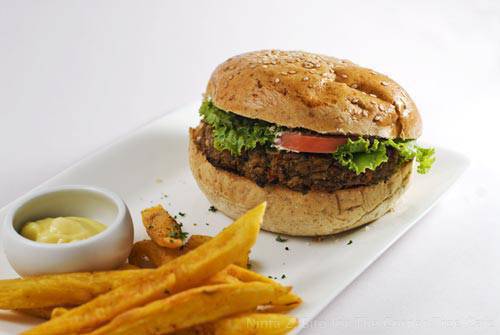 Corner Tree Cafe's Tofu Walnut Burger makes it easy to go meat-free.
3. Corner Tree Café
150 Jupiter Street, Bel-Air Village, Makati
(0917) 848-1004
Owned by Francesca Mabanta, Corner Tree Café has innovative items on the menu such as the Tofu walnut burger (P240), Spinach and Pechay Chowder (P95 for the cup and P150 for the bowl) and a starter plate (P180), a combination of Egyptian dukka and white bean hummus served with chunks of whole wheat bread and vegetable sticks.
Corner Tree Café also has a Filipino Dish of the Month, and PETA likes its "homey feel as well as comforting but very healthy food."
[previous|page|next]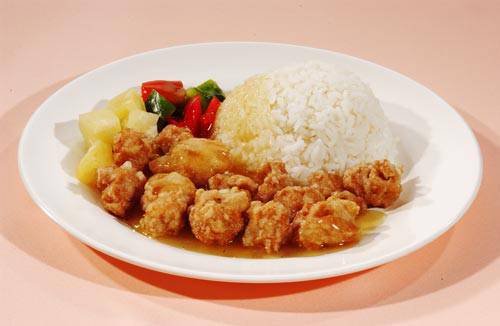 All the taste without the flesh in Daily Veggie n' Cafe's lemon nuggets.
ADVERTISEMENT - CONTINUE READING BELOW
4. Daily Veggie N' Café
540 Banawe Street, Quezon City
711-8209 or 711-3214
With their flesh-free feasting options, alternative, healthy fare is a priority at Daily Veggie N' Café. PETA recommends the curry (on its own or with noodles) and the sweet-and-sour nuggets as well as the sizzling fillet, which is "so fish-like that it's almost scary (the seaweed looks and tastes like fish skin)."
5. Hapilife Healthy Food Corner
#18 Corpuz St., West Tapinac, Olongapo City
(0921) 872-0258 or (047) 611-0249
Who would have thought that a vegetarian resto tucked away in Olongapo City would make the top 10 list? PETA thinks that their "range of tempting options" plus their great service merits them a spot. A few must-tries are the combo meals with vegetarian versions of steak, tuna, drumsticks, and roast duck, and meat- and dairy-free versions of traditional Filipino fare.
[previous|page|next]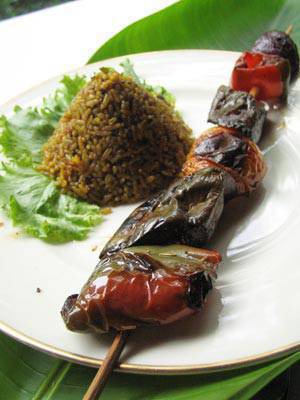 Mandala Spa's Roasted Veggies with Tamarind Rice, is one of the amazing vegetarian dishes at the spa.
ADVERTISEMENT - CONTINUE READING BELOW
6. Mandala Spa
Boracay Island, Malay, Aklan
(036) 288-5858
website: www.mandalaspa.com
The ultimate "get-away-from-it-all" sanctuary, Mandala Spa in party-island Boracay, also has a vegetarian restaurant. Go for the Pan-fried tofu, served stir-fry style with beans, asparagus, pechay, and sprouts and topped with peanut sauce and crushed peanuts, and the Pad Thai topped with a sweet tamarind-based sauce and spring onions, after a relaxing massage.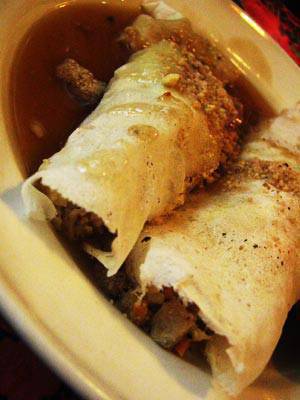 The Lumpiang Ubod at Bliss Cafe is tastefully healthy.
7. Bliss Café
Hotel Elizabeth, Gibraltar Street corner J. Felipe, Baguio City
(074) 619-0367 or (0917) 8464729
website: blissnbaguio.multiply.com
Known for never being empty, Bliss Café in Baguio City has something for everyone: from traditional Pinoy fare and merienda to international cuisine with dishes originating from Seoul, Tokyo to Zurich and Mexico City. PETA says that "the best dish is the "energetic embutido," which can be made vegan by opting for no cheese."
ADVERTISEMENT - CONTINUE READING BELOW
Their all-day brunch menu might even get carnivores to take a bite of the scrumptious food.
[previous|page|next]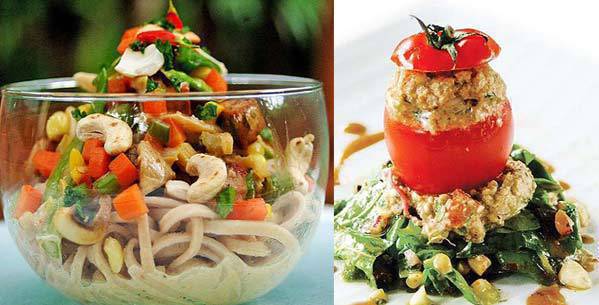 Tofu Siam with Coconut Cream (left) and the Cherry Tomatoes (right) are some of the fresh options at The Farm.
8. The Farm
119 Barangay Tipakan, San Benito, Batangas
696-3795
website: www.thefarm.com.ph
Their raw lunch and dinner buffet might seem scary, but the raw food - made entirely from fresh fruits, vegetables, grains, and seeds cooked at low temperatures to retain their nutritional value - satisfies even the most picky eater. PETA vouches for their creamy yet dairy-free pastas, rich soups, tangy stir-fries, and fresh salads which blanket the buffet tables.
[previous|page|next]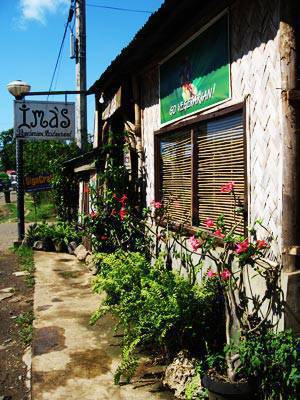 When in Palawan, Ima's Gulay Bar is a healthy pitstop.
ADVERTISEMENT - CONTINUE READING BELOW
9. Ima's Gulay Bar
46 Fernandez Street, Puerto Princesa City, Palawan
(0920) 533-3210
website: www.imas-vegetarian-restaurant.com
From Mexican burritos, pizza, and jambalaya to fresh salads, filling soups, and a variety of sandwiches and vegetarian burgers, Ima's Gulay Bar makes green eating tasty. PETA suggests you ask for the "vegan versions of the spicy bean burger, curried tofu sandwich, or sausage fajitas." They also have dishes for the adventurous like the spicy okra and mango pasta or the exotic shakes in soy coffee, carob, ginger, or fruit flavors.
[previous|page|next]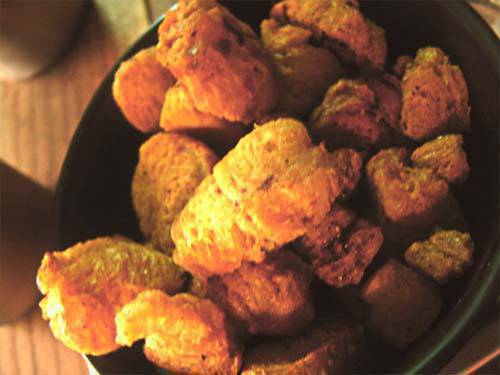 According to PETA, Azotea Greens' veggie nuggets taste like real chicken.
10. Azotea Greens
Second Floor, La Azotea Building, Session R, Baguio City
Contact: (0910) 802-8927
Their reasonably-priced vegetarian Filipino dishes gives you "a true taste of Baguio without all the cholesterol and cruelty to animals," says PETA. Pile on a variety of dishes on your plate: adobo, afritada, nilaga, kaldereta, ginataan, and the bestseller, mushroom sisig. You can also take your pick from selection of frozen mock meats, soy milk, cruelty-free body-care products from Human Nature, and dairy- and egg-free cookies from Love Bites on your way out.
ADVERTISEMENT - CONTINUE READING BELOW
Greens images by Ocs Alvarez.
The Farm images from thefarm.com.ph.
Bodhi images from bodhivegetarian.com.
Mandala Spa images by Freida Dario, all other images from PETA Asia Pacific.
Share this story with your friends!
---
Help us make Spot.ph better!
Take the short survey
Load More Stories