10 Must-Try Veggie Burgers in Manila
Going meatless need not be tasteless. Here are SPOT.ph's healthier alternatives to greasy burgers.
Yes, Vegan Virginia, veggie burgers do exist in Manila, 10 versions of it, in fact. As more and more people explore healthier lifestyles by going vegetarian or even vegan, many are still unaware of the meatless options available here.
"There are as many fast and delicious veggie burger options as there are reasons to choose a veggie option," shares People for the Ethical Treatment of Animals (PETA) Director Jason Baker. "Making it meatless–and better yet, vegan–is good for your health, the environment, and especially animals." Baker, also PETA's resident food critic, along with a panel of hungry PETA staff, also sought out   the best of the country's vegetarian burgers with their "Golden Buns Awards."
Whether you've gone the vegan route or just want to go easy on the meat, Spot.ph and PETA have rounded up a list of veggie burgers in Manila that are worth chowing down on: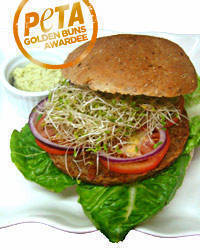 1. Boca Burger from Healthy Kitchen
Where: Healthy Kitchen, Serendra, Bonifacio Global City, Taguig City
Tel. No.: 900-6514
Price: P420
Healthy Kitchen, a resto keen on promoting a healthy lifestyle, gets props for their veggie burger and was hailed by PETA as the "Best-tasting Veggie Burger" in their recent "Golden Buns Awards".
According to Russel Saradpon, store manager for Healthy Kitchen, their meatless burger is made of soy, wheat and sesame and is packed with protein, fiber and iron even if it's completely meat-free. Healthy Kitchen also delivers for vegans in the Serendra area.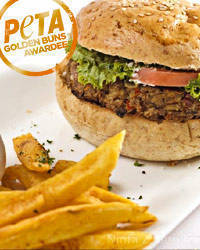 2. The Vegan Tofu Walnut Burger at Corner Tree Café
ADVERTISEMENT - CONTINUE READING BELOW
Where: Corner Tree Café, 150 Jupiter Street, Bel-Air Village, Makati City
Tel. No.: 897-0295, (0917) 848-1004
Price: P260
Made entirely of tofu and walnuts, the burger patty is baked instead of fried, and is Corner Tree Café's bestseller. Served with organic greens or sweet potato fries, they'll also give you organic Heinz ketchup on the side.
Shares Chiqui Mabanta, owner of Corner Tree Café, they do not use vege-meat. "We do not make food that pretends to be meat. We want to attract meat-eaters to a new way of eating vegetables without being intimidated or turned off." The Vegan Tofu Walnut Burger also gets a thumbs-up from PETA as the "Healthiest Veggie Burger" in town.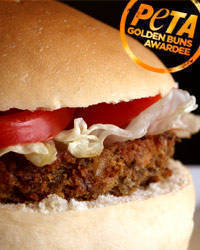 3. The GWDC Vegeburger at Green Wok Deli & Café
Where: Green Wok Deli & Café , 70 Kamuning Road, Quezon City
Tel. No.: 382-7018, (0920) 923-2846
Price: P57
While Green Wok offers mainly frozen deli items, they also serve 100% vegetarian Filipino food. The GWDC Vegeburger is onion and garlic-free and the patty is made with green mung beans, chick peas and wheat, highland peppers from Tagaytay and magnetized alkaline water.   Named by PETA as the "Best Value-for-money veggie burger," it is a no-frills, high-protein burger without preservatives.
According to owner Dolly Aspiras who opened the deli and café after subscribing to a no-meat diet to help cure asthma, "It's a simple burger that's easy to cook. You may pan-fry it or pop it in your oven toaster. We want to educate others with our food." Frozen GWDC burger patties are also sold in packs of ten (P135 per pack). "There is life after meat," she adds.
ADVERTISEMENT - CONTINUE READING BELOW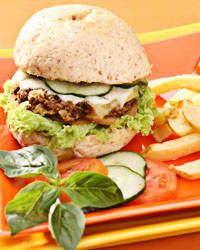 4. Mushroom Tofu Burger at Greens
Where: Greens, 92 Scout Castor Street, South Triangle, Quezon City
Tel. No.: 415-4796
Price: P85
The Mushroom Tofu Burger at Greens, a cozy vegetarian haven in Quezon City, is one of the most-ordered items on their menu. Made with tofu and mushroom and served with whole wheat bread, the meatless version scores high points with burger fanatics who still want to eat their greens.
Greens also has Split-pea Burger (P85) on their menu, which is made of lentil and brown rice.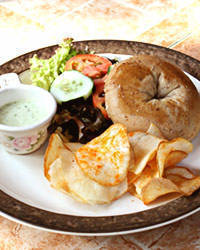 5. Veganite Burger at AraMa
Where: AraMa, Serendra, Mckinley Parkway, Bonifacio Global City, Taguig
Tel. No.: 901-3836
Price: P258
AraMa, the café in Serendra which offers vegetarian fare and dishes made from organically-grown ingredients, has a vegetarian burger made from a special mix of vegetables and herbs that gives the patty a "meaty" texture. "In terms of what kind of vegetables we use, it's a secret recipe," says Gina Yambot, Arama's restaurant manager. The burger is also served with cassava chips in probiotic dip made from cucumber, organic yogurt and kefir grains, which are also grown locally.
"Being an organic café, it's expected that we have a veggie burger. The texture of the burger makes it different from what the others offer," she adds.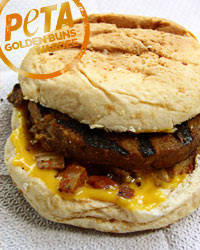 6. The Veggie Salsa Mex at Good Burgers
Where: Branches at One Kennedy Place, Annapolis corner Ortigas, Greenhills (723-4663, 723-GOOD); 162 Maginhawa St., Quezon City (435-4663); 106 E. Rodriguez Jr. Ave. Brgy. Ugong, Pasig (910-8138); 10 East Capitol Drive, Brgy. Kapitolyo, Pasig (636-4663).
ADVERTISEMENT - CONTINUE READING BELOW
Price: P75 (good)/ P100 (best)
According to Good Burgers, they use wheat and soy in the vege-meat patty of their Veggie Salsa Mex Burger.   The spice of the salsa adds zing to the usual vegetarian meal and the burger comes with onions and cheese sauce, with an option to choose wheat buns.
PETA   awarded the Veggie Salsa Mex Burger as the "Best Burger-on-the-Run," and is a quick fix for healthy meal cravings. Good Burgers delivers to the Pasig, Mandaluyong, Ortigas, San Juan and Quezon City areas.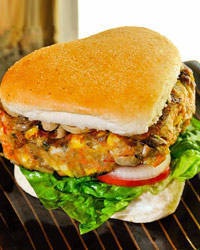 7. Veggie Burger at Murray and D' Vine
Where: Murray and D' Vine, Serendra, Mckinley Parkway, Bonifacio Global City, Taguig
Tel. No.: 856-3723
Price: P275
Murray and D' Vine, known for gourmet burgers that are paired with their wine selection, has a vegetarian burger that sits on the menu with the resto's other exciting burger picks. Made of potatoes, mushrooms, corn and silken tofu, Restaurant Manager Lita Cabigting shares that Murray and D' Vine's heart-shaped healthy burger was added on the menu to offer options for guests who are vegetarian and health-conscious.
8. The HRC Veggie Burger at Hard Rock Café
Where: Hard Rock Cafe, 3rd Level Glorietta 3, Ayala Center, Makati City
Tel. No.: 893-4661
Price: P350
A delicious meatless burger, the Hard Rock Café's Veggie Burger is made with grilled fresh zucchini, yellow squash, Hard Rock Café salsa, fresh lemon mayo on a toasted bun and topped with cheese. The big serving is designed to satisfy even those with the biggest appetites, and comes with a salad with your choice of dressing.
ADVERTISEMENT - CONTINUE READING BELOW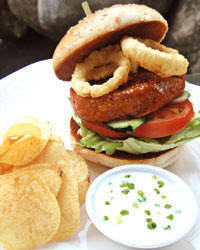 9. Vegan Burger at M2M
Where: M2M at the Renaissance Makati City Hotel, Esperanza Street Corner Makati Avenue, Makati City
Tel. No.: 811-6888
Price: P525
Made of a 100% vegetable patty and served with iceberg lettuce, tomatoes and onion rings on a whole wheat bun with potato chips and garlic yogurt on the side, M2M's veggie burger is far from bland and uninteresting. According to Carla Hontiveros, Communications Executive of New World Hotel Makati, "M2M's veggie burger is proof that something made from 100% vegetables can be filling and flavorful."
10. Mexicali's Garden Burger
Where: Alabang Town Center (701-2350), Bel-Air Village (895-1919,583-0161), Greenhills (725-3921), Robinsons Galleria (636-7775), Robinsons Manila (400-6869), SM North EDSA (442-0096), SM Mall of Asia (556-0810), TriNoma Mall (916-6477).
Price: P169
With a vegetable patty served with lettuce, tomatoes and cucumber in a whole wheat bun, Mexicali's Garden Burger offers a veggie option for the meatless eater. Chewy without the carb coma, this veggie burger makes healthy eating less intimidating. The nacho chips and salsa on the side lend the Mexican vibe to the meal.
Photographs from Healthy Kitchen, Corner Tree Cafe, Mike de Vera (Green Wok Deli and Cafe), Ocs Alvarez (Greens), Alex Noriel (AraMa), Murray and D' Vine, Mario Mendoza (Good Burgers), Renaissance Makati City Hotel.
Load More Stories