Whether eaten for merienda, the main ulam, or as pulutan, the Pinoy pork barbecue is also a party staple in the Philippines. Recipes may vary for the well-loved skewered pork chunks, but when it comes to picking out the best grilled pork barbecue this side of town, its the tenderness, texture and flavor (depending on the marinade) of the meat that counts. Here are SPOT.ph's prime porky picks, ranked from No. 10 to No. 1: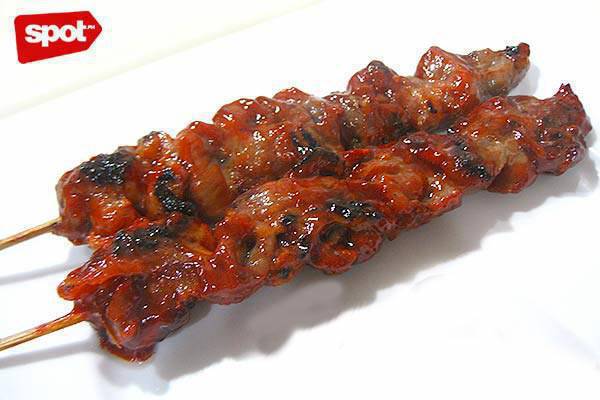 10. Three Sisters Restaurant
Address: Tiendesitas, Frontera Verde, C-5, Pasig City; East Capitol Drive, Brgy. Kapitolyo, Pasig City (631-4431)
Price: P35 per stick

A stick of Three Sisters' barbecue has hefty cuts of pork meat with little fat and the tender and juicy pork cuts skewered like a kebab has a smoky taste. Tocino lovers will love Three Sisters' barbecue because it's drenched in thick marinade, which is almost "tocino-like" in terms of sweetness.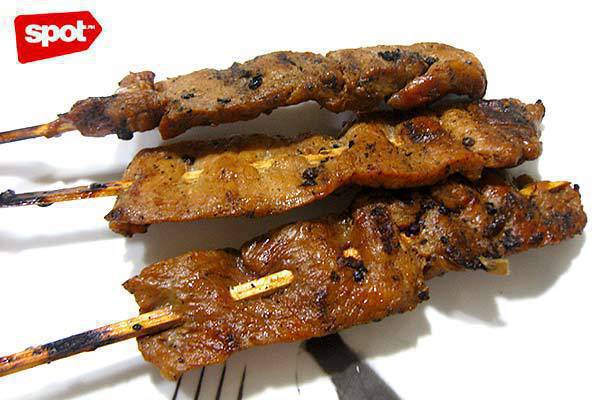 ADVERTISEMENT - CONTINUE READING BELOW
9. Grill Queen
Address: 9 Narra Corner Tindalo Street, Project 3, Quezon City (433-0364); Maginhawa Street, Teacher's Village, Quezon City
Price: P17 per stick

A cheap thrill, Grill Queen's pork barbecue has thin slices of lean pork meat skewered on the stick with little fat. Their version has the expected smoky taste and is moderately tender and grilled just right so the edges are not too charred. This is perfect for pulutan or quick meal stops for the cash-strapped.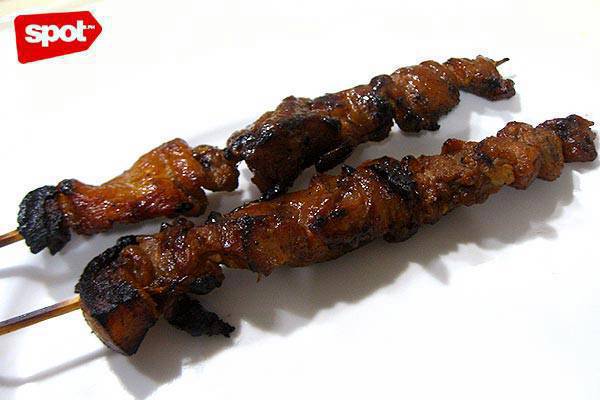 8. Beach House at UP Diliman
Address: Behind the UP Diliman Main Library, UP Campus, Quezon City
Price: P25 per stick
Open from 9 a.m. to 3 p.m.; Closed on Sundays


The Beach House at UP Diliman, ironically, is not near any beach. Located behind the UP Diliman Main Library and a few steps away from the Sunken Garden, the humble eatery with al fresco dining has fed most of the college kids at UP Diliman who lived off on pork barbecue meals. The pork cuts of Beach House's barbecue used to be much bigger, but the tender pork meat alternately skewered with chunks of fat, tastes like it was marinated well with hints of chili. Eat this while it's hot--that's when the pork fat tastes best.
ADVERTISEMENT - CONTINUE READING BELOW
Recommended Videos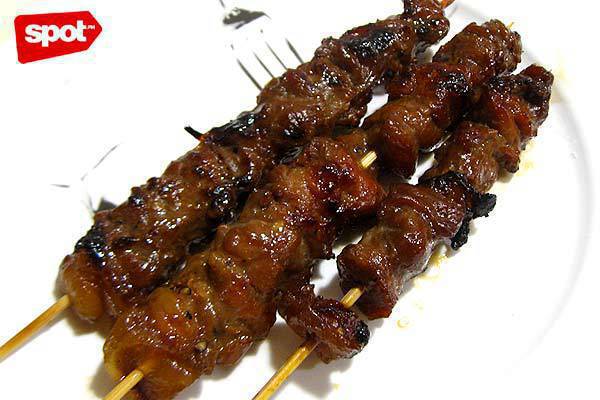 7. Heaven's BBQ
Address: Dimasalang corner Laong Laan, Sampaloc, Manila (664-6519); Savana Commercial Center, Vito Cruz extension corner Pasong Tamo, Makati (897-2575);7224 Malugay Street corner Buendia, Bel-air, Makati (894-3899, 893-4715); Aguirre Street corner Elizalde, BF Homes, Paranaque (659-2314); Petron C-5, Taguig City (986-0143); Madison Square Street corner Ortigas Avenue, San Juan (726-0250); Madison Square, Libis, Quezon City (396-1198)
Website: www.heavensbbq.com
Price: P10 (small)/ P38 (large) per stick
Minimum order required for delivery and varies depending on location

Heaven's pork barbecue, with chunky cuts of pork meat and with little fat, is chewy yet tender and a slight sweet taste to the marinade. Those who don't like strong smoky or sweet flavors will like their version, not overly grilled nor charred.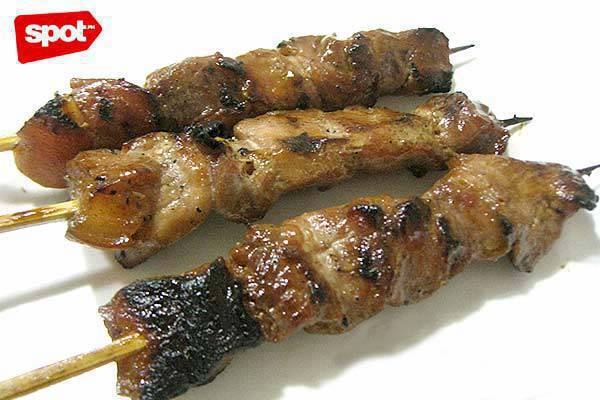 ADVERTISEMENT - CONTINUE READING BELOW
6. Countryside
Address: 228 Katipunan Avenue (beside Kopi Roti), Blue Ridge, Quezon City
Price: P25 per stick

The cars lining the stretch of Katipunan Avenue where Countryside is located is a testament to the popularity of their grilled bestsellers which, of course, includes pork barbecue. Countryside's pork barbecue has a chunk of fat at the end of the stick and one can taste the peppery and salty marinade of the grilled lean meat. A word of warning: Sometimes, Countryside's barbecue may be a bit dry, so best to feast on the barbecue straight off the grill, dipped in sauce.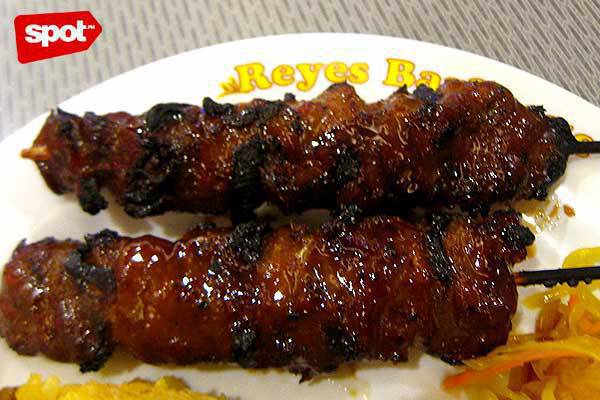 5. Reyes BBQ
Click here to see a list of branches.
Price: P40 per stick

At P40 per stick and only four big cubes of pork, Reyes Barbecue is the most expensive on the list. The pork meat is alternately skewered with slivers of fat and grilled until most of the edges are burned. Juicy and moderately tender with a strong peppery taste, the pork barbecue can actually be eaten without any sauce, but it's the Reyes Barbecue peanut sauce that makes their version distinct from the rest.
ADVERTISEMENT - CONTINUE READING BELOW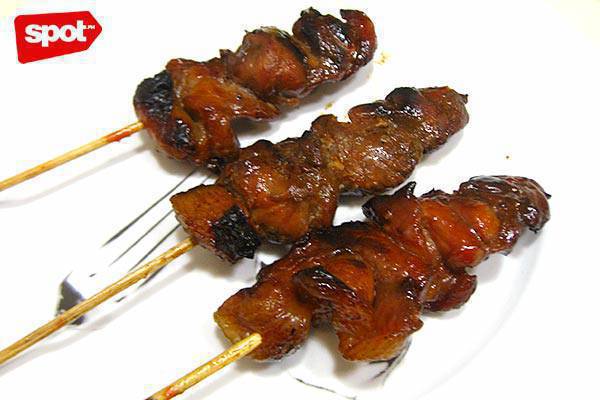 4. Amber Golden Chain of Restaurants
Address: 1324 Filmore corner Emilia Streets, Makati (884-8888); 19 EDSA Mandaluyong City (533-1111); South National Highway, Bayanan, Muntinlupa (862-0000); 175 Tomas Morato corner Scout Castor, Quezon City (372-2222)
Website: www.amberestaurant.com
Price: P15 per stick
Delivery orders must be called in by 5 p.m. (last delivery is at 7 p.m., delivery fee is P50)

Amber's pork barbecue, with only four thick cubes of pork on the stick, is juicy and tender with hints of sweetness in the marinade. Skewered with a big chunk of fat at the end of the stick, Amber's pork barbecue is savory and tasty, like it was marinated for a long time.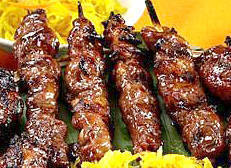 ADVERTISEMENT - CONTINUE READING BELOW
3. Aristocrat
Click here to see a listing of branches.
Website: www.aristocrat.com.ph
Price: P159 for 2 sticks with java rice

While more popular for their chicken barbecue, Aristocrat's pork barbecue has thick chunks of juicy pork meat grilled well with some charred edges. Meaty and tender with a slightly sweet and smoky taste coupled with the piquant sauce that they serve upon request.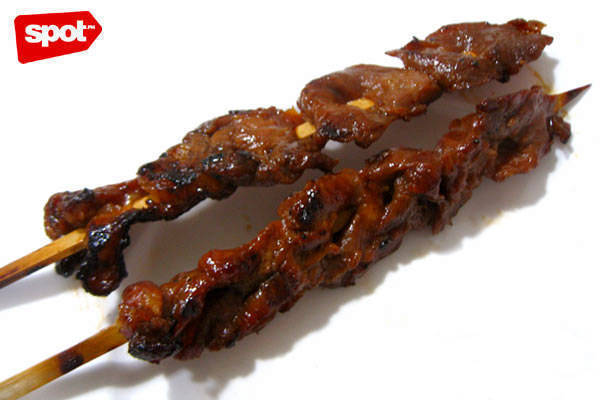 2. Dannylicious
Address: 176-C Kalantiaw Street, Project 4, Quezon City. Tel. No. 497-3982
Price: P23 per stick
Open from 10am to 10 pm, Monday to Saturday

Dannylicious, a small carinderia in Project 4, Quezon City has been grilling and selling barbecue since the 1970s. A small cramped place without parking, their pork barbecue is still worth the drive, with lean pieces of meat alternating with a few chunks of fat basted in sweet marinade. Tender even with some burnt edges, Dannylicious' barbecue is a perfect match with the vinegar dip with onions. Ask for chili to add zing to your barbecue meal.
ADVERTISEMENT - CONTINUE READING BELOW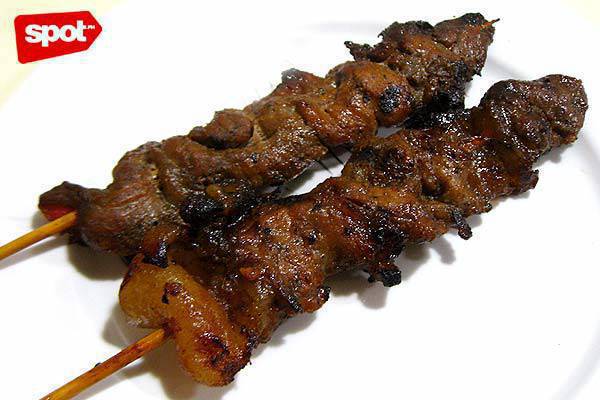 1. Aling Nene's Barbeque Restaurant
Address: 1300 Vito Cruz Street corner South Super Highway, Manila. Tel. Nos. 353-2253, 523-5245, 668-8855
Website: www.alingnenesbarbeque.com
Price: P29 for the regular pork barbecue/ P34 for the big tenderloin barbecue (without fat); P16 for the kiddie-sized pork barbecue
Open from 7:30 a.m. to 8 p.m.
Delivery fee varies depending on location

Aling Nene's started as a small take-out counter in 1955 selling lechon baboy, lechon baka, grilled chicken and pork barbecue. Soon after, the take-out counter became a restaurant, with the pork barbecue being one of Aling Nene's most popular offerings. A stick of the Aling Nene's special pork barbecue has lean and tender tenderloin cuts. Well-marinated and smoky with hints of pepper, they also offer delivery with minimum orders depending on the area.
Photos by SPOT.ph, Aristocrat.
Share this story with your friends!
---
Help us make Spot.ph better!
Take the short survey
Load More Stories