Filipinos love French fries as if it were their own. The potato snack--which first appeared as a kind of street food in Paris in 1840--was likewise embraced by the Americans who turned it into the perfect sidekick for burgers. The Americans, of course, came to the Philippines and brought their food with them. These days, though, not all French fries are made purely from potatoes. But, hey, we still love munching on them anyway. Because not all fries are made equal, SPOT.ph ranked 10 of the most popular French fries under P100 in Metro Manila according to their taste and overall potato-ness (if there is such a word).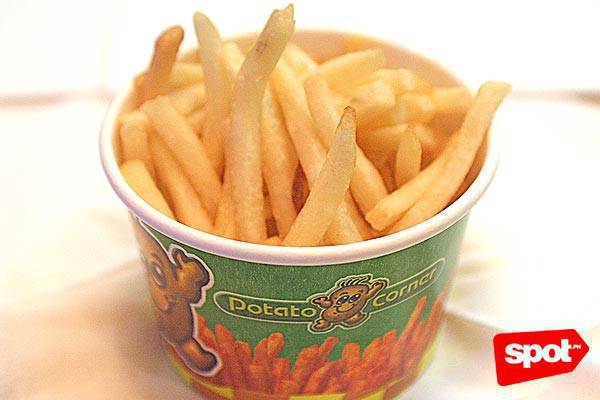 10. POTATO CORNER
Food carts located in Metro Manila malls.
Fry factor: You pay P95 for Potato Corner's Mega Fries, which can be shared by two--or even three--people. Certainly not gourmet fare, but it's the top-of-mind pick of flavored fries freaks. It comes in cheese, barbecue, or sour cream flavors, but you can also get them plain. Perfect for barkada encounters, when food is beside the point.
ADVERTISEMENT - CONTINUE READING BELOW
Foodie fuss: The barely-there potato taste of these fries is more pronounced when they're not flavored. So, yes, they taste better when they're flavored. It does come in cute packaging featuring their cheerful potato mascot.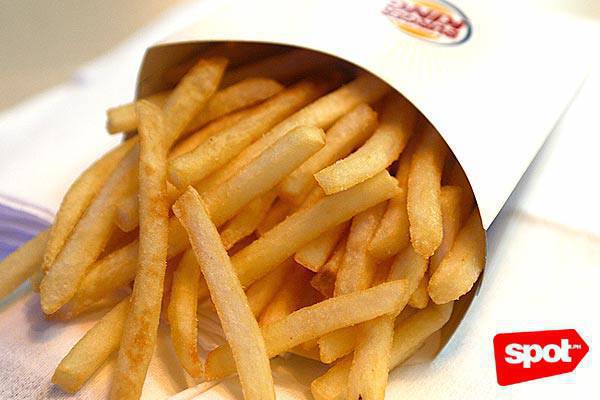 9. BURGER KING
With branches all over Metro Manila.
Fry factor: Fans of extra crunchy fries will gladly pay P60 for a large order of Burger King's fries. They're the kind you'd enjoy eating in bunches of three. Dipping them in ketchup further enhances their taste. These are lead-you-into-burger-temptation fries. Because, yes, you end up buying a burger to go with them.
Foodie fuss: The fastfood chain advertises these deep-fried fries as "0 trans fat" treats. Perhaps they just want to make patrons feel good about chomping on them.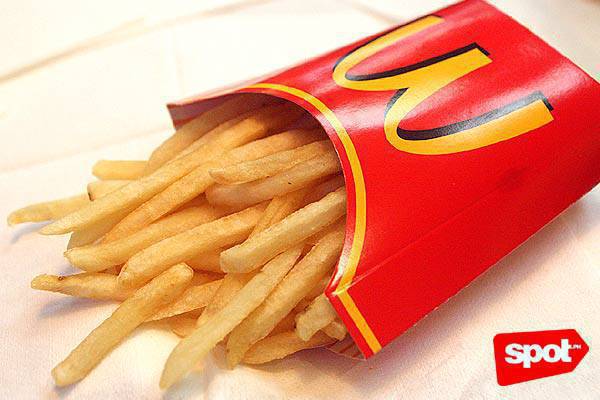 ADVERTISEMENT - CONTINUE READING BELOW
Recommended Videos
8. McDONALD'S
With branches all over the country.
Fry factor: The P55 McDonald's large fries has become a staple component of our fastfood experience. Many kids probably think it's how real potatoes should taste. Though it has a mild potato taste, it's the perfect snack for those killing time. You can savor each lightly salted fry. Aside from ketchup, these fries also taste great when dipped in mayonnaise.
Foodie fuss: McDonald's should be commended for the packaging of their fries. It can stand on its own unassisted, even when it's still loaded with fries. In any case, it's best to eat the fries while they're hot.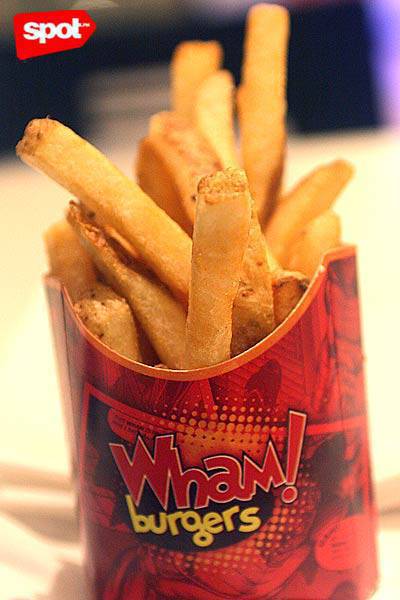 7. WHAM! BURGERS
Level 5, Shangri-La Plaza Mall, EDSA corner Shaw Boulevard, Mandaluyong City
Open 10 a.m. to 9 p.m. daily
Tel. no. 634-2093
Fry factor: Wham's Country Style Fries come in one size at P55. Not bad at all, considering the thickness and the tasty flavor of the fries. They're fried just enough to have a little crunch and taste superb when dipped in ketchup. They're hefty enough to keep you satisfied.
ADVERTISEMENT - CONTINUE READING BELOW
Foodie fuss: Wham's P60 Cross Traxx Fries threatens to steal the fastfood thunder from its plain counterpart.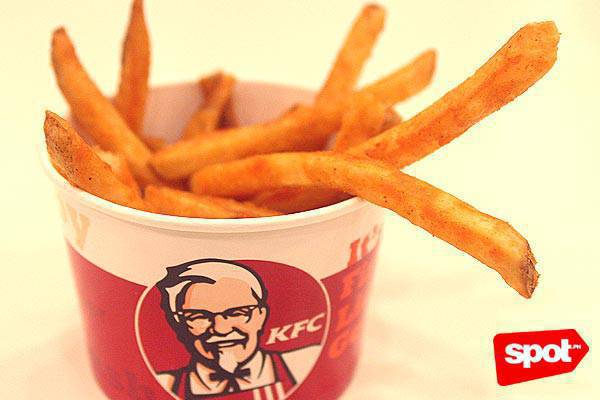 6. KFC
With branches all over the country.
Fry factor: Though KFC is best known for its fried chicken, their Crispy Fries, which cost P55 per mini bucket, deserve some attention, too. Lightly coated with seasoning, these fries are fries are close to addictive. They're served with the famous KFC gravy and, sure enough, they taste even better when they're dipped in it.
Foodie fuss: "Crispy Fries" may be a misnomer, as they're just mildly crunchy.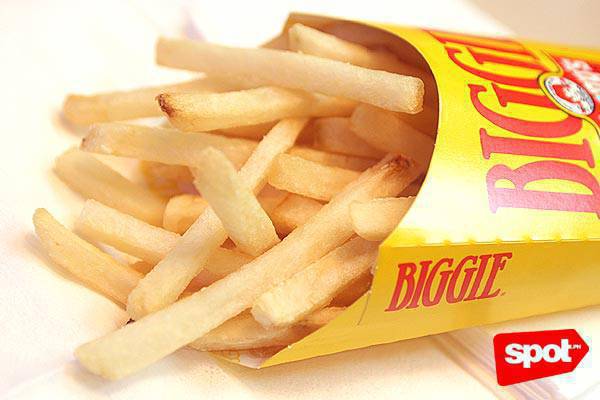 ADVERTISEMENT - CONTINUE READING BELOW
5. WENDY'S
With branches all over Metro Manila.
Fry factor: At P60.71, Wendy's Biggie Fries is a good buy. The fries are often long (over four inches) and thick enough to wave around without breaking. If you're laying off burgers, this will do as a semi-sinful no-meat substitute. These fries also taste great when dipped in the Wendy's Caesar Salad dressing.
Foodie fuss: Has anyone seen the Wendy's mascot "in the flesh" lately? We can't help but wonder since her face is still featured prominently on the fries' packaging.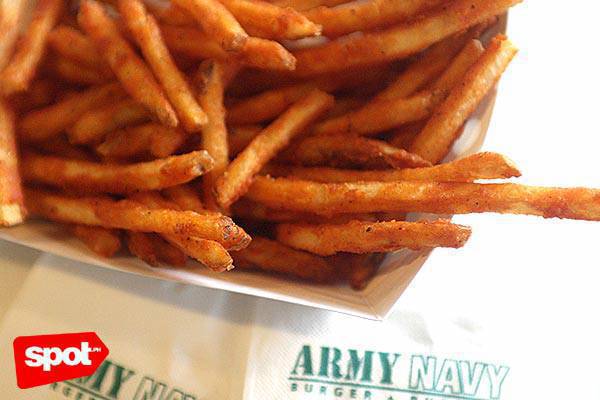 4. ARMY NAVY BURGER + BURRITO
Space 2-024 Glorietta 5, Ayala Center, Makati City
Tel. no. 501-3106
Open from 10:00 a.m. to 9 p.m. daily
Fry factor: If you're looking for extra crunchy fries with a chili kick, then Army Navy's P60 Freedom Fries is perfect for you. These thin-cut fries cater to grown-up taste buds--what with its persistent spiciness. You'll be hooked at first munch.
ADVERTISEMENT - CONTINUE READING BELOW
Foodie fuss: These fine fries are served on a nondescript white cardboard container so it doesn't look promising at first glance. Thankfully, one is proven wrong.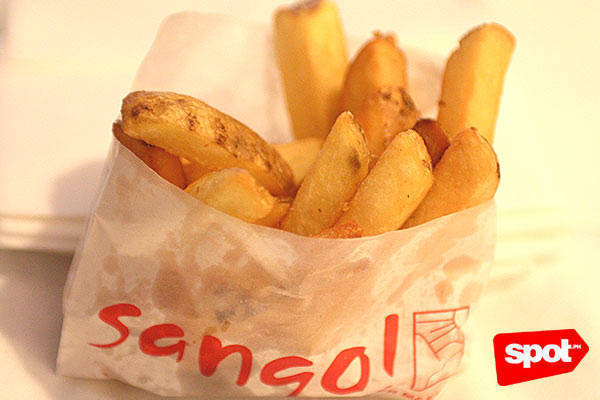 3. SANGO!
Power Plant Mall, Rockwell Center, Makati City
Tel. no. 501-3106
Open from 11 a.m. to 11 p.m., Monday to Thursday and 11 a.m. to midnight, Friday to Sunday
Fry factor: Sango's large fries, which cost P75, make up for being short and fat with its earthy taste. A little bit of salt is enough to bring out the taste of these mildly crunchy fries. Who needs ketchup when fries taste this good?
Foodie fuss: These large fries could be "larger" but we're only bringing that up because we want more. P.S. Ever heard about the paper bag fat test? A look at the oil stains on the paper pouch above is enough to make one feel guilty about the fat content, but at No.3, we daresay it's worth breaking your diet for.
ADVERTISEMENT - CONTINUE READING BELOW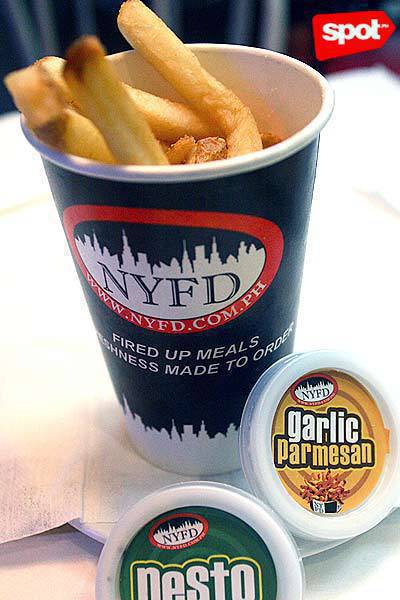 2. NYFD (NY FRIES AND DIPS)
4th Floor, Glorietta 4, Ayala Center, Makati City
Open from 10:00 a.m. to 9 p.m. daily
Fry factor: NYFD'S fries are the kind of fries that'll have you asking, "Where have you been all my life?" A large bucket costs P80 and comes with two dips. (We chose Pesto and Garlic Parmesan.) Tall and thick, the fries and the dip make for a fast meal.
Foodie fuss: Other dips are Red Hot Chili Pepper, Pepper Steak, Hawaiian Curry, Garlic Wasabi, Ranch, Honey Mustard, Cheese, Barbeque, Lemon Herb, and Bacon Onion Tomato.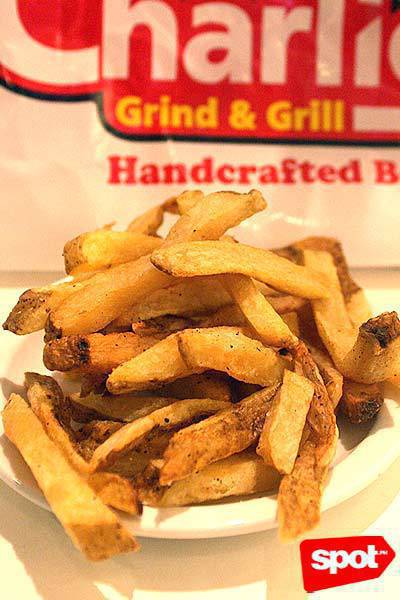 ADVERTISEMENT - CONTINUE READING BELOW
1. CHARLIE'S GRIND & GRILL
16 East Kapitolyo Drive, Barangay Kapitolyo, Pasig City
Tel. no. 501-0137
Open from 11:00 a.m. to 1 a.m. daily
Fry factor: At P75, Charlie's Fresh Fries is worth every centavo. For starters, the thick hand-cut slices are fried and salted just right. They're crunchy outside and tasty inside. These are the fries you go for when you're craving for some unadulterated potatoes. They're the real deal. They don't get soggy when they grow cold. In fact, the fries retain their tastiness hours after they're cooked.
Foodie fuss: Charlie's should consider providing take-out packaging for these treats. When we ordered them for to-go, they were just placed in a brown bag-"something you can easily overlook because the fries taste great.
Photos by Jose Santos P. Ardivilla.
Share this story with your friends!
---
Help us make Spot.ph better!
Take the short survey
Load More Stories