The word siopao was actually a localized term coined after the Chinese dimsum called "bao-zi." It may be translated as "hot buns" in the Chinese dialect Hokkien. This popular snack is best enjoyed hot, right after it's taken out of the steamer.
Where can you find the best siopao in Manila?
In the Philippines, siopao flavors are usually a toss between asado and bola-bola, Pinoys love asado, as well as those which use quality meat with a little fat and delicious fillers. While most stores in Binondo may dominate the list, we've found the top spots for siopao places outside Chinatown: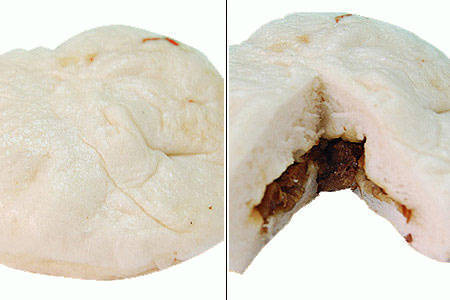 10. Suzhou Dumplings

Address: Ground floor Food Court, Promenade, Greenhills Shopping Center, San Juan
Tel. No. 744-3546 (Promenade)
Operating Hours: 10 a.m.- 11 p.m.
Price: P25 (Regular Asado Siopao)

Suzhou Dumplings is known for its Xiao Long Pao, their Asado Siopao makes for a wonderful afternoon treat. The pork asado chunks are bigger than usual and the bread has a nice chewy texture. The filling is amde of pure pork with very little fat, making it a good choice for the health-conscious. They also have mini asado paos that the kids and kid-at-heart would love.
ADVERTISEMENT - CONTINUE READING BELOW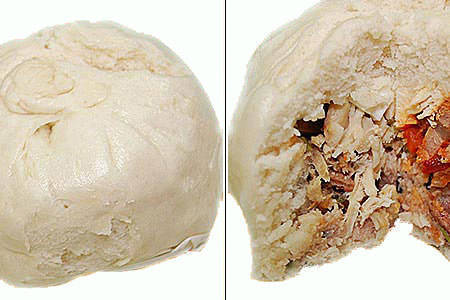 9. Emerald Garden

Address: 1170 Roxas Boulevard, Manila
Tel. No. 523-8510 to 14
Operating Hours: 7 a.m.- 2 p.m., 6p.m.- 10 p.m.
Price: P99 (Tai Pao)

This is one siopao that's worth the travel and the wait. Emerald Garden staff will tell you to order your Tai Pao in advance as it can go really fast. One order of the huge and heavy Tai Pao is generously filled with asado, chicken, meatball, chorizo, and salted egg. It comes with a very tasty sauce that makes you feel like you're enjoying a main dish instead of a steamed dimsum. Their bun is also very fluffy and soft.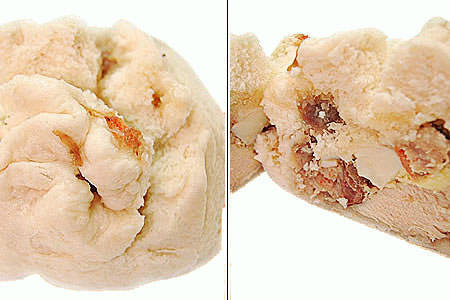 ADVERTISEMENT - CONTINUE READING BELOW
Recommended Videos
8. Le Ching Tea House

Address: G/F Shoppesville, Greenhills Shopping Center, San Juan
Tel. No. 726-3677
Operating Hours: 7 a.m. - 9 p.m.
Price: P70 (an order of Tai Pao)

Hail to the king of Bola-bola siopao! Inside this steamed delight is a huge meatball, a tube of chorizo, salted egg and more. One order is huge enough for two people to share. The Tai Po is very filling and definitely will satisfy anyone's craving for siopao.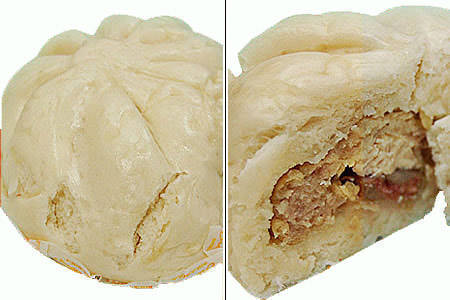 7. Chowking

Operating Hours: varies per branch
Price: P35 (Bola bola Pao)

Chowking has the most affordable yet delicious siopaos in town with its meatball with salted egg, which is delicious even without the sauce. The meatball has a crunchy filling, making it an enjoyable treat which you can buy anytime given the numerous branches around the city.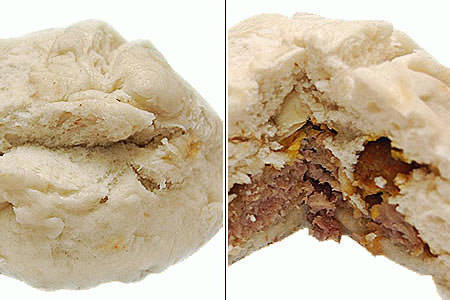 ADVERTISEMENT - CONTINUE READING BELOW
6. Kowloon House

Address: 16 West Avenue, Quezon City
Tel. No. 372-3685, 372-3692
Open 24 hours
Price: P60 (Jumbo Pao)

Kowloon House's Jumbo Pao has remained popular over the years. It is said to be one of the best, most filling siopao in town. Kowloon House's Jumbo Pao is a combination of their three regular siopaos on the menu--Asado, Sausage and Bola-Bola (meatball). All these plus a slice of salted egg, shredded chicken and two tubes of hot sauce per order and you get their signature Jumbo Pao. Kowloon's Jumbo Pao mix of fillings somehow all complement one another and the bun has a sticky texture similar to that of our native rice cakes (puto).
Kowloon House's siopao also makes a perfect midnight snack since most Kowloon Houses are open 24/7.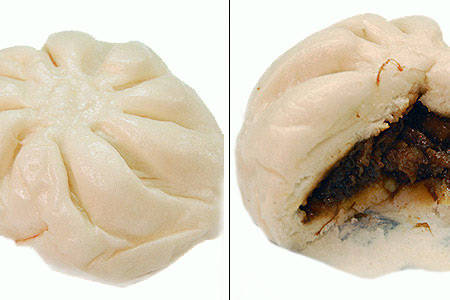 5. North Park

Delivery hotline: 73737
Operating Hours: varies per branch
Price: P53 (Asado Pao)

If salty asado pao is not your thing, then you might like North Park's Asado Pao with bite-size cubes of of soy marinated roasted pork covered with honey. The sweet-salty mix of the asado filling is nicely paired with the soft and pearly-white bun (the prettiest-looking bun among all the siopao on this list!).
ADVERTISEMENT - CONTINUE READING BELOW
Also an ideal siopao stop for night owls, some North Park branches are open up until 2 a.m. and is delivery.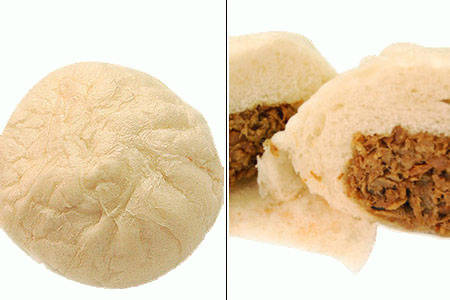 4. Siopao Boy by Masuki

Address: C-12B Annapolis Carpark, Greenhills Shopping Center
Tel. No. 383-5318
Open from 9:30 a.m.- 9 p.m.
Price: P35 (Regular Siopao-Saipao)

Ask anyone where the best siopao in town is and for sure, Masuki will come up. While they have a wide array of dumplings and noodles to choose from, people from all over town troop to Masuki to enjoy their Regular Asado Siopao. Owned by the same family as the famed Ma Mon Luk, their siopao filling tastes like tasty pork adobo flakes that come with special siopao sauce.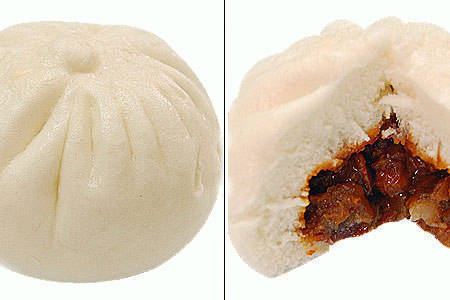 ADVERTISEMENT - CONTINUE READING BELOW
3. Gloria Maris

Address: Greenhills Shopping Center, San Juan
Tel. No. 722-5509
Operating Hours: 7 a.m.- 10: 00 p.m.
Price: P128 (Asado Pao)

Gloria Maris is a famous go-to place when it comes to enjoying delicious and authentic Chinese dimsum. Among their long list of steamed favorites includes the asado pao which comes with three mini paos per order. A popular choice among the regular patrons, the secret to their delicious asado pao is their use of honey as coating to the pork asado.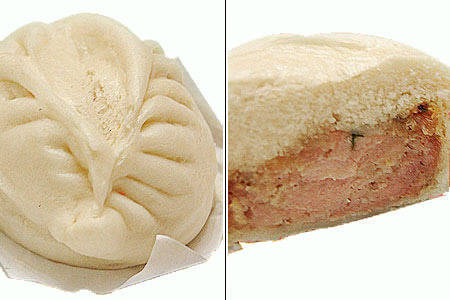 2. Dragon Noodle Center

Address: 1037 M.H. del Pilar, Ermita, Manila
Tel. No. 525-1563
Operating Hours: 6 a.m.-2 a.m.
Price: P55 (Bola Bola Siopao)

One reason why Dragon Noodle Center's siopao remains to be among the best is because of its delicious meatball. Siopao lovers will love how big the filling is. One order will give you two regular sized siopaos, a great deal given the P55 price. No sauce is needed to enjoy Dragon Noodle Center's siopao as the meatball is flavorful enough. It feels like you're eating a steamed pork ball accompanied by a very soft fluffy dough. No wonder, Dragon Noodle Center remains to be on top of everyone's list for decades.
ADVERTISEMENT - CONTINUE READING BELOW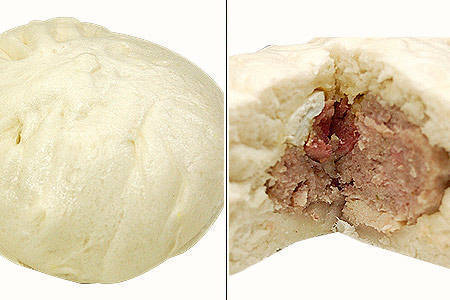 1. Ling Nam

Address: 765 Banawe Street, Quezon City
Tel. No.: 448-6232, 743-3388
Operating Hours: 6 a.m. - 10 p.m.
Price: P90 (Taipao)

Lingnam is another popular choice when it comes to enjoying a good plate of siopao. Ask any of their servers and they will definitely recommend the Tai Pao. This siopao is not for the faint-hearted though, it is four inches in diameter, making it the biggest siopao in this list. Inside, you'll get a huge meatball made of pure meat, mixed with a generous cut of chorizo. It's a more toned-down version of the average Tai Pao, doing away with the excessive fillings and sticking to the essentials, making Ling Nam's Tai Pao a winner.
Photographs by John Paul Ang.
Share this story with your friends!
---
Help us make Spot.ph better!
Take the short survey
Load More Stories