Top 10 Oldest Restaurants in Manila
SPOT.ph lists 10 restaurants that have so much history behind them.
Some of the fondest memories of Pinoys are set in restaurants, where they celebrate key events in their lives.
Baptisms, birthdays, graduations, or even just weekend family get-togethers--these are celebrated at the family's favorite restaurant. In fact, certain restaurants have become so revered that they have survived and served at least three generations of Filipinos. Some of them have changed their names, some have revamped their interiors, but their flavors have pretty much stayed the same. For this list, we picked the ones that were at least 50 years old and are still solely owned or managed by the descendants of those who established it.
SPOT.ph lists 10 restaurants that have so much history behind them.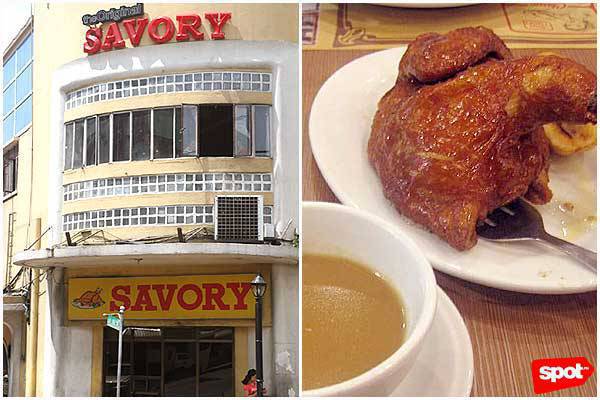 10. SAVORY (1950)
201 Escolta Street, Sta. Cruz, Manila with various branches
Tel. no. 243-0336
Open from 9 a.m. to 12 midnight daily
In her article, "Classic chicken reinvented," Marge C. Enriquez, Lifestyle writer of the Philippine Daily Inquirer, discusses Savory's history: "It was established by Tony Ting, an emigré from Fujian, and his brothers, Mariano, José, and Vicente, who was the cook. Before the war, they opened Tops Café in Binondo which later became Savory in post-Liberation. The main attraction was the star anise-scented, mildly garlicky chicken, based on a Chinese recipe. They came in three sizes: spring, medium and regular at the price range of P4 to P6."
ADVERTISEMENT - CONTINUE READING BELOW
Today, the descendants of the Ting brothers continue to run Savory, which now has various branches all over Metro Manila. The original Savory's first branch, which is located at the foot of Jones Bridge, is still around. And yes, people still pronounce the name as "Sah-boh-ree." The Savory Chicken (P170 for half and P320 for whole) is still its bestseller.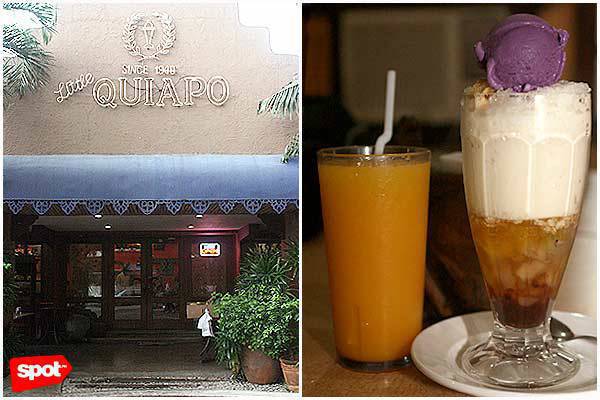 CONTINUE READING BELOW
Recommended Videos
9. LITTLE QUIAPO (1949)
90 Malakas St. Brgy. Piñahan, Quezon City
Tel. no. 922-4131
Open 10 a.m. to 9 p.m. daily
In the old days, when somebody got a craving for ice cream he would think of the old Selecta restaurant on Dewey Boulevard. But for halo-halo, Little Quiapo on España Avenue, the place now occupied by a Shakey's branch, topped the list of places to visit.
Up to now, people rave about the Special Halo-Halo (P110) here, served in a tall parfait glass with long-handled spoons, not in a bowl as some newer places do. And more likely than not, customers couldn't resist ordering the other popular item here--the Pancit Palabok (P83).
ADVERTISEMENT - CONTINUE READING BELOW
Having built a reputation as a cool soda fountain, where courting couples dated, Little Quiapo has expanded its menu to include Filipino and Chinese dishes. The Quezon City branch has moved from Matino Street, near the Sulo Hotel, to a new location a few blocks away on Malakas Street, behind the SSS Building in Barangay Piñahan. There's another branch in Parañaque City.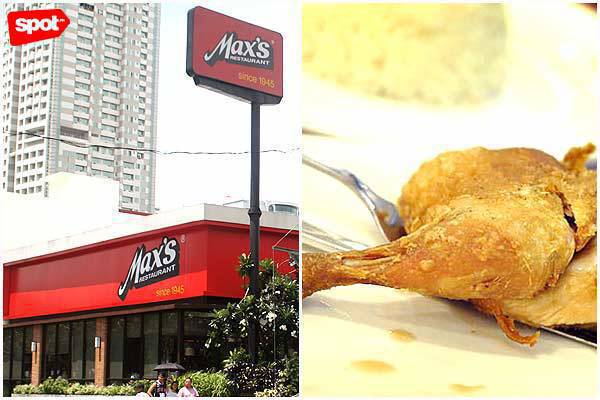 8. MAX'S (1945)
Roxas Boulevard, Baclaran, Parañaque, Manila with various branches
Tel. no. 832-1991
Open from 9 a.m. to 10 p.m. daily
Yes, there was a guy named Max, surnamed Gimenez, a teacher educated in Stanford University, who started the "The House That Fried Chicken Built."
It was probably all a matter of good-timing: It was 1945, with Manila newly liberated from the Japanese and much of it in ruins. As a break from mopping up duties, a lot of American GIs were around looking for a place to have a drink and some real home-cooked meal.
ADVERTISEMENT - CONTINUE READING BELOW
Max befriended some GIs who regularly visited him for drinks at his home in Quezon City, where he set up the first branch in Scout Tuazon Street. (The said Max's branch is currently under renovation.) Soon enough they insisted on paying for the drinks. Meantime, Max's niece, Ruby, would whip up some food from the kitchen--mainly steaks and chicken. The chicken was so good that it became famous through word-of-mouth.
It was Ruby who opened Max's on Roxas Boulevard, Baclaran in Parañaque City. The menu has expanded through the years, but Max's Fried Chicken (P161.70 to P476.30) has always been the restaurant's centerpiece.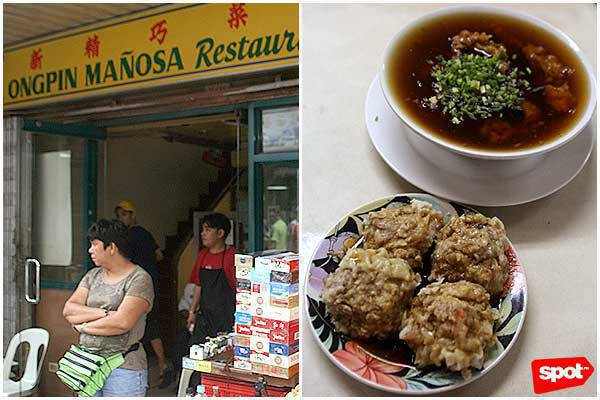 7. ONGPIN MANOSA RESTAURANT CO. (1940)
926 Ongpin Street, Binondo, Manila
Open 10 a.m. to 9 p.m., Monday to Saturday, closes earlier on Sundays
This Chinatown institution's most popular offering is not the usual siopao, mami, lumpia, pancit, or chicken dish. Their specialty is the Maki (P100 for a large bowl)--not the Japanese sushi dish--but a weird-looking gooey brown soup with chunks of tender pork topped with a sprinkling of onion leeks. (It's deliberately bland so that you can season the dish to your taste.)Their meatball-sized Siomai (P80 for four pieces) is also quite a treat.
ADVERTISEMENT - CONTINUE READING BELOW
If Chinatown seems too crowded for you, there's a branch on Banawe Street in Quezon City called the Mañosa Noodles, Seafoods, and Chops.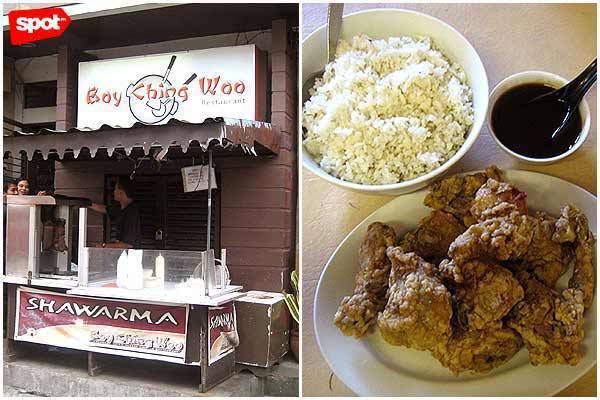 6. BOY CHING WOO (1939)
103 BCW Building, J. Rodriguez Street, Caloocan City
Tel. no. 287-1430
Open from 9 a.m. to 9 p.m. daily
This restaurant is identified as "Caloocan City's oldest Chinese restaurant." It has become popular for specialties like its Buttered Chicken (P160 for a small half) and Lechon con Tokwa (P140 to P420).
Incidentally, even the menu insists on calling the specialty "Battered Chicken." If it were pinikpikan that would be apt, because this Cordillera region dish is prepaped by first beating a chicken to death with a stick. Or if the chicken is coated with batter, much like a corndog would be. But the chiken dish in this restaurant is not that at all but breaded chicken cooked with butter. Not that the patrons mind the erroneous description of the chicken treat, which is absolutely delicious.
ADVERTISEMENT - CONTINUE READING BELOW
The restaurant also has a branch in Malabon City.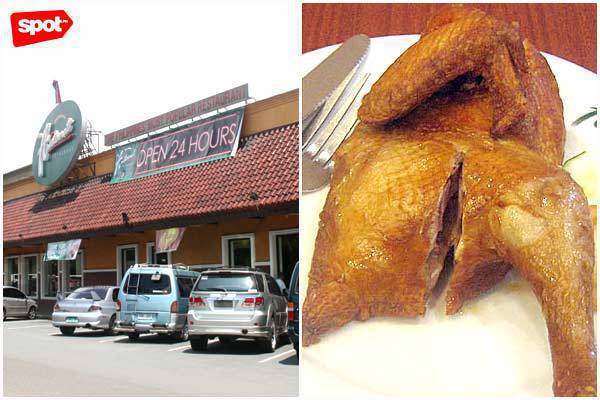 5. ARISTOCRAT (1936)
432 San Andres St. cor. Roxas Blvd., Malate
Tel nos. 524-7671 to 80 loc. 225 or 230
Open 24 hours daily
The main branch on Roxas Boulevard in Malate, Manila, has long earned its self-conferred title as "The Philippines' Most Popular Restaurant."
You can see that even in the wee hours when the place is typically still abuzz with hungry night owls having favorites like chicken barbecue, kare-kare, chicken honey, crispy pata, pancit canton, dinuguan, and lumpia - more often than not taken with java rice.
Doña Engracia "Aling Asiang" Cruz-Reyes, wife of Justice Alex A. Reyes, started it all as a mere snack mobile operation, which to this day many greenhorn entrepreneurs are venturing into, especially around business districts.
The operation has since grown to a food network with branches all over Metro Manila, along with allied concerns such as a the Aritocrat Bakeshop (right behind the main branch) and the Aristomart, a 24-hour convenience store.
ADVERTISEMENT - CONTINUE READING BELOW
This restaurant has the distinction of making what was then considered everyday fare so attractive that people would dress up and leave home for some home-style cooking.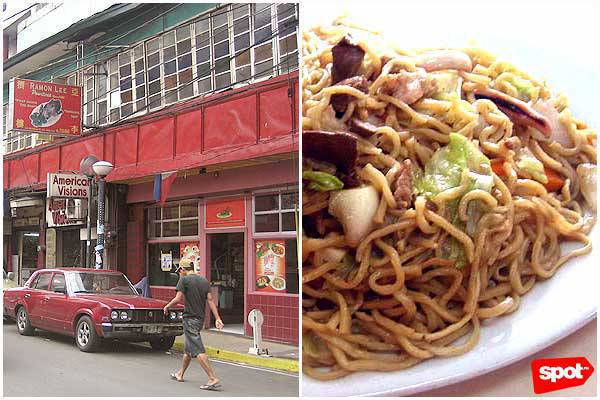 4. RAMON LEE'S PANCITERIA (1929)
540 Ronquillo Street, Sta. Cruz, Manila
Tel. no. 733-0642
Open 10 a.m. to 10 p.m., Monday to Saturday and 9 a.m. to 10 p.m., Sunday
Here's another classic establishment from the days when going Downtown meant going to the Sta.Cruz-Quiapo districts of Manila.
The more modern pink-walled interior hardly gives a clue to the restaurant's long history. But as the neon sign proclaims it: "Since 1929. First among the best. Tender, juicy, tasty."
Like other enduring restaurants, Ramon Lee built its reputation among customers with simple dishes that most Filipinos love like its famous Pancit Canton (P170). The restaurant is on Ronquillo Street in Quiapo, Manila.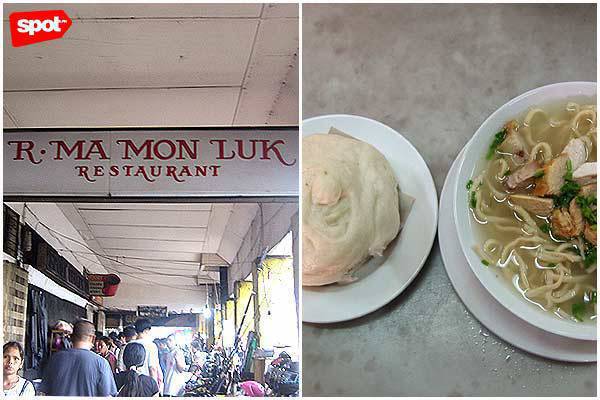 ADVERTISEMENT - CONTINUE READING BELOW
3. MA MON LUK (1920)
Quezon Boulevard, Manila
Open 7 a.m. to 10 p.m. daily
Anyone who has gorged on the famous siopao-and-mami combination, with maybe some siomai on the side, knows that the peculiar aroma of the place is a big part of its ambience. You can take someone here blindfolded and he'd know where he is.
For many balikbayans who have been abroad for years, Ma Mon Luk is one the Pinoy things they wonder about, along with Choc-Nut and the like: "Is Ma Mon Luk still open?"
The younger generation may not be aware of this, but the founder of the restaurant, Ma Mon Luk, was a Cantonese school teacher who immigrated to the Philippines. He has been credited, though with some dispute, as the inspiration for the word mami, said to be a grafting of his name, Ma, with miki, the noodles. Mamiki. Mami for short.
In the days when Ma was still peddling his goodies on the sidewalk, as an ambulant vendor, he would use a pair of scissors to cut the noodles and chicken, so that the dish came to be known as gupit, which is the Tagalog verb for cut.
Only Ma Mon Luk branches survive now--one on Quezon Boulevard in Quiapo, Manila, a few doors away from the original site, and another located on Quezon Avenue in Quezon City. The Quezon Boulevard branch's signage is not easily seen when you're on a car or jeepney speeding along the main road. So, make sure you look closer. The place is just a few meters away from the Quiapo Church. While Masuki, operated by Ma's descendants, is slowly making a mark with the younger set, nostalgic foodies will still go for Ma Mon Luk's Special Mami (P95) and Special Siopao (P55).
ADVERTISEMENT - CONTINUE READING BELOW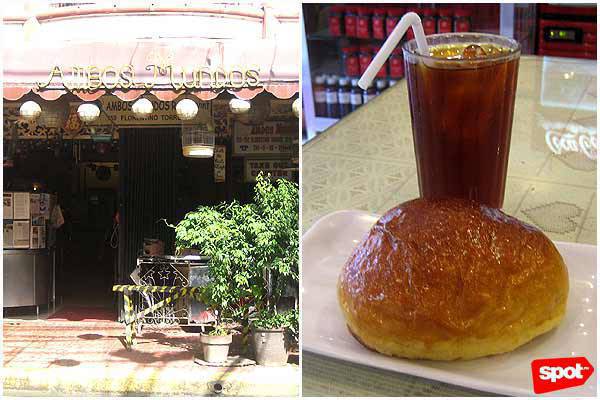 2. AMBOS MUNDOS (1888)
750 Florentino Torres Street, Sta. Cruz, Manila
Tel. no. 734-1160
Open 8 a.m. to 9 p.m. daily
The restaurant used to be on Echague (now Palanca) Street but it has since moved to Florentino Torres Street near Azcarraga (now Recto Avenue).
As the name suggests, serves the best of both worlds. That is, East and West, or Spanish and Filipino-Chinese cuisine. So you can have Spanish favorites like Paella Ambos (P569 for the smallest serving), as well as well-loved snacks like their Asado Roll (P65).
The menu tags the restaurant as the "Philippines' oldest," which if accurate, means it's just a few months, or maybe just weeks, older than the top restaurant in this list.
Despite its new location, the restaurant gives an Old World aura, mainly because most of its old narra furniture from the Echague place and its Quezon City (Banawe Street and Santolan Street).
ADVERTISEMENT - CONTINUE READING BELOW
In his Walk This Way blog, popular tour guide Carlos Celdran describes the menu as "definitely Rizalian" and the interior design as "Nick Joaquin chic." Patrons will be amused to see a black pig lounging near the entryway of the establishment. The staff says the pig is there for luck.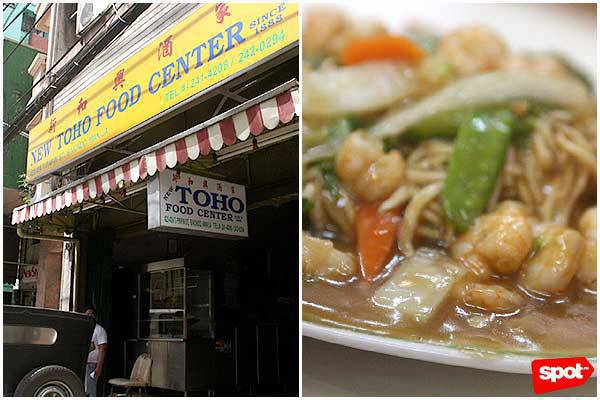 1. NEW TOHO FOOD CENTER (1888)
422 Tomas Pinpin Street, Binondo, Manila
Open 8:30 a.m. to 9 p.m., Monday to Saturday and 8:30 a.m. to 2 p.m. Sunday
Five Chinese friends set this up in Binondo, Manila, where the restaurant still stands, in a newer structure also on Tomas Pinpin (formerly San Jacinto) Street which was built after a fire razed the wooden building back in 1984. That explains the slight change in the name. It used to be called the Toho Antigua Panciteria.
After awhile, four of the owners decided to return to China, leaving the place to Tai Tang, whose seven children eventually took over the management, followed by his grandchildren.
ADVERTISEMENT - CONTINUE READING BELOW
The Pancit Canton (P90) remains a favorite, along with treats like the Kikiam (P50 for one piece that's about the size of a jumbo hotdog). The best thing about the place is that you can decide what goes into your pancit. We asked them to just add shrimp instead of pork cutlets to our pancit canton and they gamely complied, serving us a plate heaped with perfectly cooked, shelled shrimp.
Your guide to thriving in
this
strange new world.
Share this story with your friends!
---
Help us make Spot.ph better!
Take the short survey
Load More Stories