While we appreciate the convenience of instant mami, there are days when you long for a bowl of the real thing. You want its steam to gently rise from the bowl and envelop you in its warmth. You want to bite into thick, luscious noodles , savor real wontons, and chew on slices of meat and slightly bitter pechay-the experience that can't be obtained from a bowl of the instant kind. Spot.ph consulted those who know mami best-namely members of the local Chinese community-and asked them where they go whenever the mood for mami strikes them. Armed with chopsticks and good advice, we headed to Binondo and beyond where we rediscovered old favorites and uncovered a few hidden surprises as well.
10. Mien San
40 - 42 Granada St, Villa Ortigas 11, Valencia, Quezon City
Tel. 723-0558
Open daily, 10 a.m. to 11:30 p.m.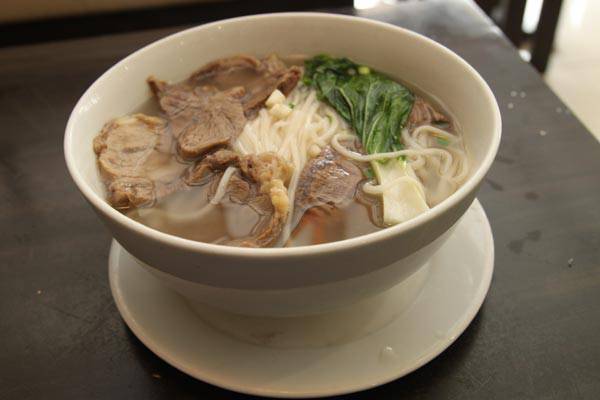 If you prefer your mami simple, then you are probably going to like their classic beef noodles (P 158). The broth was clear, straightforward, and the serving size was generous with plenty of thick strands of noodles. The flavor came mostly from the pechay and from the slices of anise-flavored beef.
ADVERTISEMENT - CONTINUE READING BELOW
9. North Park
Branch we tried: 1200 Makati Ave. corner Kalayaan Ave. Makati City.
Tel. 890-5952
Open 24 hours
See the complete list of North Park branches.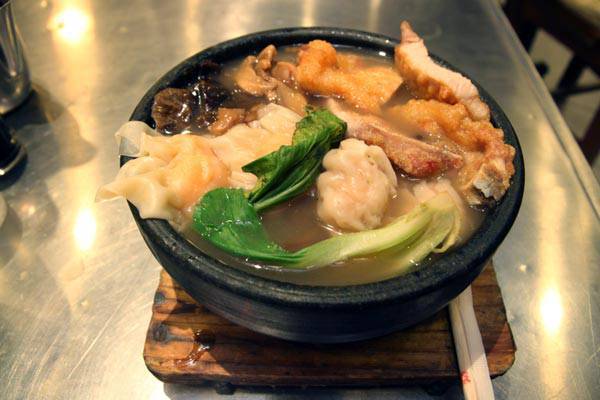 If you can't decide on what to order here, go for the ultimate noodles (P 238). It has everything. Like other mami options on their menu, you need to choose the kind of noodles you want. We chose the flat Shanghai noodles from their line-up, and while the egg flavor of the noodles was noticeable, the texture was limp. I wish they would also let you choose the broth for the mami because the one they served was just so-so. Still, the highlight here is definitely the variety of toppings, such as the fried pork ribs, shrimp wonton, mushrooms, and tendons. The tasty pork ribs and the large wontons were a standout, as were the chewy and flavorful tendons.
8. Wai Ying Fastfood
810 Benavidez St. Binondo, Manila
Tel. 242-0310
Open daily, 7 a.m. to 2 p.m.
CONTINUE READING BELOW
Recommended Videos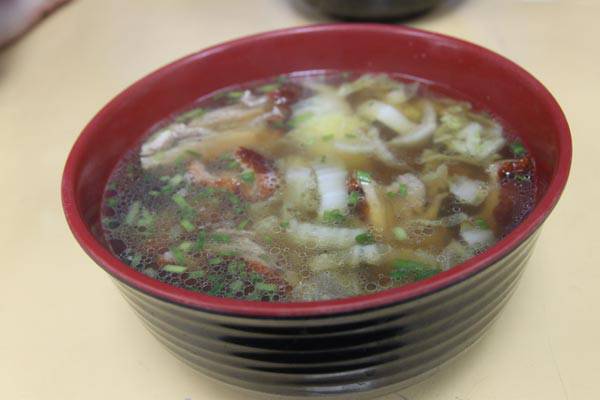 Wai Ying's Roast Duck Mami (P120)


Famed Binondo dim sum parlor Wai Ying's roast duck mami  (P120, pictured) may not look like much with thin and limp Hong Kong style noodles, slices of cabbage, and salty broth, but the delectable roast duck slices made this dish a standout. The duck lends its flavor beautifully to both the broth and the noodles giving them an added ommph.
7.Sze-chuan House
GF, Aloha Hotel, 2150 Roxas Boulevard, Malate, Manila
Tel. 525-4192
Open daily, 11 a.m. to 2:30 p.m.; 6 p.m. to 10:30 p.m.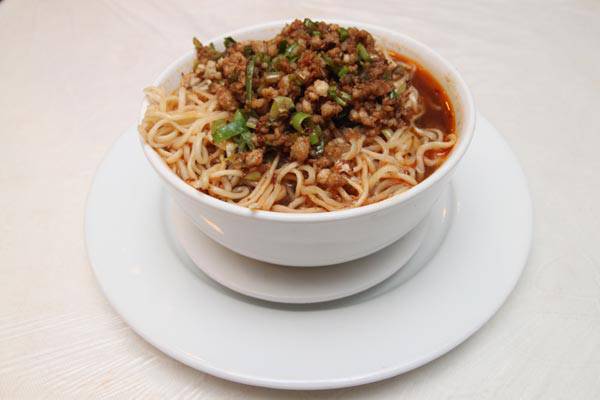 ADVERTISEMENT - CONTINUE READING BELOW
Sze-chuan House's dan dan noodles (P95)
For the past 30 years, Sze-chuan House has been home to authentic Sichuan cuisine. Best known for serving spicy fare, the real dan dan noodles (P95, pictured) are a must-try. Topped with minced meat, garlic, and spring onion, the noodles are thin yet firm, plus the chili-infused broth ignites in your mouth with a slow and steady burn. Bring some milk or order extra rice to help you cool you down!

6. Manosa
926 Ongpin St. Binondo, Manila
Open daily, 9 a.m. - 10 p.m.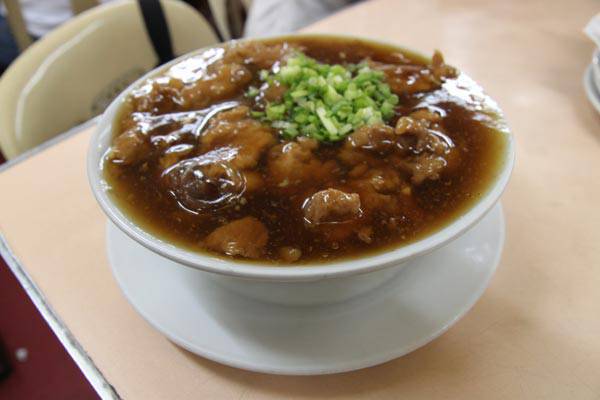 Another classic from Binondo, they are best known for their maki mi (P 90).  It features a caramel brown, thick, and starchy broth with properly firm egg noodles.  The meatballs, which were extremely soft and as tender as cotton balls (though much more flavorful than cotton balls of course!), also makes this dish unique. Servings are huge here-a single bowl can feed at least three people. Best when eaten with a dash of white pepper, this is comfort food for many Tsinoys.
ADVERTISEMENT - CONTINUE READING BELOW

5. Tasty Dumplings
620 Ongpin St. Binondo, Manila
Tel. 242-5195
Open Mondays to Saturdays, 10 a.m.  to 8:45 p.m.; Sundays 9 a.m. to 9 p.m.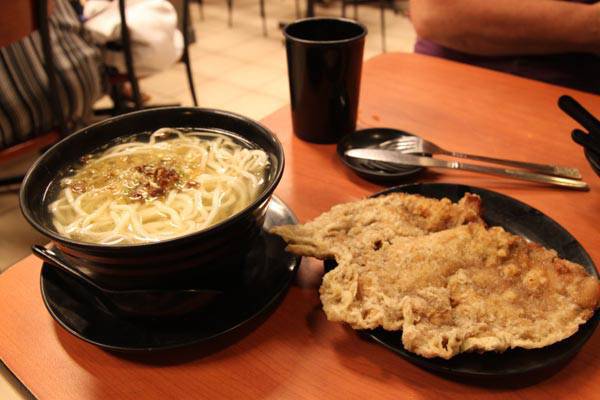 The pork chop noodles (P 99) made Tasty Dumplings famous. The noodles are thick and juicy, while the broth is scented with the aroma of kiamchay and fried scallions. The pork chop is on the thin and crispy side, and is thankfully still tasty after all these years. A variation here is the tossed noodles (P 107) in which the noodles and the broth are served separately.

4. Ma Su Ki
931-933 Benavidez St. Binondo, Manila
Tel. 244-0745
Open daily, 7 a.m. to 10:30 p.m.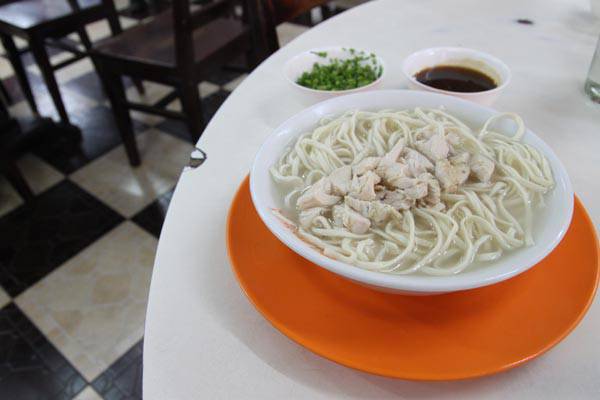 ADVERTISEMENT - CONTINUE READING BELOW
A huge Chinese sign inside the restaurant says that they have the number one mami, which could be true, granted Ma Su Ki is the oldest noodle parlor in Binondo. They're popular for their chicken mami (P 90), which features a clear broth and a strong meaty aroma. The mami is served with fresh, firm, flat noodles and cubes of tender chicken meat. It also comes with a sweet, caramel-like sauce and chopped spring onions on the side, that when mixed together, help balance the broth's saltiness. Serving size is huge-a regular order can serve two or three people.
3. Lan Zhou La Mien
818 Benavidez St. Binondo, Manila,
Tel. 244-5365
Open daily, 8:30 a.m. to 9:30 p.m.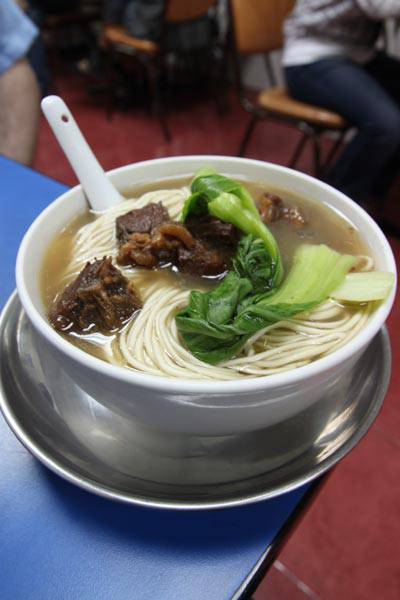 This eatery was among the first to introduce hand pulled noodles to Manila's Chinatown. The one that gets the most orders is the beef la mien (P 100). It features a strong beef-based broth with piles of excellent hand pulled noodles cooked just right. The combination is so good already that the other ingredients such as the small chunks of beef and a leaf of pechay don't seem to matter. You can also play around with the flavor by adding or not adding parsley, chopped spring onions, black vinegar and chili sauce. The huge serving is also another plus because the bowl is good for three people.
ADVERTISEMENT - CONTINUE READING BELOW


2. Ling Nam
616 T. Alonzo St. Sta. Cruz, Manila
Tel. 733-5231
Open daily, 6 a.m. to 9:30 p.m.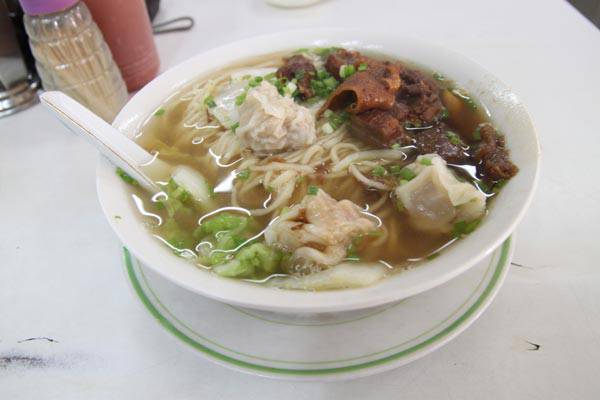 Ling Nam has been in the mami business since God knows when. While their line-up seems short and dated, their beef and wonton mami (P 155) still shines even though at this point we had already consumed more than five bowls of noodles already. The beef broth was tasty and well-balanced. For machine-made noodles, they were pretty good and were able to match the texture and flavor of hand pulled ones nicely.  Ling Nam was also generous with their serving of chunks of beef and wonton, though one of the tasters noted that the wontons were a bit undercooked.
1. Crystal Jade La Mian Xiao Long Bao
Unit 117-121 Virra Mall, Greenhills Shopping Center, Greenhills, San Juan City
Tel. 570-6910
Open daily, 11 a.m. to 9 p.m.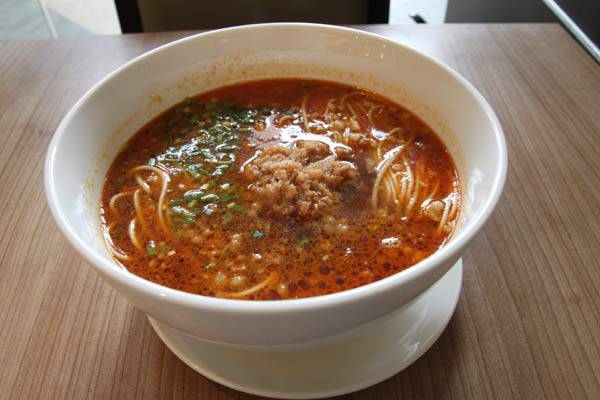 ADVERTISEMENT - CONTINUE READING BELOW
If you can put up with the wait here, you will be rewarded with a bowl of their signature hand pulled noodles with peanuts and dried shrimp (P 288). It might not sound appetizing but when you give it a try, it is as good as unforgettable! I was won over immediately with its salty and spicy broth. The noodles were outstanding. Long and luscious, you might have to ask the waiter to use scissors to eat it properly. The secret here is a peanut paste that reacts with a slightly spicy broth. The result is delectable, warm peanut gravy that coats every strand of the hand pulled noodles. Meanwhile, the minced dried shrimp topping adds a touch of saltiness and texture to this mami. Supremely awesome!
Share this story with your friends!
---
Help us make Spot.ph better!
Take the short survey
Load More Stories