CHECK IT OUT: The Sexy Chef's New Diet Programs + Delivery Service?
The latest get-fit diet programs and low-cal options from sexy sisters Rachel and Barni Alejandro and nutritionist Nadine Tengco.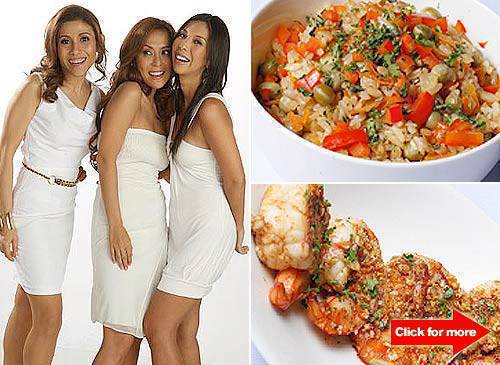 Living proof: Nutritionist Nadine Tengco, singer Rachel Alejandro and chef Barni Alejandro. Click for more photos.
The Sexy Chef
Tel. Nos. 721-7399, (0917)799-2433
www.thesexychef.ph
The Sexy Chef, purveyors of the South Beach diet and healthy eating in Manila since 2004, recently launched new get-fit diet programs and a convenient delivery service for their low-cal meals.


The duo behind the Sexy Chef, sisters Rachel Alejandro and Barni Alejandro, weren't always healthy eaters. Singer and stage actress Rachel, who joined show business in her teens and is now 37, for a time struggled to maintain the svelte figure required for her line of work, because, she confesses, "I really love to eat!" Barni, now 34, was then a preschool teacher and was always sick and prone to colds, possibly because of her exposure to all the toddlers she taught. She sought treatment in the US, where doctors zeroed in on her predilection for junk food as the culprit for her weak immune system. This prompted her to read and learn more about healthy eating. Barni, who studied at the International School for Culinary Arts and Hotel Management, started experimenting in the kitchen and was soon whipping up tasty but healthy dishes for her own consumption.
ADVERTISEMENT - CONTINUE READING BELOW
Rachel took notice and decided to hire her sister. "Not only did Barni become my personal chef," Rachel shares, "I decided to turn the whole thing into a business." Soon, the sisters were providing meal alternatives for clients based on the South Beach diet, which eventually gave birth to their health food delivery service dubbed The Sexy Chefs in 2004.
Aiming to provide weight loss and diet solutions without sacrifing nutrition and taste, The Sexy Chef now has US-certified fitness nutritionist Nadine Tengco, 44, on board. With over 20 years in experience in weight management and fitness nutrition, Nadine helps Barni develop original recipes for their new diet programs. "It's about choosing ingredients with the least calories with the most nutrients," Nadine says.
CONTINUE READING BELOW
Recommended Videos
The Sexy Chef's Sugar Buster Diet is designed for people who want to whittle down their stubborn midsections. Former Quezon City councilor and actress Aiko Melendez, who says all her previous attempts at weight loss have failed, is currently on the Sugar Buster Diet. "She has lost 15 pound so far, " Rachel proudly announced. The Pounds-Away Diet highlights a high-protein menu which includes all food groups for those with active lifestyles, and the Health for Two eating plan is for expectant moms. It aims to provide mothers with the right amount of nutrients for a healthy pregnancy without the unneccessary excess poundage ; and the Body After Baby Diet targets new mothers who want to lose their excess post-partum pounds while still getting the energy boost they need for their babies through nutritious meals. "Studies show that the best (way) time to get rid of weight gain from pregnancy is immediately after giving birth," Tengco adds, explaining that otherwise one tends to retain the extra pounds as time goes on.
ADVERTISEMENT - CONTINUE READING BELOW

Along with the new diet programs, The Sexy Chef also launched their Healthy Meal Delivery Service which offers low-calorie, sugar-free desserts along with their nutritious meals, plus an all-new vegetarian menu for non-meat eaters. The Sexy Chef has also been tapped by The Biggest Loser Pinoy Edition to create the Lose Big Diet for the contestants of the show, and by Belo Solutions to design the Fight Fat Diet for a new service of non-surgical treatments by the Belo Medical Group.
Share this story with your friends!
---
Help us make Spot.ph better!
Take the short survey
Load More Stories