Top 10 Mac and Cheese (2013 Edition)
Two ingredients, one comfortable dish.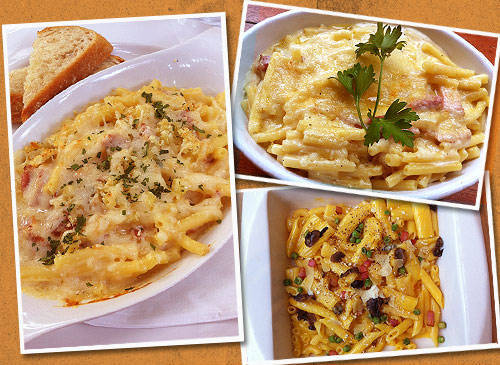 (SPOT.ph) Man, has the Mac and Cheese game changed in two years! Some establishments in our previous list have closed shop, while others have refurbished their menus to not include this favorite comfort food. New players came on board, stirring the game further and bringing the humble mac and cheese to new heights. While it's impressive how inventive Chefs have become-so many add-ons! Truffle! Bacon! Ham!-we gave plus points to restaurants that went creative within the bounds of the two main ingredients while still giving that gastronomic equivalent of a comforting bear hug.


ADVERTISEMENT - CONTINUE READING BELOW
Read 2011's Top 10 Mac and Cheese here.
All SPOT.ph Top 10 lists are researched, paid for, tested, and selected by the writers and editors. They are discreetly conducted without any notice made to the restaurants or their owners.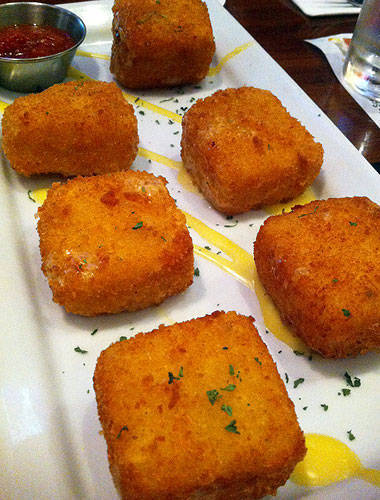 10. TGIF Fridays' Fried Mac & Cheese (P295)
Original ranking: #9
Fridays goes creative with the good old mac and cheese by taking a small portion of macaroni and cheese, covering it in breadcrumbs, deep-frying that to a golden beauty, and then serving it with marinara sauce. The result is a nice layering to different flavors: there's the kick of saltiness from the breadcrumbs, which goes up against the sweet marinara sauce, which then balances the heavy mozza cheese. Unfortunately, the mac and cheese per se didn't contribute. 

Click here for the list of Friday's branches


ADVERTISEMENT - CONTINUE READING BELOW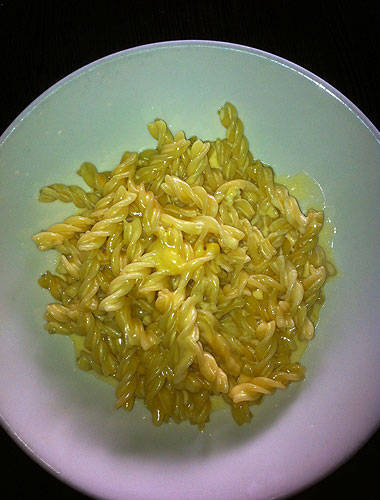 9. California Pizza Kitchen's Curly Mac n Cheese (P325)
Original ranking: #6
CPK's Mac n' Cheese is the most straightforward Mac n Cheese in this list-no highfaluting extras, no dreams of molecular gastronomy in sight; just a simple, unadulterated macaroni and cheese goodness. We like that you can take your sweet time eating CPK's Curly Mac n Cheese because it doesn't form skin or harden easily. And you should, too, take your time eating this, because its full goodness, its full volume comes after a few bites.


Click here for the list of CPK's branches
ADVERTISEMENT - CONTINUE READING BELOW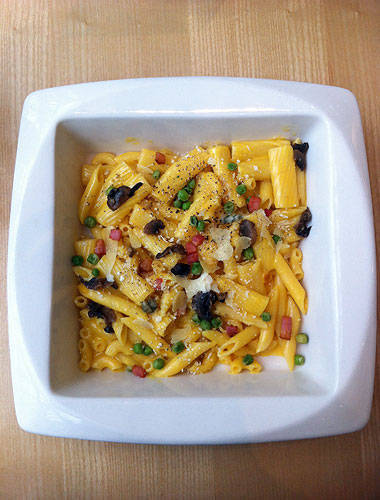 8. Mr. Jones Wicked truffle Mac n Cheese (P395)
Original ranking: #8
Mr. Jones makes it easy to forgive and forget that we hardly tasted the promised truffle by going the whole nine yards with everything else: the wide variety of pasta noodles used, a myriad of toppings that give the dish such a happy burst of colors, and simple cheese that doesn't complicate the party.

G/F Greenbelt 5, Ayala Center, Makati City, Tel. Nos.: 501-3682-83


ADVERTISEMENT - CONTINUE READING BELOW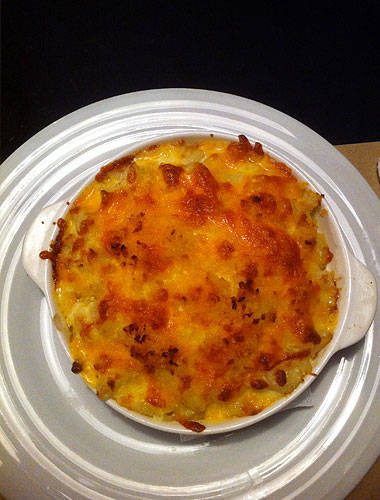 7. Borough's Baked Mac & Cheese (P320)
Original ranking: #4
Borough's Baked Mac & Cheese is served on a hot plate, and topped with panko crumbs. On first bite, you'll know the panko crumbs is essential-the combination of Gruyere, cheddar, and mozzarella makes this a very thick, and a very rich, and a super gooey dish that will make your shitty day better, yes, but also puts it dangerously close to umay. The crunch and the saltiness that the panko crumbs lends the dish solves that.

G/F The Podium ADB Ave., Ortigas Center, Mandaluyong City, Tel. No.: 570-8906


ADVERTISEMENT - CONTINUE READING BELOW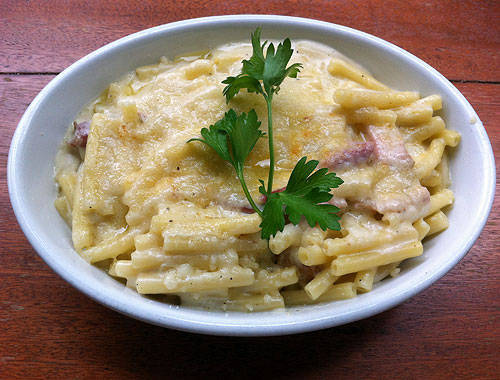 6. Cav Mac & Cheese with Bacon and Parmigiano (P330)
New entry
Cav's mac and cheese comes with generous cuts of bacon breaking the very heavy and hearty dish. It has a thick mozzarella cover on top that settles in and forms skin quickly, the oil quickly spreading on the hot plate. But the long and slim macaroni noodles float not just in cheese but in thick cuts of bacon, too, making you want dig in, again.

G/F The Spa Bldg., Lot 5 Quadrant 8, 11th Ave. Fort Bonifacio, Taguig, Tel. No.: 856-1798
ADVERTISEMENT - CONTINUE READING BELOW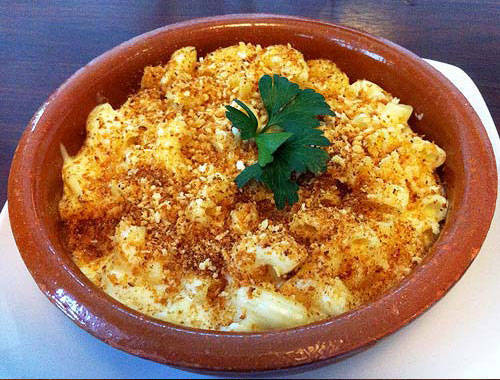 5. Lulu Mac and Truffled 5-Cheese (P330)
Original Ranking #2
The drop to Lulu's rating comes from unmanaged expectations. Truffled 5 cheese promises the ultimate mac and cheese goodness but alas, everything is just a hint of-a hint of truffle, a hint of the two cheddar cheeses, a hint of gruyere, a hint of Fontina, a hint of Grana Padano. Not to say it's not good. It is. It's just not that special.

G/F Joya Lofts and Towers, Joya Drive, Rockwell, Makati City, Tel. No.: 403-3991


ADVERTISEMENT - CONTINUE READING BELOW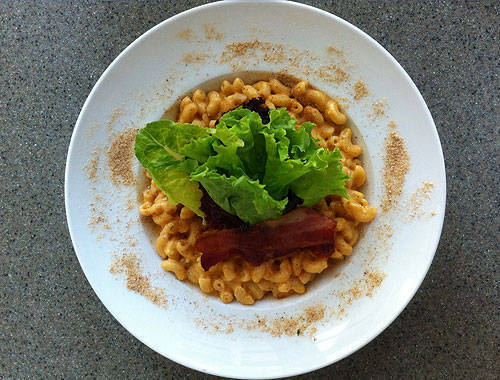 4. Bistecca Truffle Mac four Cheese with Bacon (P550)
New entry
What a solid burst of truffle. Bistecca's mac and cheese isn't very cheesy, it isn't very creamy but the elbow macaroni noodles are delicately covered in dairy goodness somehow. And wow, the truffle. The bacon in the name comes in the form of a big piece of bacon that sits atop. Break it into smaller pieces for another flavor dimension. But really, you won't need to because the cheese work well together. And wow, the truffle.

122 Joya, Rockwell, Makati City, Tel. No.: 403-5231


ADVERTISEMENT - CONTINUE READING BELOW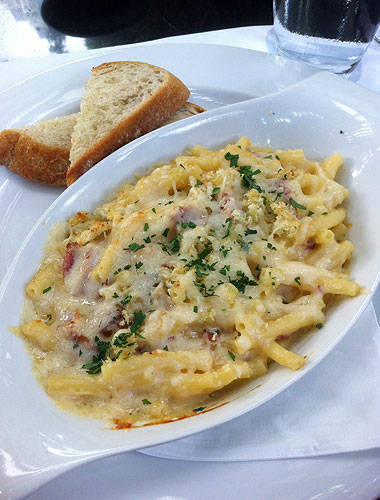 3. Sala Bistro Mac n Cheese with Bacon (P390)
Original ranking: #7
Sala Bistro's Mac n Cheese is creamy with lots and lots and lots of bacon. It has a nice clean hint of truffle that whispers more than announces its presence-a good thing, if we may add. Sala Bistro's is terrific, a strong contender for the top spot but would you believe the bacon got in the way?

G/F  Garden Side Greenbelt 3, Ayala Center, Makati City, Tel. No.: 729-4888


ADVERTISEMENT - CONTINUE READING BELOW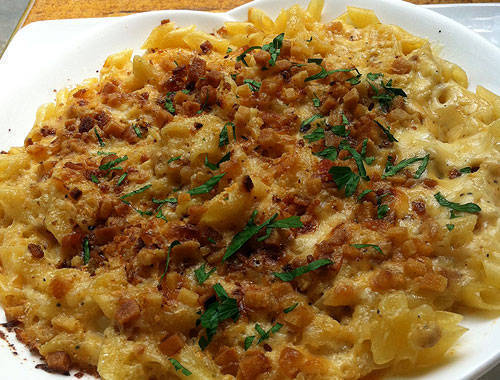 2. Lusso Luxe Mac & Cheese (P650)
Original ranking: #1
Lusso's Mac & Cheese is the adult version of CPK's. It's just as straightforward but the flavors and textures are delightfully more complex and, okay, more luxe. The croutons on top give the creamy dish a good crunch, while cubes of pancetta bacon inserted in there lend it a nice saltiness.

175 Greenbelt 5, Ayala Center, Makati City, Tel. No.: 756-5893



ADVERTISEMENT - CONTINUE READING BELOW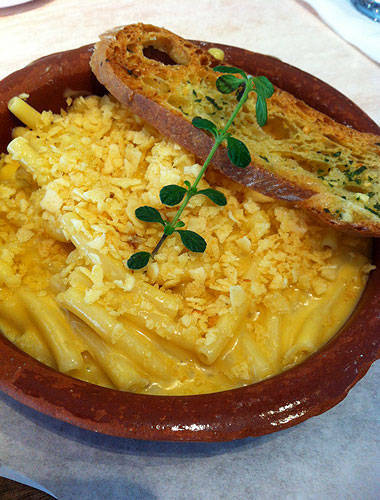 1. 2nds Truffle Three cheese and mac (P445)
Original ranking: #5
Seconds is first! We like how the long macaroni noodles absorb the soupy cheese well. We like the saltiness that the potato chip crust gives the whole dish. We like the combination of cheeses that 2nds used; oh how they work! And how well the blue cheese works! The creamy emmenthal provides the base, the cheddar gives it a kick, while the blue cheese seeps in through the back door-not too strong but present enough to give a nice lingering after taste.

2/F Wumaco Bldg. High Street, Bonifacio Global City, Taguig, Tel. No.: 846-5293


ADVERTISEMENT - CONTINUE READING BELOW
Recommended Videos
Load More Stories