FOOD REVIEW: Brickfire Oven-roasted Steaks and Chops at Esteban Abada, Quezon City
Now you can have steak every day.
Brickfire Oven-roasted Steaks and Chops
2/F 48 Esteban Abada corner R. Alvero Street, Loyola Heights, Quezon City
Tel. No. 0917-777-7034
Open daily from 10 a.m. to 12 a.m.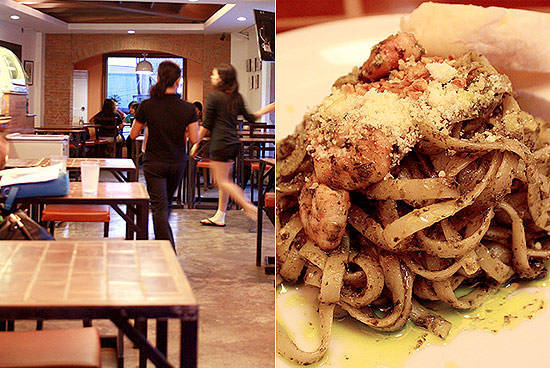 (SPOT.ph) It's one of those cases where the place looks as its name suggests. Brick paneling around the perimeter, a brick design on the tables' surfaces; light bounces off all that orange to cast a warm, fiery glow. The decor takes its cue from great steakhouses with a dash of Western flair, but one can't help but wonder if this is what it feels like to sit inside a fireplace. Without the fire, of course.
Brickfire, the casual hangout behind Katipunan Avenue, takes on a mission to make delicious steaks affordable. It opened early in 2012 to a quiet following that, with the prices on its menu, quickly and inevitably picked up. Nowadays, it's perpetually a full house, with the student-centric clientele taking their time nursing chops and drinks. Awkward timing is the key to getting a seat.
ADVERTISEMENT - CONTINUE READING BELOW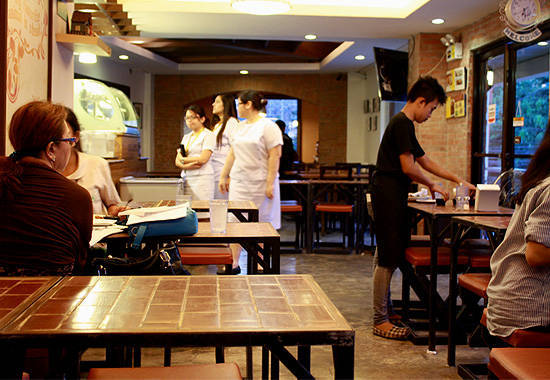 CONTINUE READING BELOW
Recommended Videos
Awkward timing is sometime just before the dinner rush.
The service is fast and efficient: servers hand out laminated menus like clockwork to new diners the second they sit down and dishes come out before you can wash your hands. They're always within sight so signaling for more water or extra gravy doesn't require much effort.
The menu, which is conveniently moderate, rounds up the usual beefy steak and chop fare with a few extras of sides, pasta, all-day breakfast, and a handful of seafood options. Brickfire, however, excels with the certifiably local, Batangas-farmed meat baked in a brick oven to what owners Aaron Macalinao and Tadi Diaz describe as "fork-tender" perfection. Headlining the menu is the Cowgirl Annie, T-bone in two portion sizes, Stirrup (P139) and Saddle (P250), with nothing but the prices to indicate the difference between them. The server who assisted us didn't ask how we like our steak, but it might have been because Annie, according to the menu, promises to have "everything you're looking for in a T-bone steak."
ADVERTISEMENT - CONTINUE READING BELOW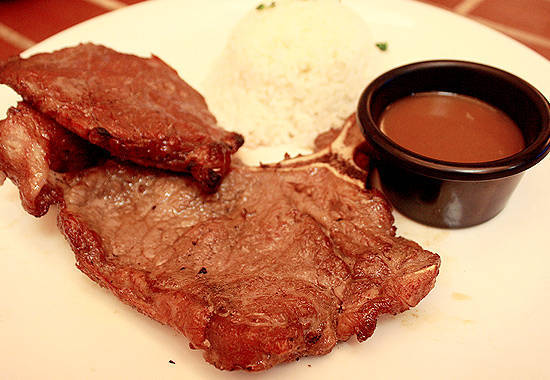 Sweet brown gravy adds extra succulence, but doesn't do much in terms of flavor. Not that the steak needs it.
The price range (nothing over P300) doesn't afford one a lot of room to complain, but that doesn't mean everything is perfect. The Saddle version arrives as a half-an-inch-thick, wide cut of meat held together only by thin strings of fat. It's moist and surprisingly tender with a salty tang that's not too complicated for the palate to understand as good. The cook is unclear though-parts medium rare, parts well-done-but then again the menu did say Annie has "everything." This honesty, albeit a little too literal, we prefer over the empty assurances of other menus.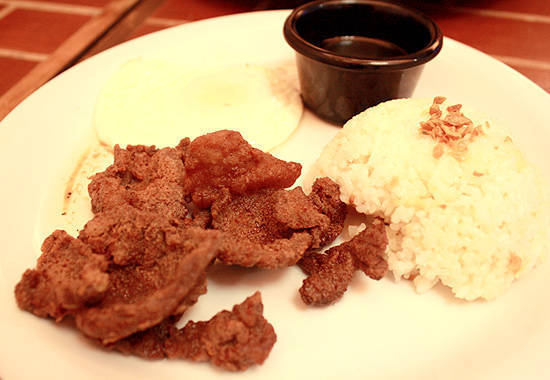 ADVERTISEMENT - CONTINUE READING BELOW
Classic tapa with an edge
The surprise of the day came in the form of the cured meat. The chunks of beef have an unusual mealy quality that rubs against the tongue, as if to caress the palate. Brickfire's tapa (P120) is succulent, melt-in-your-mouth, but neither decidedly tangy nor distinctly sweet: a subtle balance that lovingly creates an appealing marriage with the flavorful, almost creamy, garlic rice.
Unlike the candid description of the Annie, their pasta repertoire doesn't quite live up to the promise of the menu. One of the few vegetarian-friendly options, the Pesto is a reminder that you should come here for the steak; vegetarians might as well content themselves with the Nachos and Fries (P150). Not as impressive as how they handle their meat-particularly their all-in-one Annie-it's all but exceptional. The spaghetti firm and full to the bite, but the herby flavor, despite the generous shake of bottled parmesan to lift it up, leans toward a monotone.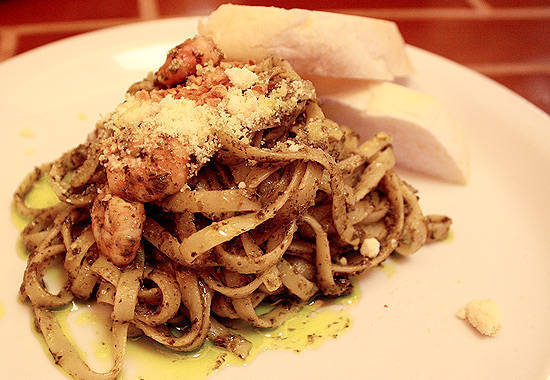 ADVERTISEMENT - CONTINUE READING BELOW
The Pesto, disappointingly, doesn't look like the photo on the menu.
Stick to the specialty: the economical steak (and the tapa). Brickfire redefines what was once a luxury limited only to celebration, and makes it something to be enjoyed every day.
Share this story with your friends!
---
Help us make Spot.ph better!
Take the short survey
Load More Stories