10 Chewy Candies We Loved as Kids
The most addictive chewy treats
(SPOT.ph) Chewing is the type of stress reliever that doesn't take much time away from your already off-the-chart to-do list. Unlike the spa (time consuming) or shopping (money required) or compulsive over-eating (weight gain), that consistent comforting motion with your jaw takes the edge off without being too costly and while you still stay on top of work. And because we always want you, our readers, to be productive without getting too overwhelmed with the daily grind, we're giving you our top 10 non-gum-non-gummy chewy fixes for those haggardo versoza days.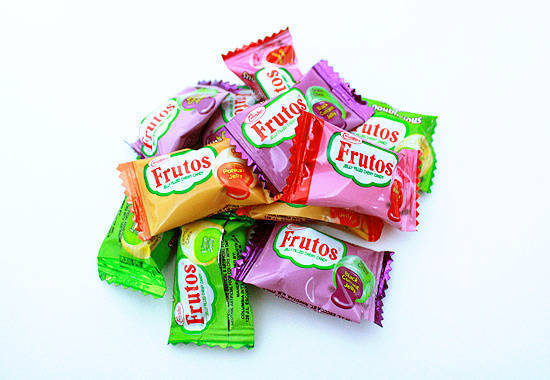 10. Frutos
The local answer to Fruitella and Sugus, Frutos originally took on the twisty classic candy wrapping instead of the square-tubed versions of their imported counterparts. Peer pressure took its toll however, and Frutos looks like the rest of them. It's soft, almost gooey nonetheless, with that teeth-clinging quality that could get annoying if they weren't so addicting.
ADVERTISEMENT - CONTINUE READING BELOW
Available in grocery stores (P28.75/pack)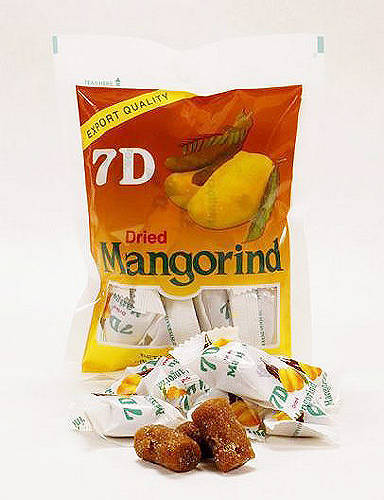 CONTINUE READING BELOW
Recommended Videos
9. 7D Mangorind
We've forgotten about our favorite dried mangoes after a bite of these salty-tangy sweets from 7D.  The tart from the tamarind comes as a lipsmacking surprise when you first pop it in your mouth, but the thin layer of sugar, as well as the undertones of sweet mango evens it out into a tiny flavor-packed morsel.
Available in selected grocery stores and souvenir shops (P180 but price varies)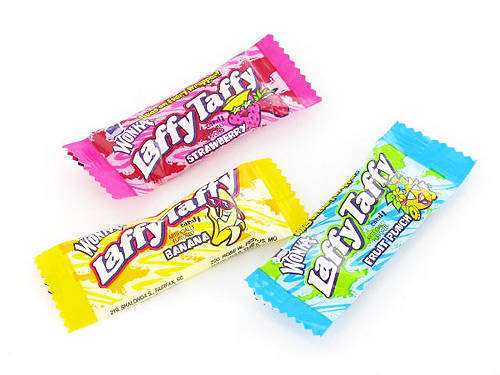 ADVERTISEMENT - CONTINUE READING BELOW
8. Laffy Taffy
Some people find it annoying, but others see therapy in the way most of the candy stubbornly sticks to the wrapper. It's a challenge to eat, but the rewards are great-and isn't that what hard work is about? Laffy Taffy is manufactured by Nestle under their Willy Wonka brand, and if there's one person we trust with sweets, it's Willy Wonka.
Price unavailable; available at Candy Corner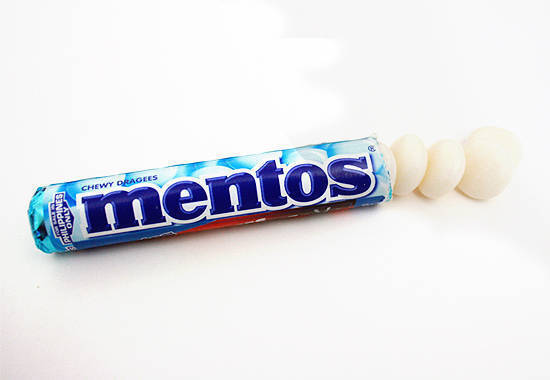 7. Mentos
Hard on the outside, soft on the inside, that's Mentos for you. With packaging options for however you want it-blister foil packets, tubes, teeny plastic boxes-these chewy dragees are a go-to for emergency breath-freshening needs. Mentos has already branched out to include a fruit-based palette, a sour mix, mystery flavors, and gum, but it's the original mint that we keep coming back to.
Available in grocery and convenience stores (P18.75/roll)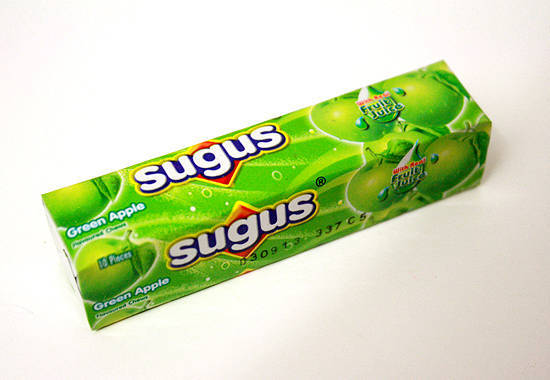 ADVERTISEMENT - CONTINUE READING BELOW
6. Sugus
One of two sweet treats from Wrigley is Sugus: square, sweet, fruity. It's softer than, say, other similar-looking treats, and melts in your mouth if you leave it for too long.
Available in grocery and convenience stores (P12.55/stick)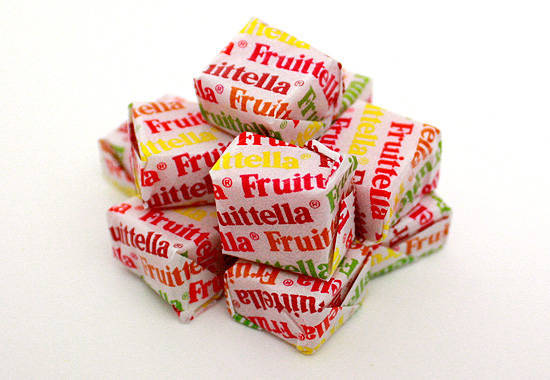 5. Fruitella
There's nothing particularly special about Fruitella; they're sweet, fruity, chewy, but man are they addicting. There have been accounts of people going through an entire tube in a matter of minutes without them even noticing it. Fruitella, however, has been criticized for its use of hydrogenated vegetable oils, which are known to cause health problems. Eep! Maybe that's why we're hooked.
Available in grocery and convenience stores (P13.25/stick)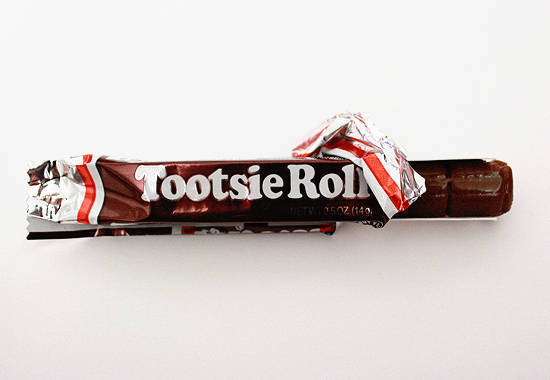 ADVERTISEMENT - CONTINUE READING BELOW
4. Tootsie Roll
This is one treat that has a lot of history. Conceptualized in 1896 and manufactured in 1905, this sticky-chewy sweet is the first penny candy in the US to be individually wrapped. It also played an important role in the war, becoming a staple in soldier rations for its cheap price and hardiness despite changing temperature (it was made as a non-melt, affordable alternative to chocolate). In 1950, during the Battle of Chosin Reservoir, crates of Tootsie Rolls instead of mortar rounds were accidentally sent to the Marine Corps. The army's supply specialist was unaware that Tootsie Roll was actually code for bullets.
Wartime aside, this chocolatey confection is one that reminds us of a time when candy clinging onto our teeth was a good idea.
Available in grocery and convenience stores (P10.25/small stick)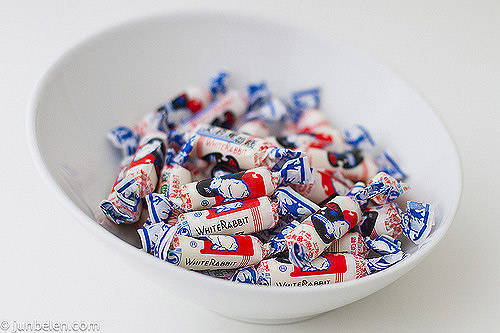 3. White Rabbit Chewy Candy
For children, White Rabbit was truly a magical experience with its melting edible paper wrapper. Forget that it turned out to be laced with formaldehyde; every magician has his secrets, after all. Rest assured, White Rabbit is back in the market with a clean slate. More creamy than chewy, the candy itself lends a mildly sweet, milky flavor that has us eating it by the pound.
ADVERTISEMENT - CONTINUE READING BELOW
Available in grocery (P150 to P200)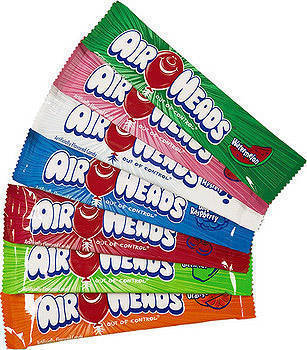 2. AirHeads
Always enjoyable to eat, these tart, taffy-like candy belts were a worthy splurge for any kid's allowance. With flavors like cherry, watermelon, green apple, raspberry, and strawberry, the fun part is checking what color your tongue is in the aftermath. It's no longer as readily available in stores as it was several years ago, but AirHeads has a way of slipping in candy stalls every now and then.
Available at Nuts about Candy (P75/mini pack)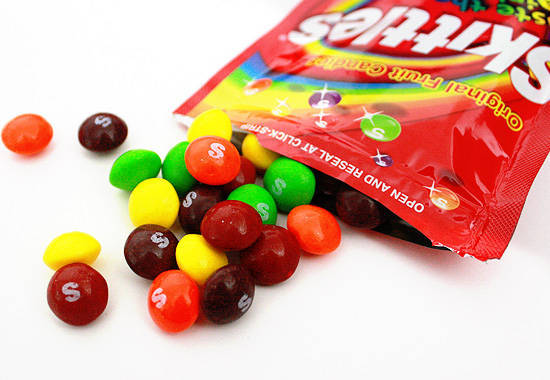 ADVERTISEMENT - CONTINUE READING BELOW
1. Skittles
If rainbows were candy, they'd be Skittles. Miniscule sweet treats, Skittles is the taste of childhood where you can actually tell which flavor is which. They're sweet but a little tangy, encased in a crackling hard shell that makes the surprise fruity burst all the more pleasurable. According to the Wrigley website, Skittles was ranked the most popular candy among the youth, but only placed second to Starburst in the chewy category. We don't mind the drop though, after all; Skittles is a type of sweetness only the young (and the young at heart) would understand.
Available in grocery and convenience stores (P32.95/45-g Original pack)
Note: Starburst was omitted from this list as we could not find a local store that carried it as of publishing; prices were based on Rustans Fresh
Share this story with your friends!
---
Help us make Spot.ph better!
Take the short survey
Load More Stories