Top 10 Steaks Under P500
The best budget-friendly steaks in Manila.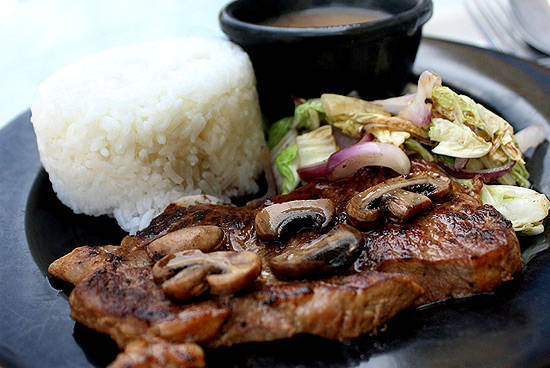 (SPOT.ph) There's always something celebratory about a juicy piece of steak. Maybe because it takes us all the way back to when we used to hunt for our food and reward our hard work with the day's hard-earned roast. Maybe because steak has always been considered a luxury. Luxurious in flavors, maybe, but there are ways to negotiate the hefty price tag if you know where to go. In fact, we're giving you 10 of the best places for that delicious beefy perfection for less than P500.
Here are restaurants where you can enjoy a slab of joy (for what is steak if not happiness?) for an affordable price!
ALSO READ:
Top 10 Steaks in Manila
Top 10 Burgers Under P100
10 Perfect Date Restaurants-for Budgets Under P500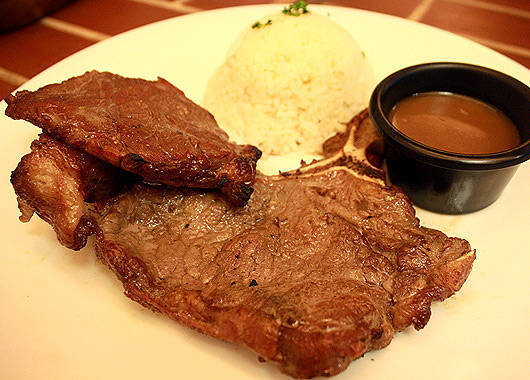 10. Brickfire Oven-roasted Steaks and Chops' Cowgirl Annie (P120/200 grams; P260/350 grams)
According to the menu, the Cowgirl Annie has everything you'd look for in a T-bone steak-and maybe even more. It's true, in terms of taste. There's tartness, savoriness, saltiness in the flavor profile that come together to explode in your palate. Brickfire uses Batangas beef to introduce affordable but delicious steaks. Nothing on the menu is over P300 (except when you upgrade your Annie to add prawns). The servers ask for the doneness, but there's no need for it. The cut is slightly uneven and the cook comes out a little bumpy, with one end a bit rare, the other well-done, and the in-between in between, but everything is tender nonetheless. They did say everything, didn't they?
ADVERTISEMENT - CONTINUE READING BELOW
Brickfire is at Esteban Abada Street, Loyola Heights, Quezon City, and SM North EDSA.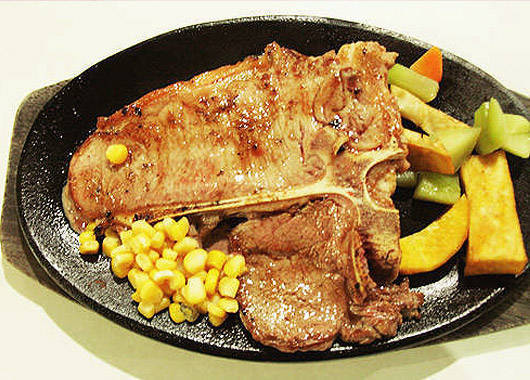 CONTINUE READING BELOW
Recommended Videos
9. House of Minis (Regular/P270)
House of Minis is a steak fixture in Manila and they're always a good go-to for an afforable meal. A regular serving is large enough, so the tight-fisted will definitely find value for their money here. Plus, it comes with rice, soup, and assorted vegetables and corn. The thick lining of fat around the edges makes slicing a bit of a task, but the steak has enough within to make it juicy. House of Minis has a boat of that familiar sweet gravy that swipes a savorous dimension to a simply peppered slab of beef. We do wish it was served sizzling, though. It is on a sizzling plate.
Check out House of Minis at the Glorietta 4 food court.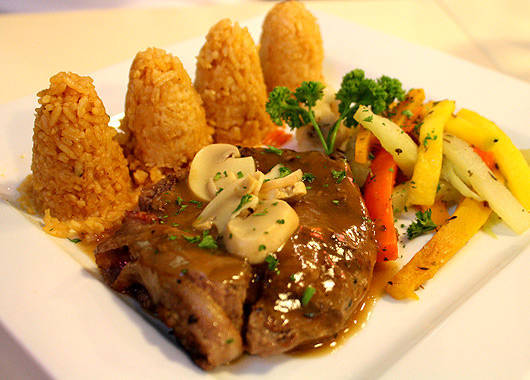 ADVERTISEMENT - CONTINUE READING BELOW
8. Almon Marina Fillet Mignon (P260)
There's only one steak on the menu that fits our budget and criteria, but keep your eye out for the daily specials. Rib-eye with soup and sides can sometimes go for only P475. For some consistency though, the perennial Fillet Mignon does the job. The hunky beef pulls apart easily, revealing a default pink center underneath a crusty sear. Herbed seasoning, particularly parsley, creates an earthy foil to the natural flavor of beef. The cook is a perfect medium rare, but the flavor is a little too simple-unless you like the plain flavor of beef on its own. Nothing a light shake of salt and pepper can't fix. As per tradition, a strip of bacon curls around the mignon adding even greater depth in flavor. The dish also comes with rice pilaf and vegetables.
Almon Marina has branches in SM Megamall, Mandaluyong City and Greenbelt, Makati City.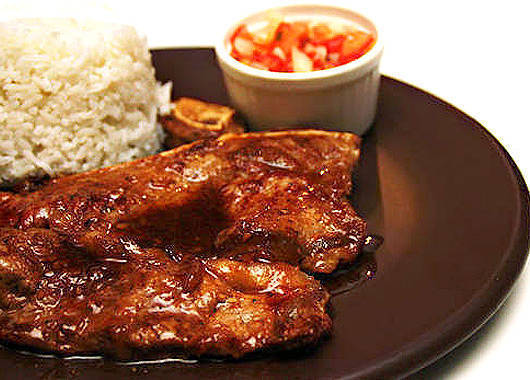 ADVERTISEMENT - CONTINUE READING BELOW
7. Tomato Kick's TK T-Bone Special (P200)
Instead of a few pinches of salt and pepper to amplify the flavor of beef, Tomato Kick uses lots of garlic to complement the meat. Leave the cooking up to the kitchen because they're on the right track. Each slice pulls apart without too much effort, and each is generously coated with the savory, pleasantly bitter glaze. There's a side of tomato salsa (and rice) that shouldn't be ignored. It's a refreshing break from all that garlic. It's no featherweight when it comes to both flavor and size, so expect to walk away feeling happy and satisfied.
Tomato Kick has branches at Maginhawa Street and Katipunan Avenue, both in Quezon City.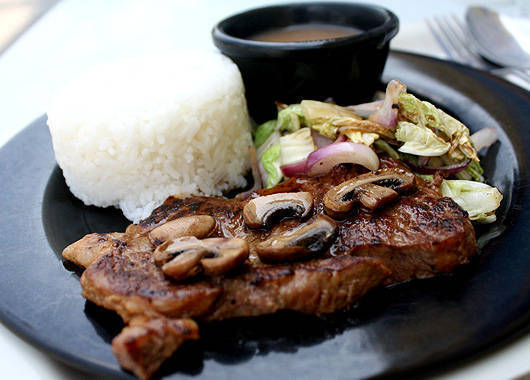 6. Empire Steaks (P199/regular steak with rice or pita; P224/regular steak with mashed potatoes)
There's major construction happening inside the tight space of Empire Steaks so you'll have to take your steak to one of the three streetside tables, with the rhythmic sounds of hammers and nails making up the mood music. Servers ask you for your preferred doneness, but it comes out well-done anyway. It's not an issue unless you're really picky. Empire's well done is still tender and even throughout the palm-sized Regular. The meat itself is gingerly seasoned, but it's the sweetish barbecue glaze that gives it a lipsmacking appeal. The rice is soft, plump, and perfectly cooked, but get the mash. The latter's velvety texture will counter the coarseness of the two-centimeter-thick US Ribeye. You're going to need that little tub of gravy to moisten things up some more, too.
ADVERTISEMENT - CONTINUE READING BELOW
Empire Steaks is at No. 4 Masinsinan Street, Teachers Village, Quezon City.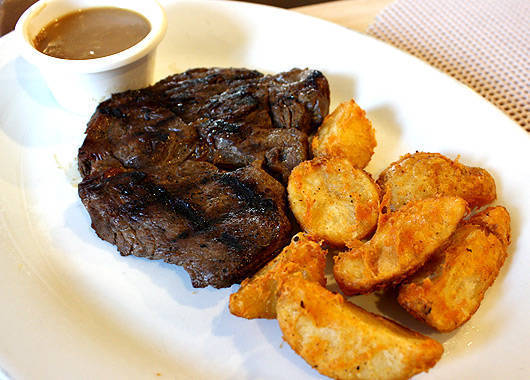 5. Everything At Steak (P225/ribeye; P225/T-bone)
Customers have the option of choosing between the fiery New Orleans Rub or the bestselling Original Marinade. Pick the latter to really put the spotlight on the beef. The plate-sized steak has that deep brown hue of something that's been laid on a grill. It gives off a strong, mouthwatering, smoky odor, which is just as well because that's where it gets most of its flavor profile. The ribeye is slightly thicker than the other steaks on this list and it's cooked to a medium well. There's a juicy tenderness to each mildly salted slice. Pick the Original Mushroom Gravy. It's lumpy, like the kind you have at home. You'll be wanting more, especially if you get the potato wedges. Should you crave a more peppery kick, get the Peppercorn Gravy. It's a very basic steak that offers a lot of leeway for your preferences.
ADVERTISEMENT - CONTINUE READING BELOW
Everything At Steak has branches at Annapolis Street, San Juan; Banawe Street, Quezon City.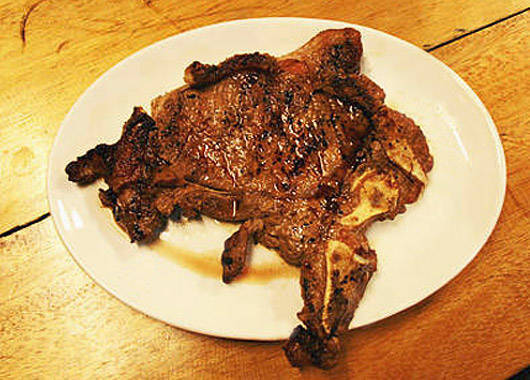 4. Snackaroo's Porterhouse Steak (P140)
You can see them cooking it, which is always a plus. The meat is large and because they don't allow it to rest before serving, some of the jus drips onto the plate. Think of it as an indication of how juicy it is-or as a natural gravy. The slab is so large it takes up most of the plate and there's a glistening glaze of oil that would hypnotize any carnivore. The only hint of fat is around the perimeter, but it still offers a luscious bite despite the lack of marbling. Try to get it medium rare to make the most out of the succulence. There's a rich flavor that's brought out by the side of rice and peppery gravy. Snackaroo is a great way to satisfy anyone's carnivorous craving without burning a hole through the wallet.
ADVERTISEMENT - CONTINUE READING BELOW
Snackaroo's is at Judge Jimenez Street corner Kamuning, Quezon City.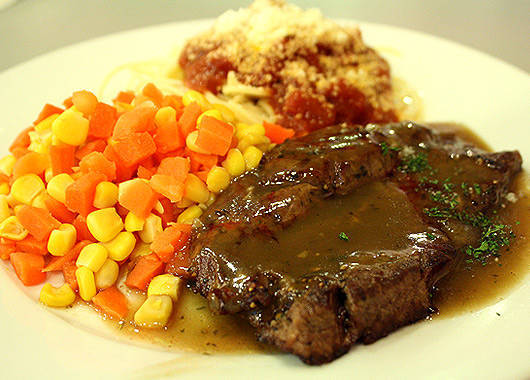 3. Eat and Go's Pan-seared U.S. Steak (P375)
This humble restaurant at SM Megamall Atrium isn't always a default choice, but give it a chance because you might find yourself surprised. Their steak, for instance, is a sleeper hit. Two sides give you a little more for the iPhone-sized steak, which is deliciously seared with mouthwatering grill marks. The cut is slightly bumpy with one side a little chunkier. The cook comes out uneven, but even then every piece you slice is tender and fully flavored from good proportions of salt and pepper. Little effort is needed to slice through the striploin. There's that delightful peppery hit in the profile from the gravy while a bitter savoriness from the slightly burned edges gives it a little extra. Even their sides are commendable. It's not gourmet, but it's good cafeteria food: the tomato spaghetti is tangy and fresh while the corn and carrots are generous. Perfect for the homestyle steak that you'll find here.
ADVERTISEMENT - CONTINUE READING BELOW
Eat and Go is at SM Megamall Atrium, Mandaluyong City.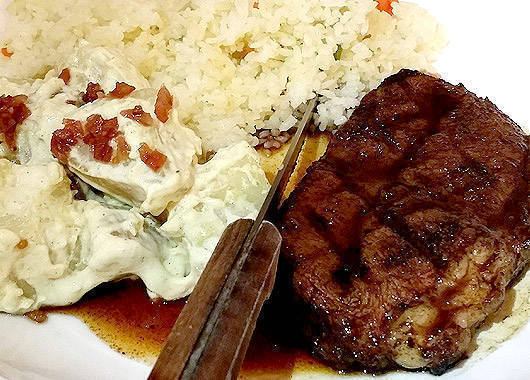 2. Mad Mark's Signature Steak (Healthy/150 grams/P195; Regular/200 grams/P240; Feast/300 grams/P290)
The steak options at Mad Mark's used to be striploin, with a slightly higher price cap. Mark Isidro takes a budget-friendlier cut of meat, seasons it to near perfection, and makes good steak enjoyable for everybody. Presentation isn't a priority here. The USDA flank is in a glossy dark brown hue and generously coated in sauce. The flavor depends on which sauce you choose (there are four available), but the Bootstrap (a sweet and smoky flavor reminiscent of barbecue) is most recommended. The honeyed flavor complements the natural juice that can't help but ooze out when you put pressure on the steak. Mad Mark's cooks it to a default medium, but slice it against the grain to emphasize the tenderness. Sides depend on the size.
ADVERTISEMENT - CONTINUE READING BELOW
Nope, this creamery isn't just about sandwiches and ice cream.
Mad Mark's has branches in Kapitolyo, Pasig City and Glorietta 5, Makati City.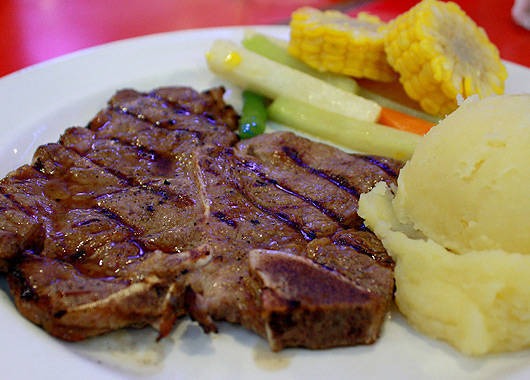 1. Tender Bob's Porterhouse (P345/8 oz; P600/16 oz)
Tender Bob's has two sections for steak: Domestic Premium where the wallet-happy prices fall within the P400 to P600 range and the USDA. The porterhouse from the former is big and bold: a hunky slab of beef painted on the surface with its natural oils glistening against the pristine plate. Medium veers toward the rare, but that only guarantees a more delectable succulence. Salt and pepper coaxes out the flavors of beef, but there's a gravy boat for that extra layer of peppery sweetness. You can choose between mashed potatoes and rice, but go for the former to really get a feel of the melt-in-your mouth texture of the steak.
Apart from their affordable local range, Tender Bob's USDA Beef Belly, Trimignon, and Peppercorn steaks are also priced under P500.
ADVERTISEMENT - CONTINUE READING BELOW
Tender Bob's has branches at Shangri-La Plaza, Greenbelt 2, SM North EDSA The Block, and Greenhills.
ALSO READ:
Top 10 Steaks in Manila
Top 10 Burgers Under P100
10 Perfect Date Restaurants-for Budgets Under P500
Share this story with your friends!
---
Help us make Spot.ph better!
Take the short survey
Load More Stories