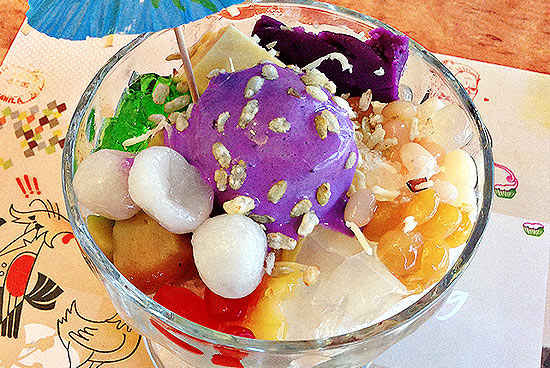 (SPOT.ph) Summer isn't going anywhere anytime soon and the best way to beat this unbearable heat is with every Filipino's undisputed favorite shaved ice dessert: the halo-halo! A medley of sweetened jewels, a gracious layer of icy granules, a heaping scoop of ube ice cream, all drowned in creamy milky goodness-it's a sweet tooth's dream.
With the great variety available this summer, we took on the challenge of rounding up the best halo-halo Metro Manila has to offer. From sweetness levels and textures to that perfect balance of ingredients, we considered a lot of factors in making this list. What's left for you to do? Nothing but to savor the summer sun with a tall cup of the most delicious halo-halo in town!
All SPOT.ph Top 10 lists are researched, paid for, tested, and selected by the writers and editors. They are discreetly conducted without any notice made to the restaurants or their owners.
ALSO READ:
10 Eats that Spell Summer
10 Must-try Smoothies for Summer
SPOT.ph Round-Up: 10 Ice Cream Sandwiches in Manila that are Worth the Calories
SPOT.ph's Top 10 Homemade Ice Cream
10 Unique Ice Flavors to Try
SPOT.ph's Halo-halo Guide: Our Top 10 (2010)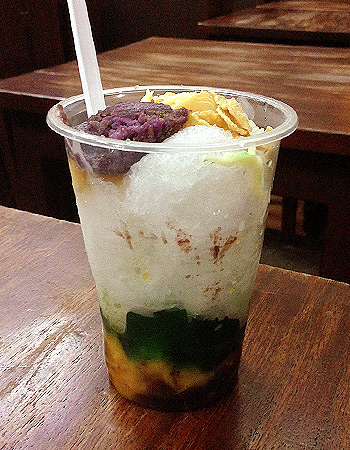 ADVERTISEMENT - CONTINUE READING BELOW
We present our list of the best halo-halo in Manila:
10. Aling Banang's Halo-halo Ice (P45)
In business for 80 years now (they opened in 1934-a year before Manuel L. Quezon became president), Aling Banang's offers Filipino favorites that can bring any diner straight to the yesteryears of home-style cooking. The halo-halo is no different. There's a retro feel from the plastic dessert cups to the sweetened kamote. The ice, however, melts right before you get to enjoy the grated cheese that provides contrast to the sweetened toppings. Aling Banang's is a good choice if you want to walk down memory lane and enjoy a cool treat like a kid again.
Click here for a list of Aling Banang's branches.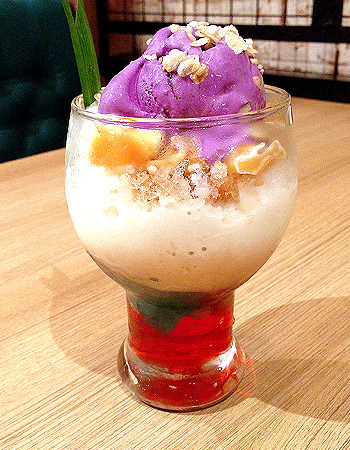 9. Namnam Halo-halo (P185)
The name of the restaurant best describes this halo-halo: malinamnam. The seemingly too-short glass, packs a lot of flavor-a mild fruity one that's almost reminiscent of fruit salad. It's thick, creamy, and definitely chunky. But what it offers in flavor, it lacks in balance of texture. The beans and the macapuno just aren't tender enough, sliding them back to No. 9.
ADVERTISEMENT - CONTINUE READING BELOW
Recommended Videos
Namnam is at G/F Greenbelt 2, Makati City (0917-5399661, 625-0515).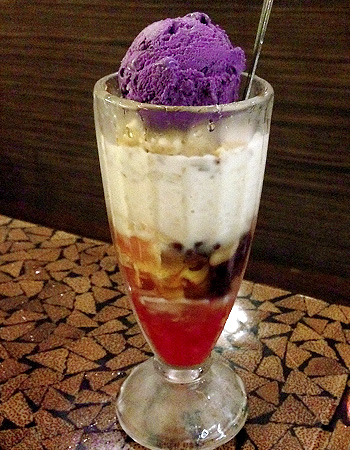 8. Café Via Mare Halo-halo Special (P162)
Afternoon merienda automatically means bibingka or puto bumbong at Café Via Mare. But in this heat, the wiser decision would be to order their halo­-halo. The tall glass is a study in textures-creamy milk, soft gulaman, tender beans, and crunchy pinipig. It would have been better with a little less pinipig, however. There's just too much that, with the crunchy ice, the last bites feel like a chewing workout. 
Click here for a list of Via Mare branches.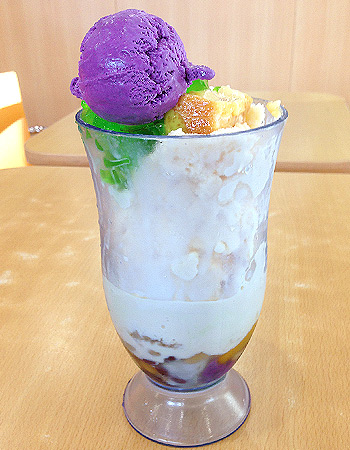 ADVERTISEMENT - CONTINUE READING BELOW
7. Chowking Halo-halo Special (P97)
Color is king in Chowking's special halo-halo. Arguably the most convenient of the bunch, this halo-halo can successfully brighten up your day with the vision of ingredients they prettily pile into that large bowl. The ice itself comes as a surprise-fine with enough texture, it can impressively go side by side with higher-end options. The only downside is that you'd have to keep asking for more sugar and milk to balance the flavors.
Click here for a list of Chowking branches.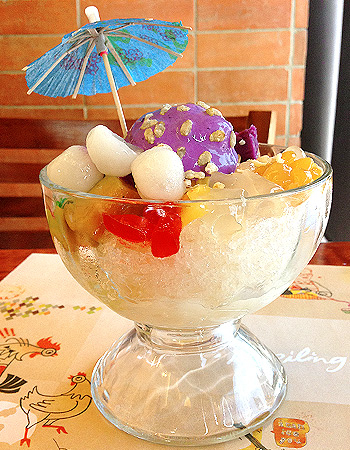 6. Max's Halo-halo Special (P109)
There is art that goes into every glass of Max's halo-halo. Every serving consistently looks so mouthwatering that it seems like they have a secret food stylist in their kitchen churning out these colorful creations. You'll find every halo-halo­ ingredient known to man available here: from nata de coco to kaong and macapuno balls to even some grated cheese. They're all cooked to a perfect tenderness, too. A little more sweetness would be most welcome, but that shouldn't stop you from experiencing this masterpiece.
ADVERTISEMENT - CONTINUE READING BELOW
Click here for a list of Max's branches.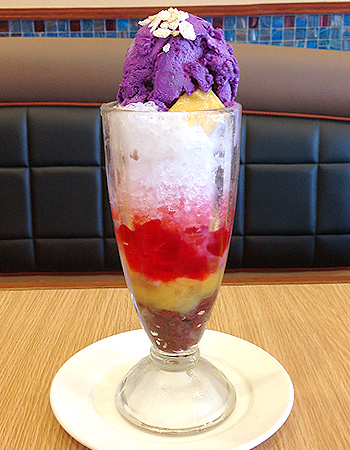 5. Aristocrat Halo-halo Special (P125)
At once this halo­-halo confronts you with a challenge: how to mix the monster of a bowl with the top almost entirely covered with a humongous ball of ube ice cream. That generous scoop, however, gives the mix a distinct creaminess and a vibrant purple tint that perfectly matches the golden summer sun. You also scoop out a lot of loveable langka every time, giving each bite that rich sweetness. It's a halo-halo that has its own colorful character-one you'd like to get to know more of as soon as you get over that initial obstacle.
Aristocrat is at 432 San Andres Street, Malate, Manila (524-7671 to 80). Click here for more branches.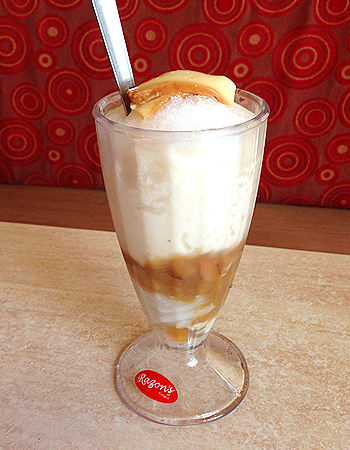 ADVERTISEMENT - CONTINUE READING BELOW
4. Razon's Halo-halo (P100)
Perfect textures continue to keep this Guagua pride at the top of the charts. The leche flan is firm and creamy; the ice is extra fine and light; the banana is perfectly tender and sweetened; the macapuno is both chewy and soft to the bite-it a tale of how simple things done right can never fail. Using just four ingredients, Razon's already has its own die-hard following.
Click here for a list of Razon's branches.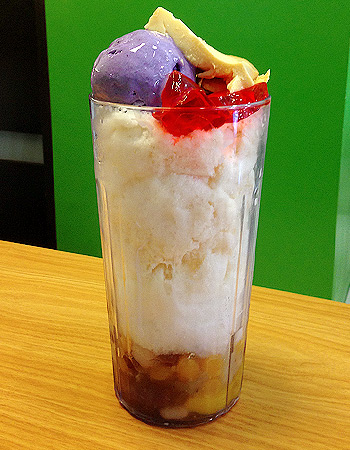 3. Nathaniel's Halo-halo Special (P100)
Comfort is the one factor that sets Nathaniel's halo-halo apart. Every spoonful is a happy mix of homey favorites: a lot of beans, creamy leche flan, some lovely red gulaman, and a generous sprinkling of cornflakes. That serving of golden cereal provides a good crunch and a desirable contrast to the smooth and heavenly milk-ice combination. Some may be surprised by the size of the glass that it comes in, but then the halo-halo is just too good to even share with a loved one.
ADVERTISEMENT - CONTINUE READING BELOW
Nathaniel's has branches at GF02 Metro Pointe Center, P. Guevarra Street corner N. Averilla St. San Juan City, and Katipunan Avenue, Quezon City.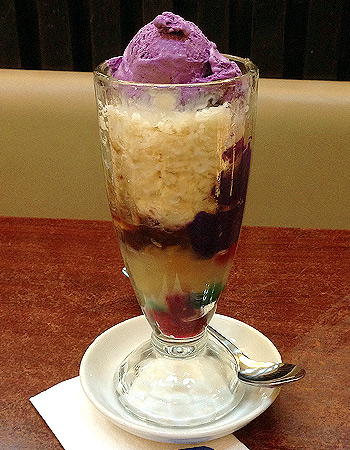 2. Milky Way Halo-halo (P125)
You'll just find yourself surprised that you're already down to the last spoonful of your halo-halo after only a few minutes. Then you'll start wishing it came in a bottomless option. Consistency is key to this Milky Way classic: in the amount of ingredients you get from top to bottom, in the flaky ice that's been a trademark all these years, and in that guaranteed satisfaction you get once you finish a glass-or two.
Milky Way is at 928 Pasay Road (A. Arnaiz Avenue), Makati City (843-4124).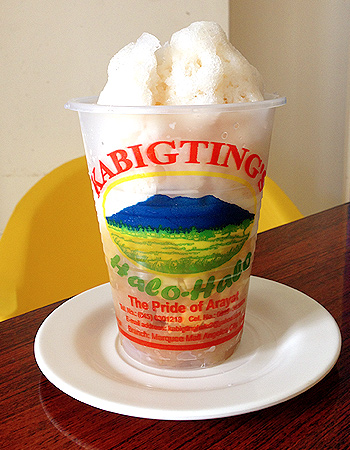 ADVERTISEMENT - CONTINUE READING BELOW
1. Kabigting's Halo-halo (P90)
Mashed beans, corn, carabao's milk pastillas-these three make up Kabigting's halo-halo. It's basic, but you won't find anything lacking. Though considered novel to Manila's halo-halo playing field, Kabigting's has been a favorite in Pampanga, especially in Arayat where it hails from. Now, there's no need to troop up north. You can get this heavenly concoction in their new branch in Quezon City. Kabigting's sets the bar high when it comes to the quality of ice. Every cup brims over with extra-fine ice that is measured to yield the smoothest, creamiest halo-halo. You won't even have to look for extra sweeteners to add to the mix as the ingredients already offer a distinct natural sweetness. It's amazing how simplicity can equate to pure bliss even under this blazing sun-and Kabigting's is out to prove no less.
Kabigting's is at 528 Banawe Avenue corner Calamba Street, Quezon City (354-6156, 0917-963-7000).
ALSO READ:
10 Eats that Spell Summer
10 Must-try Smoothies for Summer
SPOT.ph Round-Up: 10 Ice Cream Sandwiches in Manila that are Worth the Calories
SPOT.ph's Top 10 Homemade Ice Cream
10 Unique Ice Flavors to Try
SPOT.ph's Halo-halo Guide: Our Top 10 (2010)
Share this story with your friends!
---
Help us make Spot.ph better!
Take the short survey
Load More Stories