10 More Kid-Friendly Restaurants in Manila (2014 Edition)
The chances of encountering an anti-kid curmudgeon are extremely low in these places.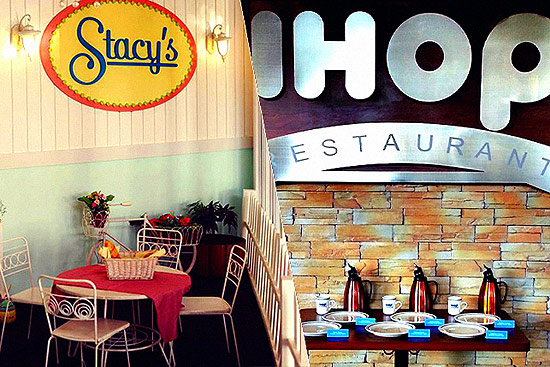 (SPOT.ph) One aggrieved filmmaker recently made headlines when he allegedly blew his top over a crying baby in a mall restaurant. Yes, award-winning director Peque Gallaga is one tough customer when it comes to dining ambiance, but we know that there's a tougher critic: the very tots that he shooed away. Their innocently cutthroat and honest quips could give Chef Gordon Ramsay a run for his money. They're not afraid to make a face when the French fries are yucky or when the spaghetti's a little too "sour." Kids, suffice it to say, are extremely picky.
Fear not, moms and dads. From grump-free eateries to child-friendly munchies, we've got you covered. We've rounded up the best restaurants that will satisfy your kid's palate all while entertaining them-even the most hyperactive ones-long after your tablet's battery has run out.
P.S. We guarantee that the chances of encountering a kid-complaining curmudgeon are extremely low in these places.
This list is not ranked.
ALSO READ:
Top 10 Kid-friendly Restaurants (2010 Edition)
Top 10  Do-it-yourself Restaurants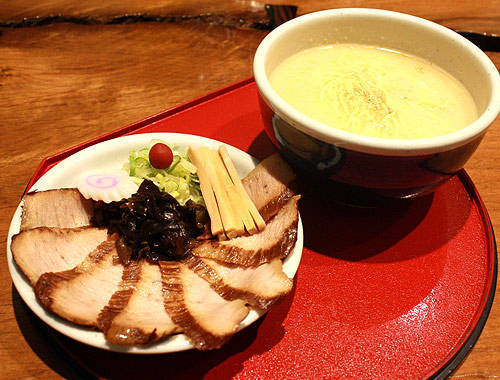 ADVERTISEMENT - CONTINUE READING BELOW
Hokkaido Ramen Santouka
Kids can get in on the ramen craze too, thanks to the kiddie-sized bowls that are part of Santouka's Parent-Child Set Meal. They're one-third the size of the standard portion, which makes them perfect for pint-sized tummies. The meal includes regular ramen, a smaller ramen, and a free Gashapon toy.
Parental Bonus: The kids will be so preoccupied with their free toy that you won't need to keep them entertained with your phone or tablet. High chairs are also available for toddlers.
Kiddie Must-tries: Small Ramen, Fried Chicken, and Small Rice Bowl Set (P470), Mochi Cream (P75), Parent-Child Set (P410, additional P110 for an extra child-sized ramen bowl and toy). The Parent-Child Set is valid only for kids seven years old and younger.
CONTINUE READING BELOW
Recommended Videos
Hokkaido Ramen Santouka has branches at the New Glorietta, Makati City, and Promenade Mall, Greenhills, San Juan. A branch at SM Mall of Asia is currently underway.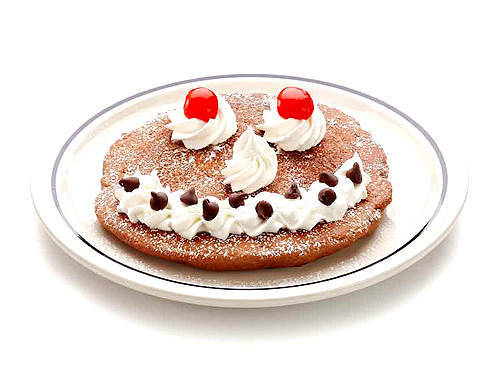 IHOP
ADVERTISEMENT - CONTINUE READING BELOW
Leave it to this all-day breakfast sanctuary to be armed to the teeth with treats to meet every breakfast craving, from continental to Filipino, pancakes to silog, starters to desserts. They even have a special-and very comprehensive-section tailor-fit for kids 12 years and under.
Parental Bonus: Come on, no matter what time it is, who doesn't love breakfast?
Kiddie Must-tries: Funny Face Pancake (P165), Create-A-Face Pancake (P165), Rooty Jr. (P195), Silver Five (P195), Crispy Chicken Strips (P175), Cheese Omelette (P175), Chocolate Chocolate Chip Pancakes (P255)
IHOP has branches at W Global Center, 30th corner 9th Street, Bonifacio Global City; UP Town Center, Katipunan, Quezon City; Century City Mall, Makati City; SM Mall of Asia, Pasay City.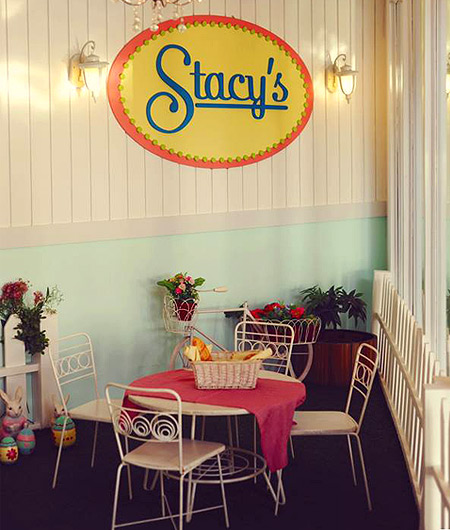 Stacy's bright and quirky aesthetic and cute décor make it seem more like an oversized children's playhouse instead of a restaurant. It's not a large playground, but one corner is a designated playpen with toys and books where kids can hang out.
ADVERTISEMENT - CONTINUE READING BELOW
Parental Bonus: If there was ever a venue to take photoshoot-worthy shots to show off just how impossibly adorbs (your words) your kids are, this is the place. It's like an indoor garden but without the scratchy grass or the bugs.
Kiddie Must-tries: Potato Chip Fried Chicken (P180), Cerealovers Mix (P185), Mac and Cheese, Please! (P205)
Stacy's has branches at Capitol Greenstreet Commercial Center, 1 Capitol Hills Drive, Matandang Balara, Quezon City, and Rizal Drive, Bonifacio Global City.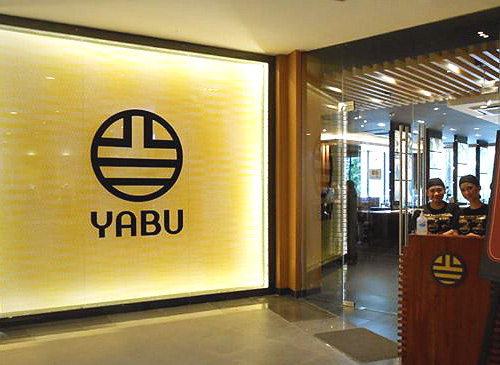 The House of Katsu has something for every member of the family, including children. Their menu has a special Kids' Katsu Meal Set available to children 10 years old or younger featuring mini versions of their bestsellers. The walls with poster-sized manga would also be a hit with the kids. The comic strip tells an inspiring story of a little boy who trains to become a master katsu chef. A potential future, perhaps?
ADVERTISEMENT - CONTINUE READING BELOW
Parental Bonus: Each Kids' Katsu Meal Set includes a free fruit bowl providing your kid with his/her recommended nutritional intake. (Parent high-five!)
Kiddie Must-tries: Chicken Katsu Meal (P195), Menchi Katsu Meal (P195), Tonkatsu (P195), Potato Croquette (P110), Lava Cake a la Mode: Chocolate, Vanilla, or Strawberry (P155)
Yabu has branches at SM Megamall, Robinson's Magnolia, SM Mall of Asia, SM The Block, Glorietta 5, SM Aura Premier, Alabang Town Center, SM Southmall.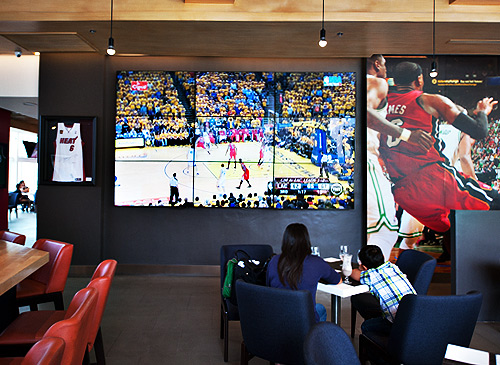 NBA Café Manila
Gain infinite cool points from your bball-crazy kid by taking him to NBA Café (which, by the way, is the first flagship restaurant in Asia). The place is filled with NBA memorabilia such as jerseys and trophies that you can check out together. While you're at it, this is also a great venue to school your kid on the finer points of '90s basketball.
Parental Bonus: If you're a basketball fan, then the whole place is one big bonus. You won't have to worry about keeping tabs on the score via Twitter thanks to the huge TV screen provided.
ADVERTISEMENT - CONTINUE READING BELOW
Kiddie Must-tries: Creamy Macaroni and Cheese (P190), Mini Pepperoni Pizza (P300), and Spaghetti and Meatballs (P300)
NBA Café is at 5/F SM Aura Premier, C5 Road Corner 26th Street Bonifacio Global City.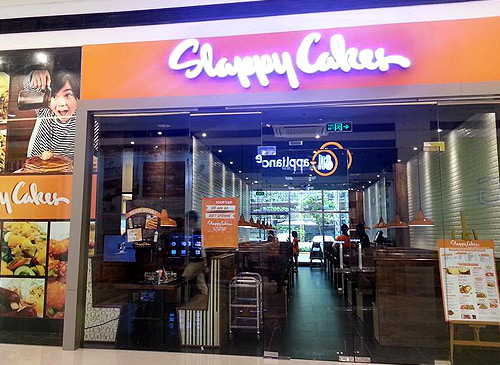 Slappy Cakes
This is the only place where kids are encouraged to play with their food. Your little ones will go nuts doodling random designs on a skillet using a squeeze bottle filled with pancake batter. They'll even have their choice of pancake topping from chocolate chips to Nutella!
Parental Bonus: Creating pancake designs are a fun activity you can do together with your child. You can also use pancake batter as a fun way to teach your tot how to spell their name.
Kiddie Must-tries: Buttermilk Pancakes (P225), Peanut Butter Pancakes (P260), Berry Slappy Pancake (P300), Country Fried Bacon (P230), Pancake Sundae (P360), Kiddie Kremecycle (P190)
Slappy Cakes has branches at Eastwood Mall, SM Aura Premier, SM The Block, SM Jazz Residences.
ADVERTISEMENT - CONTINUE READING BELOW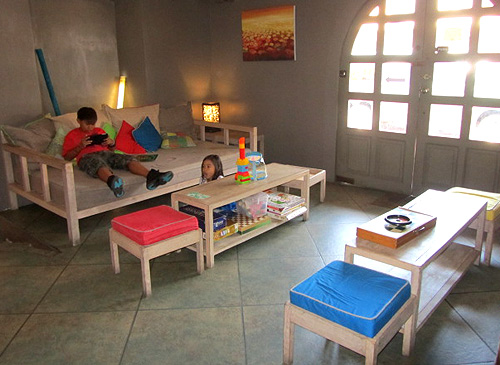 French cuisine might sound a little too highfalutin for children, but that's certainly not the case at Brasserie Ciçou. The neighborhood restaurant's interiors are decked in colorful paintings and whimsical adornments that will serve as a visual appetizer for your young ones. Kids can entertain themselves in the special play area chock-full of board games, coloring materials, and toys. Plus points to the restaurant, too, for allowing kids to doodle on the paper table mats!
Parental Bonus: Brasserie Ciçou's spacious digs, peaceful atmosphere, and separate play area mean that parents can have a proper conversation without worrying about cramped conditions and a restless kid. Consider it a double win: parents can have a good-and grown-up-date, but with the kids.
Kiddie Must-tries: Quiche Lorraine: Bacon, Cream, Cheese (P198), Croque Madame (P510), Croque Monsieur (P480), Coquilletes: Bacon, Mushroom, Parmesan (P420)
Brasserie Ciçou is at 57 Annapolis Street, Greenhills, San Juan (0917-885-8841, 661-9200, 661-9643).
ADVERTISEMENT - CONTINUE READING BELOW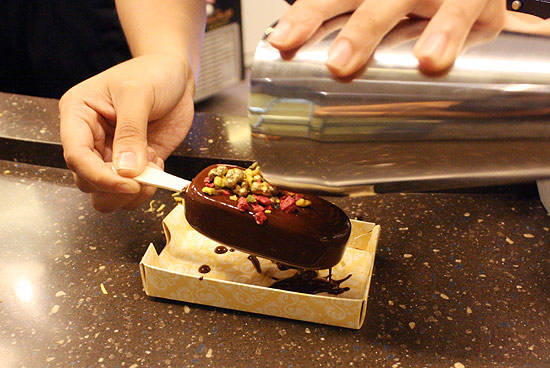 Hot on the trail of the DIY food trend is none other than the cool promise of popsicle paradise, Magnum Pleasure Store. Suddenly the luxury ice cream bars in supermarkets and convenience stores aren't enough. You just have to make your own in their pop-up café at SM Aura.
Kids can go crazy customizing their very own flavor: they can choose the base ice cream, dip (Magnum Gold, Milk Chocolate, Dark Chocolate), topping (up to three), and chocolate drizzle. Parents, encourage their creativity but pull the reins when they start coming up with a potato chip-chili flakes-caramel combination.
Parental Bonus: Enjoy some of Chef Him Uy de Baron's savory dishes such as the bruschetta, steak salad, and pan-seared salmon. Pastry Chef Mikko Aspiras also has picture-perfect plated desserts using Magnum bars.
Kiddie Must-Tries: Cajun Spiced Chicken Poppers, Magnum Bar (starts at P100), Cookie Dough Skillet (P250), Rainbow Dream (P250), Death By Chocolate (P250), Sundae Fun Day (P175)
ADVERTISEMENT - CONTINUE READING BELOW
Magnum Café is at 5/F SM Aura Premier, Sky Park, Mckinley Parkway, Bonifacio Global City.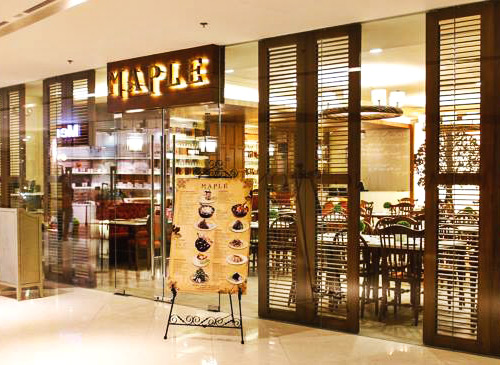 Maple
What? Pancake House's posh older sister is perfect for kids? Maple offers breakfast classics and twists in huge portions, great for a family with a bunch of growing kids. There's also a cute little reading corner with tons of children's books for the budding bookworm.
Parental Bonus: You can hang out with your kid at the reading corner and enjoy some storytelling time while waiting for your orders to arrive.
Kiddie Must-Tries: Swiss Chocolate Breakfast (P360), The Maple Burger (P475), Maple Bacon Carbonara (P350), Chicken and Chips (P475), Chocolate Cake a la Mode (P280), Maple Buttermilk Pancakes (P275)
Maple has branches at L/GF Shangri-La Plaza East Wing, Mandaluyong City (477-8027); and 2/F San Antonio Plaza Arcade, 50 Mckinley Road, Bonifacio Global City (621-6211).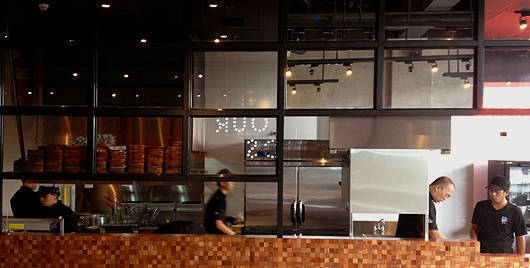 ADVERTISEMENT - CONTINUE READING BELOW
8 Cuts Burger Blends/Burger Bar
DIY burgers, cheesy fries, specialty shakes, and a molten chocolate dessert? Those are the ingredients to making a child happy. Your son or daughter will definitely enjoy calling the shots and choosing the toppings to build his/her very own burger magnum opus. The brightly lit interiors of the diner will also make your trip a fun experience.
Parental Bonus: Want an adult version of a burger? Try the ox-blend patty. 8 Cuts and Burger Bar also offer a vegan alternative. By the way, they have spiked milkshakes for the grown-ups.
Kiddie Must-tries: Sub-Atomic Bacon and Cheese Fries Topping (add P70 to your fries), The Cheeseburger (P195), Four Cheese Burger (P245/single patty, P345/double patty), Molten Chocolate Bottoms (P135), Nutella Milkshake (P220/12 oz, P295/16 oz)
8 Cuts has branches at the UP Town Center and SM Megamall. Another branch in Serendra is currently underway. 8 Cuts sister joint, Burger Bar, has a branch in Greenbelt 2.
Photos courtesy of K-Zone Philippines (NBA Cafe); by Karen De Vera (Brasserie Cicou), Ben Lim (NBA Cafe), Angelo Comsti (8 Cuts), and Sasha Lim Uy (Hokkaido Ramen Santouka, Magnum Cafe); and from official Facebook pages.
ALSO READ:
Top 10 Kid-friendly Restaurants (2010 Edition)
Top 10  Do-it-yourself Restaurants
Share this story with your friends!
---
Help us make Spot.ph better!
Take the short survey
Load More Stories