Takashi Japanese Restaurant
Pioneer Center, Pioneer Street, Pasig City
Tel. No. 0905-510-954
Open daily from 11 a.m. to 10:30 p.m.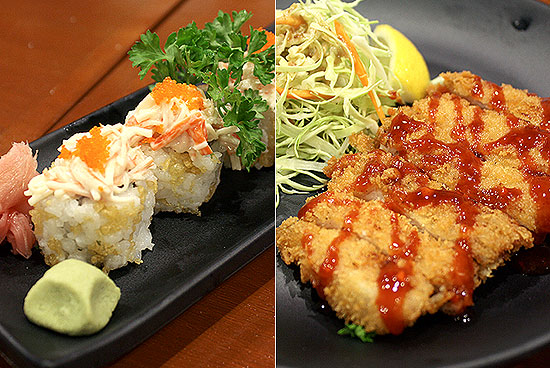 (SPOT.ph) It's hard not to like Takashi Kawasaki, the Nike-sporting, T-shirt-wearing namesake chef of Takashi Japanese Restaurant in Pioneer Center. His perennial boyish smile through the glass window is a refreshing sight from a bustling Japanese kitchen. It's a small, determined smile as he methodically rolls his maki and delicately adds toppings to his ramen. A meal is a ticket to watch the Filipino-speaking, 28-year-old ball of energy cook with Japanized "Let it go" and "One Thing" in the background.
ADVERTISEMENT - CONTINUE READING BELOW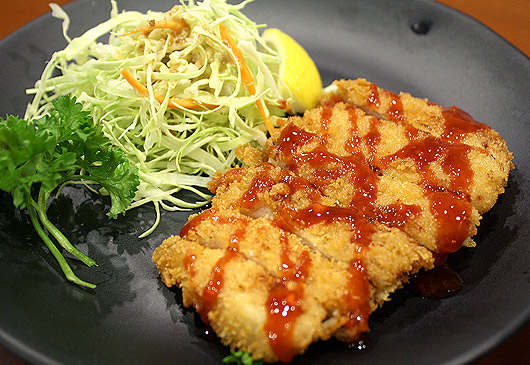 Chicken Katsu
Takashi the restaurant is a relaxed setup with the open kitchen taking up most of the design interest and details that reveal the discreet effort characteristic in Japanese culture. The image of Mt. Fuji on the façade is hand-painted and part-owners Miguel Villalon and Erns Gala are waiting for more pieces to cover the panels behind the booths.
ADVERTISEMENT - CONTINUE READING BELOW
Recommended Videos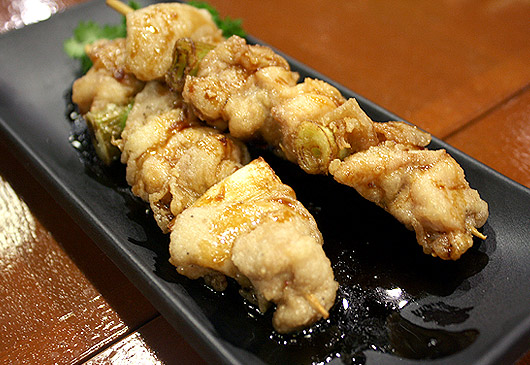 Chicken Yakitori
Orders are taken from a checklist, and dishes are a dizzying mix of playful innovations and tradition. The Chicken Yakitori (P80 to P150), for example, has a secret. Takashi takes the normally grilled skewers and gives them a more sinful benediction: a delicious deep fry. The pieces of chicken end up much more tender while the bits of skin that manage to make their way through the stick are wonderfully crisp.
ADVERTISEMENT - CONTINUE READING BELOW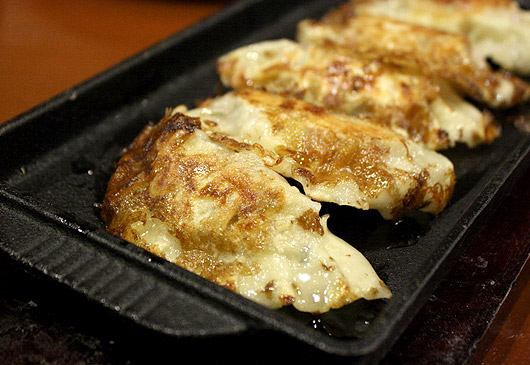 Sizzling SPAM Gyoza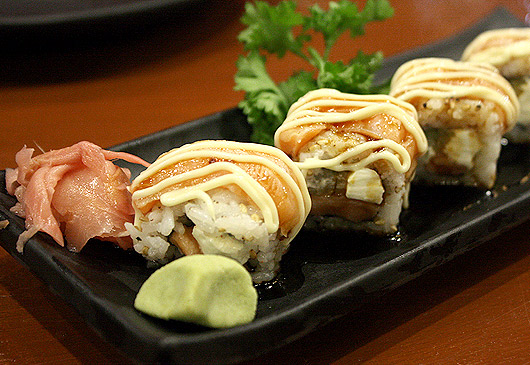 ADVERTISEMENT - CONTINUE READING BELOW
Salmon Teriyaki Maki Sushi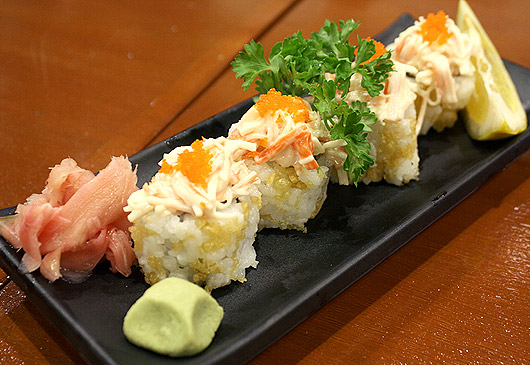 Crazy Maki
There's the intriguing SPAM Gyoza (P80 to P150) that puts together the salty comforts of this breakfast favorite with the richness of cheese on a sizzling plate, flecks of chives keeping it balanced. The Crazy Maki (P80 to P150) is anything but: an exciting crunch wraps around the sweet roll embellished with Japanese mayonnaise and kani. The Dragon Maki Sushi (P120 to P230) highlights the bold flavors of unagi. Cream cheese works wonders against the fresh salmon in the Salmon Teriyaki Maki Sushi (P120 to P230). Sharp, earthy, and sweet come together in a bite that will make your taste buds sit up and pay attention.
ADVERTISEMENT - CONTINUE READING BELOW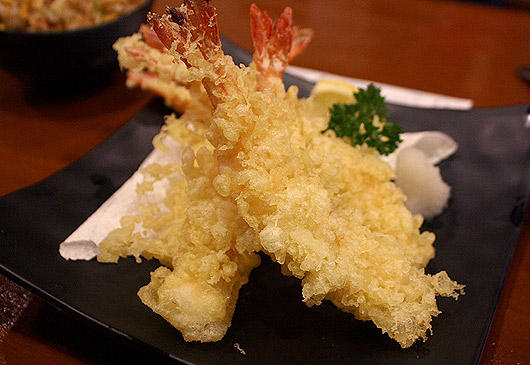 Ebi Tempura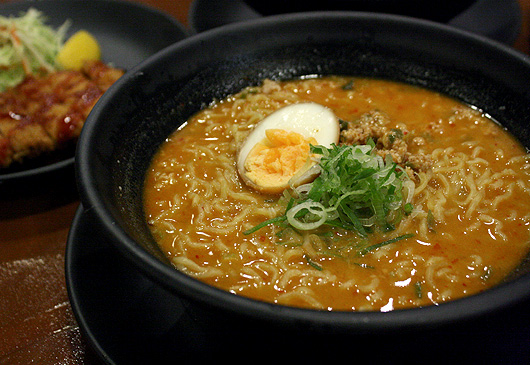 ADVERTISEMENT - CONTINUE READING BELOW
Tan-tan Ramen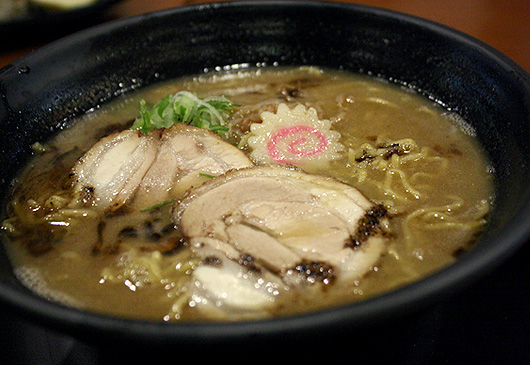 Hokkaido Miso Ramen
It's easy to tick on the rolls and sushi and find yourself satisfied, but it's only the beginning of what you'll find at Takashi. With a P250 to P280 price range, the ramen is noticeably cheaper than most but in portions that don't make it less than filling. Takashi makes his thinner-than-usual ramen noodles by hand, mimicking the width of Lucky Me, but with a springy texture and a clean flavor that could only be achieved through meticulous means.  The stock is boiled for over nine hours and there's a rather tacky, almost saucy quality to it. The salty flavor of its star ingredient radiates through the Hokkaido Miso Ramen (P250). The profile is simple enough for comfort food, but with a depth that depicts the process behind it. Takashi also has the Tan-tan Ramen (P250) where peanut butter glosses over a ticklish heat.
ADVERTISEMENT - CONTINUE READING BELOW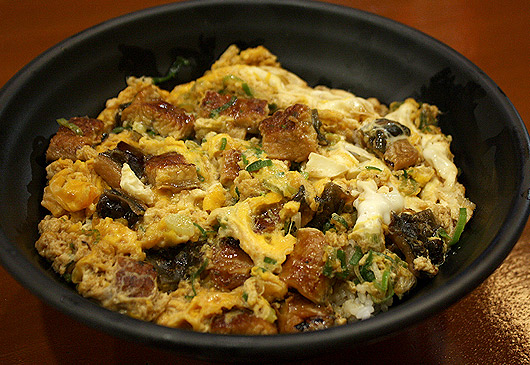 Unagi Rice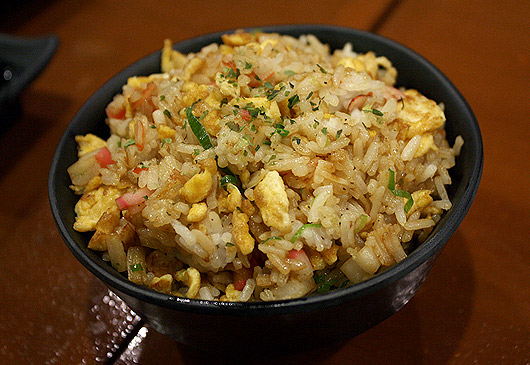 ADVERTISEMENT - CONTINUE READING BELOW
Seafood Chahan Rice
The same type of attention is paid to the rice. The Unagi Rice (P380) is a deep bowl that is considerately doused in that sweet sauce. Perfect proportions make this dish and right up to the end, each spoonful is rewarded with a light coat of sauce and at least one piece of eel. Erns' mother, renowned chef Sylvia Reynoso Gala, made a contribution to the Seafood Chahan (P85): the cup-sized dish is a sampler of the sea and she geniusly suggested the addition of salmon flakes. It presents a bit of a problem though. When you're left to your last few bites, you'll realize that the serving is a little too small.
There are no desserts available, but Takashi doesn't give you a reason to crave. As you enjoy your second stick of the yakitori, you'll notice another illustration just near the kitchen entrance of a Japanese man looking satisfied eating noodles. Think of it as a mirror. You probably look that happy as well.
ADVERTISEMENT - CONTINUE READING BELOW
Share this story with your friends!
---
Help us make Spot.ph better!
Take the short survey
Load More Stories