New Restaurant Alert: The Bowery at Burgos Circle, Bonifacio Global City
It's Borough's more upscale younger brother.
The Bowery
F151 Forbeswood Heights, Rizal Drive corner Burgos Circle, Bonifacio Global City
Tel. No. 0936-929-6073, 0917-532-2612
Open 24 hours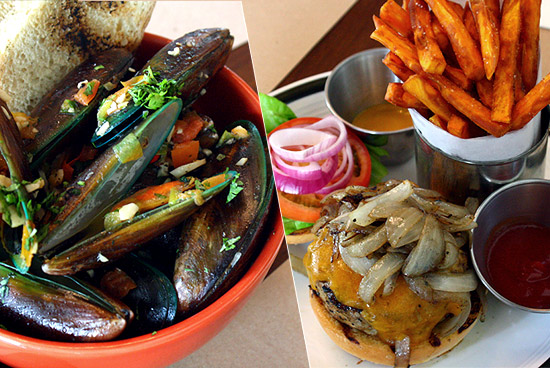 (SPOT.ph) Chef Cuit Kaufman sure knows how to spoil people. In his latest playground, he pairs honey blueberry compote with seared foie gras and his macaroni and cheese comes with truffle and lobster. It's comfort, just like his older spot, Borough, but a more luxurious kind. Whether you opt for the simpler buttermilk fried chicken or the fancier hanger-cut steak with bearnaise sauce, at The Bowery, you'll be rewarded every time in flavor-and portions.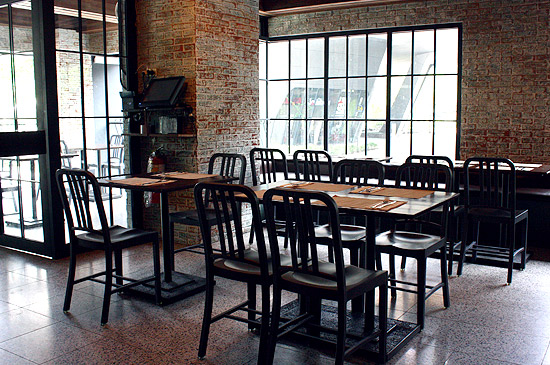 ADVERTISEMENT - CONTINUE READING BELOW
The Bowery is two floors with a casual NY feel.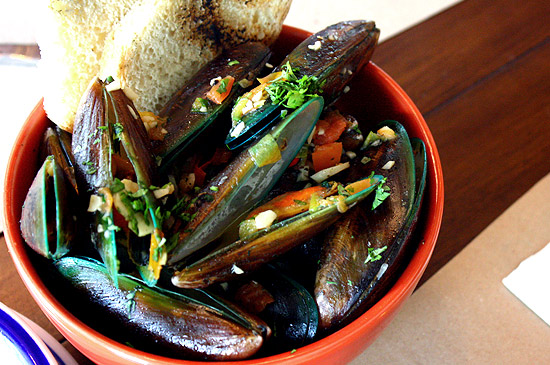 CONTINUE READING BELOW
Recommended Videos
Steamed Mussels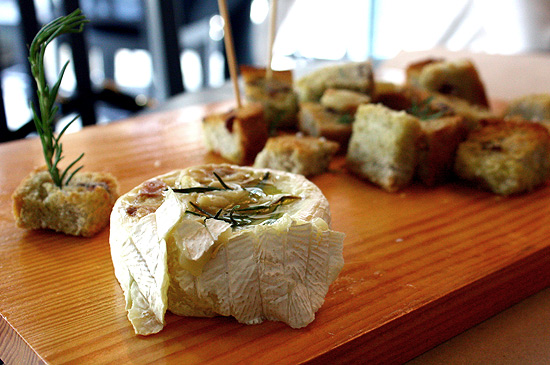 Baked Camembert
Hefty servings make the appetizers look more like typical mains in other restaurants, but The Bowery is all about sharing. Large steamed mussels (P460), each about the size of a spoon, crowd and cover a pool of spicy broth spiked with beer and seasoned with punchy Thai flavors. Make sure to dig deep for the broth because they're delicious with the grilled sourdough or even as a soup. In the Baked Camembert (P620), a small wheel of the cheese is oven-roasted to a creamy softness and bathed in extra virgin olive oil. Have it with the roasted rosemary garlic and cubes of homemade cranberry pecan bread.
ADVERTISEMENT - CONTINUE READING BELOW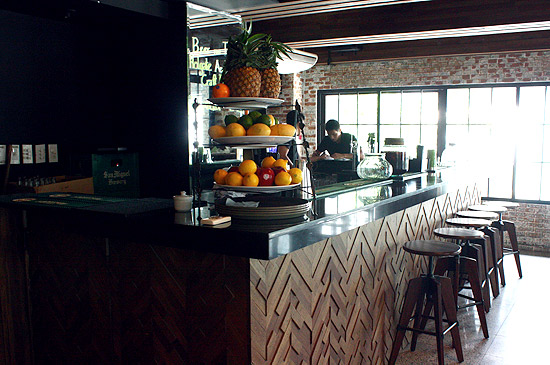 Bar area on the second floor
Chef Cuit, Jewish-Mexican New Yorker, takes inspiration from New York's melting pot. His menu is a medley of culinary inspirations-linguini with clams, chicken kebab pita, a Greek-inspired salad. The orange-hued Manhattan Clam Chowder (P180), however,  isn't what one is accustomed to seeing in the New England classic. It's tomato-based, with tons of tender chunks of root vegetables. The peppery undertone tamed only when you stir in the dollop of sour cream.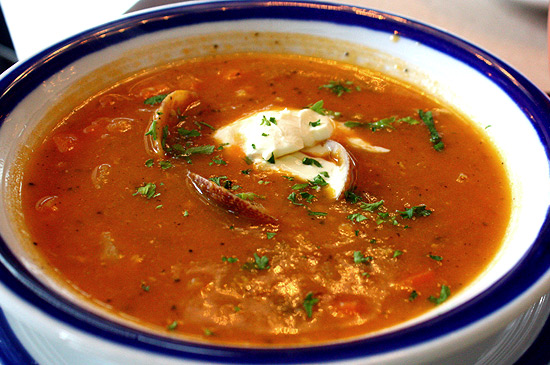 ADVERTISEMENT - CONTINUE READING BELOW
Manhattan Clam Chowder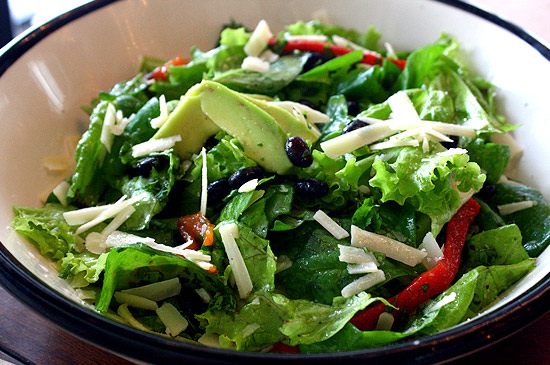 Moc's Sweet Chili Beaner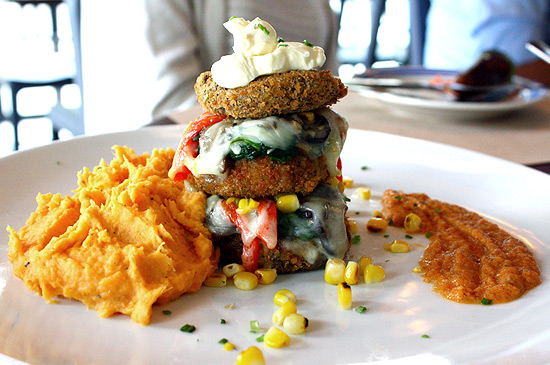 Spicy Black Bean Cake Napoleon
There's that same "novel" effect in Moc's Sweet Chili Beaner (P280). The salad isn't your usual garden of greens with a slapdash sprinkle of dressing. The combination of arugula, spinach, roasted peppers, avocado, black beans, Parmesan cheese, and fresh cilantro, tossed in a sweet chili vinaigrette, triumphs in delivering a balance of flavors and a wonderful combination of textures. The Spicy Black Bean Cake Napoleon (P520) is another veggie option even meatlovers could crave. Available only during dinner, a hearty stack of three crumbed and cumin-spiced bean cakes sandwiches a blend of sautéed spinach, shiitake mushrooms, strips of roasted red bell peppers, and melted Monterey jack cheese. It comes with a mound of sweet potato mash, grilled corn kernels, and a swipe of roasted tomato salsa.
ADVERTISEMENT - CONTINUE READING BELOW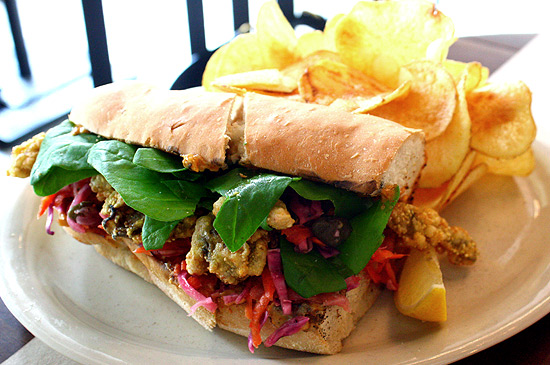 Po' Boy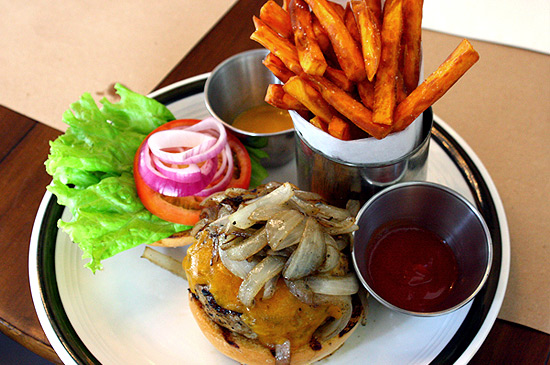 Turkey Burger
The Bowery is as good a place as any for carnivores, but they themselves might have a change of heart with the non-meat options. A sandwich that doesn't hold back on the filling is the po' boy (P480). Spicy remoulade is spread on a flat hoagie that is stuffed with generous portions of apple coleslaw, arugula, and cornmeal-crusted fried oysters. TheTurkey Burger (P580) is also another delicious alternative to beef. The patty is thick-a good two-incher-tender, moist, perfectly seasoned. It comes with the usual suspects-a soft brioche bun, tomato and lettuce, and while extra onion and cheese will have you shelling out a couple more bucks, the amalgamated flavor that gets more savory and deliciously complicated with every additional topping is worth it.
ADVERTISEMENT - CONTINUE READING BELOW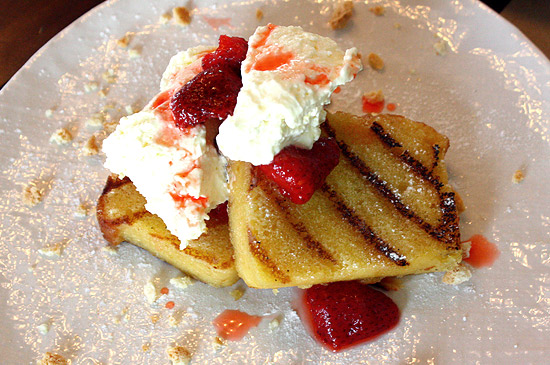 Grilled Strawberry Shortcake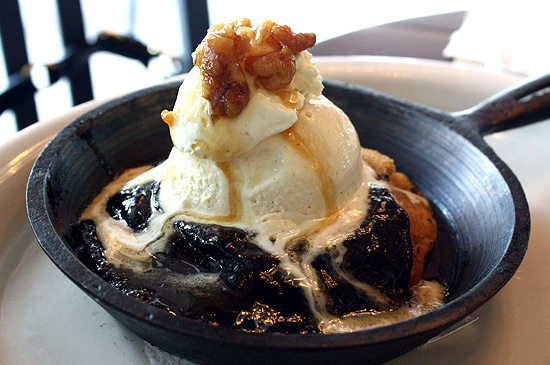 This cookie a la mode also takes inspiration from Borough's Milk and Cookies.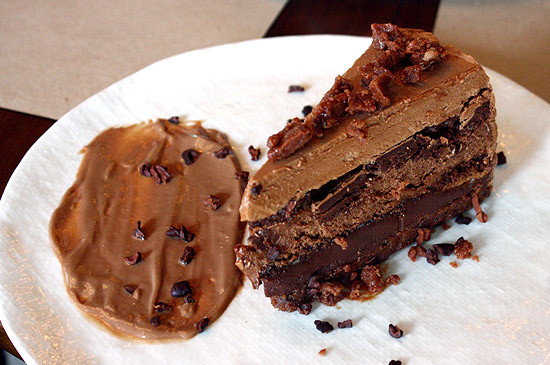 ADVERTISEMENT - CONTINUE READING BELOW
Death by Chocolate
Dessert is something you shouldn't pass up when you're at The Bowery. Chef Cuit is actually a pastry chef and anyone who's been to L.E.S. Bagels is aware that he knows his stuff. In the Grilled Strawberry Shortcake (P360), two buttered slices of pound cake kiss the grill only long enough to develop a toasted flavor that goes well with macerated strawberries, crumbs of almond-flavored amaretti cookies, and clouds of whipped cream. The Death by Chocolate (P340) layers seven textures and forms of chocolate into one sweet and solid dessert. A brownie base holds together chocolate ganache, mocha meringue, chocolate mousse, chocolate truffle cake. The entire structure is robed in chocolate buttercream then sprinkled with a fudge crumble. As if that's not enough, chocolate crème anglaise graces the plate along with crushed cacao nibs. It's so good that it might make you forget the food you had before it.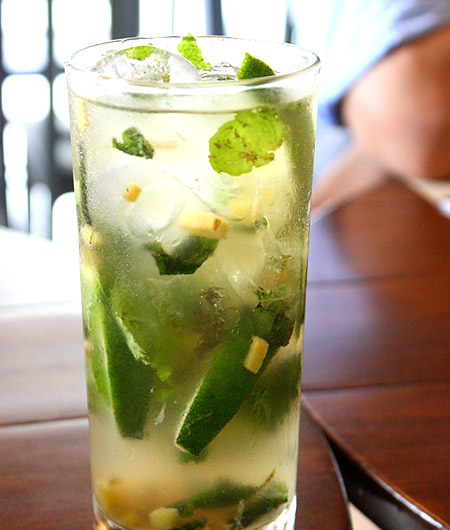 ADVERTISEMENT - CONTINUE READING BELOW
Mojito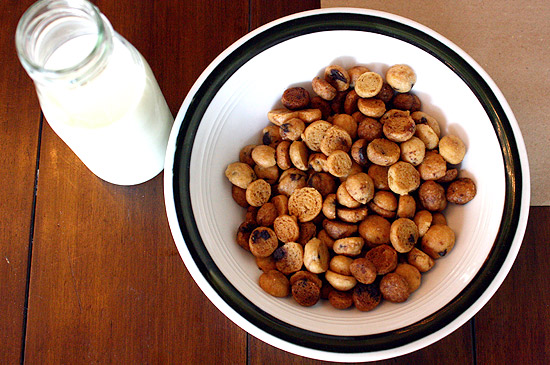 Cookie Cereal
If you're a fan of Borough's Milk and Cookies, then this freshly baked version of Cookie Crisps will tickle your fancy. Chef Cuit reduces his cookies to centavo-sized circles, puts them in a bowl, and serves them with a jug of cold milk. It's a kind of sweet blessing every morning should have. The cookie cereal was developed for the breakfast menu, but no one would stop you from having it to appease a midnight craving-or for dessert.
Share this story with your friends!
---
Help us make Spot.ph better!
Take the short survey
Load More Stories