Top 10 Crispy Pata in Manila
Oh yes, we did it.
(SPOT.ph) Since a popular restaurant introduced this dangerously deep-fried dish in the '60s, crispy pata has left a mark on Filipinos' hearts-hopefully not in the cardiac arrest kind of way. It's a deep-fried knuckle or leg with crackling skin, tongue-tingling sauce, and one-of-a-kind guiltless comfort.
Traditionally, crispy pata is boiled, marinated, and deep-fried resulting in a crisp-on-the-outside-yet-juicy-on-the-inside indulgent treat, but other restaurants have also turned to baking, broiling, and off-the-bone techniques for a more modern approach. We combed through chains, holes-in-the-wall, and bars for the best of the best crispy pata in Manila. It was a challenge to narrow it down to a mere 10 (we practically ate an entire pig pen), but it's a sacrifice we were more than happy to make.
All SPOT.ph Top 10 lists are researched, paid for, tested, and selected by the writers and editors. They are discreetly conducted without any notice made to the restaurants or their owners.
ADVERTISEMENT - CONTINUE READING BELOW
Here are the restaurants in Metro Manila where you can find the best crispy pata: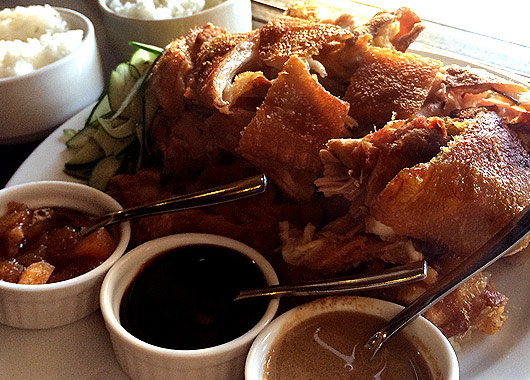 10. Kuppa Roastery & Café's Crispy Pata (P640)
Kuppa doesn't look like a place that would have crispy pata, but be glad that they do because they do it pretty well. Each bite satisfies with crispy pork skin and lots of meat, but without the scary chunks of fat that can turn some people off. The flavor is modest, but enough to make you pick on the knuckle nonstop without feeling too full. The simple flavor is assisted by three sauces: soy sauce and vinegar, sarsa or liver sauce, and apple chutney. It's up to you to decide which works best. Kuppa's Crispy Pata is good, but some versions work great without the extras.
ADVERTISEMENT - CONTINUE READING BELOW
Kuppa Roastery & Café, G/F CommerCenter, 31st Street corner 4th Avenue, Bonifacio Global City.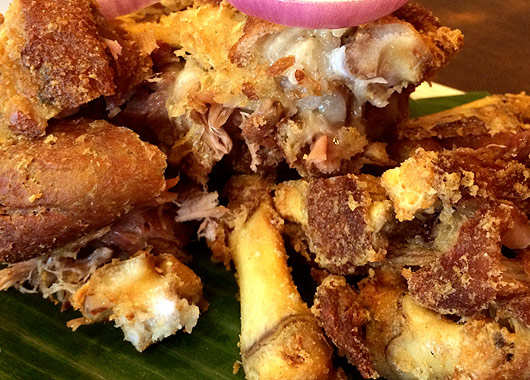 9. Bangus Restaurant's Crispy Pata (P675)
Great milkfish is a sure thing around here, but expect solid crispy pata from them as well. Their version is served with a special sweet sauce that will keep you digging for meat to dip into it. No questions, no hesitations: just simple, good Filipino food that leaves you satisfied-yet hungry for more.
ADVERTISEMENT - CONTINUE READING BELOW
Bangus has branches at Greenhills Carpark 1, Greenhills Shopping Center, San Juan; SM Mall of Asia, Pasay City; Robinsons Galleria, Quezon City; and Festival Supermall, Alabang, Muntinlupa City.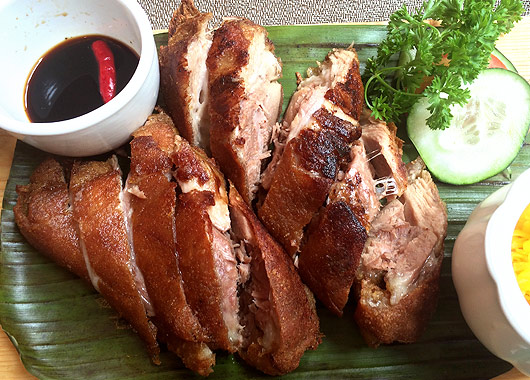 8. Bistro Pamana's Crispy Pata (P680)
Crispy pata is owner and chef Happy Ongpauco-Tiu's birthright. Her father claims to have invented this dish for the family-owned Barrio Fiesta chain of restaurants. The deep-brown skin snaps and crackles-none of that gunky, chewy effect that some kitchens end up with. Execution is perfect: salty, savory, meat tender and in great proportions with the fat. You can really feel the sense of pride that Chef Happy puts into preparing this culinary heirloom; she also adds her own personality by infusing Asian seasonings to the profile. Sometimes though, Bistro Pamana's knuckle is more bony than meaty. You've barely begun and there's nothing but bone left to munch on.
ADVERTISEMENT - CONTINUE READING BELOW
Bistro Pamana is at G/F Greenbelt Mansions, 109 Perea Street, Legazpi Village, Makati City.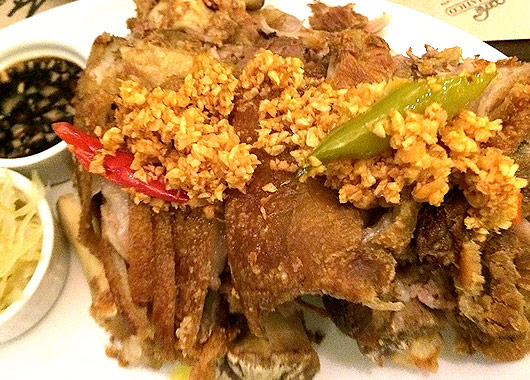 7. Knockout Knuckles (P595) at Abe
Abe is easily one of the best when it comes to classic Filipino food that it's hard to go there and order just one dish. The Crispy Pata, for one, works so well with the gising-gising. The smell of fried garlic and the sight of chopped chilies, however, validate your decision to go big with an order of Crispy Pata. And that's just face value. There's a combination of flavors and textures, crunchiness and juiciness, that will hold your taste buds captive until the last bite. Be grateful that they offer unlimited rice!
ADVERTISEMENT - CONTINUE READING BELOW
Abe has branches at Serendra, Bonifacio Global City; and Trinoma Mall, Quezon City.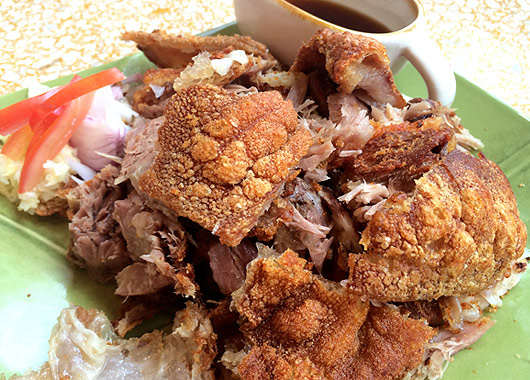 6. Sentro 1771's Boneless Crispy Trotter (P553)
It's strange that the sinigang eclipses the crispy pata in popularity, but this hearty tradition shines well on its own. Sentro specializes in Filipino fare influenced by international techniques, and it's developed a reputation for introducing foreigners to our food. The Boneless Crispy Pata will definitely make anyone feel welcome.  The skin crackles like chicharon and the meat, which almost resembles pulled pork because it is served off the bone, is so tasty and moist that it could be enjoyed on its own. Our tip: devour the meat with the sauce and rice, save the best (the skin) for last. Your tummy will thank you.
ADVERTISEMENT - CONTINUE READING BELOW
Sentro 1771 has branches at Serendra, Bonifacio Global City; Greenbelt 3, Makati City; and Capitol Commons, Oranbo, Pasig City.
[previous|page|next]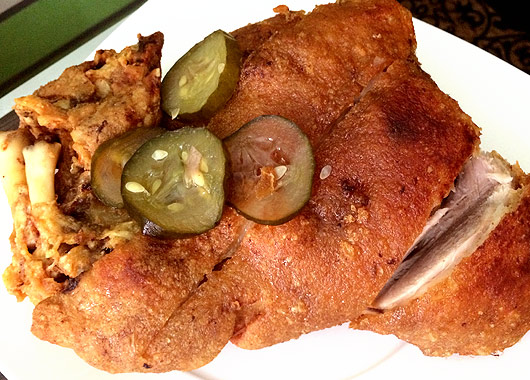 5. Jamicos Restaurant's Judy Ann Crispy Pata (P500)
Malabon is known for their pancit, but this crispy pata is worth the drive there, too. Sliced pickles on top drench the pata in salty-tart juices, coating tanginess on the skin whose crispness is impressively impervious to it. It reminds us of bagnet, actually. White-meat lovers will enjoy the hefty portions served with two kinds of sauce. (Go for the sweet chili one and turn it into a variation of sweet and sour pork.) Jamicos is currently under renovation but because the Crispy Pata is so popular, a makeshift takeout counter on the sidewalk allows you to order it. While you're in Malabon, have some pancit to go with your pork knuckle.
ADVERTISEMENT - CONTINUE READING BELOW
Jamicos Restaurant is at 201 General Luna Street, Concepcion, Malabon City; Tel. No. 281-4193.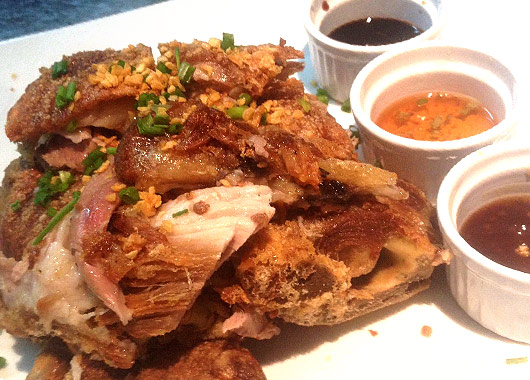 4. Cerchio's Oven Baked Crispy Pata  (P650)
Served with three sauces, Cerchio's Crispy Pata looks dolled up, but that's only skin-deep (crisp, clean-tasting skin from avoiding the fryer that we wish more restaurants would start adopting this method). It tastes like something your grandmother would have lovingly made for you at home. The meat is cooked perfectly and evenly, with the juices and flavors sealed in. Cerchio shows us how an old favorite can be refreshed without losing integrity. Surely, this direction of modern Filipino cuisine is one we'd like to see more often.
ADVERTISEMENT - CONTINUE READING BELOW
Cerchio Grill and Lounge is at 76 Scout Limbaga Street, Quezon City (near Tomas Morato).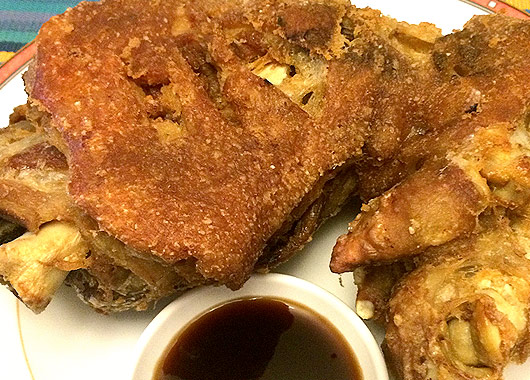 3. Analisa's Crispy Pata (P310)
Analisa's is nothing more than a huge takeout window with a small kitchen that speaks loudly and deliciously-so much that it's developed a cultish following over the years. The Crispy Pata is well-seasoned without being too salty, and the sauce has the right ratio of vinegar and soy sauce that keeps everything balanced. Careful consideration is also applied in their service. The dish is placed in a nice brown paper bag left open to keep the skin oh so crispy.
ADVERTISEMENT - CONTINUE READING BELOW
Analisa's Crispy Pata is at 8 Kamuning Road, Quezon City (across Delgado Hospital); Tel. No. 413-2280.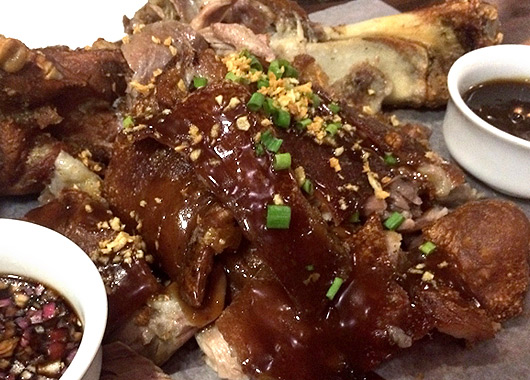 2. Tipsy Pig's Crispy Pata (P770)
It's only right for you to expect good pork from a restaurant called Tipsy Pig. Their Crispy Pata is served off the bone. The paint of sweet sauce makes it glisten so much that you'll find yourself mesmerized-at the shine, at your hungry reflection, at the sheer deliciousness. The combination of sweet and salty works so well: the perfect bite would include the skin, meat, sauce, rice, and maybe a side dish. Get the coleslaw for a nice balance.
ADVERTISEMENT - CONTINUE READING BELOW
Tipsy Pig is at Capitol Commons, Pasig City.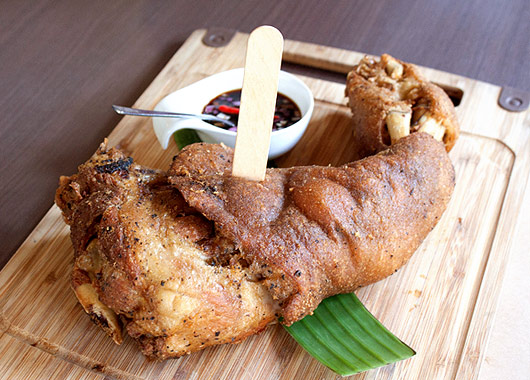 1. Livestock's Crispy Pata (P590)
The popsicle stick sticking out of the whole leg of pork is a hint. This Crispy Pata melts in your mouth like an ice pop. (It's also intended as a knife because the flesh is just that soft, the thin skin that ready to crack.) The textures are reminiscent of cochinillo, in fact. Chef Cecilia Magdangal Uy experimented for months to perfect the recipe that she refuses to divulge. The meat is so tender and moist, with a mild but flavorful pork profile. Put a piece inside your mouth and it disappears because it's just out-of-this-world good. It doesn't even take that much effort to tear it apart and gobble it. The willpower not to finish the whole thing is an entirely different story.
ADVERTISEMENT - CONTINUE READING BELOW
Livestock Restaurant and Bar is at 34 Sergeant Esguerra Avenue, South Triangle, Quezon City.
CONTINUE READING BELOW
Recommended Videos
Share this story with your friends!
---
Help us make Spot.ph better!
Take the short survey
Load More Stories