New on the Menu: The Black Pig's Lunch Boards + Other Savory Dishes
Nearly everything changed since your last visit.
The Black Pig
Commercenter, Commerce Avenue corner East Asia Drive, Filinvest Corporate City, Muntinlupa City
Tel. No. 808-1406, 0917-845-0744
Open from 5 p.m. to 12 a.m. (Monday) and 11 a.m. to 12 a.m. (Tuesday to Sunday)
ALSO READ: New Restaurant Alert: The Black Pig at Filinvest, Muntinlupa City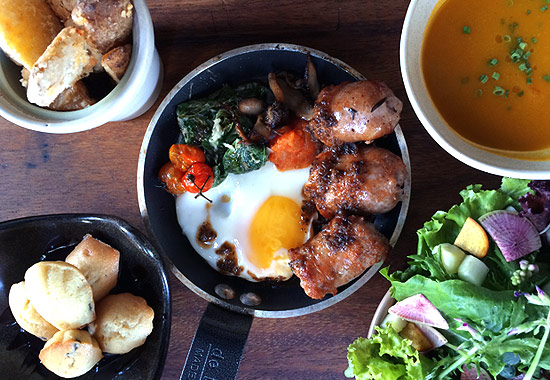 (SPOT.ph) If you had asked us a year ago, we would have said that getting attached to a pig is a ridiculous notion. But that's what the black-and-gray brick space of The Black Pig does to you. It's a permanent lure to the South.
ADVERTISEMENT - CONTINUE READING BELOW
The main reason for that attachment, the poached egg with cheese bread soldiers, is gone. That dish was magically simple-or simply magical. You could see it both ways: a messy affair where a pair of poached eggs resting on a moat of mushroom puree is ambushed by crispy sticks of Parmesan. Like all good things, it came to an end. But The Black Pig has moved on with three new ways to highlight slow-cooked eggs.
More than three actually. Nearly the entire menu has been edited and expanded.  A new area is currently being constructed to develop a dining area for private functions as well as add more seating.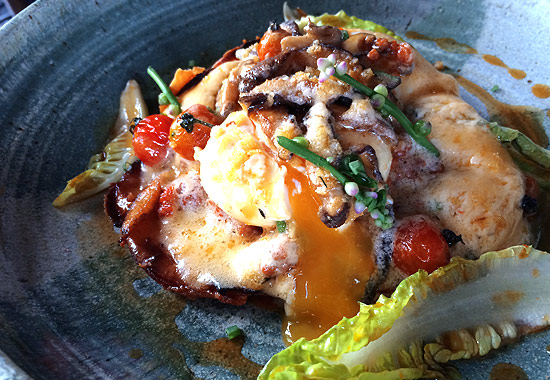 ADVERTISEMENT - CONTINUE READING BELOW
Slow-Cooked Eggs with Sobrassada (P380)
The antidote to missing the eggs is a deviation on the Eggs Benedict. Two pairs of slow-cooked eggs sit on a crisp nest of potato roesti. Ripe cherry tomatoes are cooked only enough to squirt out incredible tangy juices that mix with a béarnaise, while slices of salty sobrassada add smokiness that only a good shake of paprika could create. A thick yellow blanket of Hollandaise ties all the other elements-mushrooms, lettuce shreds, and alugbati flowers-together.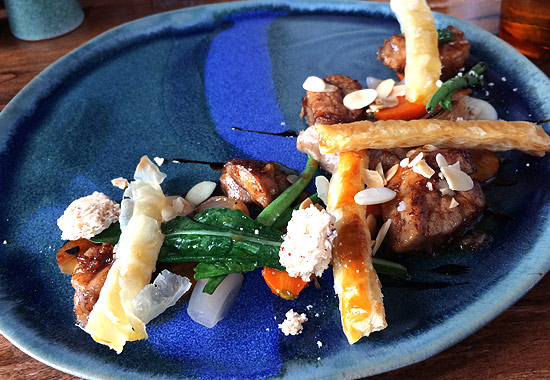 ADVERTISEMENT - CONTINUE READING BELOW
Veal Sweetbreads
Pork is essential at The Black Pig: pineapples now replace the apples in the famous slow-cooked pork belly to keep it more local, while there's a pig trotter bruschetta with mustard seed and red pepper. You'd think they'd exhaust their skills with pork, but The Black Pig actually does other things well. Their Veal Sweetbreads (P520) are best eaten as an ensemble-with burnt onions, greens, almonds, almond crumble, greens, and strips of mille feuille complete in each bite to bring out the plush texture of the pieces of thymus. The item isn't the most popular on the menu, admits co-owner Berna Garriz, but those who order it always find themselves impressed. For a country that loves isaw and dinuguan, offals aren't a stretch for the palate.
Lately, The Black Pig has been inviting a broader clientele. Lunch Boards for P420 (P520 with a drink) appeal to those who like to eat and go-but still prefer quality dining. Four courses are set on the wooden board (The Black Pig's presentation of choice) ready to be enjoyed. The Butifarra and Fried Egg almost calls to mind breakfast. The salty, fatty Catalan sausage rooms with a luscious runny egg, tomatoes, mushrooms, and greens in a skillet. It comes with a crisp green salad, sweet pumpkin soup, potato wedges, and miniature bites of madeleines with chocolate sauce.
ADVERTISEMENT - CONTINUE READING BELOW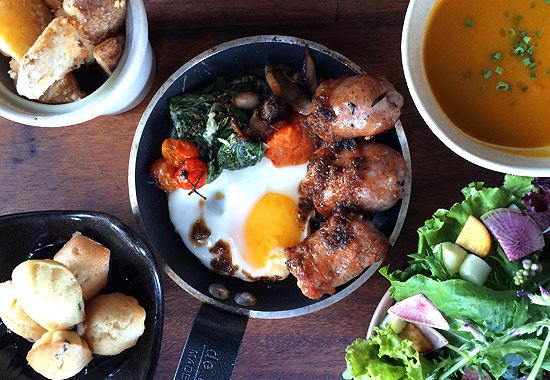 Butifarra and Fried Egg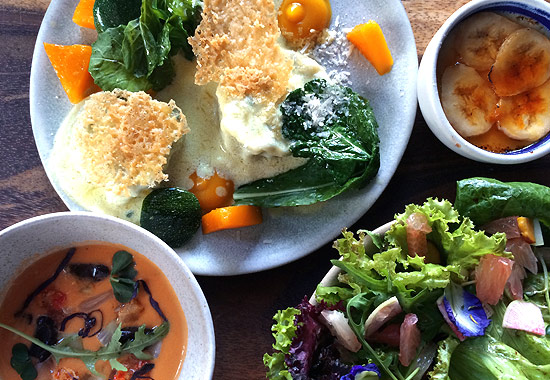 ADVERTISEMENT - CONTINUE READING BELOW
Spinach Ravioli
If the ravioli lunch board is any indication, then it's safe to say that The Black Pig does vegetarian as well as they do pork. The large pillows of pasta are plump with the savory greens and crowned with zucchini, pumpkin, and tuilles of cheese that deepen the profile. Refreshing complements make up rest of the board: a cool tomato soup similar to gazpacho and a pomelo salad. The finale is a small bowl of banana cheesecake glossy with a brulée top.
It's easy to get attached to The Black Pig, but letting go is difficult. The poached egg, for instance. But when you have chefs as playful as Tricia Macdonald and Carlos Rodriguez Garcia, it's something you'll have to get used to. These two always make sure there's something to look forward to during your next visit.
CONTINUE READING BELOW
Recommended Videos
Share this story with your friends!
---
Help us make Spot.ph better!
Take the short survey
Load More Stories