Top 10 Cheeseburgers Under P200
A burger is always better with a layer of cheese, right?
<>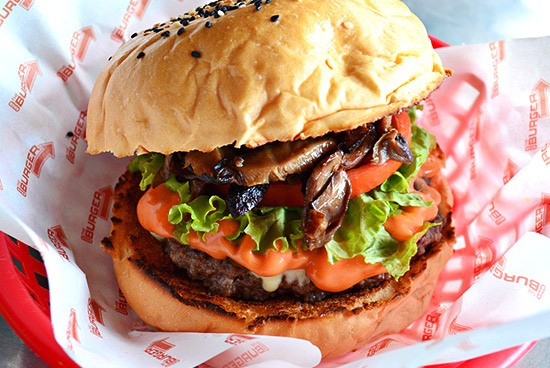 (SPOT.ph) Cheap burgers?! If you're expecting a lank mystery-meat patty with a thin sheet of refrigerated cheese between supermarket buns, well, we're happy to prove you wrong. Nowadays, a burger is not just about layering meat (ideally beef), veggies, and condiments. People's palates have evolved: they want more in between bread, then there's the added bonus of getting the most bang for their buck.
Ranking Manila's 10 best cheeseburgers under P200 was a Herculean task, but we did it. The meat sweats have come and gone, but our taste buds (and heavy wallets) will remember all the good feelings.
All SPOT.ph Top 10 lists are researched, paid for, tested, and selected by the writers and editors. They are discreetly conducted without any notice made to the restaurants or their owners.
ALSO READ:
Top 10 Gourmet Beef Burgers in Manila (2011 Edition)
Top 10 Gourmet Beef Burgers in Manila (2013 Edition)
Top 10 Burgers Under P100 (2010 Edition)
Top 10 Burgers Under P100 (2013 Edition)
Top 10 Chicken Burgers
ADVERTISEMENT - CONTINUE READING BELOW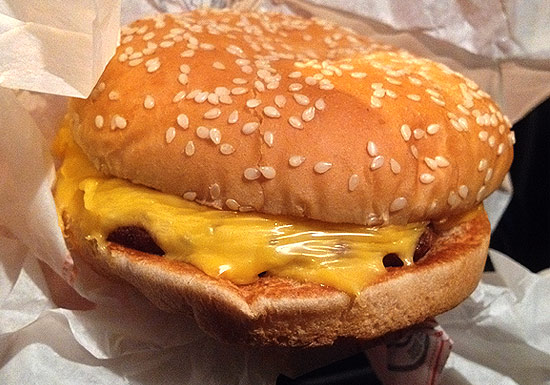 10. Burger King's Four Cheese Whopper (P150)
Burger King is a fast-food staple, but it's easily eclipsed by two other giants in the business. Still, their burger-heavy menu is top of mind for the occasional sandwich craving. The Four Cheese Whopper, while under the radar compared to other fast-food burgers, is a bold and delicious combination of American cheese, mozzarella, cheese sauce, and Swiss cheese hugging a nice and juicy beef patty. Hey Champ, you better watch out for this contender!
Click here for a list of Burger King branches.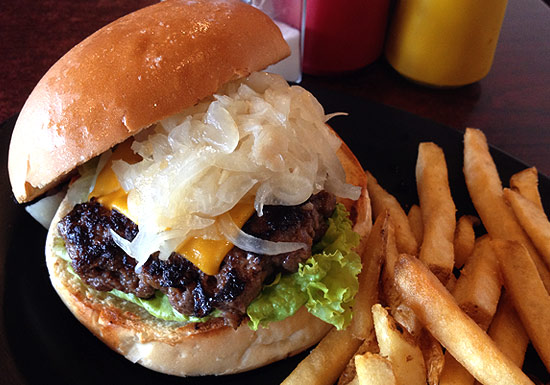 ADVERTISEMENT - CONTINUE READING BELOW
9. The Homerun (P130) at Zark's Burgers
Assuming that the cheap prices would equate to tea-sized burgers would be a huge mistake. Whatever discontent you feel from this burger is rectified by the enormity of its size. This is the definition of value for money. The Homerun is actually already one of the runts on the menu: It's your standard cheeseburger with a heaping of sweet caramelized onions on top and a price that doesn't really give you much to complain about.
Zark's Burgers has branches at 318 Katipunan Avenue, Loyola Heights, Quezon City; President's Avenue, BF Homes, Parañaque City; Venice Piazza, McKinley Hill, Taguig City; Eastwood Citywalk 2, Libis, Quezon City; and 2/F Archer's Nook Center, 2624 Taft Avenue, Malate, Manila.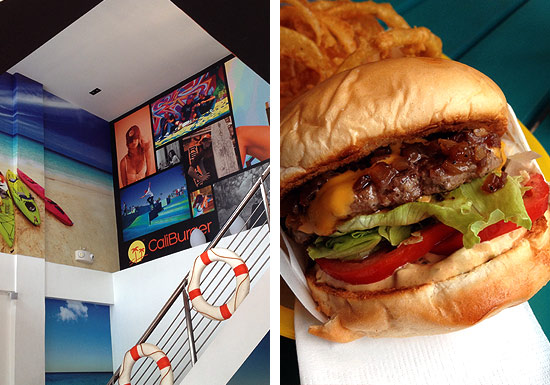 8. Cali Burger's Cheeseburger (P195)
If you take out all the In-n-Out similarities, you'll realize that this fast-food joint has a charm-and flavor-all its own. This burger is bursting with toppings and it's artfully presented for maximum mouthwatering impact. The thick, juicy patty looks like real beef; the greens are crisp and fresh; the large slices of tomatoes are plump; the cheese tastes like cheese. You can call Cali Burger anything you want, but this sandwich is the real deal.
ADVERTISEMENT - CONTINUE READING BELOW
Cali Burger has branches at 118 Timog Avenue, Quezon City; and 4/F Century City Mall, Kalayaan Avenue, Makati City.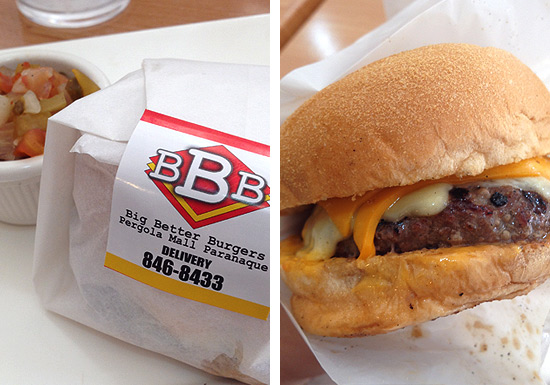 7. Big Better Burgers' Three Cheese Explosion (P161)
The trio of cheeses explodes inside your mouth. Mozzarella, cheddar, and "quezoloco" (cheese sauce) oozing out over the sides give this quarter-pound burger the right amount of saltiness. It's not much to look at, but this is no beauty pageant. It's the meaty, juicy, flavorful inside that counts.
Click here for a list of Big Better Burgers Branches.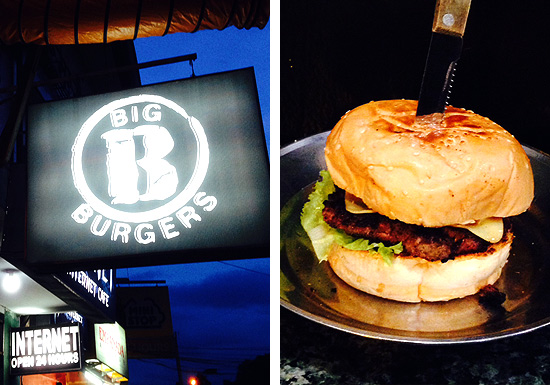 ADVERTISEMENT - CONTINUE READING BELOW
6. Big B Burger's Big B (P99+)
The menu is small and the restaurant is simple, but the patty is what you come here for. The Big B, as they call it, is 50% beef and 50% bacon. Yep, B-A-C-O-N. Top that off with some mozzarella and a dollop of their "awesome sauce," and, well, the hole-in-the-wall has just become a hole-in-one-straight to our bellies.
Big B Burger is at 44-B Magiting Street, Teachers Village, Quezon City.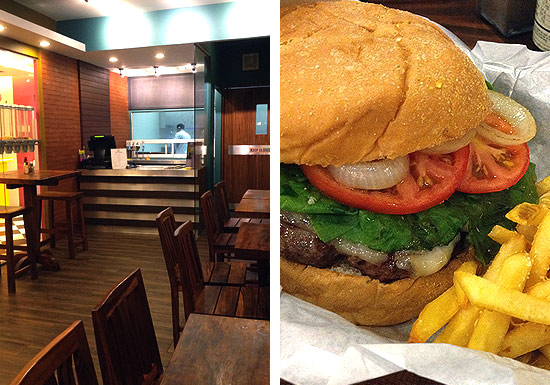 5. Burger Culture's Cheeseburger (P145+)
This months-old burger place is a sleeper hit. The concept is to build your own burger, and they have a wide array of premium toppings to choose from to complete your Ribeye Beef Blend patty. Burger Culture pulls away from the fast food type of burger with a patty that's beef through and through, and leaves no doubt about the quality of their meat. Layer it with some yummy cheese, and you're golden.
ADVERTISEMENT - CONTINUE READING BELOW
Burger Culture is at Tomas Morato Avenue corner Scout Madriñan Street, Quezon City.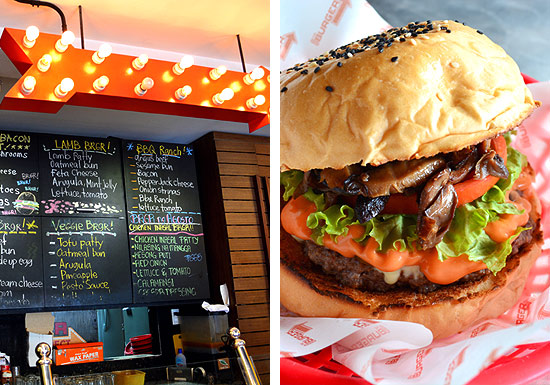 4. The BRGR Project's Cheeseburger (P200)
The BRGR Project is the home of personalized burgers, and they even let you name your delicious creation. Building your baby is as easy as choosing from a checklist of elements. Maximize your budget and flavor by getting the 100% Angus beef patty on a sesame seed bun, with mozzarella cheese, special BRGR sauce, sautéed mixed mushrooms, lettuce, tomato, and pickles (the last one's free!). This is one amazing smorgasboard of big, juicy beefiness, and creamy light cheese. The freshness of the ingredients can't be overlooked and that makes a big difference in taste.
The BRGR Project has branches at 122 Maginhawa Street, Teachers Village, Quezon City; 51 Scout Rallos Street, Quezon City; and 38 Jupiter Street, Bel-Air, Makati City.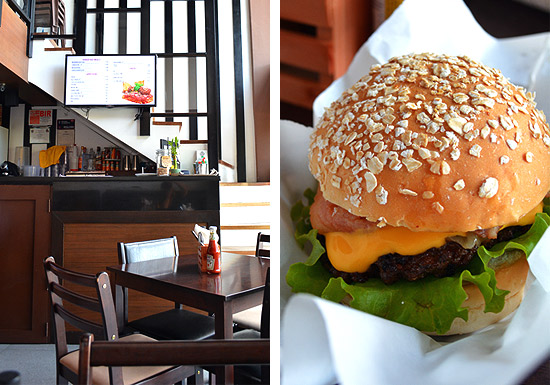 ADVERTISEMENT - CONTINUE READING BELOW
3. The Burgery's Fat Tony (P158)
The waiter recommends The Fat Tony, a burger made up of a one-third-pound patty and embellished with onion relish, lettuce, tomato, bacon, and cheese. You won't know what to expect from the "Bad Boys of Burger," but what arrives at your table is a brawny but clean-cut display of oat-speckled buns, a thick shiny patty, bright greens, and oozing cheese sauce. Nope, it's not "bad" at all, in fact, it's so good, you'll want everybody else to know about it.
The Burgery has branches at 231 C. Aguirre Avenue, BF Homes, Parañaque City; and Tuscany, Upper McKinley Road, Taguig City.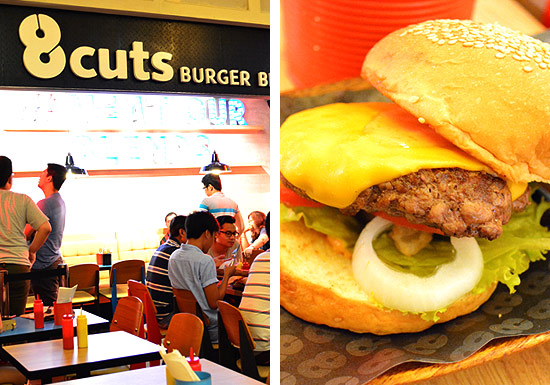 2. 8 Cuts Burger Blends' Cheeseburger No. 3 (P145)
You know how burgers look in cartoons? This one is a real-life version. It's a quarter-pound burger topped with lettuce, tomato, cheese, and the most perfect amount of sauce. The beauty of any 8 Cuts burger is in its modesty, and this exemplifies that ideal. Despite having fewer and simpler ingredients than some of the other contenders on this list, you'll find everything you'd expect from a cheeseburger here-and then some. There's inexplicable comfort when the vision in your head aligns perfectly with the taste in your mouth.
ADVERTISEMENT - CONTINUE READING BELOW
8 Cuts Burger Blends has branches at 3/F SM Mega Fashion Hall, Mandaluyong City; 2/F UP Town Center, Katipunan Avenue, Quezon City; 2/F TriNoma Mall, North Triangle, Quezon City; and G/F Power Plant Mall, Rockwell, Makati City.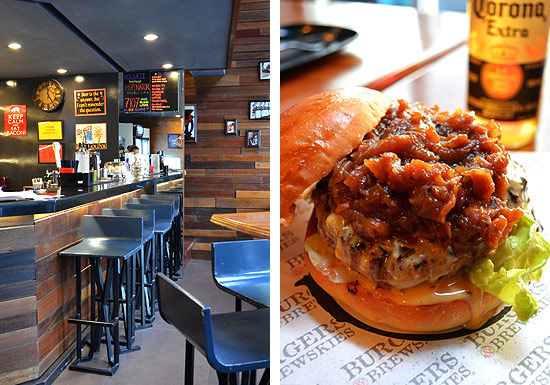 1. Burgers and Brewskies' Neat Burger (P198)
Pairing a burger with the right beer should be an art form, and the people behind Burgers and Brewskies should be hailed as real craftsmen. From the array of their signature burgers, get the Neat Burger-one-third pound of 100% imported beef patty cooked to a perfect medium-topped with roasted garlic aioli, B&B cheese sauce, and onion confit. The sweetness of the onions brightens the hearty flavors of beef, and the double serving of sauce amps up the juiciness in each bite. The bun is fun, almost like a pretzel, which complements the tenderness of everything else. If you have a few extra bucks, wash it down with a bottle of Corona. The pairing is worth it.
ADVERTISEMENT - CONTINUE READING BELOW
Burgers and Brewskies is at Bellagio II, Forbes Town Center, Burgos Circle, Bonifacio Global City.
ALSO READ:
Top 10 Gourmet Beef Burgers in Manila (2011 Edition)
Top 10 Gourmet Beef Burgers in Manila (2013 Edition)
Top 10 Burgers Under P100 (2010 Edition)
Top 10 Burgers Under P100 (2013 Edition)
Top 10 Chicken Burgers
Load More Stories