New on the Menu: Rambla at Rockwell, Makati
A trip to this tapas haven is an ever-changing adventure.
Rambla
G/F Joya Building, Joya Drive, Rockwell, Makati City
Contact: 823-6468, 0926-690-9774
Open daily from 11:30 a.m. to 3 p.m., 6 p.m. onwards
ALSO READ: New Restaurant Alert: Rambla at Rockwell, Makati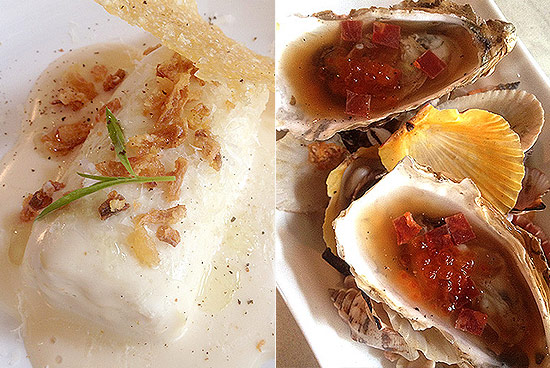 (SPOT.ph) This restaurant is a few weeks short of being a year old yet the menu has already seen so many updates and revisions-five, to be exact. It's part of Rambla's plan to give loyal patrons more reasons to return and discover new favorites. On the chef's end, it gives corporate chef Pepe Llopez license to play around in the kitchen. It's a win-win situation that's really just delicious for everybody.
ADVERTISEMENT - CONTINUE READING BELOW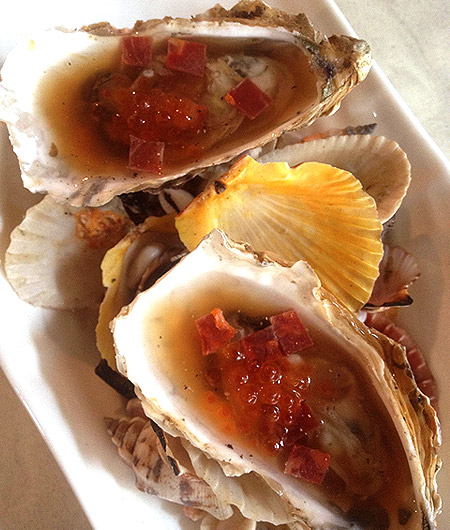 Oyster
Chef Pepe changed more than half the menu and retained only what have already become bestsellers like the famous Ricotta Gnudi. He bulked up the number of options that highlight their per-piece French-flown Fine de Claire Oysters No. 3. The Oyster Surf & Turf (P395), for example, matches the soft and juicy saltwater clam with a zesty ponzu sauce and thin slices of chorizo Iberico, which provides a pop of saline to the oyster's natural brininess.
ADVERTISEMENT - CONTINUE READING BELOW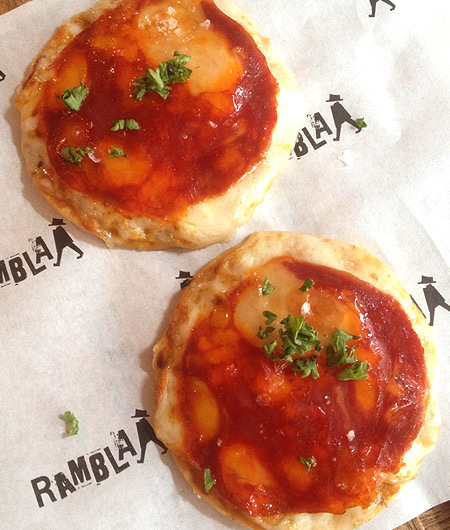 Iberian Chorizo Mini Pizza
The mini pizzas (P245) are actually bite-sized, herbed homemade crackers that have been piled high with a myriad of ingredients. Each order comes with four pieces, and you have a choice between salmon and arugula, goat's cheese and smoked eggplant, and butifarra or sausage with bell pepper. There's also more of that Iberian chorizo, which is hard to resist: a round slice lays on a bed of tomato sauce and melted mozzarella then finished with a chiffonade of basil. It's reminiscent of pepperoni pizza, only more robust in flavor.
ADVERTISEMENT - CONTINUE READING BELOW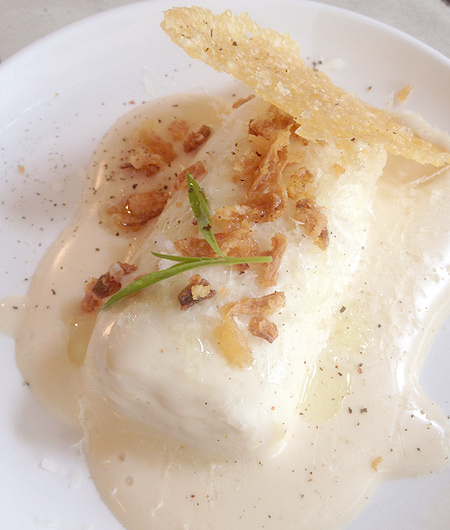 Roasted chicken cannelloni
The tapas section of the menu is dotted with a lot of interesting items, like Tuna-Uni Canneloni and a traditional Galician octopus dish called Pulpo a Feira. There's even a lechon-stuffed empanada that comes with grape jam to balance the flavors. A simple concept is enough to send a yummy message. Take, for instance, the Crispy Chicken Skin and Prawn (P465/four pieces): a plump piece of prawn with a demi-glace sits on a thin sheet of crisp, roasted chicken skin. It's seems so obvious that you'll wonder why no one has thought about it before.
ADVERTISEMENT - CONTINUE READING BELOW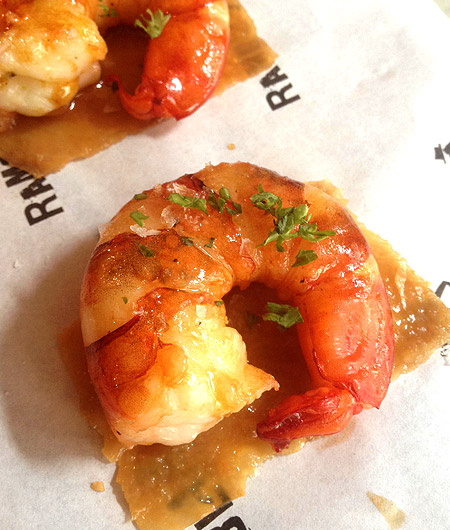 Crispy Chicken Skin and Prawn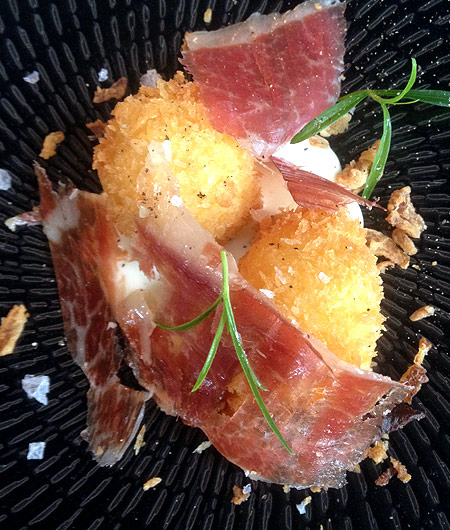 ADVERTISEMENT - CONTINUE READING BELOW
Fried Quail Eggs
Rambla dedicates a significant amount of menu space to eggs, including some from quail. Quail eggs are breaded and fried golden, then placed in a nest of manchego cream cheese and jamon. The ham and egg are good on their own, but it's the swipe of luscious cheese sauce that does a great deal to making this dish delicious.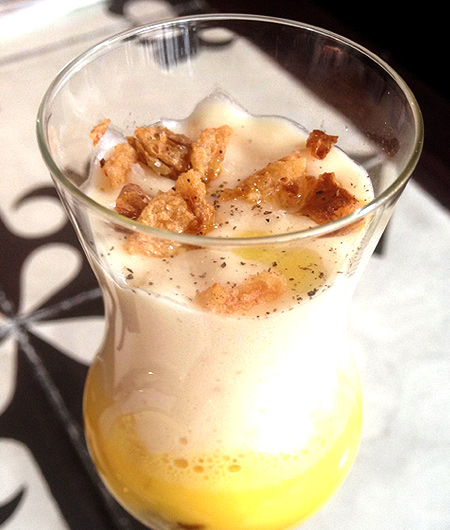 ADVERTISEMENT - CONTINUE READING BELOW
Liquid Spanish Omelette
The Liquid Spanish Omelette (P125) could certainly challenge the acclaim of the gnudi. The components-egg yolks cooked low and slow until creamy, caramelized and fried onions, potato foam made bold with the essence of octopus-are placed in a glass to be spooned up and enjoyed in layers. The texture is similar to hollandaise, but without the richness of butter and with the onions prepped two ways to make it sweeter.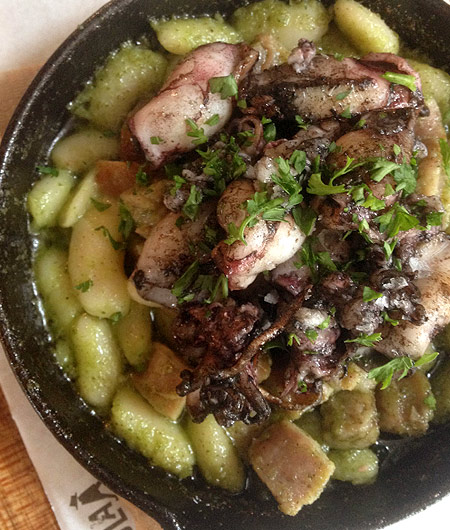 ADVERTISEMENT - CONTINUE READING BELOW
Chipirones
Tender baby squid, chunks of Barcelona sausage, and white beans that have been tinted with parsley puree make up the lone Chipirones dish (P395). The sauce begs to be mopped up with bread, especially since there's an undertone of white wine that brings all the ingredients together.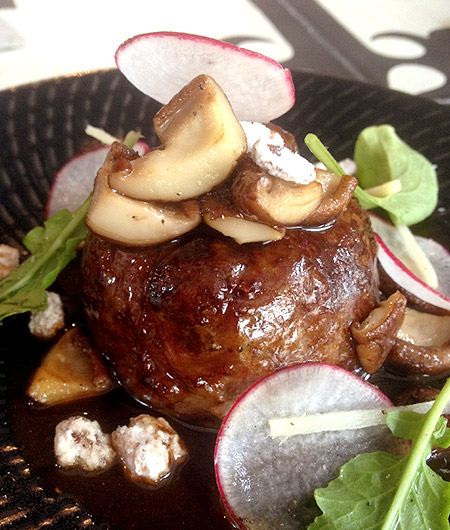 Veal Cheeks Fondant
ADVERTISEMENT - CONTINUE READING BELOW
A log of mushy roasted chicken is embraced by homemade al dente cannelloni then enrobed in thick béchamel made with Idiazabal cheese then crowned with a Parmesan crisp. A drop of truffle oil perfumes the dish, while fresh tarragon leaves give it a refreshing flavor. A single order (P465) has three pieces and is already as filling as the Veal Cheeks Fondant (P675), which falls under the heavier fare. Vanilla cream hides at the center of molded shredded meat, with a supporting cast of sliced radishes, sautéed mushrooms, and peppery arugula adding earthiness.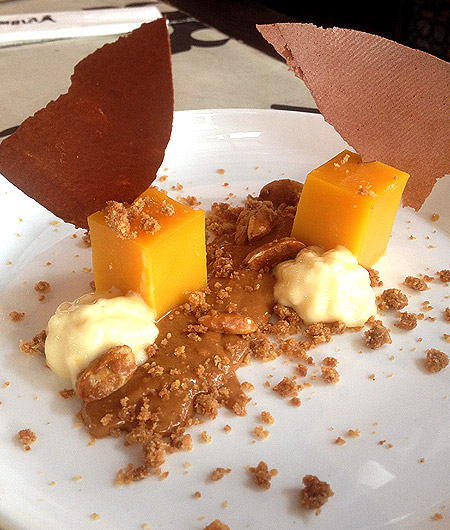 ADVERTISEMENT - CONTINUE READING BELOW
Tocinillo de Cielo
The Tocinillo de Cielo (P345) makes for a tangy meal ender with the cubes of passionfruit-flavored flan, while the restaurant's version of Tiramisu (P395) presents the classic flavors in different textures and forms and spiced with three liquors, Kahlua, Amaretto, and Bailey's.
Chef Pepe probably won't be able to contain his creativity, but we do hope he keeps it in enough for us to enjoy this current set.
Rambla also offers a special lunch menu from Monday to Friday, 11:30 a.m. to 3 p.m. The menu includes soups like Chicken Consomme and Gazpacho, homemade spaghetti and fettuccini pastas, ciabatta sandwiches stuffed with vegetables and pesto or jamon Serrano, burgers and desserts like Crème Brulee and Orange Sponge Cake.
CONTINUE READING BELOW
Recommended Videos
Share this story with your friends!
---
Help us make Spot.ph better!
Take the short survey
Load More Stories