Top 10 Truffle Fries in Manila
The best fries to try when you're craving something extra special
(SPOT.ph) Truffle seems to be a common element in restaurant menus these days, either infused in some rich, creamy pasta, a special pizza, or even a hearty soup. For those who have yet to discover and appreciate that distinct, earthy aroma and one-of-a-kind taste, truffle fries might be a good starting point. Some are tossed in varying levels of truffle oil or truffle salt, along with a confetti of cheese and pepper, while others have incorporated the flavor into an aioli or mayonnaise dip to bring out the creamy, almost buttery flavors. Potatoes also vary from long batons to thick wedges; while some are either uniformly cut or home-style versions.
In our search for the best truffle fries in Manila, we narrowed down the choices based on that distinct truffle aroma and flavor (whether in the fry itself or the dip that goes with it); consistent flavors (whether you picked off a piece of potato from the top down to the bottom); as well as the quality of the potato itself (ideally freshly-made, if not perfectly crisp on the outside, soft on the inside). And while it was to be expected that it would not be within the same price range as your favorite fast-food fries, the price had to be justified by the depth and quality of all these elements put together.
The ones that came out on top succeeded with just the right balance: not too overwhelming but still pleasing to the palate and worth coming back for, again and again. To hell with cholesterol!
ADVERTISEMENT - CONTINUE READING BELOW
Here are the Top 10 Truffle Fries in Manila.
Also read:
Top 10 Best French Fries Under P100 in Manila
SPOT.ph Round-Up: 10 Unique French Fries in Manila
All SPOT.ph Top 10 lists are researched, paid for, tested, and selected by the writers and editors. They are discreetly conducted without any notice made to the restaurants or their owners.
10. The Perfect Pint's Truffle Fries (P230)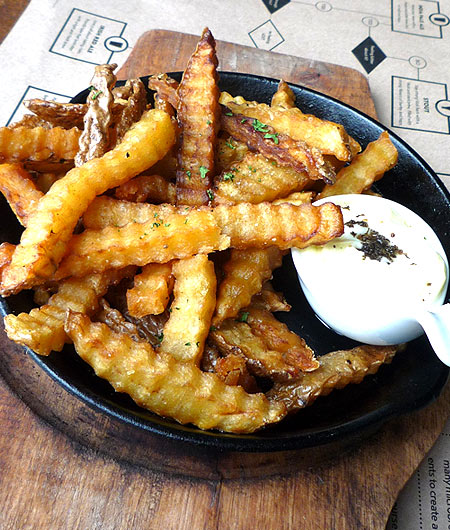 CONTINUE READING BELOW
Recommended Videos
This version gets plus points for presentation, but it takes a while before you discover the truffle flavors in Perfect Pint's fries. The saving grace is in the truffle mayonnaise dip that's paired with golden potato fries tossed in truffle oil. Give the dip a quick mix and you'll find that earthy flavor just waiting to surprise you. What might be lacking in the fries is made up for by the restaurant's interiors-and that glass of good quality beer. Pair your fries with a Pivo Praha Classic Pilsner and you're sure to come back another day.
ADVERTISEMENT - CONTINUE READING BELOW
The Perfect Pint is at 2/F Crossroads Building, 32nd Street, Bonifacio Global City (across MC Home Depot).
9. Truffle Fries Di Lussi from Italianni's (P195)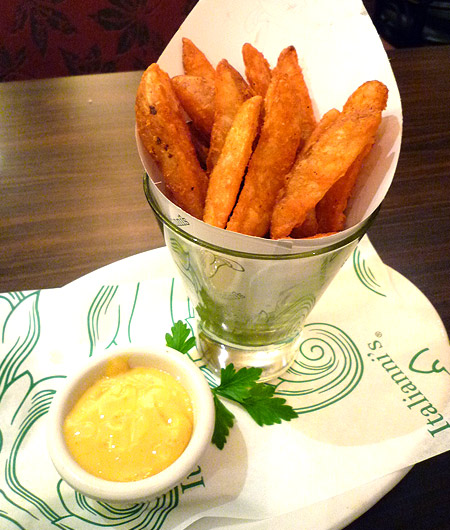 If you prefer that the bearers of your truffle flavors come in the shape of wedges rather than thinly-cut batons, then Italianni's has them for you. Each one so perfectly crisp on the outside and soft on the inside that you'll forget there's a special truffle mayonnaise dip sitting just right beside your serving. Once you dip them in though, you'll find that the subtle flavors are brought out with each bite, although some pieces may come on stronger than the others.
Click here for a list of branches.
8. 8 Cuts Burger Blends' Truffle Parmesan French Fries (P145)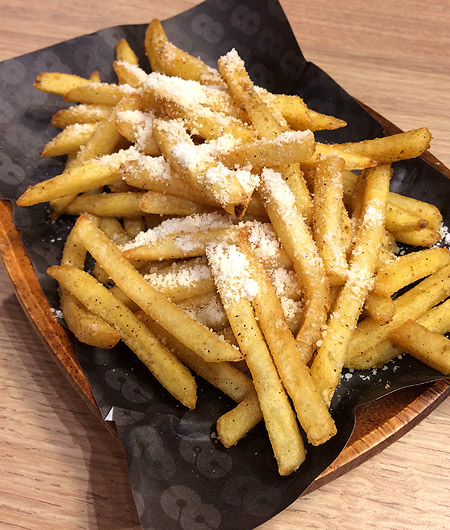 ADVERTISEMENT - CONTINUE READING BELOW
The fun part about 8 Cuts' version is that you get to choose your own potato type to pair with your desired flavors. Choose between regular French fries, waffle-cut fries, skin-on steak fries, or sweet potato fries and enjoy your truffle parmesan blend any which way you like it. We went with an old favorite, the skinny fries, which were perfectly crisp with a light truffle essence that's more on the salty side compared to others on this list. Nonetheless, it deserves a spot for its simplicity without scrimping on flavors-oh, and it's easy on your wallet, too.
Click here for a list of branches.
7. Chelsea Market and Cafe's Truffled Fresh Cut "Pommes Frites" (P350)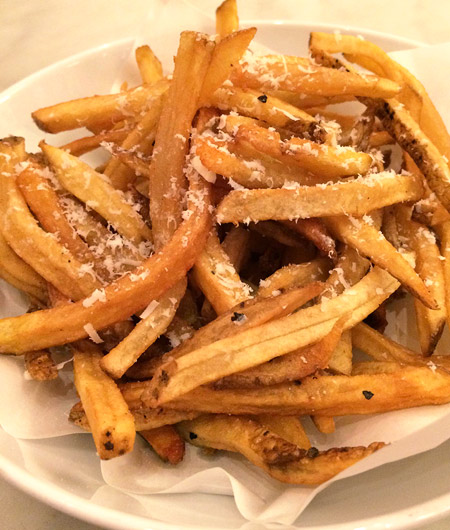 They offer a generous serving of fries at Chelsea, and we don't know if it's the pretty interiors or something else, but there's a homey flavor that's brought out in their version of the dish. It's comforting without the umay factor, with its combination of truffle oil, black pepper, and Malagos pecorino cheese. And while it's on the pricier end on our list, these fries stand out for having balanced flavors and for tasting like they've just come out of the fryer.
ADVERTISEMENT - CONTINUE READING BELOW
Chelsea Market and Cafe is at Serendra, Bonifacio Global City.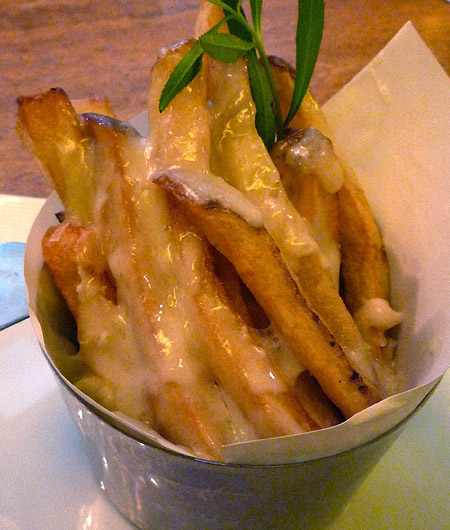 6. Lusso's Luxe Fries (P270)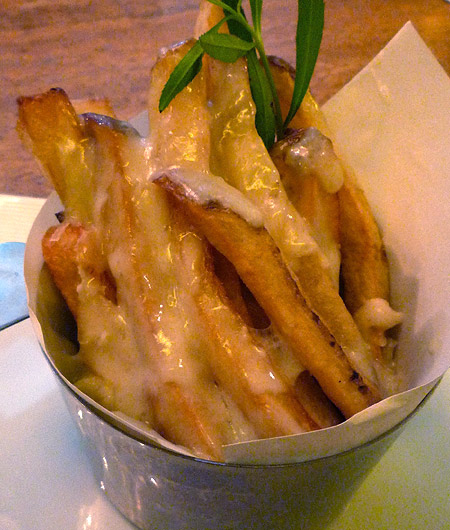 Lusso names its version of this indulgent treat rightly so: Their fries are so luxurious there are two kinds to choose from-one topped with melted Asiago cheese and truffle salt; the other smothered with truffle mushroom cream. We've chosen the cheese version for this list as it's more convincingly truffle-infused in terms of flavor, from one bite to the next. It would've earned a higher spot if only there was enough cheese to spread all the way to the bottom. If you're up for more truffle, Lusso also has truffle potato crisps to satisfy your craving.
ADVERTISEMENT - CONTINUE READING BELOW
Lusso is at G/F Greenbelt 5, Makati City.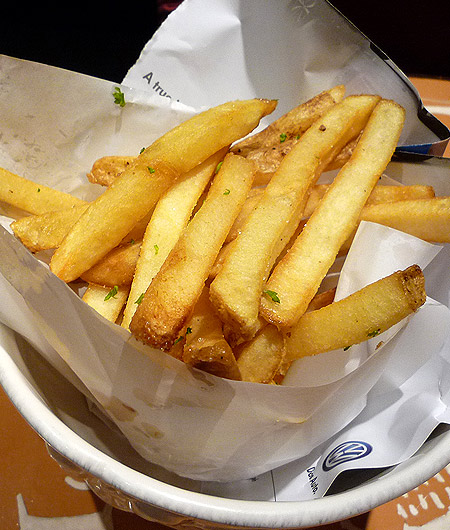 5. Cafe Publico's Truffle and Sea Salt Fries (P175)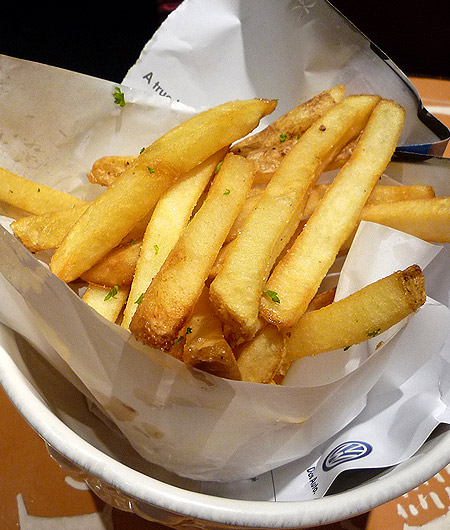 The fries at Cafe Publico are served fuss-free and so perfectly satisfying. Served in a white ceramic bowl lined with recycled magazine pages (think fish and chips, but without the fish), it could very well be ordinary French fries as you're used to having them, if not for that whiff of truffle that beckons once it's on your table. And because the flavors are not too overpowering, you're bound to finish the whole thing without feeling woozy. You can even pair it with one of their signature gelatos for a sweet-salty pairing that's a step up from your favorite fast food combo.
ADVERTISEMENT - CONTINUE READING BELOW
Cafe Publico is at 2/F Greenhills Promenade, Greenhills Shopping Center, Greenhills, San Juan.
4. Charlie's Black Truffle Fries (P195)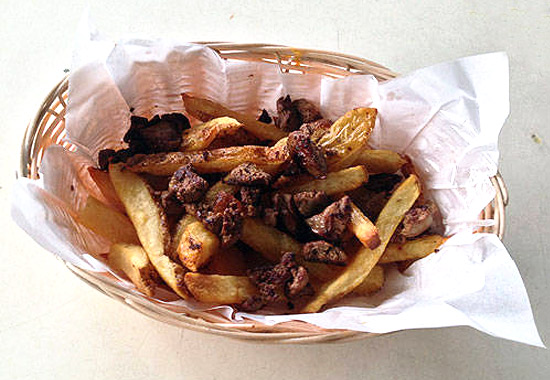 It's not the most photogenic dish, for sure (we've actually written about it before here), but for those who enjoy their fries just like you make them at home, Charlie's is the place to find them. The potatoes are undeniably flavorful, with that just-off-the-fryer texture and aroma. Never mind the generous helpings of grilled chicken liver on top; the fries alone are definitely worth a trip, a perfect complement to your favorite burger, perhaps. Charlie's version-Igorota Idaho potatoes tossed in truffle oil and truffle salt-is no frills and affordable to boot, which makes the entire experience all the more worthwhile.
Charlie's Grind and Grill is at 16 East Capitol Drive, Barangay Kapitolyo, Pasig City; and G/F Ronac Art Center, Ortigas Avenue, Barangay Greenhills, San Juan.
3. Buenisimo by Cafe Ysabel's Truffle Fries with Truffle Mayo (P208)
ADVERTISEMENT - CONTINUE READING BELOW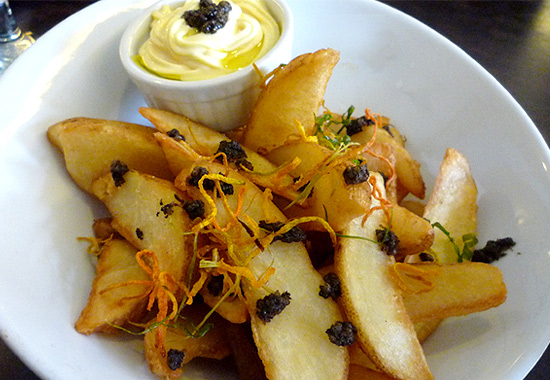 The fries at Buenisimo are generously served with layers of truffle goodness: from the bits sprinkled on top to the mayo dip that goes with it. The potatoes themselves-tasty wedges crunchy on the outside, soft on the inside-offer lots of pleasing bites from beginning to end. This version definitely does not scrimp on ingredients so you're sure to get your money's worth given the flavors and presentation. We paired ours with a towering glass of mango shake, another item on the menu that scores high on all points.
Buenisimo by Cafe Ysabel is at 24 Scout Tuazon Street, Barangay Laging Handa, Diliman, Quezon City.
2. The Cake Club's Truffle Fries (P210)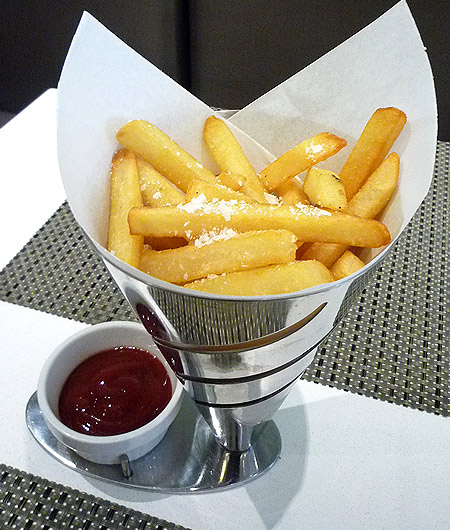 ADVERTISEMENT - CONTINUE READING BELOW
A quick search around the net for truffle fries in Manila reveals The Cake Club's version as a crowd favorite. Surprisingly, theirs is one of the more simpler takes among those we sampled, and yet the combination of crisp potatoes, truffle oil, and sea salt flakes (with a side of ketchup) hits just the right spot. From the first bite down to the last, you're sure to get equal doses of that earthy flavor, so that not one portion will leave you wondering where the truffle went. You'll only remember the ketchup in case you need a slight tang to break up the monotony; but you probably won't even have to dip your fries in it because it can definitely stand on its own from start to finish.
The Cake Club is at 2/F Bonifacio High Street Central, 7th Avenue, Bonifacio Global City.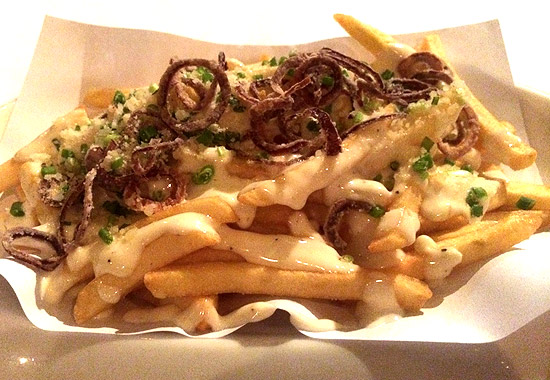 1. CAV's Truffle Fries (P350)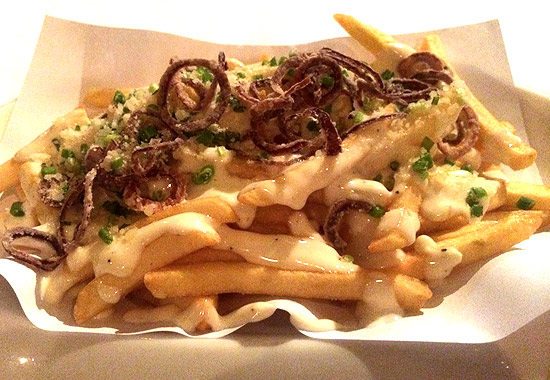 ADVERTISEMENT - CONTINUE READING BELOW
CAV's version succeeds with every bite: Theirs is topped with yummy truffle oil mayo with a crown of crispy shallots that gives an added crunch and zing to your taste buds. You're probably meant to eat them with a fork, just to be sure you get equal portions of this flavor combination. It's on the pricier end of our list, but with the big serving, you're bound to pass it around with at least one other friend (or two-there's a lot of it). You'll even feel extra luxurious inside CAV's cool interiors, so why not go all fancy and pair your fries with some refreshing cocktails or soothing wine?
CAV Wine Shop-Cafe is at G/F The Spa Building, 9th Avenue corner Lane P, Bonifacio High Street, Bonifacio Global City.
Also read:
Top 10 Best French Fries Under P100 in Manila
SPOT.ph Round-Up: 10 Unique French Fries in Manila
Photo of Charlie's Black Truffle Fries by Idge Mendiola
Share this story with your friends!
---
Help us make Spot.ph better!
Take the short survey
Load More Stories