6 New Places to Eat at the Greenfield District
The latest eat street in Manila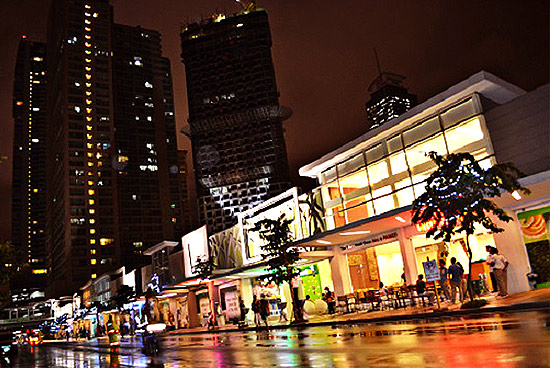 (SPOT.ph) Home to businesses, corporations, and call centers, Mandaluyong is a city that operates 24/7. Anywhere you look, you'll see tall buildings and expanding infrastructure. It would be crazy to expect lush greens and open spaces in a place right smack in the middle of major thoroughfares, but then there's Greenfield District, which is precisely that-a 12-hectare green field (from the same folks behind Greenfield City in Laguna) designed to be the ideal spot to take a breather amid the hustle and bustle of a business hub in the Metro.
In this community, commerce still thrives and luxurious living is on the rise, but the place is slowly transforming into a cool new hangout for yuppies and students alike. The Hub is Greenfield District's newest food strip, with a wide range of restaurants lined up appealing to every taste. Meanwhile, The Portal is a retail zone where the old marries the new, with a collection of foodie destinations that spell familiarity like Wendy's, Starbucks, and Dairy Queen.
The best part? The strip mall setup allows flexible opening and closing hours. We pick the standouts in this thriving green space that makes eating a terrific pastime.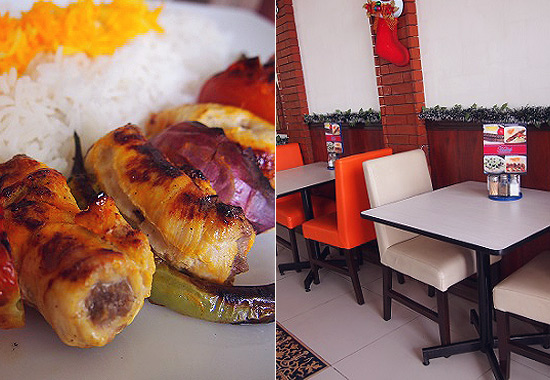 ADVERTISEMENT - CONTINUE READING BELOW
Habib Persian Cuisine
Contact: 570-2185
The name of the restaurant is a Persian endearment like "love" or "my dear," which makes for a good start. The food is the kind you'd expect when you come home after a long day at work. Yogurt as a main ingredient in most of the dishes gives a distinct flavor and a tenderness to the meat. Aside from the usual front of shawarma and kebabs, they have other offerings as well.
The Habib Beef Chicken Roll (P285) is chicken on the outside with beef as its filling. Both meats are seasoned lightly, enough to complement each other while still giving way to each component's personal notes. The Ishli Chelo Kebab (P315), on the other hand, reverses the meat, and packs a beefier beef flavor and only a hint of chicken. Its charm lies on the juicy and extra succulence that comes with each bite. These meals also have a helpful serving of rice alongside freshly roasted tomatoes.
CONTINUE READING BELOW
Recommended Videos
Cool down with a refreshing drink like the Yoghurt Shake with Fruits (P120). It comes in summery fruit classics like strawberry, banana, blueberry, and mango.
Other must-tries: Habib's Delight (P165), Lamb Chops (P380)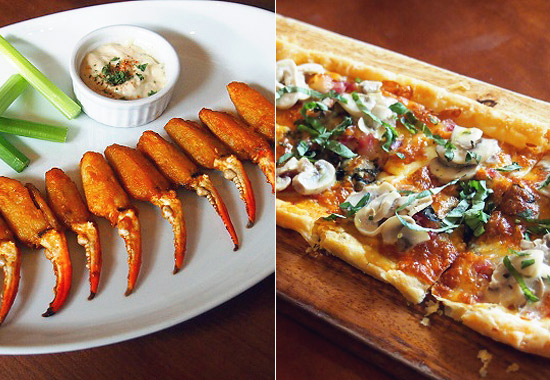 ADVERTISEMENT - CONTINUE READING BELOW
Blackwood Bistro
Contact: 570-5601
The humble bistro serving New York-inspired grub soon evolved into a gastropub with casual alcoholic bevies. Doing away with the concept of the customary "happy hour," drinks start at 4 p.m. all the way to the wee hours of the morning. It's the only gastropub that carries the patented San Miguel glass that's specifically built for enjoying your beer. There's a science behind it, really. Pushing for local draft beer, their brews are guaranteed fresh since the kegs are never reused and are changed daily.
Their Buffalo Crab Claws (P350) and Bacon and Truffle Mushroom Cream pizza (P350) are destined to become pulutan gold. The latter's dough is handmade puff pastry with fresh mushrooms cooked in cream. If you notice anything different about their pizzas, it's because they're not heavy on tomato sauce and cheese. The toppings are given core emphasis here. The former is doused with a familiar, savory, lip-smacking tang but on crab claws instead of wings.
Other must-tries: Blackwood Corned Beef "Reuben Sandwich" (P395 for the hungry and P530 for the very hungry), Freshly Popped Chicharon (P130), Citrus Cooler (P85)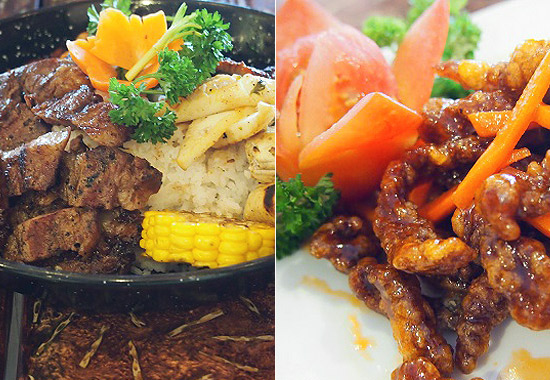 ADVERTISEMENT - CONTINUE READING BELOW
Brazil! Brazil!
Contact: 531-5190
Follow the colorful and festive vibes from Brazil in its new home. The new location retains its previous fiesta-like ambiance, complete with masks on the walls and lanterns on the ceiling, but instead of the meat-filled buffet, the dishes now run on a meat-filled ala carte basis. They have all types: beef, lamb, pork, fish, chicken, and sausages. If you're feeling a bit more adventurous, exotic food is on hand as well.
The Crispy Beef Fillet (P218) is, true to its word, a crunchy guilt-ridden affair all throughout. Bask in the apple cider's saccharine glaze merged with beef crisped to perfection. Carrots and tomatoes give it a semblance of lightness. The Beef Hanging Tender BBQ Meal (P249) has choice US-imported beef cuts grilled beautifully and sufficiently smoky.
Other must-tries: Beef Brisket with Marble Potatoes (P228), Deep-fried Pigeon (P450)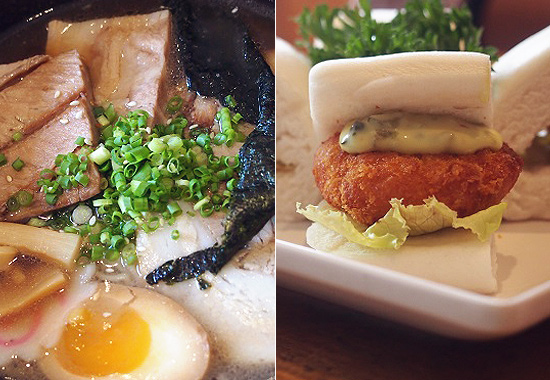 Ramen Bar
Contact: 570-5377
On cold days, a steaming bowl of noodle soup feels like a warm hug from the inside. It's an instant pick-me-up that makes everything feel right in the universe. Long before Filipinos went nuts over ramen, there was Ramen Bar with its value-for-money prices. They have a newly revamped broth which is richer in taste from simmering the pork bones longer, then adding Abura and minced pork fat.
ADVERTISEMENT - CONTINUE READING BELOW
The R.B.S. # 1 (P380) is packed with generous portions of pork, bamboo shoots, naruto, and tamago putting their own accent onto its soy-based broth. If you're not in the mood for some ramen or just on the hunt for a light merienda, their version of the steamed cuapao is a fast treat. Ebi Buns (P220) feature shrimp patties capped with tartar sauce and lettuce, ultimately wrapped in a soft white bun. There are four pieces of this mini delight in one serving.
Other must-tries: Bikuri Ramen (P380), Seafood Ramen (P380)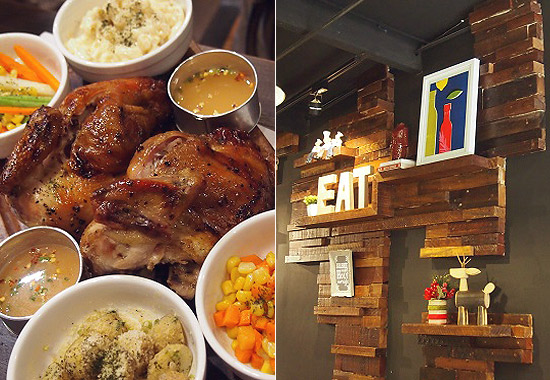 Brown's Gourmet Chicken
Contact: 632-9177
Even when playing on the concept of less is more, the charming interiors don't fail to impress. It feels as if you're in your own comfy place, cozied up in the recesses of your room. Complement that with their philosophy of affordable food, and we're pretty much sold. Their hefty and healthy meals are straightforward universal comfort food. They effortlessly put little twists on their dishes without trying too hard on experimentation.
ADVERTISEMENT - CONTINUE READING BELOW
Their all-day breakfast fare is a sigh of relief for those who love omelettes with garlic rice way too much. For instance, the Smoked Fish + Olives (P155), which is part of their Omm Rice specials, has the Pinoy breakfast staple, tinapa, paired with olives, onions, and steaming rice enclosed in a soft and creamy scrambled egg, topped with herbs and roasted tomatoes. Make sure to zest it up with a squeeze of lemon. If you're planning to have lunch with the barkada, the 1 Whole Chicken + 4 Rice + 4 Sides (P549) is the way to go. Plus, the restaurant's specialty, chicken, is grilled to tenderness and takes on an exceptional sweet kick that our taste buds have grown accustomed to. Served with Brown's handmade vinegar, the experience is taken to a new level.
Other must-tries: Brown's Iced Tea (P65), Summer Squash (P170), Chili-Calamansi Salad + Candied Nuts (P135)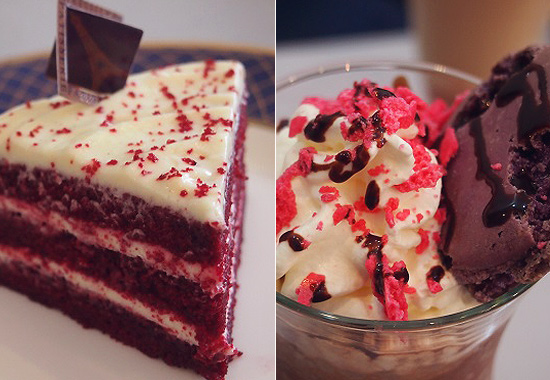 ADVERTISEMENT - CONTINUE READING BELOW
Le Miel Café et Patisserie
Contact No: 941-7833
Discover divine confections with this Parisian café. Each item on the menu is baked fresh out of the oven on a daily basis. Le Miel, being the French term for "honey," is dedicated to baking with no artificial flavors and addends, chiefly depending on au naturel sweetness.
Their Gateau Fudge Chocolat (P150) is 100% crafted with raw Belgian chocolate as its key ingredient. It's also flourless, making the texture intensely thick. The pure honest-to-goodness chocolate seeps through with a luscious, addictive taste. Of course, dessert-hopping wouldn't be complete without a slice of a timeless indulgence. Their Red Velvet cake (P140) has three wonderful yet wicked layers of authentic cream cheese piled on one another. Real vanilla bean is used too.
Spoil yourself further with their exclusive frappes like the Macaron-Mocha (P195 to P230).
Other Must-tries: Caramel Machiatto (P135-P150), Bingsu (P130-P270), Blueberry Cheesecake (P150)
Share this story with your friends!
---
Help us make Spot.ph better!
Take the short survey
Load More Stories