I Am Kim
G/F Estancia Mall, Meralco Avenue, Capitol Commons, Pasig City
Contact: 542-2558
Open daily from 10 a.m. to 10 p.m.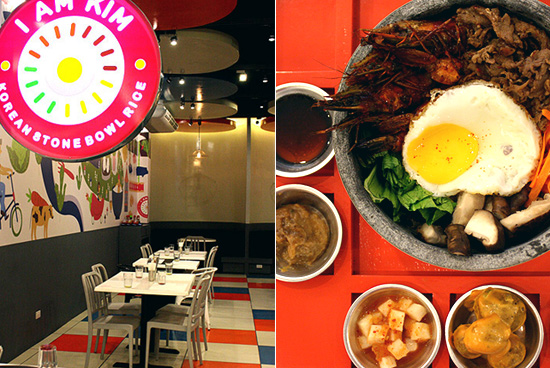 (SPOT.ph) Chef Him Uy de Baron offers the tools for you to make something amazing. In his latest restaurant, I Am Kim, the newest addition to Estancia's growing community, bibimbap is freestyle and customers are allowed to choose the rice (Japanese, organic red, organic brown, black), two sauces, two kinds of meat, how the egg is cooked, three types of vegetables, and other extras.
ADVERTISEMENT - CONTINUE READING BELOW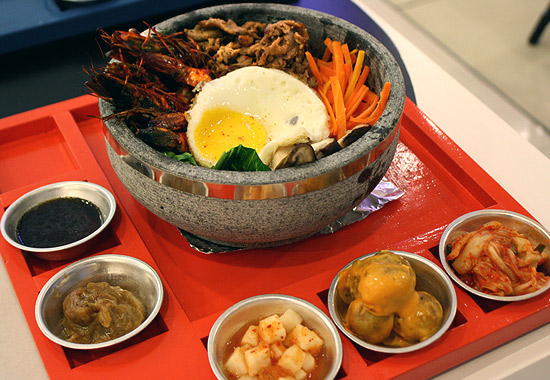 Make-Your-Own Bibimbap with Shrimp and Beef
The permutations are calculated, and no matter what combination you come up with (even a sweet on sweet teriyaki and bulgogi sauce), you're bound to create something worthwhile. At I Am Kim, you fulfill your dreams of becoming a chef-a fraction of it, at least.
ADVERTISEMENT - CONTINUE READING BELOW
Recommended Videos
But you come to Chef Him's restaurant for a taste of his characteristic playfulness-not yours though it's fun nonetheless. He has this uncanny knack to fuse together cultures and still wind up with a very clear and bracing message that is often lost on others who attempt the same. I Am Kim is no Nomama. From the free-thinking Japanese of his soon-to-rest ramen joint, this latest project is comfort in a bowl: Seoul soul food. Rice, toppings, sauce. That's it. You could give us the same ingredients Chef Him uses and the turnout probably won't be the same.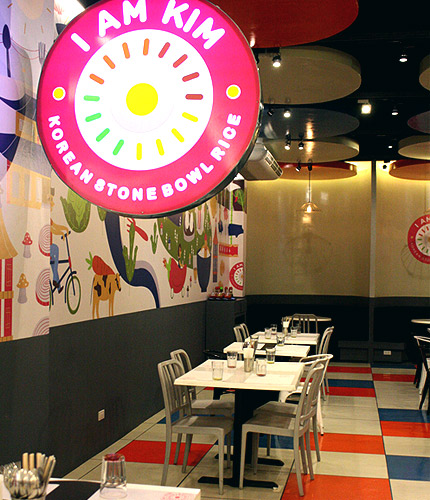 ADVERTISEMENT - CONTINUE READING BELOW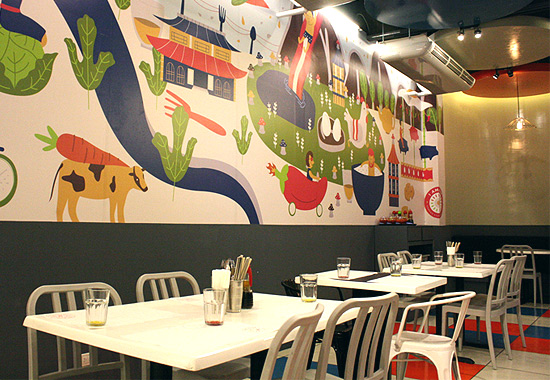 This aesthetic is crafted by Serious Studios.
His current list of "Composed Baps," ready combinations of bibimbap that let you skip the pressure of creating, is small, he admits apologetically. But it's difficult to imagine what more items could do to us; the nine bowls already succeed in a certain gastro-paralysis brought about by the stress of decision-making. The Classic Bap (P275 to P370), a simple combination of grilled meat (chicken or beef), greens, gocuchang*, and bulgogi sauce, sounds just as delightful as the Spring Onion and Ginger (P275 to P355) made up of grilled chicken, spring onions, ginger sauce, greens, and light soy sauce.
ADVERTISEMENT - CONTINUE READING BELOW
Somehow, the Vegetarian Bap (P270 to P360), which is mushroom and tofu, makes mouths water as much as the Umami Bomb (P350 to P470), the prized melange of Korean sausage, barbecued chicken, fried tofu, spinach, carrots, sprouts, mushroom, gocuchang, umami butter, bulgogi sauce, and a sous vide egg. But we've eaten enough to know that a harrowing situation such as this demands a clear solution: the B.E.C. Bap (P300 to P415), juicy skin-on chicken thighs grilled for that slightly charred flavor, the creamiest lather of egg, and bacon so crisp, it shatters like glass. The rice is just enough to be full, and there's plenty of toppings and sauce (soy caramel, and you can add gocuchang to taste) to go around up to the last bite. Bokchoy and green peas set up the balance for such a hearty meal.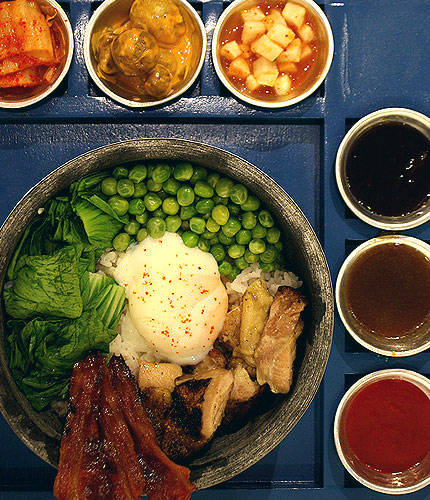 ADVERTISEMENT - CONTINUE READING BELOW
B.E.C. Bap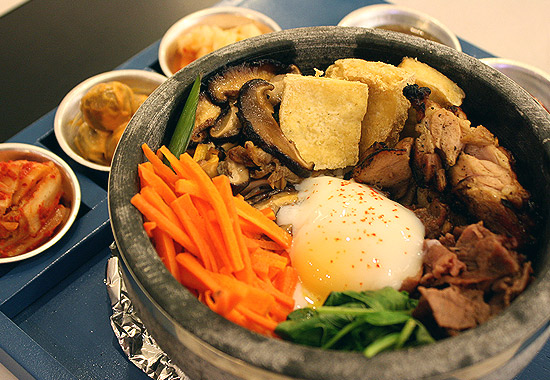 BBQ Bap
The stone bowls look overwhelming, but they're thick and much more shallow than they let on. "Other bibimbap dishes put more rice that when you mix it, you end up with something that looks like fried rice," explains Chef Him. This is apparently not the case at I Am Kim, which puts substance over anything else. The BBQ Bap (P395 to P550) is a meat-on-meat portmanteau: beef and chicken leading a chorus of tofu, carrots, greens, mushrooms, kimchi (which exhibits such delectable heat that you'll want lots of it), and egg. The sauce is a merry mix of spicy gocuchang and sweet bulgogi sauce.
ADVERTISEMENT - CONTINUE READING BELOW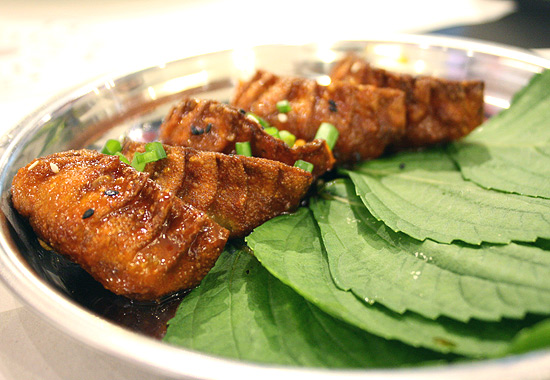 Korean Pan-fried Dumpling (P190)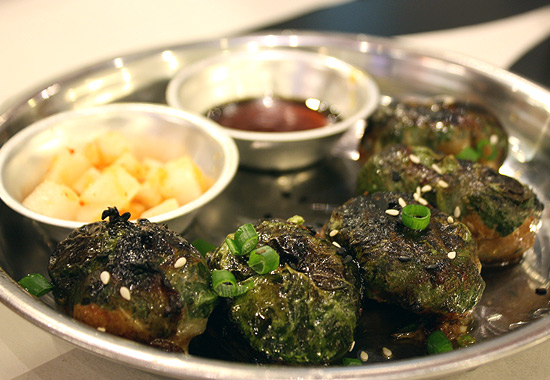 ADVERTISEMENT - CONTINUE READING BELOW
Korean Sausage (P180)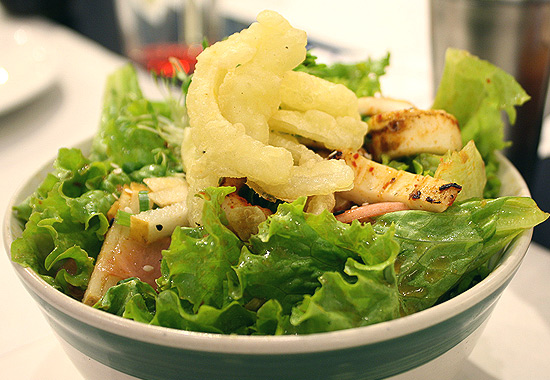 Grilled Squid and Pear Salad (P175)
Chef Him draws inspiration from familiar flavors placed in an even more familiar setting-a rice bowl, but we don't forget his old strengths. Nomama's gyoza is something to be missed, though here he has a Korean version of it: a savory chicken and shiitake dumpling, deep-fried to a muffled crunch, and glossed over with more gocuchang. The turning point is the shiso leaf that wraps a distinct vibrant flavor around the precious little pocket. His Korean sausages, which also serve as a topping for the Umami Bomb, are bold nuggets of pork and beef enveloped in a netting of caul fat to lock in the juiciness and more of those stunning shiso leaves that layer that minty dimension. This, over any of the bibimbap (or plain rice, actually), is perfection.
ADVERTISEMENT - CONTINUE READING BELOW
By our 10th visit at I Am Kim (it shouldn't take too long), we'd probably be aces at crafting our own bibimbap, but these other nuances-the gyozas, the sausages, and essentially everything that makes those rice bowls great to begin with? We'll leave it to Him, Chef Him.
*Alternate spelling is gochujang.
Share this story with your friends!
---
Help us make Spot.ph better!
Take the short survey
Load More Stories