10 Best Spam Dishes in Manila
This is the kind of Spam you eat.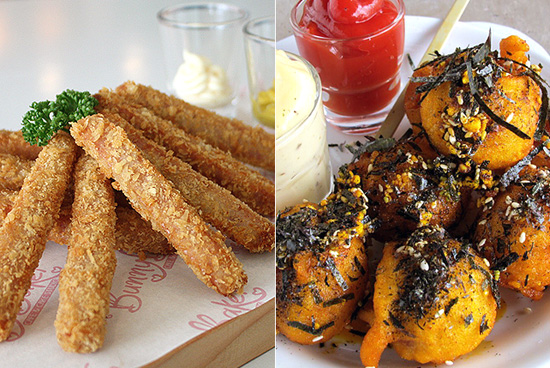 (SPOT.ph) There are two kinds of Spam in this world: one that you send straight to the Recycle Bin and one that you scrape the bottom of the can for, looking for the last lickable scraps. This is a story about that journey. The search for all the wonderful things Spam has helped create in this world.
While you can put your nose in the air over canned meats, you can't say the same about Spam. Unlike other pre-cooked meats, which tend to mash the more unpopular pork parts into something that looks similar, Spam uses (premium) pork shoulder, ham, and happiness. Hormel introduced it in the late '30s and it became especially popular during the war.
Now, Spam has become as commonplace as peanut butter, integrating itself as a breakfast staple, as well as a regular for lunch, dinner, and those sneaky meals in between. But not all Spam dishes are created equally, and we selected the best for your Spamming pleasure.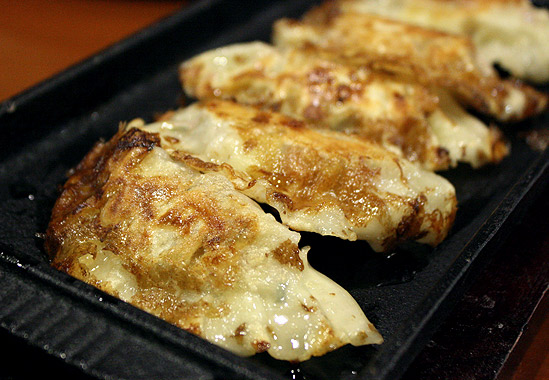 ADVERTISEMENT - CONTINUE READING BELOW
Spam Gyoza (P80 to P150) from Takashi
In case you ever imagined breakfast in a little rice pocket, this is it. The gyozas are served on a sizzling plate that gives it this toasty brown crunch. Inside, a big bite of salty mashed Spam and cheese. As if it needs a little dash of tradition, Takashi adds some chives in there, too.
Takashi is at Pioneer Center, Pioneer Avenue, Pasig City. Read more about it here.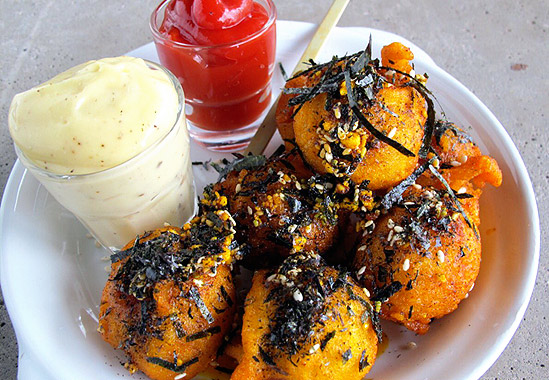 CONTINUE READING BELOW
Recommended Videos
Photo courtesy of Francis Lim
Spam Bombs (P200) from Tipple and Slaw
Let's run down the elements inside this seemingly simple bar chow real quick, shall we? There's the chopped Spam that makes it eligible for this list; mashed potatoes that make up the croquette; a good dose of aonori which is a yummy seaweed; furikake seasoning for an extra layer of flavor; and nori for a touch of umami. You dip it in this salty nutty miso-spiked mayonnaise, but there's also Tabasco ketchup on the side for a flurry of heat. Spam and Japanese flavors work so well together.
ADVERTISEMENT - CONTINUE READING BELOW
Tipple and Slaw is at Forum South Global, Bonifacio Global City. Read more about it here.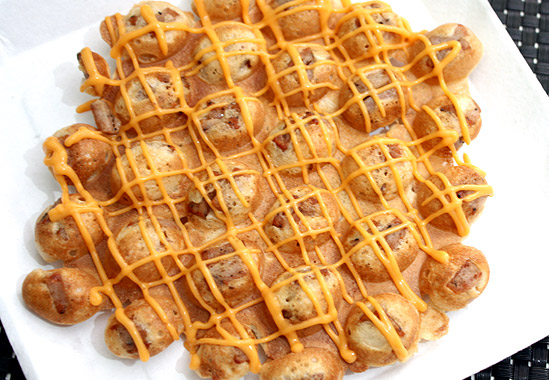 Spam and Cheese (P70 to P90) from Egg-It
The folks at Egg-It were smart enough to use flavored Spam to give their eggette an extra edge. That Black Pepper Spam is delightful, little pops of heat in the bubbly waffle. The peppery tint works beautifully against the batter's naturally buttery flavor, but they squeeze zigzags of cheese on top, too, because the owners know you deserve a little richness in your meal.
Egg-It is at 6/F San Rafael Street corner Sta. Rosa, West Kapitolyo, Pasig City. Read more about it here.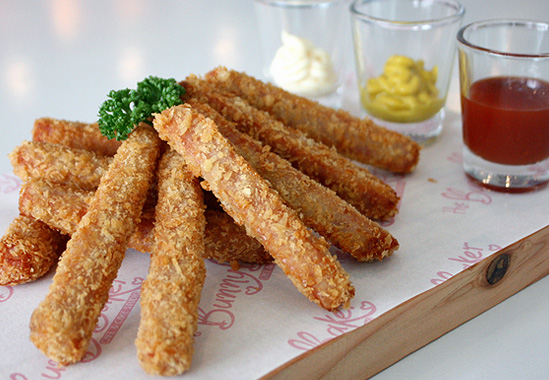 ADVERTISEMENT - CONTINUE READING BELOW
Spam Fries (P235) from The Bunny Baker
Slap yourselves on the face for not thinking about this at home. It's simple, really. Spam sliced into fat strips, coated in panko bread crumbs, and deep-fried. Voila! You've got yourself the best of both worlds. Dip it in ketchup, and you're golden.
The Bunny Baker is at 301 Hemady Square, Doña Hemady Street corner E. Rodriguez Sr. Avenue, Quezon City. Read more about it here.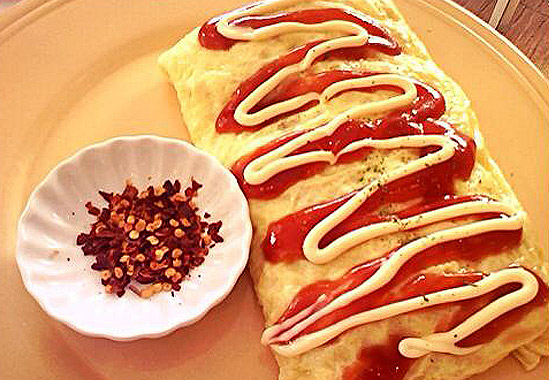 Omu Waikiki Rice (P225) from Stacy's
Spam is already pretty good on its own (admit it, you've eaten it straight from the can at least once), but Stacy's knows exactly how to lift it up in all the right places. The meat loaf is grilled over brown sugar, developing this gorgeous caramelized crust that tempers the saltiness. The pieces are then tossed in creamy fried rice with mushroom, before being blanketed by a cheesy, fluffy omelette. You can add chili flakes or ketchup, but those are just bonuses.
ADVERTISEMENT - CONTINUE READING BELOW
Stacy's has branches at Capitol Hill, Capitol Greenstreet, Balara, Quezon City; and Forbes Town Center, Bonifacio Global City.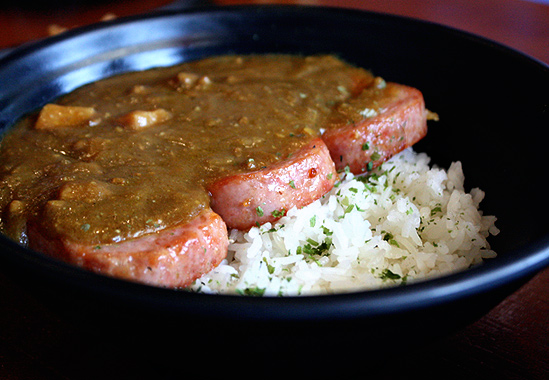 Spam Curry (P190) from Takashi
When the curry blankets those beautiful rosy planks of Spam, we can imagine a light heat wrapping itself around us as well. This dish is that comforting. The spice from the curry doesn't lash out at you with flavor, perfectly balancing out the sharp saltiness of Spam. Then, peeking out under the Spam, is rice that's kept pristine to keep things even. If you're having an extra tough day, get it with an extra egg because you deserve extra benediction. This item is off-menu. It can be our little secret.
Takashi is at Pioneer Center, Pioneer Avenue, Pasig City. Read more about it here.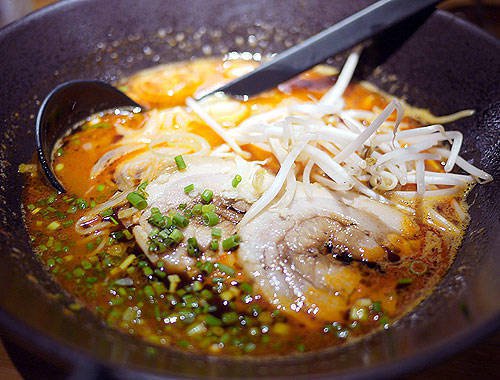 ADVERTISEMENT - CONTINUE READING BELOW
Wrong Ramen's F.U. Ramen (P425)
Wrong Ramen challenges what you can't put in ramen, and despite its more brazenly unorthodox approach, their combinations always convert us to this delicious kind of rule-breaking. The most famous (not to mention ridiculous) of which is the F.U. Ramen. Ramen meets breakfast in this warm garlicky soup boosted by three brittle strips of bacon, gooey cheese, and Black Pepper Spam. This is a bowl that boasts flavor deep, down, and over.
Wrong Ramen is at Burgos Circle, Bonifacio Global City.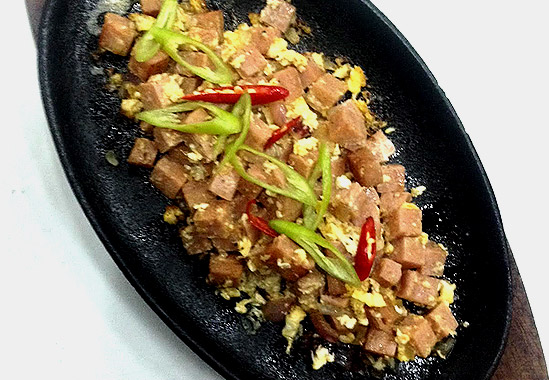 Photo by Ron Totuico
Spam Sisig (P230) from Red Cloud Gastropub
Two of your favorites combined, why shouldn't this dish be a winner? The menu describes it simply as "Spam and eggs in a sisig environment," and that's enough for us to change our pulutan habit. It has all the good things you've to expect from sisig-the diagonal slices of chilies, the sweet onions, the egg, but then there's that Spam, which is just truly an added gift. This actually reminds us of hash. Hmm...Spam hash? There's an idea.
ADVERTISEMENT - CONTINUE READING BELOW
Red Cloud Gastropub is at G/F Cyberscape Alpha Building, Sapphire Road, San Antonio, Pasig City.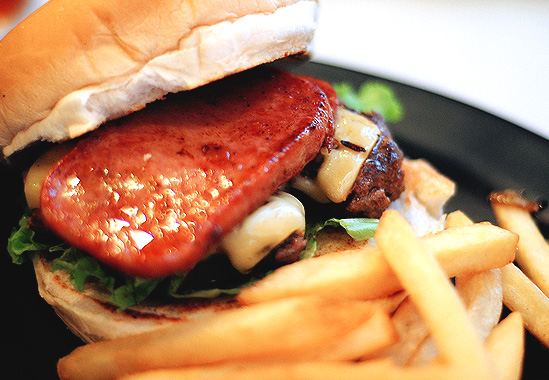 Photo from zapleleaves' Tumblr account
Zark's Rock Bottom Burger (P130)
This over-the-top burger shack has at least two other sandwiches with Spam (suprisingly, not their Breakfast one), but because we're not ones to subject ourselves to some strenuous mandibular activity (how do people eat the legendary Jawbreaker?), we like this humbler yet still flavor-packed rendition. You can't really go wrong with an everyday yummy cheeseburger, a bit of veg, and a couple of slabs of Spam. We're not that difficult to please.
Click here for a list of Zark's branches.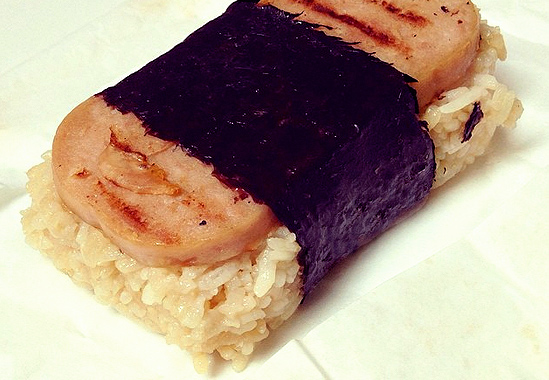 ADVERTISEMENT - CONTINUE READING BELOW
Photo from Instagram user @javyeats
Spam Musubi (P50) from Spam Jam
Spam Jam opened in Manila (the first branch was in Glorietta) back in 2004, and we feel that many have forgotten its significance. Back then, it was the first of its kind-the first solely Spam restaurant in the world, and a partnership between Hormel, San Miguel Foods, and Star Cafe Enterprises. The year before, Filipinos consumed over 30 million pounds of Spam, which prompted the idea. Not putting Spam Jam in an article that pays tribute to Spam would be a complete offense, and we're sticking with the classic Spam Musubi, which is a convenient hand-held Spam meal on its own.
Spam Jam is at SM Mall of Asia, Pasay City.
Share this story with your friends!
---
Help us make Spot.ph better!
Take the short survey
Load More Stories