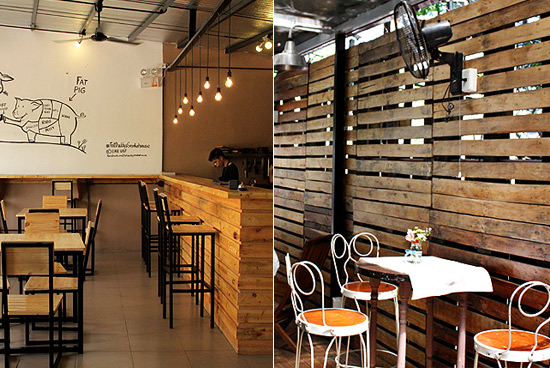 (SPOT.ph) Al fresco is almost never a dining option in Manila. Just how to enjoy bulalo under the blistering sun is a challenge we dare not endure with the vast number of indoor dining options available.
But there are restaurants that make outdoor dining appealing. The sun hasn't changed (except only to get warmer), but our patience has. Whether these restaurants style themselves al fresco for logistical reasons, lack of space, or, quite simply, effect, we found that we're willing to sweat it out if only for really great food and a TDF ambiance.
Rooftop restaurants were excluded from this list.
Also read: 10 Manila Restaurants with Breathtaking Views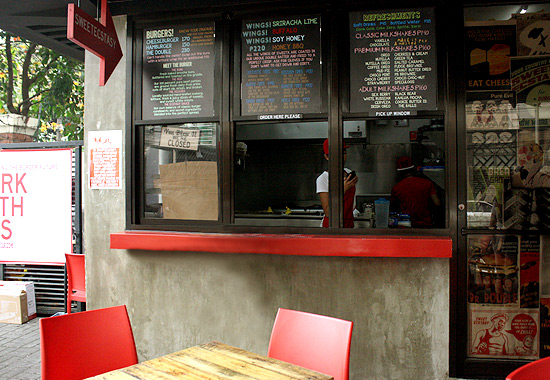 ADVERTISEMENT - CONTINUE READING BELOW
Sweet Ecstasy
This California drive-by offers new sophistication to your giant, greasy (the good kind) burger. It's a deck on Jupiter Street: a platform with frills only as far as punny posters and a perimeter of usually overloaded parking slots. Everything is made fresh—some items take as long as 15 minutes to be served—which makes it essentially impossible to be grab-and-go. Trust us, you'll want to take your time with those monstrous sandwiches. The smoke-belching road, the city humidity—the sweltering heat is something you'll actually look forward to just to give you an excuse to get those famous milkshakes.
Must-tries: Single Cheeseburger (P170), Milkshakes (P160)
Sweet Ecstasy is at 10 Jupiter Street, Barangay Bel-Air, Makati City. Read more about it here.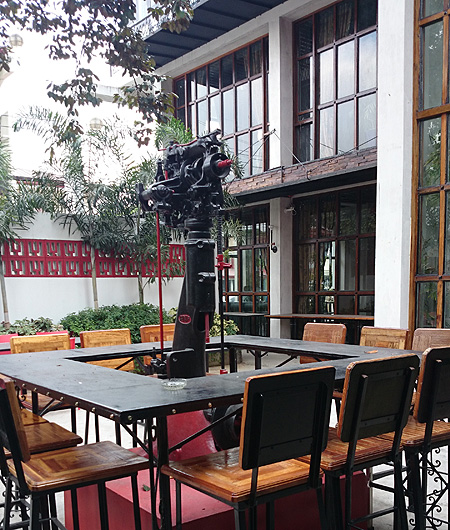 ADVERTISEMENT - CONTINUE READING BELOW
Recommended Videos
Industriya Marikina
Some people convert old houses to restaurants, but this Marikina hideaway used to be a shoe factory and that history shows up in the upcycled shoe paraphernalia-turned-quirky decoration. Almost all of the the elements—from the wooden tiles to the door handles (old shoe shapers!) to the patchwork seats were reused from its past life and painstakingly adapted to fit a restaurant setup. It was a process that took two years. Industriya Marikina is so enormous that even the owners have a hard time giving an accurate seating capacity. There are quaint communal spaces, several private function rooms, a very handy events space, and more—each section showcasing a different personality.
The small al fresco is wonderfully homey. Here, you can view the setup of the restaurant and you're likely to pretend you're having a nice afternoon meal with your family in your backyard.  
Must-tries: Truffle Cream Pasta (P220), Pizza Bianca (P285)
ADVERTISEMENT - CONTINUE READING BELOW
Industriya Marikina is at 23 MA Roxas Street, Calumpang, Marikina City.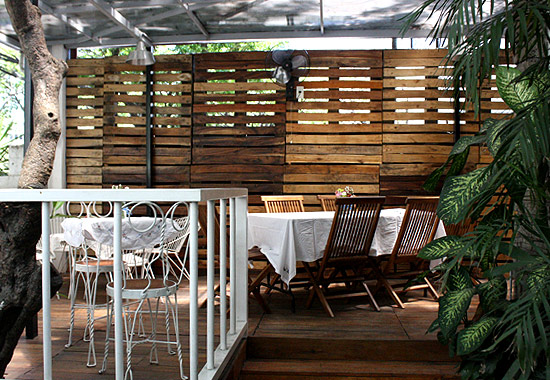 Nikko's Baking Studio
There's no place to sit at Nikko's Baking Studio other than al fresco. The little house is her baking space, which is the primal premise of this whole enterprise. On the way to the door, you'll pass through a scenic wood-lined porch that's refreshingly un-Manila—it's a slice of the countryside smack in the middle of the city and it is absolutely ideal. This gorgeous deck is a great backdrop for breakfast, tea, and dates-to-impress, and the mismatched lounge furniture (sourced from Chef Nikko's family's houses) only contributes to that pastoral charm.
ADVERTISEMENT - CONTINUE READING BELOW
Must-tries: Martie's Flaky Tapa (P280), Ultimate Grilled Cheese (P290)
Nikko's Baking Studio is at 59-A Paseo de Roxas Street, Makati City. Read more about it here.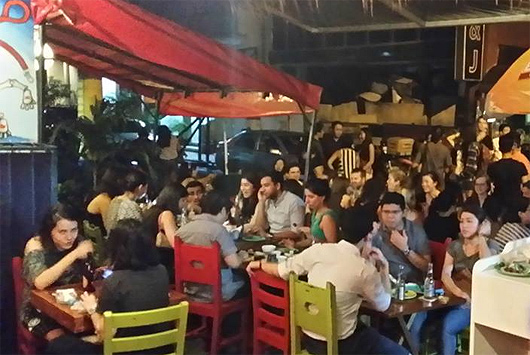 El Chupacabra
The taco joint that changed the look of the restaurant industry is still a prime spot for sweating-out dining. You even get an extra bit of heat and smoke from the large grill positioned near the entrance (which is pretty much the restaurant). El Chupacabra is named after a legendary monster, but here, the only legends told are about their tacos, which are splendid stuffed rolls. El Chupacabra brings to Manila the off-the-cuff street-style that really gives color to this culture.
ADVERTISEMENT - CONTINUE READING BELOW
Must-tries: Fish Tacos (P120), Carnitas (P80)
El Chupacabra is at 5782 Felipe Street corner Polaris Street, Makati City. Read more about it here.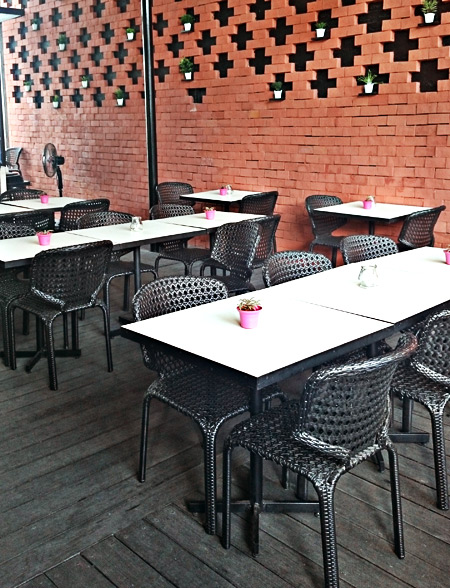 Limbaga 77
This converted house is enormous: the answer to all your dining needs, whether it's a date or a conference. Limbaga 77 has two floors and each is equipped with its own lovely al fresco space. The one on the second floor is perfect for a nip, but we're partial to the first floor with its view of the colossal brick wall and green accents, and its very own bar. The high ceiling contributes a touch of elegance to the otherwise traditional setting. Limbaga 77 serves straight-up Filipino food.
ADVERTISEMENT - CONTINUE READING BELOW
Must-tries: Baked Lechon (P677), Brazo de Tablea (P277)
Limbaga 77 is at 77 Scout Limbaga Street, Barangay Laging Handa, Quezon City. Read more about it here.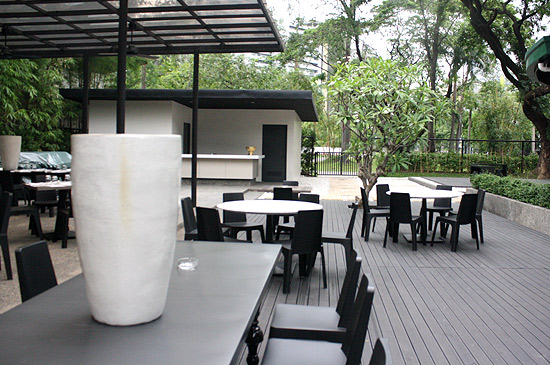 Blackbird
This one is a given. Few eateries have a prettier outer space than the actual restaurant, but that's Blackbird for you. That the snazzy Art Deco interiors are already breathtaking should be an indication of how exquisite the al fresco section is. It's very understated, just wood and a bar—yet it's enough to convey this impressive out-of-town ambiance.
ADVERTISEMENT - CONTINUE READING BELOW
Must-tries: Cheddar and Zuccini Brioche (P490), Wagyu Hanger Steak (P980)
Blackbird is at Nielson Tower, Ayala Triangle, Makati City. Read more about it here.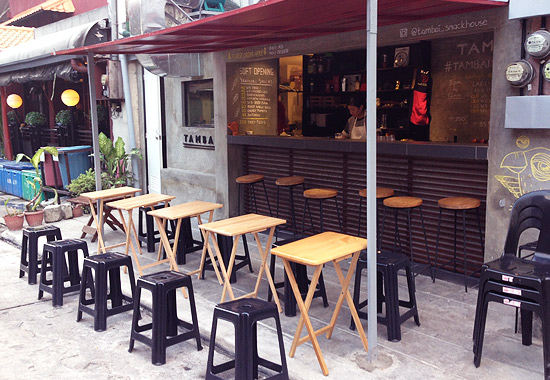 Tambai
Where else would you enjoy the street appeal of skewers other than the great outdoors? Tambai used to be an old sari-sari store, and since becoming a full-fledge eatery, it's only kept that tambay essence. Well, not really. On some nights, it's developed to be quite a street party. From an initial set of a couple of tables, Tambai has been adding and adding to accommodate their growing clientele, spilling out onto the street at night. It shares Felipe with El Chupacabra, so you can imagine how that looks.
ADVERTISEMENT - CONTINUE READING BELOW
Must-tries: Roast Garlic Basil (P20), Kimchi Fried Rice (P60), U.S. Pork (P40)
Tambai is at 5779 Felipe Street, Makati City. Read more about it here.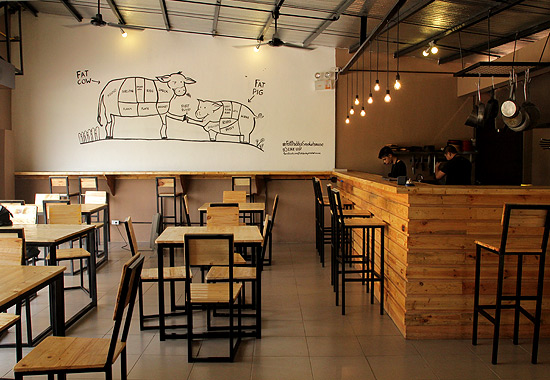 Fat Daddy's Smokehouse
This white and muraled Marikina getaway is open-air, logically. The smoking locker (otherwise known as the place where magic is made) is inside and you wouldn't want to be engulfed in the beefy fumes. Scratch that, it sounds like a wonderful place to be in. If this were in Quezon City, we'd probably melt under the humidity, but in this part-residential block of Marikina, Fat Daddy's gets naturally cool air, especially at night. It's not too bad during the day either. Their delicious smoked meats are especially yummy with a cold one.
ADVERTISEMENT - CONTINUE READING BELOW
Must-tries: Hot Pork Poppers (P90), Ribs (P280)
Fat Daddy's Smokehouse is at 171 Dao Street corner East Drive, Marikina City. Read more about it here.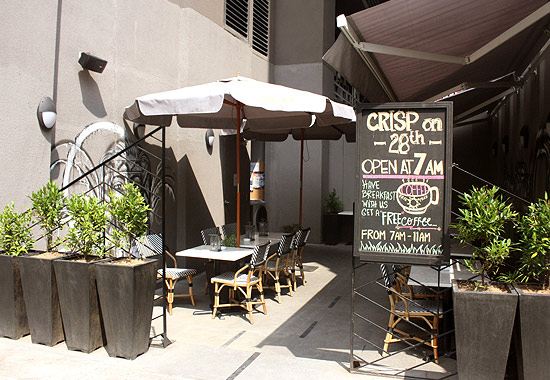 Crisp on 28th
The owners of this charming health-conscious restaurant chose this secluded BGC spot for the courtyard, which reminded them of their college days in France. It does give off that café-in-the-alley vibe. You know, the kind you see in movies: cozy Parisian nooks with friends sharing a light meal, coffee, and fun conversations. Crisp on 28th is like that. It's all about feeling like you belong in a warm neighborhood, a default hangout for friends—and that's not easy to do in this corporate setting.
ADVERTISEMENT - CONTINUE READING BELOW
Must-tries: Chipotle Chicken Quinoa Salad (P215), Skillet Bacon (P370)
Crisp on 28th is at Alveo Building, 28th Street, Bonifacio Global City. Read more about it here.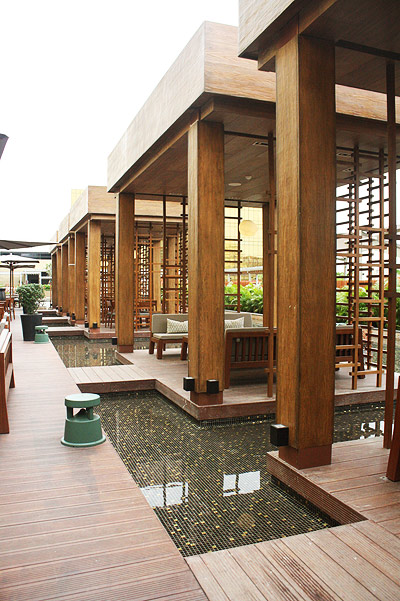 Nobu
The modern Zen space outside Nobu's restaurant is exquisite. It's all gorgeous geometric wood, low tables, and cushions surrounded by ponds. Nobu makes it easy for us to pretend that we're in some sort of faraway resort, and the way its laid out allows for some privacy as well. Think of minimalist cabanas. This outdoor stretch connects the restaurant with the hotel's spa and fitness center and the whiskey bar, Waves. Would you believe it's even more picturesque in the evening?
ADVERTISEMENT - CONTINUE READING BELOW
Must-try: Omakase
Nobu is at Nobu Hotel Manila, Aseana Boulevard Corner Macapagal Avenue, Tambo, Parañaque City.
Also read: 10 Manila Restaurants with Breathtaking Views
Your guide to thriving in
this
strange new world.
Share this story with your friends!
---
Help us make Spot.ph better!
Take the short survey
Load More Stories