New Restaurant Alert: Industriya Marikina at Calumpang, Marikina
This shoe factory-turned-restaurant is the answer to all your dining needs.
Industriya Marikina
23 MA Roxas Street, Calumpang, Marikina City
Contact: 632-9225
Open daily from 11 a.m. to 10 p.m.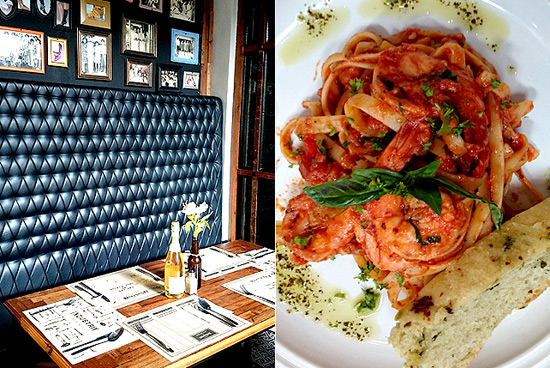 (SPOT.ph) Every tile, every brick, every nut, screw, and bolt in Industriya Marikina has history. The vast white block was a shoe factory in the '80s before it was partly rented out, and eventually resorted as a dump-and-go warehouse. Former proprietors, the Cheng family, still work in the footwear industry, but more in distribution now than manufacturing. Owner Alfredo Cheng is, in fact, a doctor, but he couldn't kick out that old shoe gene just yet.
ADVERTISEMENT - CONTINUE READING BELOW
CONTINUE READING BELOW
Recommended Videos
Industriya Marikina is his passion project. An architect worked out the layout of the warehouse-turned-eatery, but the rest were all made carefully—lovingly—by the family. It can't be described as shoe-themed, but every element is like a fragment from the past that comes together into a totally new, delicious story. One that took two and a half years to tell.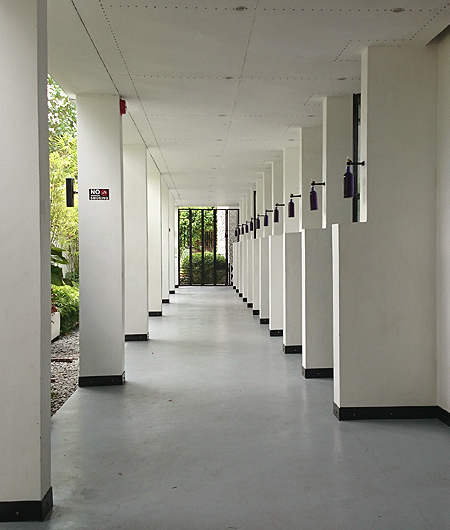 ADVERTISEMENT - CONTINUE READING BELOW
By the entrance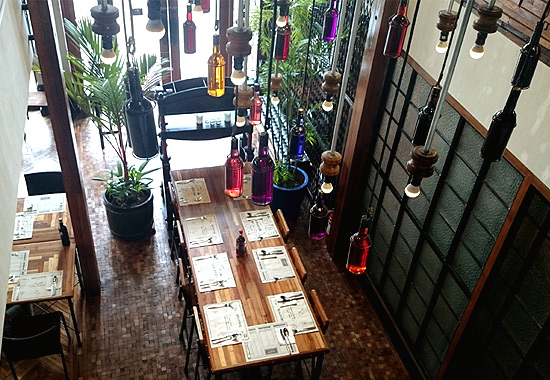 Best seats in the house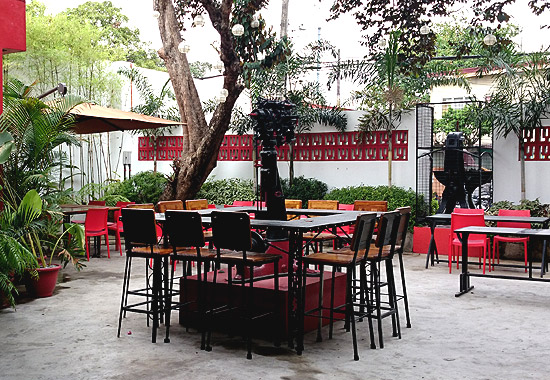 ADVERTISEMENT - CONTINUE READING BELOW
Machinery turned art pieces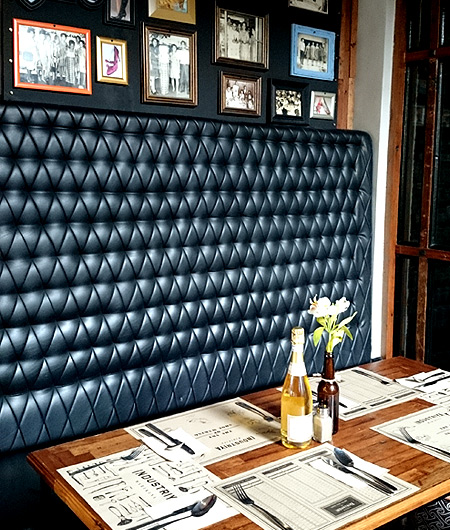 Memory corner
The small battered wooden tiles, the delicate patchwork of the upholstery, the steel curves of the gate—these were factory materials "upcycled." You could even pick out a shape of a woman's high heel in the stairway. Old shoe shapers become doorknobs, old machinery morphs into interesting art pieces, old leather pads the chairs. Faded photos displayed on the ceiling narrate that same history: Josefa Edralin, Imelda Marcos, and other famous shoe-philes with Dr. Alfredo's mother.
ADVERTISEMENT - CONTINUE READING BELOW
Industriya Marikina is huge, every nook and cranny utilized to become that be-all dining space—a cozy communal area complete with a picture-perfect chandelier made with colorful glass bottles, several function rooms in varying sizes, a charming al fresco section, and a wide event space that comes with its own bedrooms (for touch-ups) and restroom (with multiple stalls for the guests). The third floor is currently being fixed up to seat even more people. We asked Dr. Alfredo's wife, Angelica, and their daughter Alex how many people could fit in the restaurant alone, and they said—after some thought—around 200.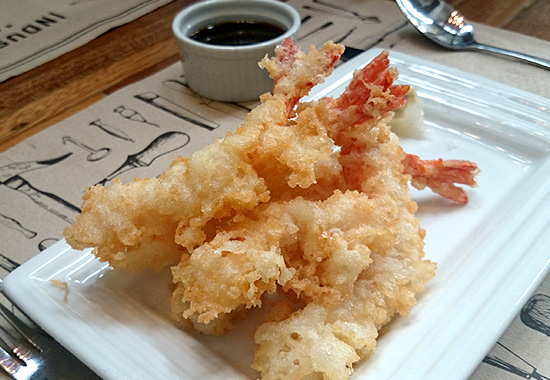 ADVERTISEMENT - CONTINUE READING BELOW
Shrimp Tempura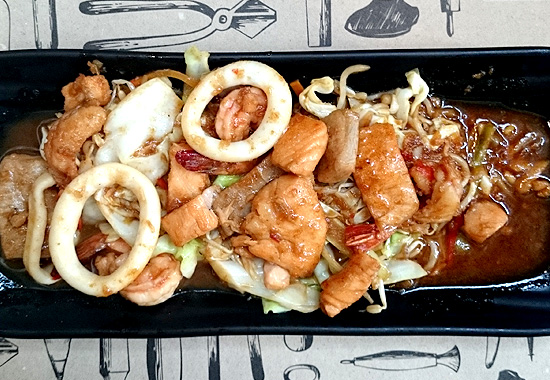 Mixed Seafood Teppanyaki
A place this big is bound to attract a huge, varied clientele and the Chengs wanted a menu that answers to every preference. Industriya Marikina's is a whopping 12-page (excluding Angelica's favorite off-the-menu items) tome, made less overwhelming by the per-cuisine category. Japanese features prominently: an assortment of nigiri, temaki, sashimi, ramen, katsu, and more. You could tell how careful they are with their food. Even something as simple as the tempura (P235 to P585) is a performance—the crust resists oil and the crunch that resonates throughout the table is like conversation in itself. The seafood teppanyaki (P395) is a rice-requiring salty medley of soft squid rings, salmon, shrimp tossed in with sprouts and cabbage.
ADVERTISEMENT - CONTINUE READING BELOW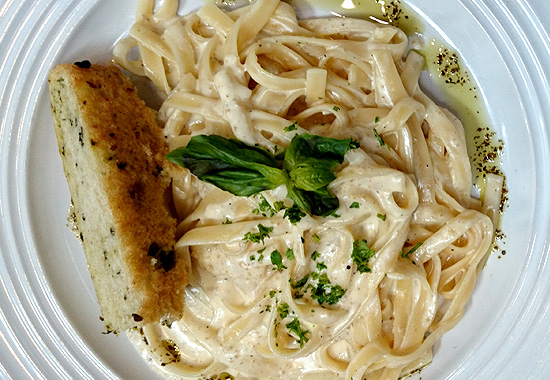 Truffle Cream Pasta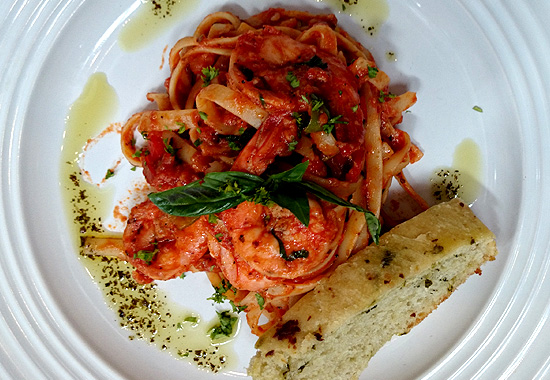 ADVERTISEMENT - CONTINUE READING BELOW
Gamberetti Pasta
Industriya Marikina appeals to creature comforts. Pizza and pasta are perennial crowd favorites, and it would be something short of criminal if their culinary thesis didn't have them. But the kitchen doesn't try to get away with the bare minimum. Angelica knows her food and she refuses to compromise on quality. The kitchen doesn't shirk from flavor, and though the pastas are unfussy and straightforward, they're deeply seasoned. The Truffle Cream (P220), of course, is a bestseller: the al dente noodles painted with that earthy whiff while the Gamberetti (P220) is fired up with juicy shrimps and just a smidgen of heat.
The pizza, a long oblong disc laid out on the wooden board, is quite simply outstanding. The Bianca (P285) is their version of three-cheese which could easily overwhelm, but the toasted crust is so thin and crispy that a wonderful balance plays out with each loud bite. Do we detect Gruyere in that?
ADVERTISEMENT - CONTINUE READING BELOW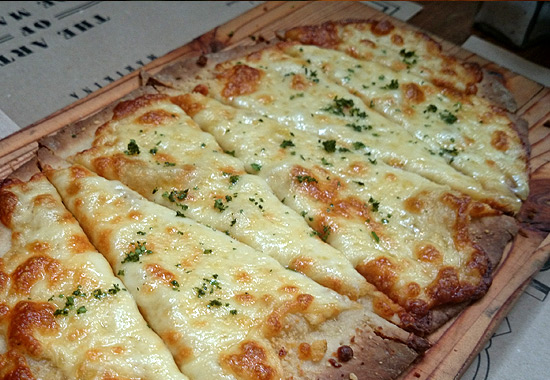 Bianca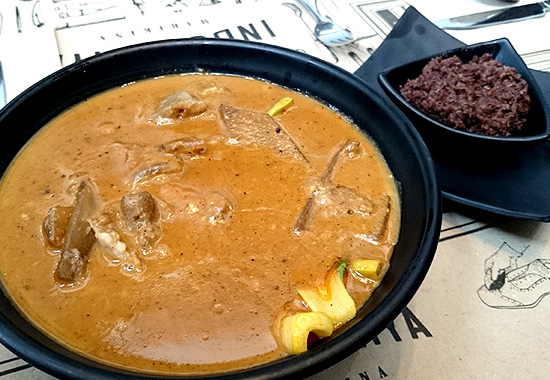 ADVERTISEMENT - CONTINUE READING BELOW
Kare-kare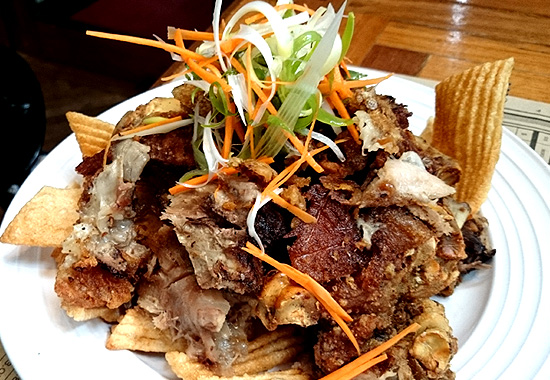 Crispy Pata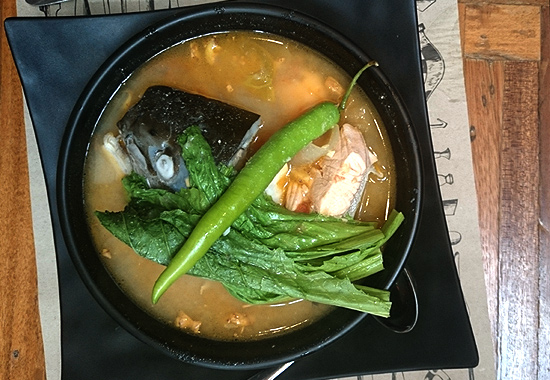 ADVERTISEMENT - CONTINUE READING BELOW
Salmon Head sa Miso
Family flavors work well in this restaurant. The Kare-kare (P495) is a sticky pool of melting tripe (their chilled bagoong really complementing the nutty notes); the miso flavor in one of their tangy stews (P350) lashes out amid the main tamarind and salmon components; and the crispy Crispy Pata (P695) is no misnomer. It's thankfully chopped, sparing us that usual table argument of who sliced off most of the meat, and the bubbly skin is almost as crunchy as the ribbed crackers it comes with.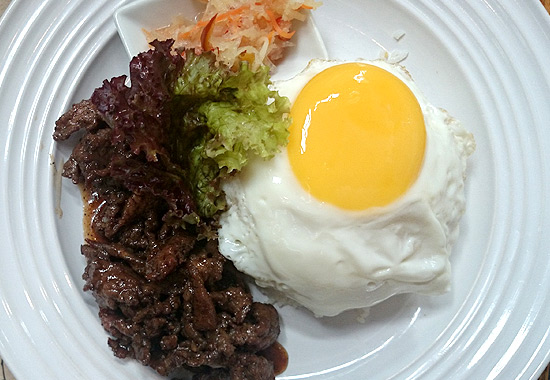 ADVERTISEMENT - CONTINUE READING BELOW
Tapa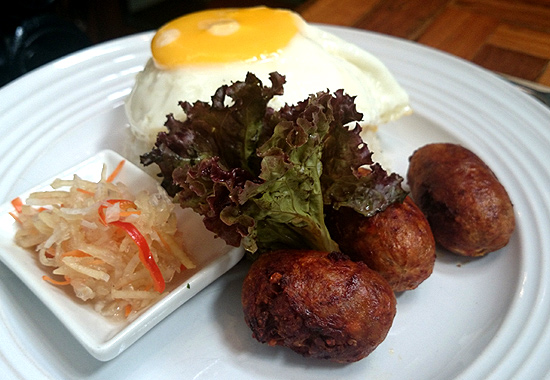 Longganisa
Enjoy the Filipino-themed rice plates (Industriya Marikina has subcategories under categories) near the window, behind the bookshelves filled with Collier's Encyclopedias, and it's much like enjoying breakfast at home. A gorgeous fried egg blankets the garlicky rice, and while that alone is enough to greet you with a beautiful start of day, the real perk-up is in the ulam. The tapa strips (P285) find the median between sweet and salty while the longganisa (P255)—"That's from Zambales!" shares Angelica—is on the garlicky end of the spectrum.
ADVERTISEMENT - CONTINUE READING BELOW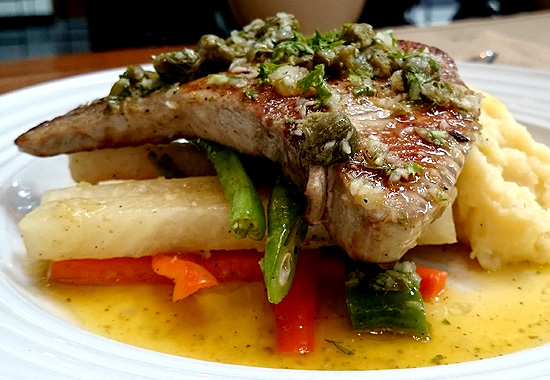 Tuna Steak (P450)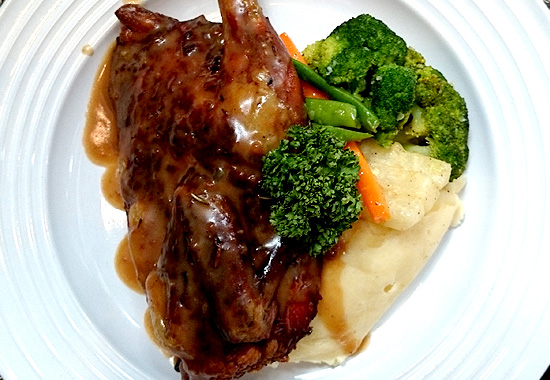 ADVERTISEMENT - CONTINUE READING BELOW
Classical Roast Chicken (P395)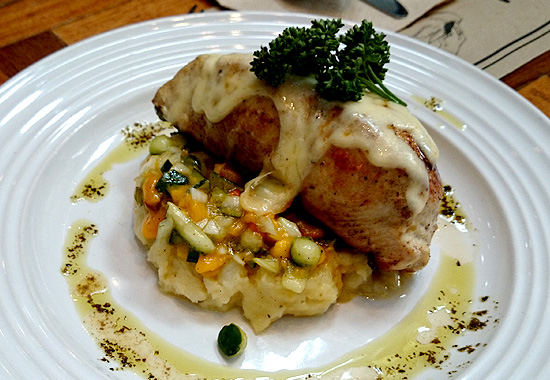 Kingfish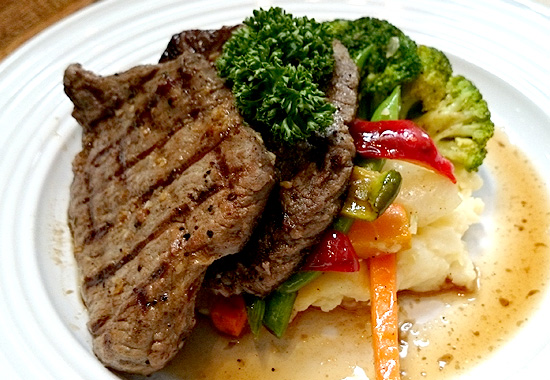 ADVERTISEMENT - CONTINUE READING BELOW
Tenderloin
Industriya Marikina's many dining pockets all feature that same upcycled, heritage vibe, but, at the same time, they flaunt a different brand of charm. The more private corner beside the stairs is where you could enjoy a classy plate of kingfish (pan-seared, with mango salsa and mashed potatoes, P350) and wine with a date who might find satisfaction in a delicious tenderloin steak (P180 grams of New Zealand beef, P495); the large table underneath the chandelier is a perfect setup for reuniting friends who'll exchange loud stories over tapas like gambas (P285) and salpicao (P225) and maybe more wine.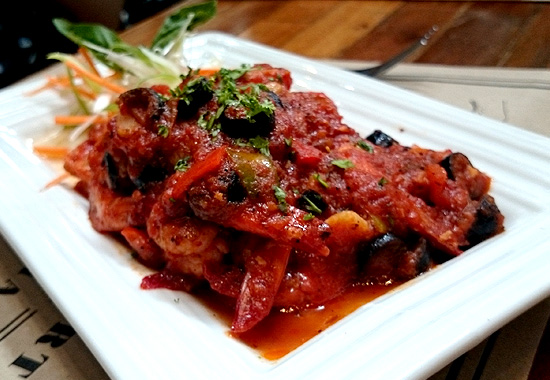 ADVERTISEMENT - CONTINUE READING BELOW
Gambas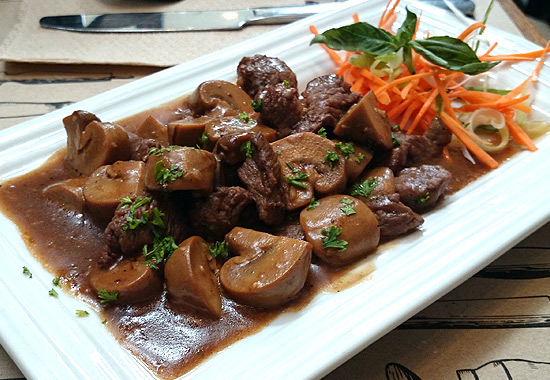 Salpicao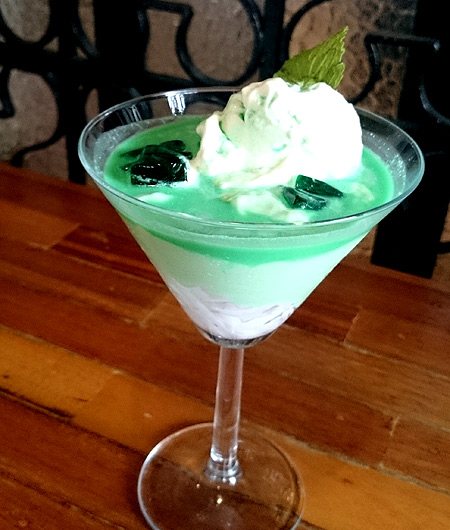 ADVERTISEMENT - CONTINUE READING BELOW
Buko Pandan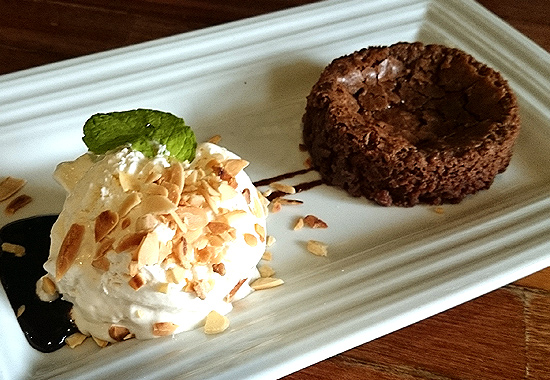 Chocolate Lava Cake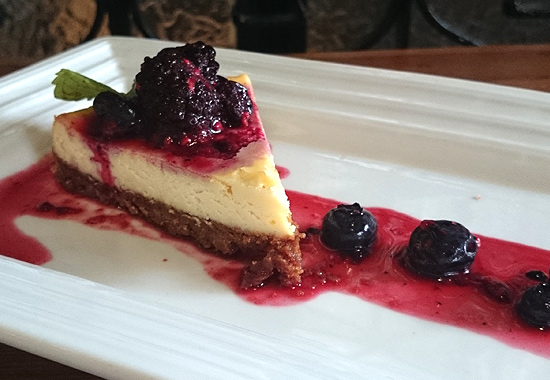 ADVERTISEMENT - CONTINUE READING BELOW
Mixed Berries Cheesecake
The desserts, you could take anywhere. Industriya Marikina has a good share—a fruity buco pandan (P130) for those with more traditional palates, a succulent molten chocolate cake (P128) with a light crust nearly cracking from the indulgence of the chocolate ganache inside; and a cheesecake (P220) rewarded with raspberries and blueberries. The latter has a thick crust that wonderfully balances out the rich cheese flavor.
The menu is admittedly no easy mountain to conquer, but look at those 12 pages like it's a culinary map that'll keep your journeying to Marikina.
Are you sure you want to delete this list?

Load More Stories