New on the Menu: Linguini Fini's Aligue Cream Pasta, 18" pizzas + more
No one does pastas quite like this nook.
Linguini Fini
3/F SM Mega Fashion Hall, Mandaluyong City
Contact: 531-3302, 0917-834-1493
Open daily from 10 a.m. to 10 p.m.
Also read: New Restaurant Alert: Linguini Fini at SM Mega Fashion Hall, Mandaluyong City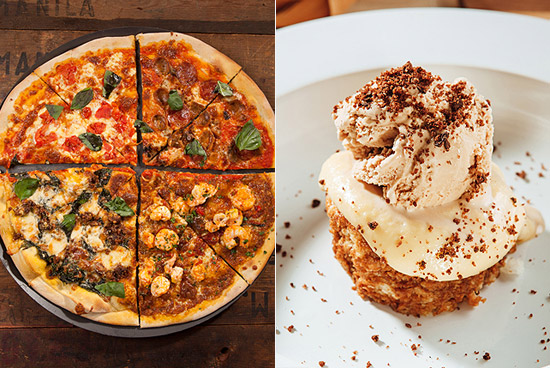 (SPOT.ph) Lucky are the pastas that enter the threshold of Linguini Fini—and extremely rare, if even possible. See, this conscientious restaurant makes all their pastas, from the relative ease of a fettuccini to the precise twirls of fusilli, in their busy little kitchen. The only way pastas can walk in here is if in the form of flour (semolina and 00), water, and eggs.
ADVERTISEMENT - CONTINUE READING BELOW
CONTINUE READING BELOW
Recommended Videos
The Hong Kong-originated restaurant treats pastas right. And by right, we actually mean amazing. The spaghetti is pampered with an all-too-thrilling arrangement of chili pesto and roasted garlic. It's Arrabbiata (P165/lite, P280/regular, P405/grand), just the right flurry of heat and brightness—fresh cherry tomatoes do the trick. Four cheeses, an affluence of dairy more in the tradition of pizza, indulge the ribbed tubes of rigati. The comforting 4-Cheese (P245/lite, P440/regular, P650/grand) is Chef Daniel Lachica's answer to mac and cheese in perfect proportions of Gorgonzola, Parmesan, mozzarella, and ricotta.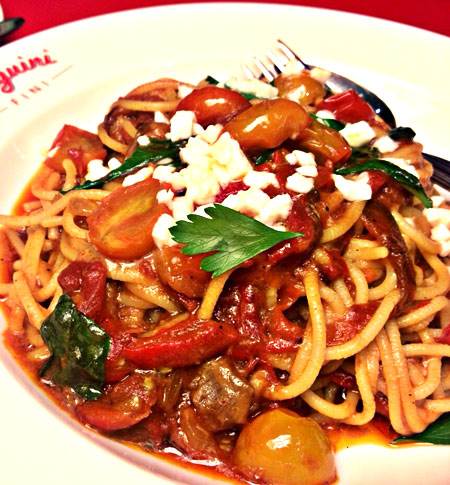 ADVERTISEMENT - CONTINUE READING BELOW
Spaghetti Arrabbiata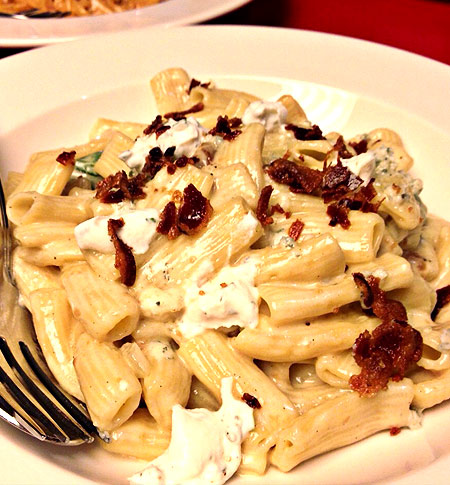 4-Cheese Rigati
Since opening in SM Mega Fashion Hall in August 2014, The Moment Group has only added to their repertoire of al dente masterpieces. The latest additions are Chef Daniel's own literature, his interpretation of the franchise's culture of integrating local flair into their dishes.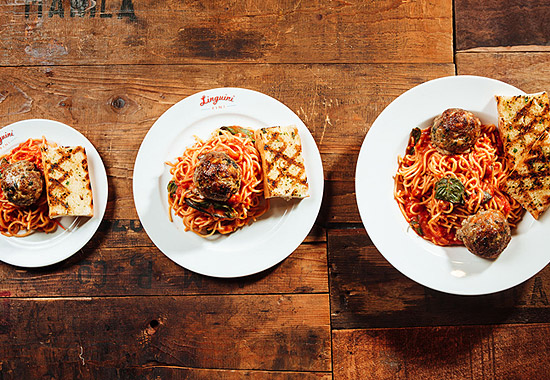 ADVERTISEMENT - CONTINUE READING BELOW
Just like its sister restaurant Manam, Linguini Fini's serving portions now come in three sizes. This is the On Top of Spaghetti (P280/lite, P535/regular, P785/grand).
For example, he takes crab fat and turns it into something much more desirable—nimble, even, for something so heavy, which makes the Aligue Cream Linguini (P245/lite, P440/regular, P650/grand) all the more dangerous. The pickled chili picks up the weight, and dots of black caviar dab on that ultimate luxury. It makes you feel good for this level of risky eating.
True Italian tradition calls for friends and family around a spread of good food, and at the center of that spread is, rightly, an 18-inch pizza divided into eight huge, thin-crust slices. Learn from the New Yorkers and fold it lengthwise. You wouldn't want the precious longganisa crumble to fall off. The Kingpin (P995) can be a mix of four flavors, but the bestselling The Bronx, Manila Caprese, Longganisa and Scamorza, and Gamberetti and Peperoncino are your best bets.
ADVERTISEMENT - CONTINUE READING BELOW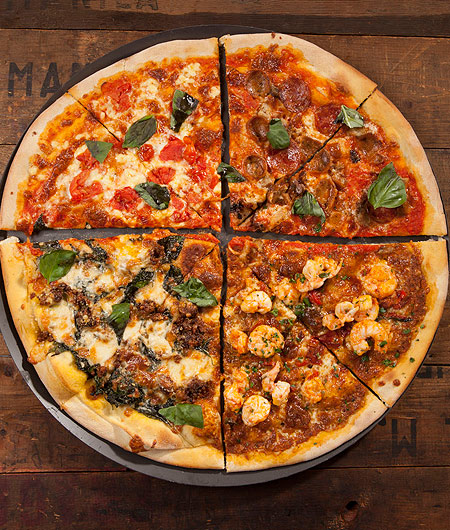 18 inches wide in full frame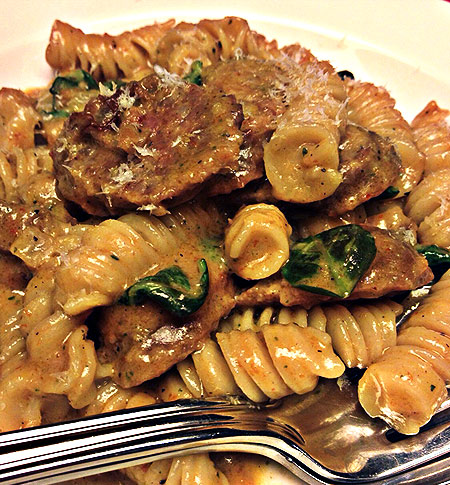 ADVERTISEMENT - CONTINUE READING BELOW
Sun-dried tomato pesto with homemade sausage
Linguini Fini's menu of blackboard specials offers the kitchen the leeway to freestyle. One of them, a dish we nearly overlooked, which would've been a travesty, is fusilli with a modest elaboration of roasted garlic, homemade sausage, and sundried tomato pesto (P225/lite, P405/regular, P595/grand). Simple, but substantial—the sauce lodging well inside the grooves of the meticulous corkscrews.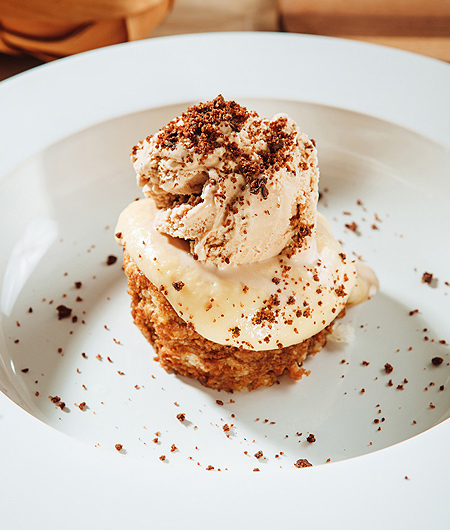 ADVERTISEMENT - CONTINUE READING BELOW
Tiramisu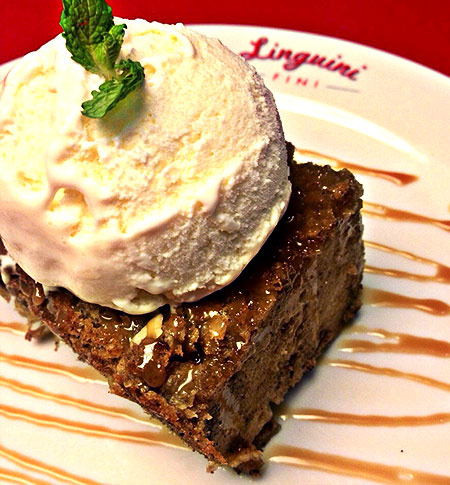 Bread Pudding
The chefs have their hands busy with the pasta, slicing it off into precise shapes (which Chef Daniel isn't too strict about, to keep that rustic, homemade look). But somehow there is room in the kitchen for dessert (and hopefully, in your stomach). The new bread pudding (P180) is a stunning display: a tall brick looking very similar to a Shibuya toast and dressed in cinnamon and vanilla ice cream. In between, there's a thick crunchy crust that turns out to be almonds. Blame this pudding for the strange goofy smile forming on your face.
ADVERTISEMENT - CONTINUE READING BELOW
Forget the pasta, the pizza, the tiramisu. Lucky are the people who come in.
Photos courtesy of The Moment Group
Are you sure you want to delete this list?

Load More Stories