10 Places to Get a Chori Burger in Manila
All you need now is the surf and sand.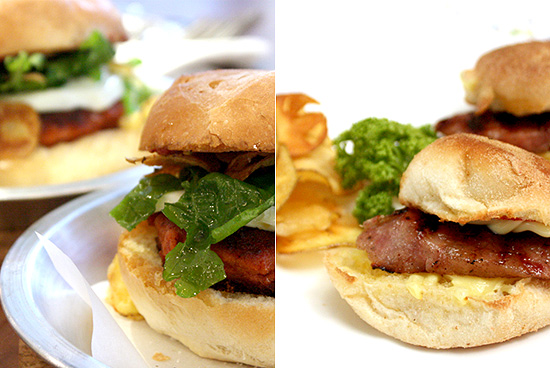 (SPOT.ph) It's summer. For some people, that means going to the beach. For others, that beach means Boracay. Fine white sand, turquoise blue water, a Jonas shake, several calamansi muffins, and a Chori Burger. The Chori Burger is a cult icon (Jeepney in New York City has a version that won Time Out's 2014 Battle of the Burger). We can't 100% trace its origin to the Aklanon island, but that's definitely where it gained notoriety for being one of the few hot dishes people are able to withstand under the scorching heat.
ADVERTISEMENT - CONTINUE READING BELOW
CONTINUE READING BELOW
Recommended Videos
Not all of the chorizo burgers listed below are based on the Boracay classic, but we love them just the same. It's definitely a taste of the beach in Metro Manila.
This list is not ranked.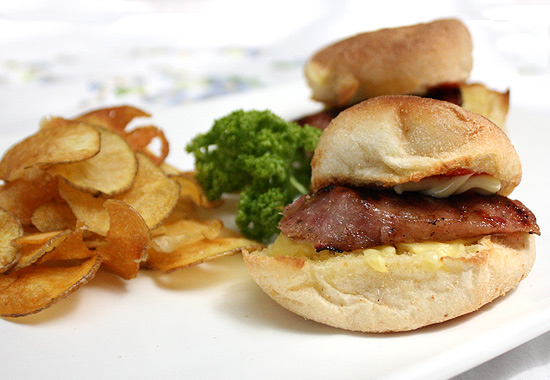 Bora's Chori Burger (P160) from Nikko's Baking Studio
Chef Nikko Buendia sources her chorizo patty from the same supplier as the ones you get in Boracay, but instead of a burger, hers are split into two miniature sandwiches in a fresh pan de sal bun. The "burgers" in this homey setting are not as sweet as the ones on the beach (we like this fact), and she adds on a layer of cheese for that baon effect.
ADVERTISEMENT - CONTINUE READING BELOW
Nikko's Baking Studio is at 59A Paseo de Roxas Street, Makati City. Read more about Nikko's Baking Studio.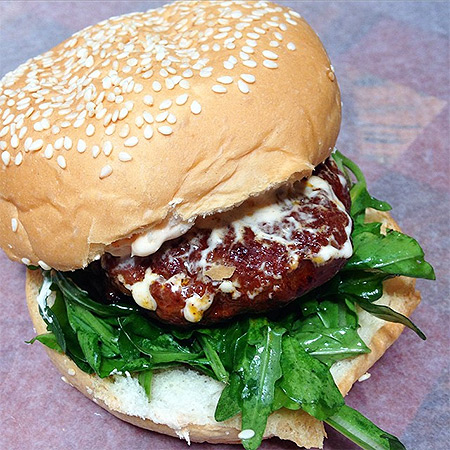 Photo by Chinkee Koppe
Tierra de Espana's Chori Burger (P73)
This is the most authentic chorizo burger you're ever going to get. It's Spanish-style, lean pure beef that is smoky, salty, and packed with paprika. Those who are loyalists of the Boracay standard might find its lack of sweetness surprising. Unfortunately, these babies are only sold frozen by the patty; the actual sandwich-making is up to you. It's best with rocket and cream cheese, but you can go crazy because it's so good, anything you add will only make it better.
ADVERTISEMENT - CONTINUE READING BELOW
Tierra sold actual Chori Burgers at the most recent World Eats Celebrations last February.
Available at South Supermarket, Alabang, Muntinlupa City. For deliveries, contact Tierra de Espana at 514-6383.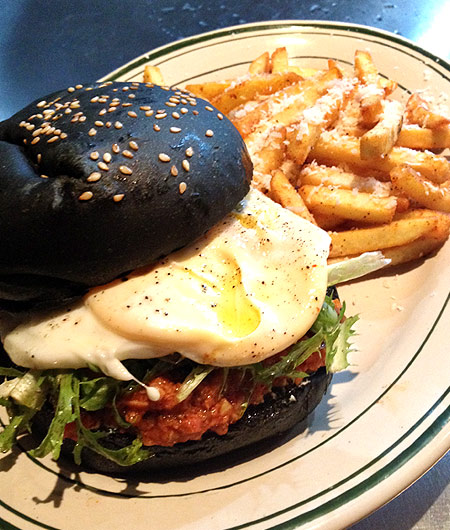 Your Local's Chorizo Sandwich (P490)
This is, perhaps, the most avante garde interpretation you'll find of this burger. Your Local serves theirs in a strikingly black bun (squid ink, and topped with sesame seeds). The chorizo is homemade and amplified by chorizo jam and burned onions. Wild arugula, eggs, and a special cheese rounds out those flavors.
ADVERTISEMENT - CONTINUE READING BELOW
Your Local is at G/F Universal LMS Building, 106 Esteban Street, Legazpi Village, Makati City. Read more about Your Local.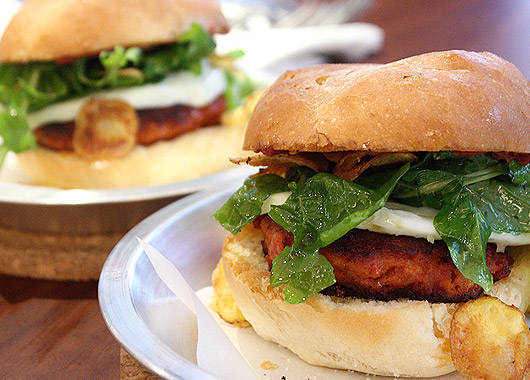 Chorizo and Egg Bun (P350) from Toby's Estate
They may look small, but these sandwiches are no lightweight. The chorizo patty is dense and intense. It's crumbly but not exactly dry. The chorus of sweet and salty finds a perfect accompaniment in the contrast of texture from the incredibly soft slow-fried egg and the crispy potato chips. Did we mention that bread is a potato bun?
ADVERTISEMENT - CONTINUE READING BELOW
Available at Toby's Estate branches at 125 L.P. Leviste Street, Salcedo Village, Makati City; and Ruby Road, Ortigas, Pasig City. Read more about Toby's Estate.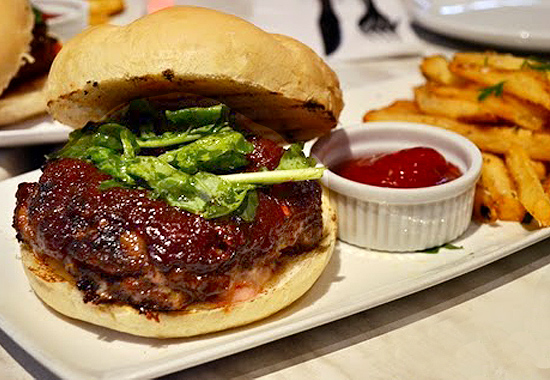 Photo by Michy Melo of www.dekaphobe.com
Black Olive's Chorizo Burger (P435)
Chef Carlo Miguel defines comfort food, and he knows not to mess around too much with it. His iteration of this classic is just that—a classic. A large, fluffy pan de sal bun hugs a massive chorizo patty, salty and smoky—Spanish style except for that disc shape. Sharp Manchego cheese saves it from being too cloying and a sprinkle of caramelized onions gives it a touch of sweetness.
ADVERTISEMENT - CONTINUE READING BELOW
Black Olive is at Capitol Commons, Meralco Avenue, Pasig City.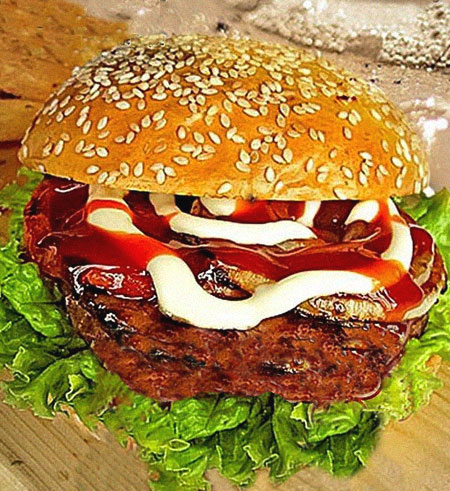 Photo from Garage 88's Instagram page
Garage 88's Chori 88 Burger (P208)
This joint is proud of big, messy burgers. The charred patty is in a mouthwatering crimson shade and it is their proud representation of the Boracay classic. It comes with a squeeze of mayonnaise, onions, and ketchup. The restaurant that peddles 12-inch burgers knows that sometimes, simple works best.
ADVERTISEMENT - CONTINUE READING BELOW
Garage 88 has branches at Bonifacio Global City; Katipunan Extension, Quezon City; and BF Homes, Parañaque City.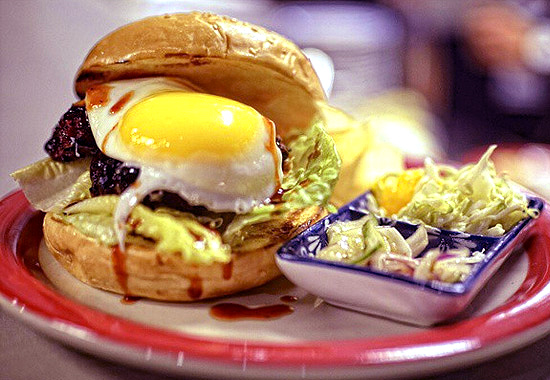 Photo from Locavore's Instagram page
Locavore's Chori Burger (P330)
This isn't the final outcome of Chef Mikel Zaguirre's Chori Burger. The young freethinker actually presents it all ready with the Asian slaw slathered messily all over the burger, but this photo allows you to fully comprehend and appreciate every element that makes up this delicious masterpiece: the homemade chorizo patty grilled and painted with barbecue sauce, the gorgeous sunny side-up eggs with yolks threatening to run over the sides, the zingy pickled organic cucumber and onions. This reinvented burger is all about impact. No wonder everyone who's tried it is hooked.
ADVERTISEMENT - CONTINUE READING BELOW
Locavore is at 10 Brixton Street, Pasig City. Read more about Locavore.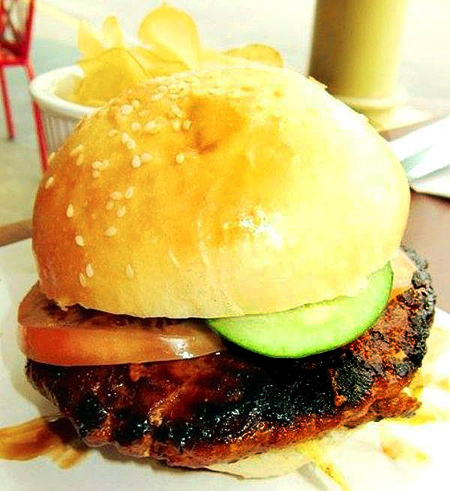 Chorizo Burger (P245) from Chuck's Deli
Chuck's Deli puts their subs on the forefront, but man, do they have outstanding burgers. Chuck's Deli stays true to that Boracay tradition. The chorizo is spicy courtesy of this delicious garlic sauce. Chuck's bolsters those super flavors with more mayo mustard, tomatoes, and lettuce. This burger sells itself as a taste of Boracay without the sand under your feet, but after a bite of this, who needs the beach?
ADVERTISEMENT - CONTINUE READING BELOW
Chuck's Deli has branches in Eastwood Mall, Quezon City; and Serendra, Bonifacio Global City.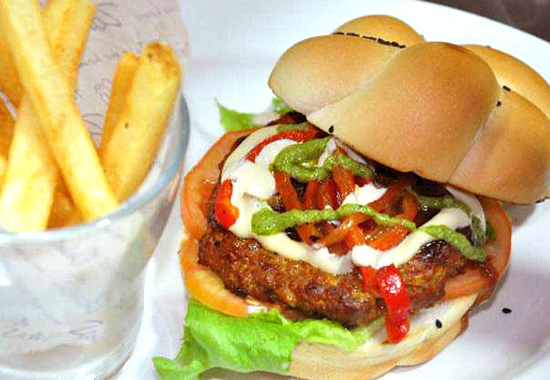 Zoricho's Chori Burger (P160)
"Zoricho" is a play on chorizo, which makes it only fitting that have a sandwich that highlights this particular sausage. This place, by the way, specializes in local sausages. Their Zori Chori Burger is very home-style: The meat is lean and chunky, with a lace of pesto and mayo, some peppers, and a leaf of lettuce. It's not too far-out from a standard burger, but you get that added smokiness from that quarter-pounder longganisa patty.
ADVERTISEMENT - CONTINUE READING BELOW
Zoricho has branches at Silver City, Pasig City; and Robinsons Galleria, Quezon City. Read more about Zoricho.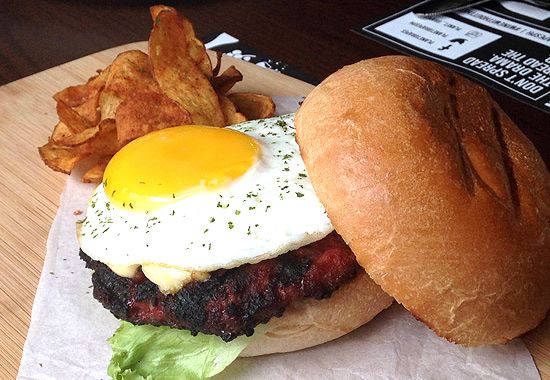 Planet Grapes' Chori Burger (P310)
Wining and dining shouldn't be a problem at Planet Grapes, especially with their expanded menu that includes, what else, a chorizo burger. Theirs is a simple formula: that chunky chorizo patty layered with a gorgeous fried egg. Sometimes, you really don't need to do much to get something delicious.
ADVERTISEMENT - CONTINUE READING BELOW
Planet Grapes has branches at Tuscany, McKinley Hill, Taguig; and Shangri-La Plaza, Mandaluyong City.
Are you sure you want to delete this list?

Load More Stories