10 Must-Try Crispy Liempo That Might Make You Forget About Bacon
Pork belly is best served crispy.
(SPOT.ph) There are some stories that don't need too many descriptions. Really, even the dictionary can't quite capture the full impact of the words: Crispy Liempo. That's it. That's all you need to hear and you already know. The crunch. The richness. The sinfulness. The addictiveness. We're not faulting the usual grilled/roasted pork belly, all juicy fat and soft, smoky meat, that we love so much in the Philippines (inihaw na liempo by the beach, anyone?), but the crispy ones flaunt a different charm—one that could (gasp!) rival bacon.
Hearts, be still. We listed the 10 you have to try. By the way, we're exempting 2nd's legendary Bacon Chicharon, which has just been recently reintroduced in the menu.
Also read: Top 10 Liempo in Manila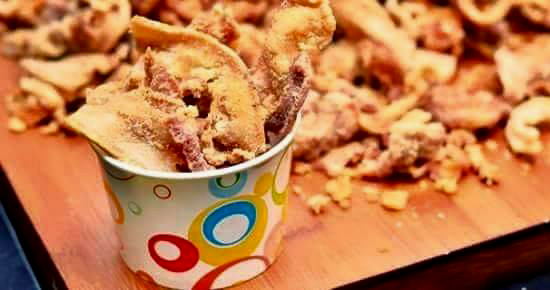 ADVERTISEMENT - CONTINUE READING BELOW
Crunchy Belly (P120) from Carlo's Kitchen
Carlo's Kitchen probably didn't invent these chicharon-like wonders, but it's the little stall that could—keep us up at night thinking about them. They're fried until the fat has crisped up to be so sinful that we can't help but let it slide. There's enough meat to be, well, meaty still. The secret may be in the medley of liempo, bacon, bagnet, and chicharon. They come in little cups, which is probably the best dosage for your heart but not for your stomach.
Carlo's Kitchen may be seen at Mercato Centrale, Cucina Andare, Glorietta Park. Follow them on their Facebook page.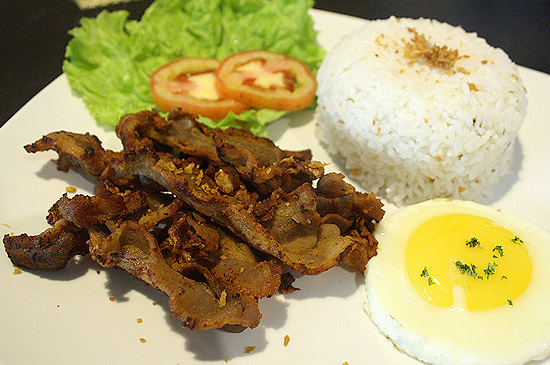 ADVERTISEMENT - CONTINUE READING BELOW
Cafe NACI's Bacon Liempo (P250)
Bacon is a tricky thing. It's delicious but it's always better crispy, which isn't the easiest thing to do. Cafe NACI has a dish that assures you of that successful crackling each and every time: Bacon Liempo. The belly is sliced into ultra-thin pieces and grilled (!) to a crisp. It's styled like breakfast—a cross between tapa and actual bacon—and served with a gorgeous fried egg and a side of vinegar.
Cafe NACI is at 2/F Fox Square Building, 53 Connecticut Street, Greenhills, San Juan City. Read more about Cafe NACI.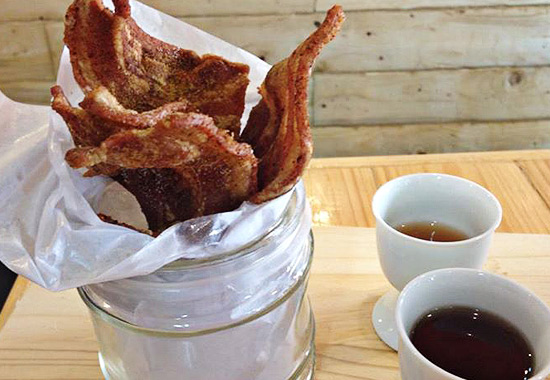 ADVERTISEMENT - CONTINUE READING BELOW
Breakfast Bin's Liempo Chips (P160)
Lighten the guilt of eating these dangerous pork ribbons by having them for breakfast! Breakfast Bin cuts the belly very slightly thicker than most so you get a deeper, much more succulent crunch. It comes in a jar, like cookies that you can just pick up again and again. Only salty and much, much more rewarding. Breakfast Bin's low prices give you a reason to order again, but that's a decision we're leaving up to you. Listen to your heart.
This item is off-menu. Orders must be placed three days ahead.
Breakfast Bin is at 168 Maginhawa Street corner Mapagkumbaba Street, Teachers Village, Quezon City.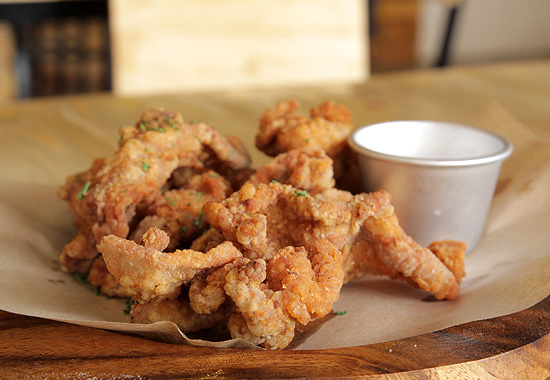 ADVERTISEMENT - CONTINUE READING BELOW
Hot Pork Poppers (P90) from Fat Daddy's Smokehouse
These addictive things are equally soft and crisp. The kitchen gives it a barbecue rub before deep-frying, embedding deep, slightly spicy flavors. What's great about the hot pork poppers is that underneath the crisp, golden coat is a nice meatiness. It's the best of both worlds. The apple cider-based Piedmont sauce is the secret to really enjoying it. You dip a piece into that bright pool of flavor, cutting out the richness, and tricking you into getting more and more. Perfect strategy.
Fat Daddy's Smokehouse is at 171 Dao Street corner East Drive, Marikina Heights, Marikina City. Read more about Fat Daddy's.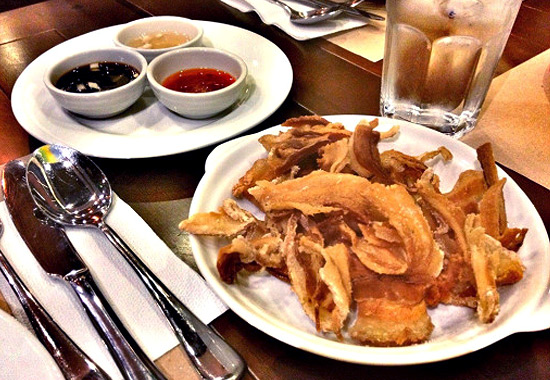 ADVERTISEMENT - CONTINUE READING BELOW
Kanin Club's Crispy Liempo (P149)
Kanin Club is one of those places that gives you fuss-free thrills. And what provides bigger excitement than pork belly that decided to take a dip in the a golden pool of oil instead of simply lounging over an open-flame? Nothing. You'll notice that the cuts the kitchen chooses are more meat than fat, which offers a semblance of relief. Each firm piece breaks like delicious brown glass. Crunchy over crispy. You'll crave rice with this one, but on its own, and entertained simply by its trio of salty, spicy, and tart sauces, it's hard to be a disgruntled customer.
Click here for a list of Kanin Club branches.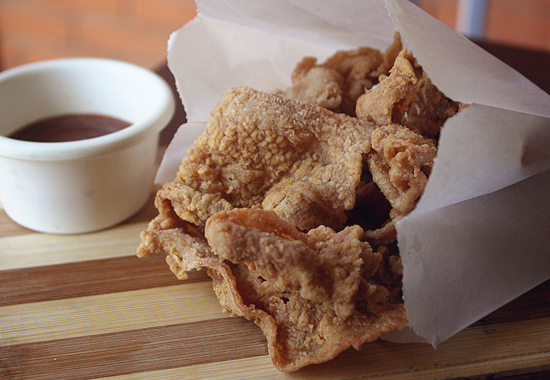 ADVERTISEMENT - CONTINUE READING BELOW
Crunchy Pork Belly Strips (P180) from KXP Kulinarya Experience
KXP sells the Crunchy Pork Belly Strips as an appetizer, but there's no rule that prevents you from ordering a cup of rice, maybe some extra sauce, and declaring it a great meal. Every piece is perfectly fried, crunchy, and irresistable. This is no lightweight. KXP doesn't lighten the load with some acidic or tart side. Instead, the kitchen enriches their sinful pork strips with one of their homemade sauces (mustard, barbecue, et cetera), doubling up this already rich treat.
KXP is at Commercenter, Commerce Avenue, Alabang, Muntinlupa City. Read more about KXP.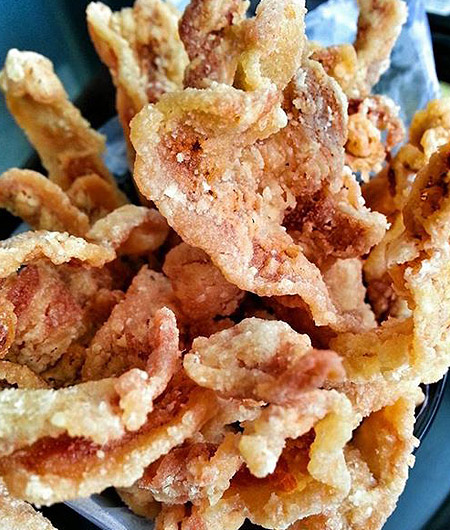 ADVERTISEMENT - CONTINUE READING BELOW
B&B Burgers & Brewskies' Bacon Chicharon (P210)
This is just good ol' fashioned comfort food. Ultra-thin cuts of brined pork belly are powdered in seasoning and deep-fried to crispy, crispy goodness. A side of spicy spiced (yup, double flavors) vinegar cuts through that wonderfully fatty note. That's it. Don't imagine how good it is with beer. The only thing better than eating this on a sad day is completing it with a cold one.
B&B Burgers & Brewskies has branches at Forbes Town Center, Burgos Circle, Bonifacio Global City; and Estancia Mall, Capitol Commons, Pasig City. Read more about B&B Burgers & Brewskies.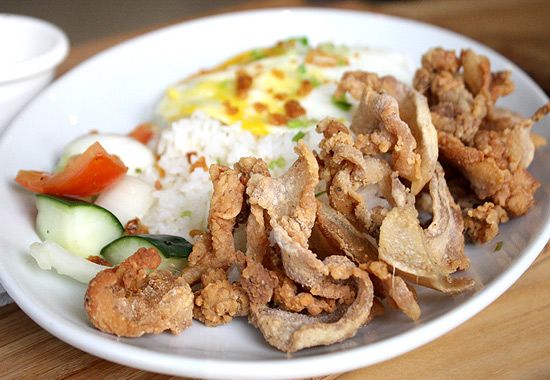 ADVERTISEMENT - CONTINUE READING BELOW
Banquito's Toto Bibo (P220)
This breakfast plate is thankfully offered all day. Banquito, which specializes in lutong-bahay in a student-friendly, restaurant setting, offers up a full meal with these crunchy strips, garlic rice, a sunny side-up egg, and a small flurry of tomatoes and cucumbers. The seasoned batter gives it a powdery whitish coat that layers flavor over that chicharon-like texture. Asan ang suka?!
Banquito is at Esteban Abada Street, Quezon City. Read more about Banquito.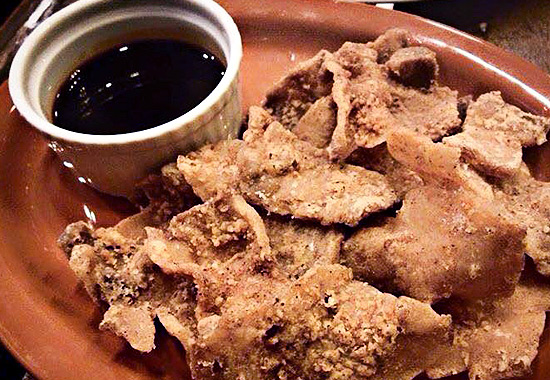 ADVERTISEMENT - CONTINUE READING BELOW
Black Kings Bar x Cafe's Liempo Chips (P150)
Serve us everyday grilled liempo with toyomansi, and we're happy. Serve us crispy-fried liempo, and you're taking us straight to heaven. Er, we don't mean anything by that except that the flavors are divine. Black Kings' fattier strips, which become deceptively crunchy after a dip in piping hot oil, are light on the palate but heavy on the heart. It's the perfect snack when watching the independent bands that regularly perform at Black Kings. Watch out, though. These things are a trap for snacking.
Black Kings is at Westlife Building, 107 West Avenue, Quezon City.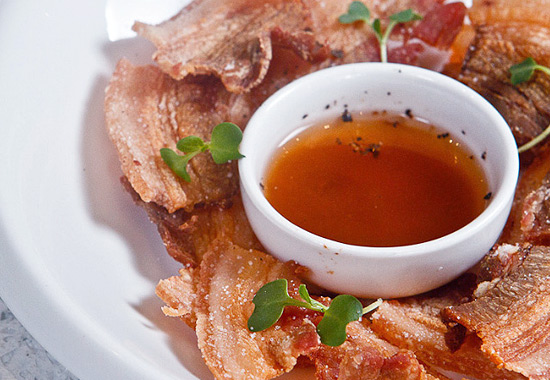 ADVERTISEMENT - CONTINUE READING BELOW
Rocket Room's Crispy Pork Belly Chips (P250)
Look no further for great pulutan. You'll find it in this side of Bonifacio High Street. There's magic in the way it's sliced—almost paper thin, a guarantee of its wonderfully wafer-like crispness. Ruddy with seasoning, Rocket Room's pork-belly offering actually looks like bacon, except that the seasoning makes it the perfect canvas to enjoy good sukang pinakurat.
Rocket Room is at Bonifacio High Street Central, Bonifacio Global City. Read more about Rocket Room.
Photos from the SPOT.ph archives, and courtesy of Raintree Restaurants, joyvz.wordpress.com, and the official Facebook pages of Breakfast Bin, Black Kings, and Carlo's Kitchen.
Also read: Top 10 Liempo in Manila

Recommended Videos
Load More Stories