Sneak Peek: Bar Pintxos Tapas y Mas at Don Jesus Boulevard, Alabang, Muntinlupa
Authentic Spanish cuisine is coming our way
(SPOT.ph) "We're just a couple of tisoys, trying to earn a living," chuckles Miguel Vecin, one half of the passionate, food-loving duo of Tierra (a company that distributes mostly Spanish deli products) and the soon-to-open Alabang neighborhood joint, Bar Pintxos Tapas y Mas.
It's not your typical Juan-makes-good story. Actually, it sounds more like a #conyoproblem straight out of an international school boy's Twitter account. But, honestly, the road to the opening of Bar Pintxos (pronounced "peen-chos") is nothing short of inspiring.
Vecin and his business partner, Martin "Tinchu" Gonzalez, share with us how two family men decide to take the greatest gamble of their lives (both have no culinary-school background) to pursue a full-time career in food, their greatest passion. Yes, Tinchu has been hands-on with Tierra, but Vecin was a top executive in a logistics company, requiring him to constantly travel all over Europe.
Despite the stable income, "I'm tired of moving around," Miguel imparts. Him being away for long periods of time from his family has obviously taken its toll, and he decided that there is no better time to indulge his passion in cooking and good food than right now.
ADVERTISEMENT - CONTINUE READING BELOW
We caught the two during a catering event at Jim Araneta's The Bottle Shop, where another passionate Spaniard—Jose Mari Cuervo—is launching his home brewed Crow's Mala Hierba IPA. They have been catering a couple of Crow's launches, and although the beers are highly acclaimed with their stunning flavor profiles, Miguel's food did not pass unnoticed.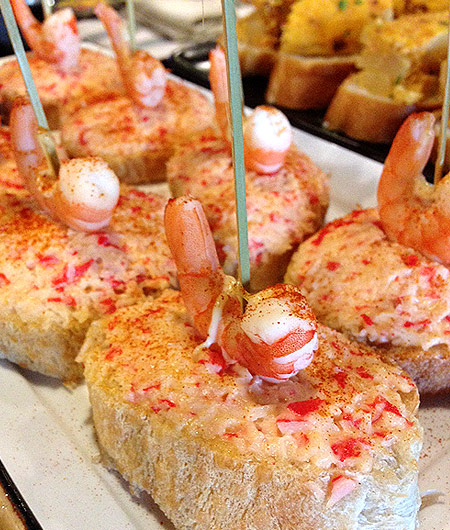 ADVERTISEMENT - CONTINUE READING BELOW
Shrimp and crab pintxos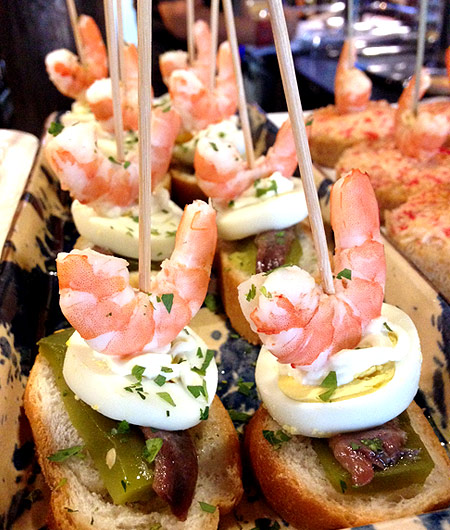 Shrimp, egg, anchovy, and pickled pepper pintxos
The tapas and pintxos (hearty, basque-style tapas) served at the Mala Hierba event exemplifies what future Bar Pintxos regulars can expect. "It's definitely authentic—Miguel knows his food. We're thinking of a revolving menu, serving around 12 different tapas and Pintxos at a time," Tinchu says. This style is highly characteristic of the Pintxos joints Vecin grew up with in Barcelona, which is where some of his family still reside.
ADVERTISEMENT - CONTINUE READING BELOW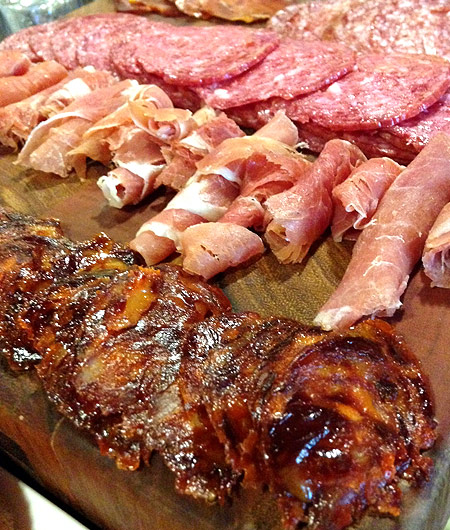 An assortment of Iberico products, jamon Serrano, salami Milano
Whatever the menu du jour will be, you can expect there to be an impressive selection of cold cuts—such as the finest Iberico products, jamon Serrano, and salami Milano, among many others.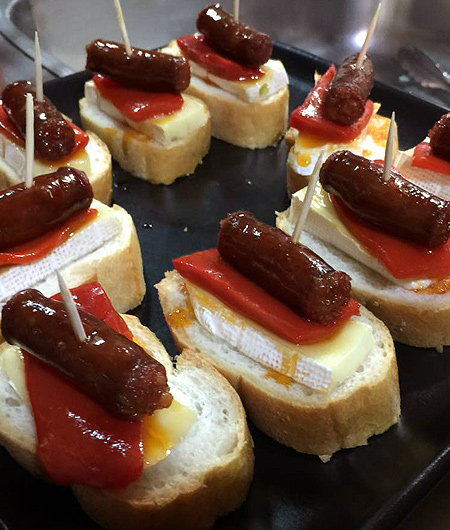 ADVERTISEMENT - CONTINUE READING BELOW
Chistorra, piquillo peppers, Brie pintxos
Tinchu's personal favorite—the Brie Pintxos with Chistorra and Red Peppers—is stunning yet surprisingly refined. The sausage is among the few that Tierra makes themselves, along with the Chorizo Bilbao and their bestselling Choriburger.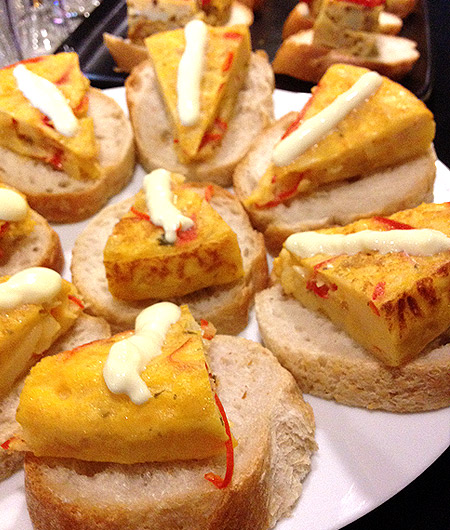 Tortilla de Bacalao
Miguel prepared a selection of tortillas (Spanish omelet), but the tortilla de Bacalao with aioli was particularly flavorful, with the saltiness from the cod and the garlicky sauce.
ADVERTISEMENT - CONTINUE READING BELOW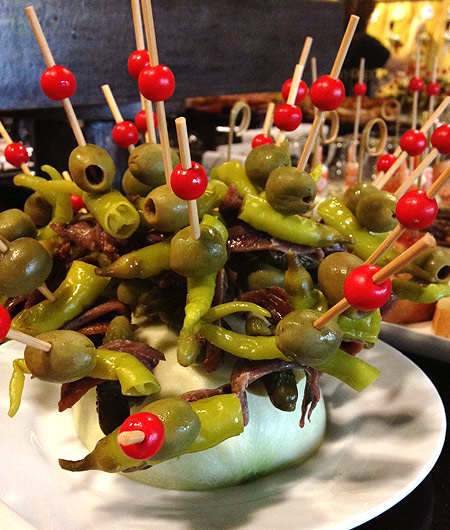 Gildas
The Gildas—skewers of green olives, anchovies, and Basque pickled peppers—was perfect with the beer of the evening. We can imagine these spicy delicacies selling literally like peanuts at the soon-to-open bar.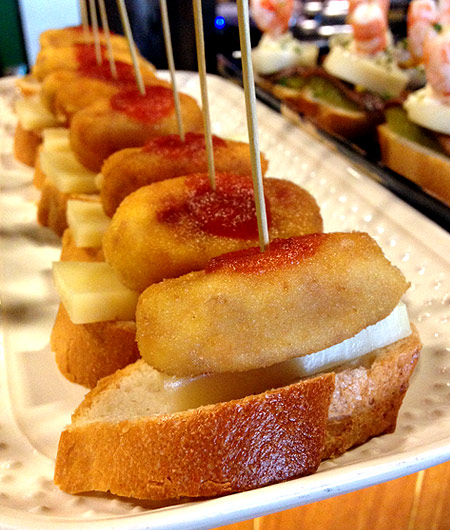 ADVERTISEMENT - CONTINUE READING BELOW
Cheese jamon croquetas with tomato marmalade
The Jamon Croquetas are anticipated to be crowd pleasers as well. What could possibly be better than deep-fried fritters of bechamel and ham? These, on top of a wedge of Manchego, then smudged with tomato marmalade.
Although the menu looks meat-heavy, the shrimp pintxos—such as the one with crab and another with anchovies, egg, and pickled pepper—are indicative of a well-rounded selection. Pescetarians need not fret.
What else can we expect from Bar Pintxos aside from authentic tapas? A well-curated drinks list, of course, with well-priced Spanish wines and a collaboration with Crow's for their signature beer, among other things. The vibe, Tinchu promises, will be that of a laidback and casual watering hole, something the community (Alabang Hills-Alabang 400-Hillsborough-Kalipayan) has been longing for.
"If we want to grab a quick meal or a drink, we have to either go to the BF Homes area or Alabang-Zapote (Road). Those areas are so busy na," he opines. "We're all pretty excited about having our own place, in our own neck of the woods."
ADVERTISEMENT - CONTINUE READING BELOW
Prices are pending until the launch. Bar Pintxos Tapas y Mas will open in the third week of May. It will be at G/F Gesu Building, Don Jesus Boulevard, Alabang, Muntinlupa City.
Recommended Videos
Load More Stories